Welcome to Thollon
This website has the objective of gathering and sharing information for English speaking visitors to Thollon les Memises. To help visitors, apartment and chalet owners, and those renting properties. It aims to give a wider view than other web sites. Information that a visitor for a week or two may require. Not just for Thollon Les Memises but also the area that can by visited in a days drive.
Thollon News and blog Click here
Thollon Live WebCam Click here Historic picture below 8th April 2017

Check out Facebook infos remontées mécaniques thollon les mémises for regular updates and lift opening. See notice boards for special offers of lunch and lift combined.
A further indication of the growing links between Evian Resort and Thollon? 6 of our new Telecabine have been "re-branded" with some of the current Evian water adverts. - They look really good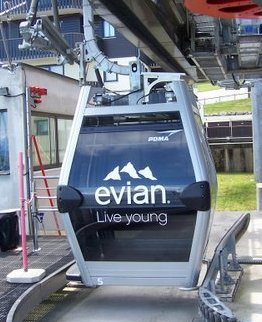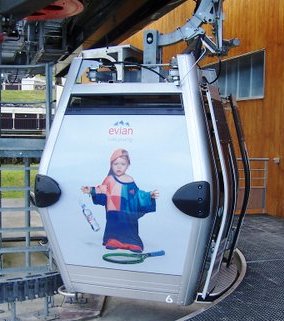 The Senior's club (Les Risolles) headed for the mountains above Novel for their July day out. It was beautiful and sunny day as some 35 enthusiastic walkers ( well a few did get a lift in a WW 2 (or perhaps it was a WW 1 jeep!) headed on wards and upwards. The views of the nearby mountains were spectacular.
After the obligatory 3 wine "pauses" en route (well it was hot and sunny) , we arrived at the most beautiful little mountain goat farm where lunch was to be served.After enjoying a selection of local cheeses, meats and (yes) more wine outside in the courtyard, we made our way past the milking stalls and the goat pens into the adjoining little Alpine restaurant. (There was no mistaking that it was a goat farm!) A traditional lunch was rounded off with more wine ( sparkling this time ) coffees and a selection of locally farm made liqueurs.
The young son of the owner played his accordion and songs were sung and then, too soon, it was time to set off again back down to Novel.
Many thanks as always to Nathalie and Katherine for all that they do in to organising and making these events as enjoyable and memorable as they are. RG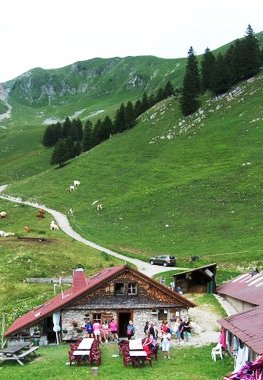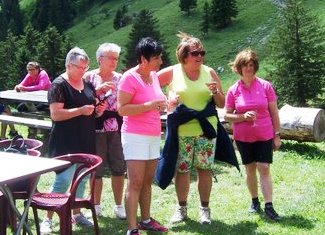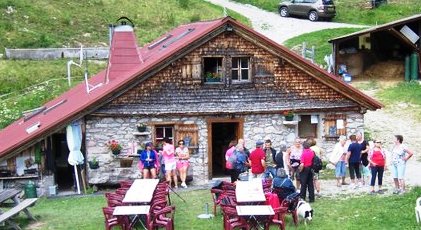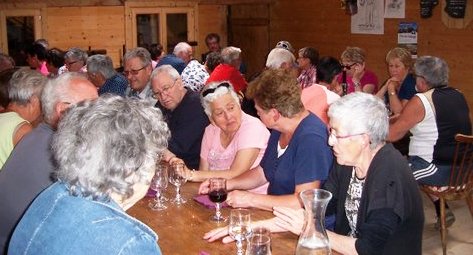 Summer 2017 Lots to see and do. See OT Thollon Les Memises Facebook Thollon Fete 5/6 August. Regular program of events. Check out whats going on in St Paul Facebook, Bernex Evian and Thonon. On line or at The Tourist Offices.
Ball August 2017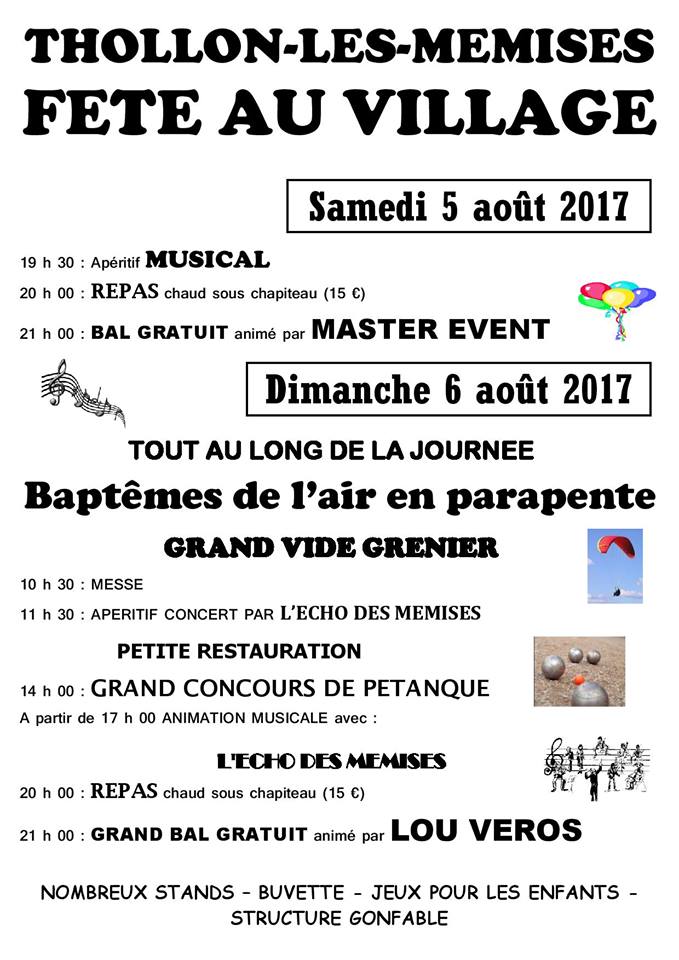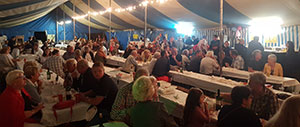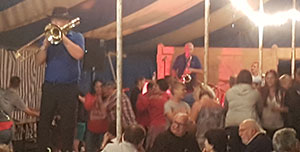 2017 Cinema News.
The Cinema is open again for the Summer Season there will be regular Thursday evening showings , in English, of the top current films. Look out for the Cinema notices and for VOST. These are original English films with French sub titles. Our Cinema is fantastic, many first time visitors are surprised that we have such a great cinema, big screen and fantastic sound from the digital equipment.
Tour du Chablais comes to Thollon This annual race - a highlight of the regional cycling calendar, is due to come through Thollon on the 18th & 19th of August 2017. The village will obviously be doing it's bit to celebrate the event.
One for your 2017 Calendar? The first weekend in September will see Thollon hosting one of the major events of the Savoie Agricultural calender. The Eleveur des Savoie" Inter Village Cow show is an annual event which each year is hosted by a different village in the Region. This year it's Thollon's turn.
It's a really enjoyable day. Apart from being the Savoie's version of Crufts - only with cows (!) there will be lots of produce stalls and displays - and yes, the inevitable opportunity to eat and drink to your hearts content The photos below from last year's event held in nearby Laringes will give you a flavour of what to expect. Why not make a diary date and plan for a visit to Thollon this September?being the Savoie's version of Crufts - only with cows (!) there will be lots of produce stalls and displays - and yes, the inevitable opportunity to eat and drink to your hearts content The photos below from last year's event held in nearby Laringes will give you a flavour of what to expect. Why not make a diary date and plan for a visit to Thollon this September?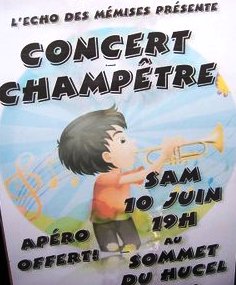 Village Concert - 10th June 2017 after a beautiful sunny and warm day, villagers made their way to the summit at Hucel for the annual open air concert by Les Echo des Memises, Thollon's own orchestra, Under the direction of "Maestro" Jonathon Smith and against the most amazing backdrop as the sun began to set over the lake, the audience were delighted to be entertained by a diverse musical programme. - a truly magical performance. Inevitably drinks and nibbles followed with everyone continuing to enjoy the magnificent views over the lake.
Yet another successful event in Thollon's early summer calendar.

Assault des Memises, The morning of 11 June 2017 saw over 150 runners set off on the Thollon 9km run, some with the aim to be first to the top of the mountain, others with just survival in mind. The winner is expected to complete the race in about 50 minutes. The event is one of a series of races with the results contributing to a wider championship throughout the Haute Savoie.
International Football returns to Thollon. A report on the best football in France, Probably....
Never mind Real Madrid and Juventus and the Champions League Final - 3rd June 2017 saw a full blown International played out in front of an enthusiastic crowd on Stade Thollon.
Bathed in sunshine, the teams followed the local Memises band onto the pitch. National anthems were played. National flags were waved. After an energetic and professional looking warm up, the French ran quickly to take up their positions on the field. (England were clearly saving themselves for the "main event" as they walked, admittedly with some determination, to their places on the field.)
The representative English eleven (average age probably 50+ ) were taking on a locally based French team ( average age 35ish ? ) The English did themselves proud! The talent and experience of the English was evident throughout the first half, The well organised English team were leading 3 -1 when legs began to "give up" . By half time the score was 3 -3 ( some will say assisted by a slightly loose interpretation of the offside rule!) and a spectacular " in-off" the English keeper.
Strategic use of substitutes and a spectacular 4th goal helped England keep in touch until minutes from the final whistle when France, to the evident joy off their French support, scored again. Final score 5-4 to France.
The Mayor, Regis Bened, presented the Trophies and "our Steph" was awarded "Man of the Match" for his heroics in the English goal.
As if to mark France's success, the heavens opened - as did the umbrellas - and spectators took to the shelter of the Bar ( although some had clearly been there for the duration of the game!)
A great afternoon enjoyed by all Much appreciation to the organisers. Here's to next years match ( perhaps with just one or two younger English players in the squad!?) With Thanks to our Scottish Correspondent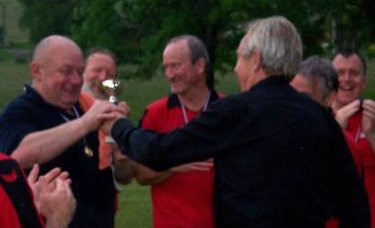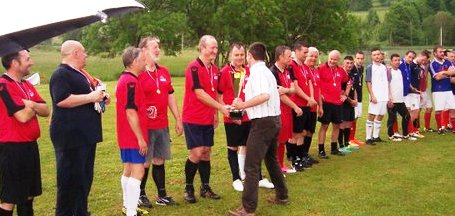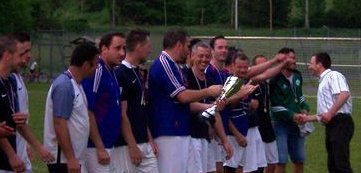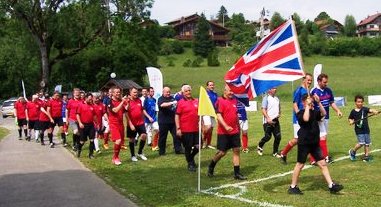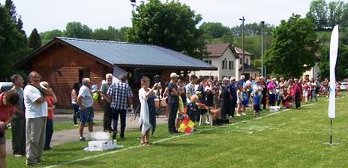 10th May 2017. Do see a great video from Joe, an "Expat Brit" living in Thollon illustrating his experience of the Grand Montée, beautifully filmed it shows that Thollon and the Memises in the off season is still a vibrant town. The video is about 30 mins so sit back and enjoy. It's great quality so see it on a big screen if you can.
You Tube:You Tube Link Click Here
Joe: "It's wet, I am hot and tired, it's good"... "Good people and good fun... fantastic" It's British weather"
Comment: Total madness !(Overweight Editor, who uses the lift and ski's down!)
Thanks Joe for showing us the way to fitness with great artwork, atmosphere and music.
Ultra "Grand" Montée
The inaugural running of the "Ultra Montee" on 6 May 2017 saw some 50 +
serious runners set off on continuous 8 hour ascent and descent of the
Lanche. The winner will be the runner who achieves most return trips
in an 8 hour period! Not to be outdone, a number of perhaps less
serious but no less enthusiastic runners will set off at 2 pm with a
similar 4 hour challenge ahead of them.
Fortunately the weather was fineforf the start of the event -
hopefully it will stay that way for the rest of the day! Thanks Ron for contribution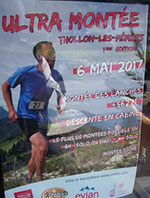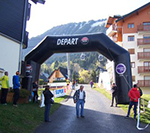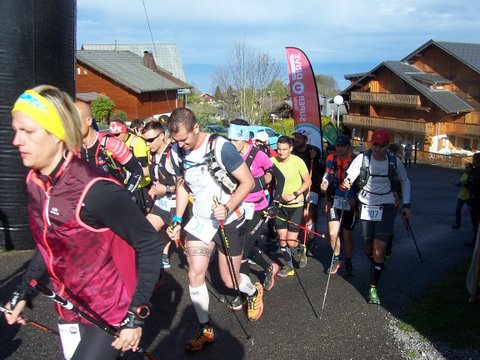 Last years Cow Fete!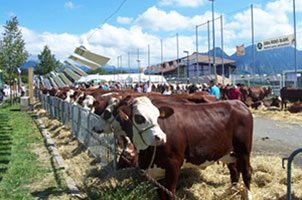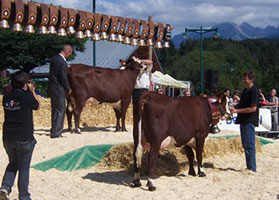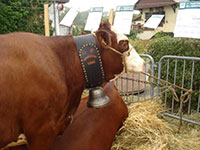 Summer in Evian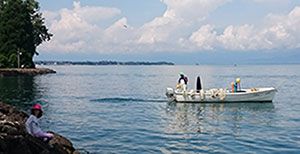 Winter in Thollon

The website invites contributions and constructive comments: This e-mail address is being protected from spambots. You need JavaScript enabled to view it
Do check in regularly as new articles are added.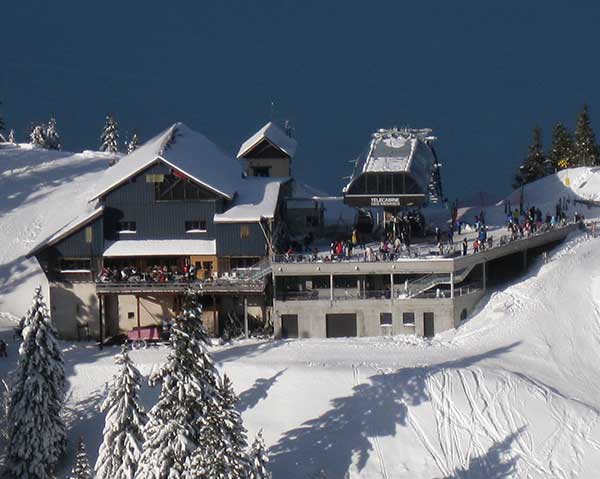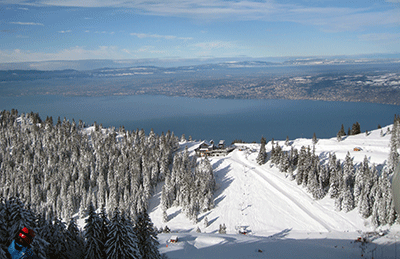 The old meets the new. The new telecabine with the old balcony and restaurant.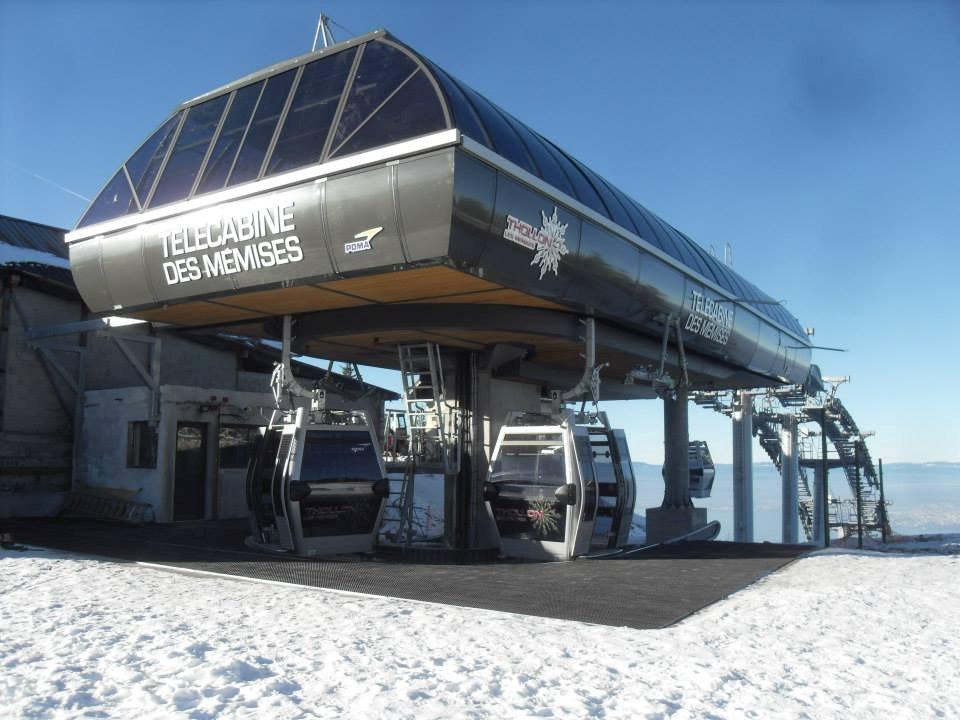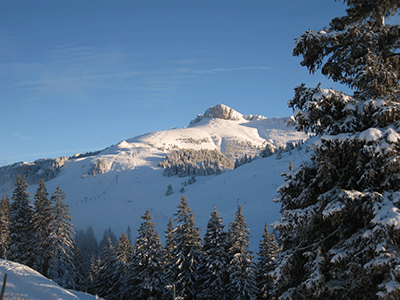 Thollon Picture Gallery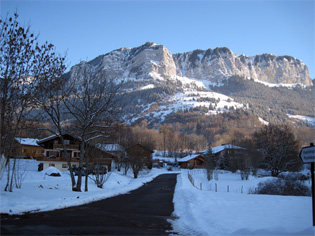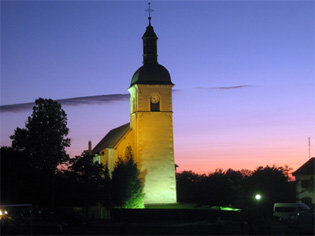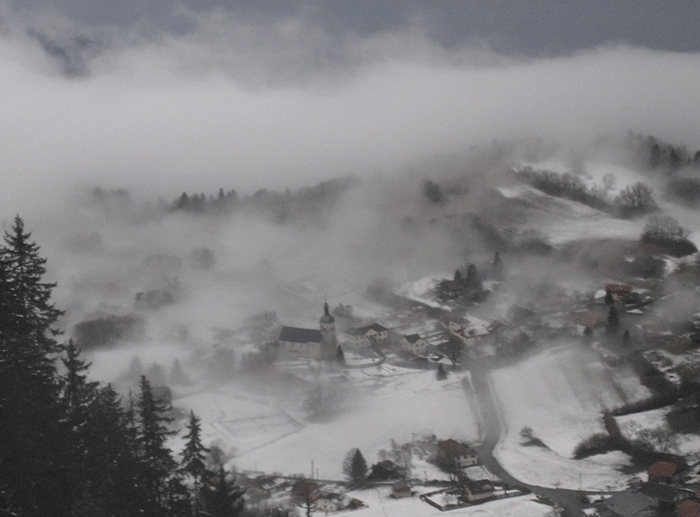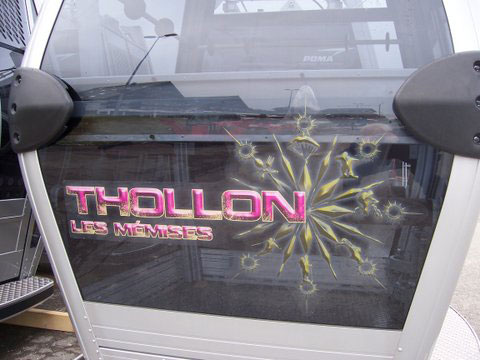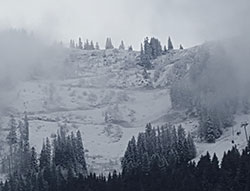 Map of suggested visits and Ski resorts
The site does not intend to duplicate the information that is available on local websites such as www.thollonlesmemises.com but to bring together information and welcomes suggestions and contributions,
To make a contribution please email This e-mail address is being protected from spambots. You need JavaScript enabled to view it
Photographs that show a particular aspect of Thollon and the area are appreciated.
As the site is an exchange of information no liability for the correctness is accepted and visitors should verify for themselves if in doubt the information provided by contributors.
This is a UK based web site, maintained and governed in the UK.
All content copyright thollon.org