Welcome to Thollon
This website has the objective of gathering and sharing information for English speaking visitors to Thollon les Memises. To help visitors, apartment and chalet owners, and those renting properties. It aims to give a wider view than other web sites. Information that a visitor for a week or two may require. Not just for Thollon Les Memises but also the area that can by visited in a days drive.
Thollon.org has been updated, new format but same information news and updates.
We now welcome donations for advertising which will help towards the cost of running Thollon.org Donate, Advertise.
Thollon.org Facebook page, go to and like to get advised when new artcicles are added to this website

Historic winter web cam picture below.

There is a new web cam giving views from the "Top" fantastic views
Historic Webcam view

.
Check out Facebook Telecabine Thollon for regular updates and lift opening.
Telecabine
See notice boards for special offers of lunch and lift combined. Also offers of discounted lift passes and rates for the new ski season when purchased early. Go to https://thollonlesmemises.axess.shop/ There are combined pass with options, Thollon Bernex and Abondance. https://lesmontagnesdevian.com/#!/tarifs
When the resort can only open limited runs, a reduced rate is sometimes applied. There is now a site showing what runs are open. Plan Thollon Alpin.
Check out the Facebook Telecabine and Facebook UCAT for latest news and further information and requirements to use the lifts.
The Association of Traders website UCAT Thollon. Good information and links to the traders and on The Evian page a link to Bus Timetables for the Evian / Thollon shuttle.
The resort ski restaurant Les Balcons du Lac gives up to date information on their Facebook page Les Balcons du Lac
.........................................................................................................................................................................................................................................................
25 January 2023 Thanks to FB for attending and writing a report on the Thollon Mayor's Speech 22/01/2023. Read the report at thollon.org/latest-news
January and February 2023 English language films are back being shown in the village. Updates on Thollon.org Faceback
23 January 2023 The snow is back, its cold with sun and some mist at times.

January 2023 Joe and his family live in Thollon... so get fit and support a local business.

THE BASECAMP FITNESS POD IS HERE! FINALLY! IT IS HAPPENING ! THIS MAY 2023. IN EVIAN LES BAINS- THE SWIMMING POOL THROUGHOUT THE SUMMER SEASON! An incredible Fitness and Coaching space of 160m2! Details on the News Page
Joe, Team Basecamp.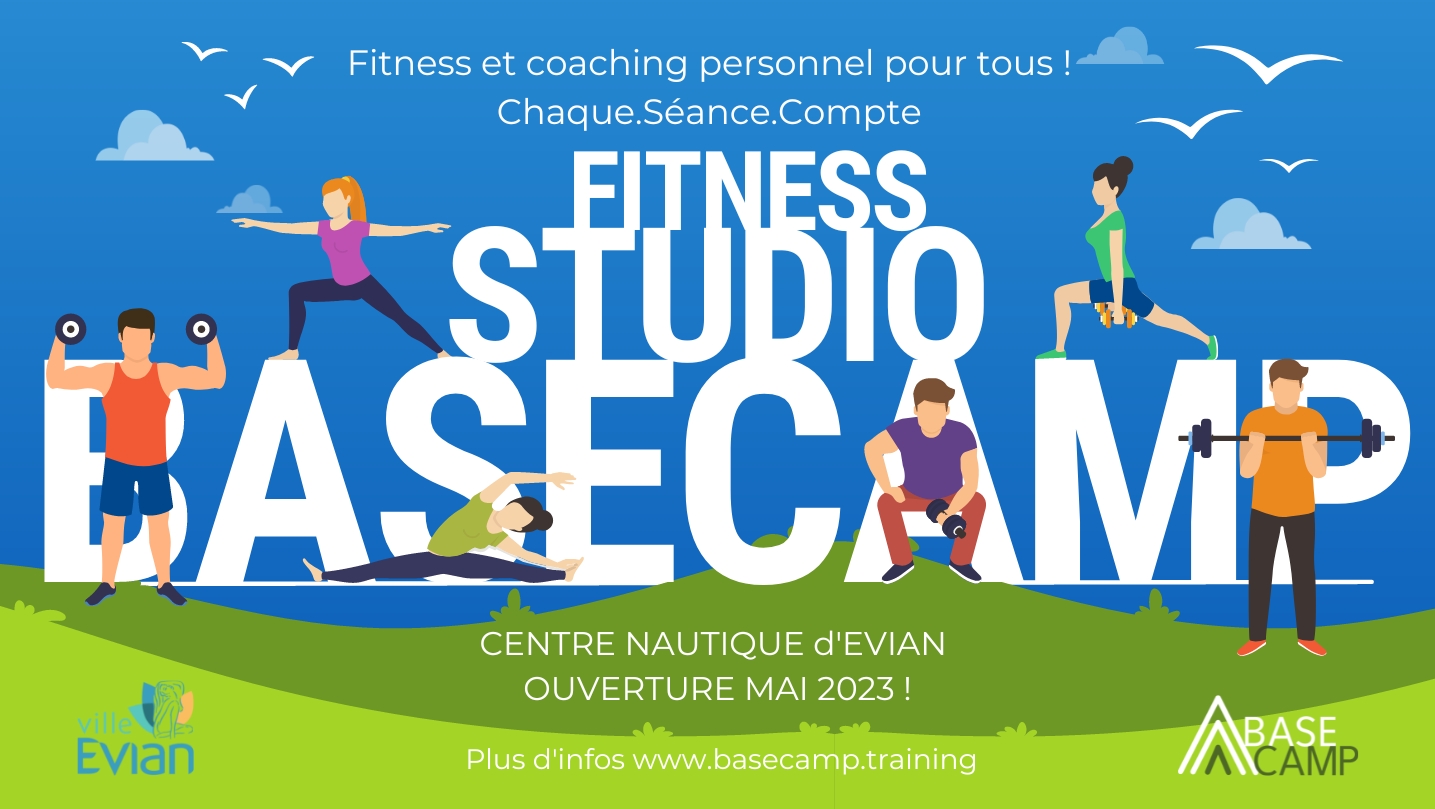 New 11th January 2023 Bunk beds for sale
29th December 2022.
Lindsay continues her excellent blog. Many thanks. More on the Letter from Thollon page
Welcome to 2023!
Have we really been together for 3 years? Where has all that time gone? We've certainly had our ups and downs…There have been times when I haven't spoken to you for weeks…. But like all true friendships, it's easy to pick up where we left off last time. So,let's catch up with the latest tittle tattle from Thollon.
Before Christmas I was having a small meltdown at the prospect of the entire family rocking up for the festivities. Happily, I survived and so did most of the family.However, while we're on the subject of meltdowns…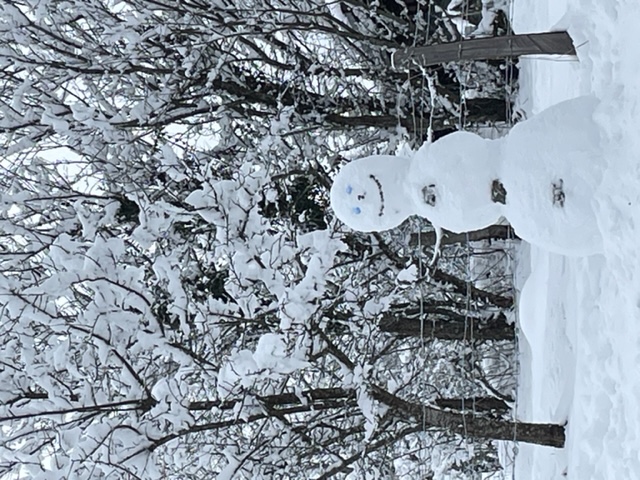 What has happened to the snow?
If you're familiar with Thollon in winter you'll probably have noticed that the arrival of shed loads of snow has been getting later and later. For the past few years, we've had flurries in late November/early December, then a milder spell, followed by skiable snow from just after Christmas (even though the lifts have optimistically opened around 18th December).
This year we had metres of the white stuff in the middle of December and since then, next to nothing… apart from torrential rain that is. The newspapers have been full of gloom, Cassandra's having the time of her life andif you listen carefully, you can even hear Captain Mainwaring in the background muttering 'We're doomed Pike, we're all doomed'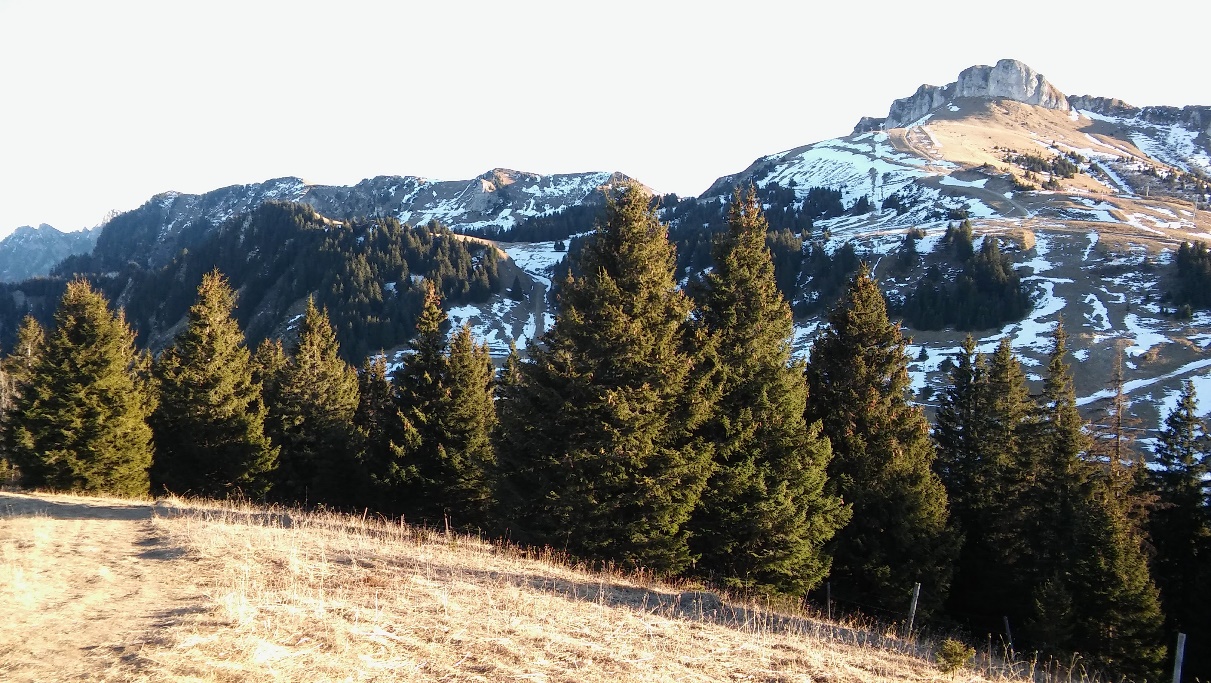 How the pessimists see the slopes
Having a meltdown
Climate change analysts have been predicting milder winters for years, and a bit like Mr B's hairline the glaciers have been receding at a rate of knots. This year however 'they' seem to have got it right. On checking the stats, this is by far the mildest winter we've ever had in the Haute Savoie.
According to our old favourite, 'radio couloir', they were barbecuing on the slopes in Thollon, in shorts and t-shirts on Christmas Day, 1984. Then again, 1984 was a bit of a strange year, just ask George Orwell.
What are the prospects?
So, is it really that bad? Well yes and no. If you're prepared to go high, really high, then there's plenty of skiable snow. Resorts like Verbier, Avoriaz, Val Thorens and Zermatt have great snow. They also have crazy numbers of skiers on the slopes.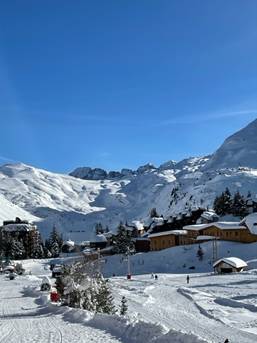 Avoriaz
Resorts that are under 2000 metres are taking it day by day. Many lower resorts, including Thollon, only have their green runs open. Even then, despite Herculean efforts to move what snow there is, the weather is too mild to maintain good coverage. The snowfall we had in Thollon last week was promising and although it's been washed away by rain in the village, it's still hanging around on the upper slopes.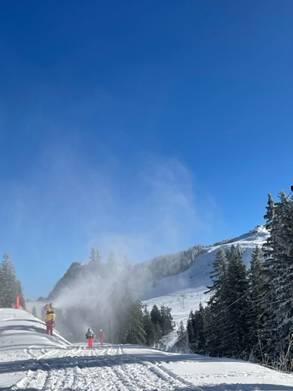 Thollon last week, and hopefully again next week
But now for the good news!
The temperatures are set to plummet next week and snow's forecast for several days (have I heard that somewhere before?). Thollon is gearing up for a busy week as people try to get value out of the season passes they optimistically bought before Christmas and we're all crossing our fingers for the half-term holidays in February.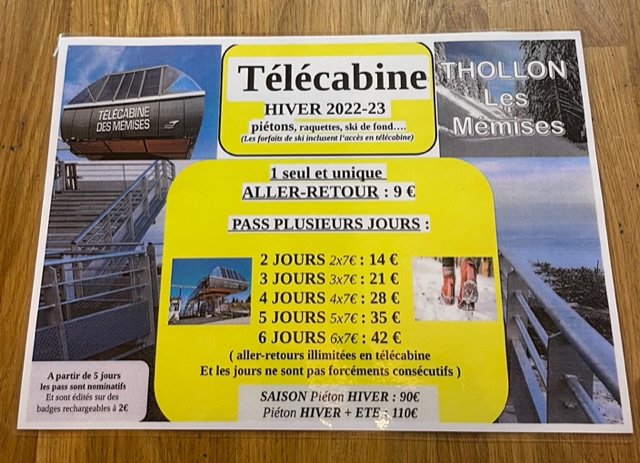 Still the cheapest ski passes in the Alps
Mr B will be delighted, he's been sleeping in his ski boots for the past month, ready to hit the slopes if a snowflake falls on the Velux. Mrs B is secretly delighted that she doesn't have to dig the car out every day, or strap planks of wood to her feet and cartwheel down the mountainside in a sweaty thermal vest just yet. Only 100 sleeps till summer!

.........................................................................................................................................................................................................
2022 Remembered and some nostalgia
Football

Music Mike Noyce Acoustic Set Carnotzet August 2022 Facebook Mike Noyce Acoustic Guitar Covers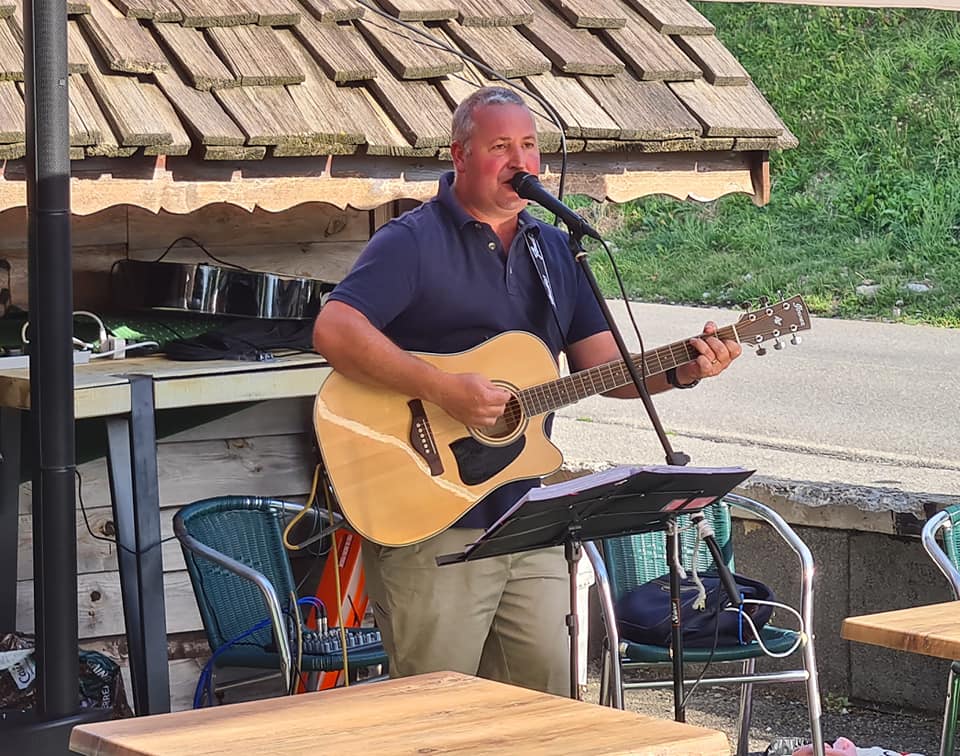 ......................................
..............................................................................................................................................................................
End of Season March 2022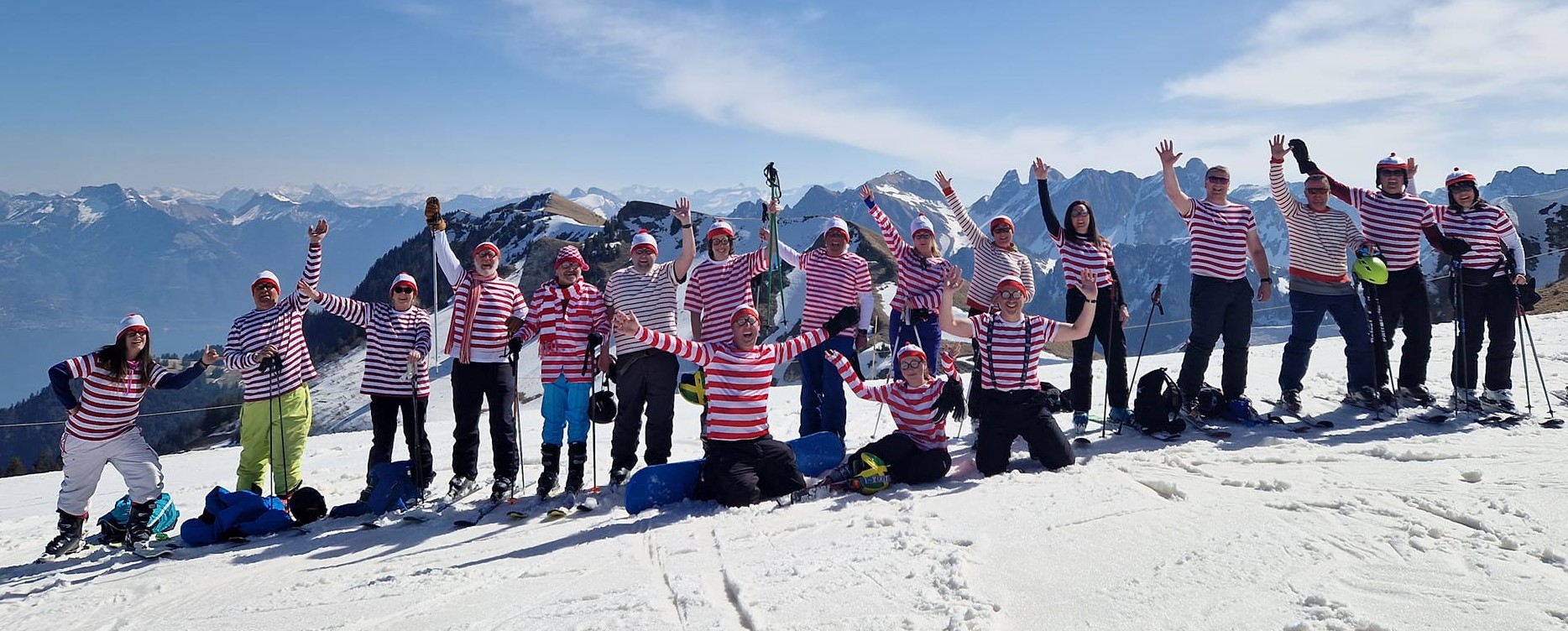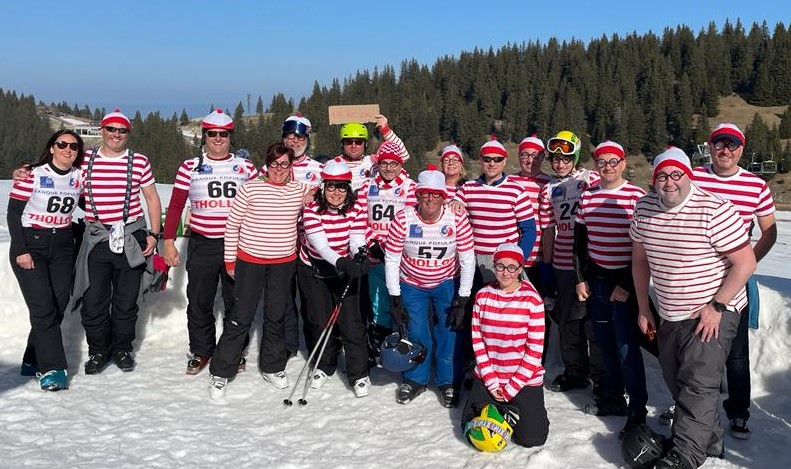 Prize giving... Thollon.org win again!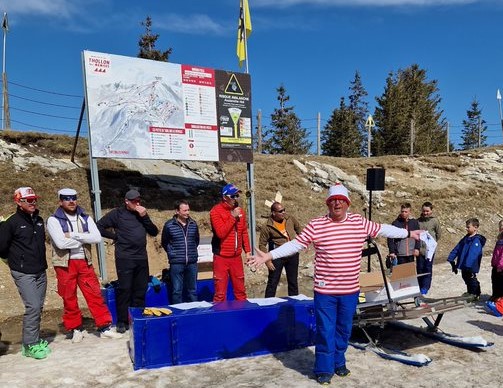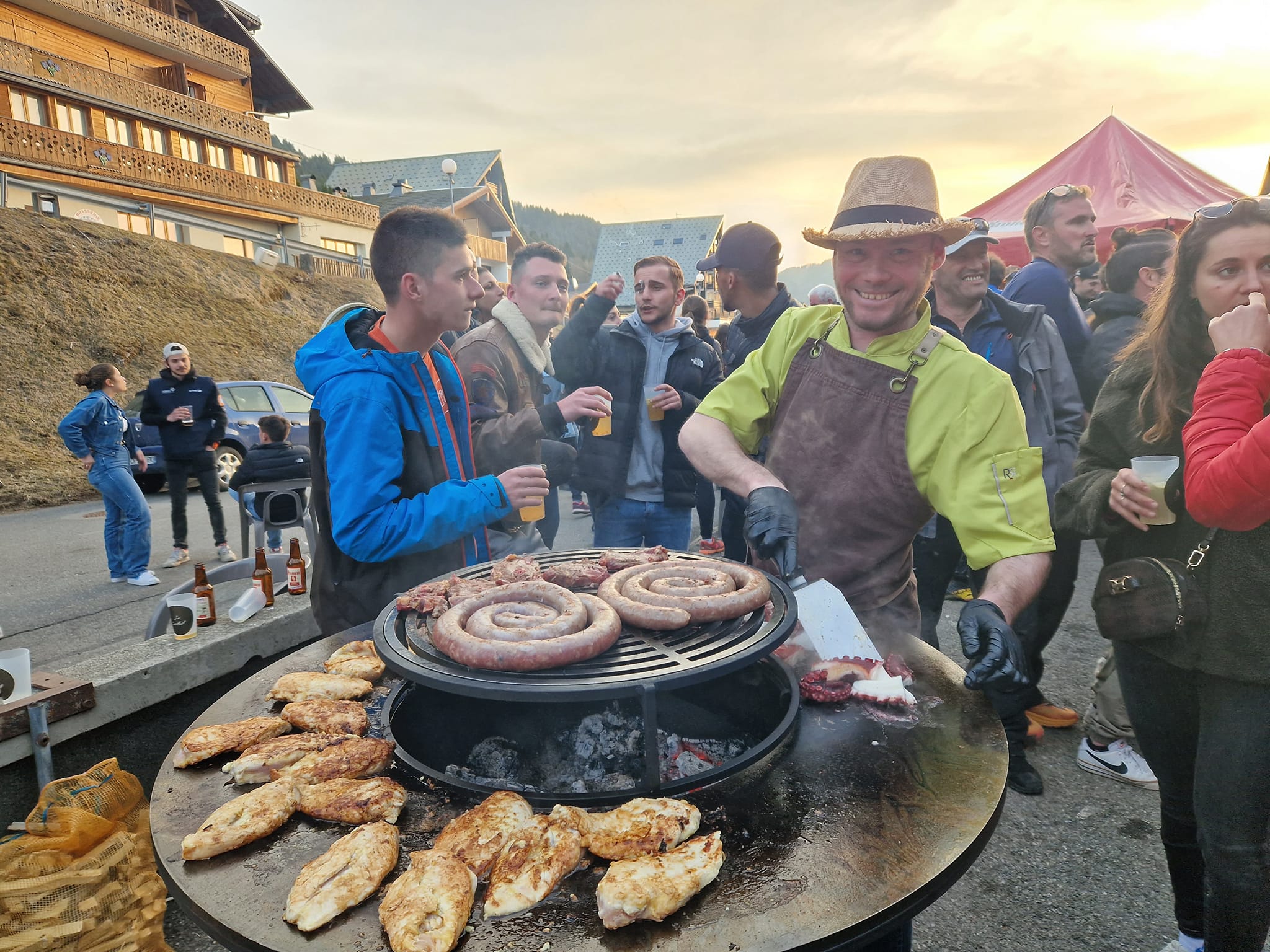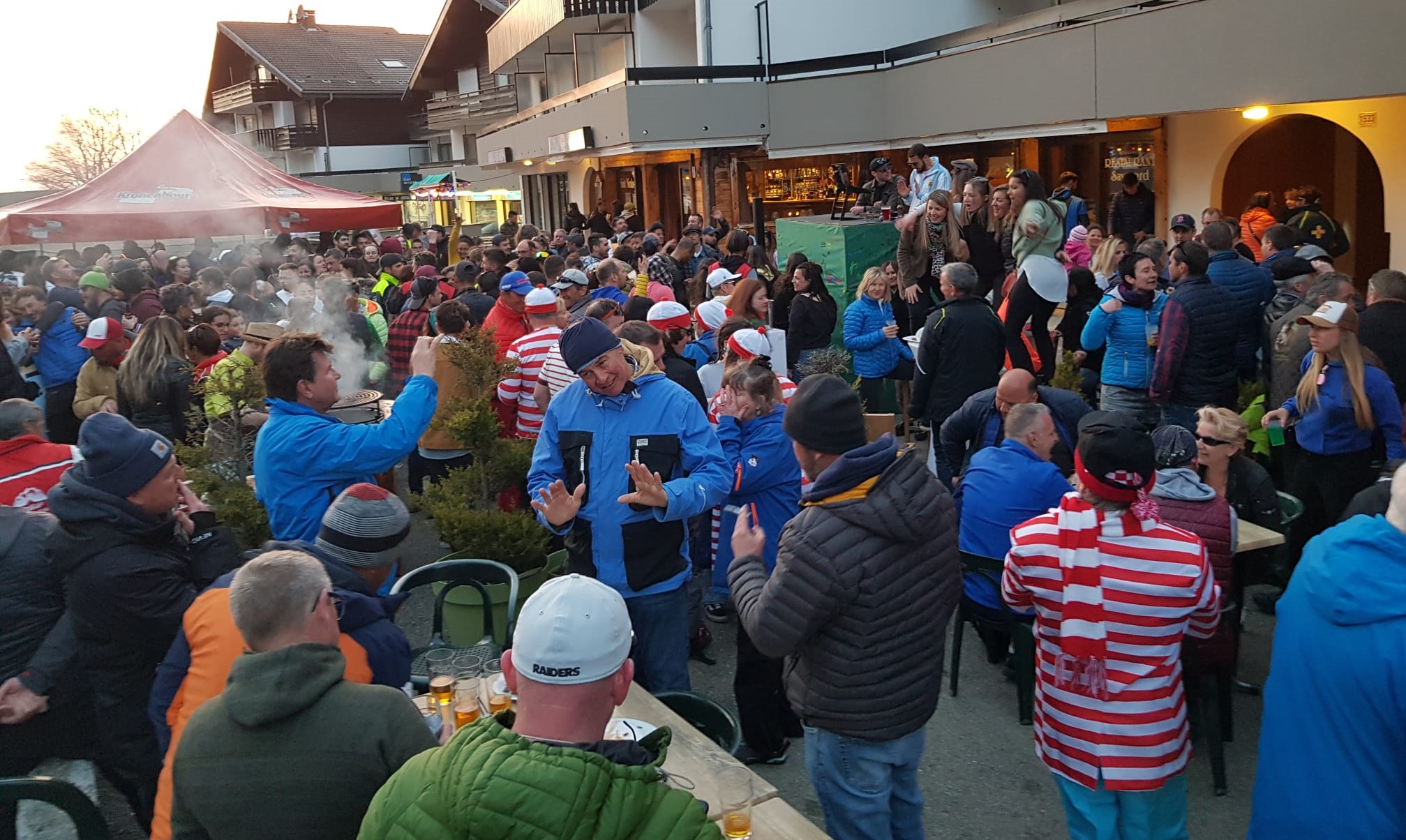 The party continued. Many thanks to ESF, Pisteurs, Telecabine, Les Balcons, Le Carnotzet, St Nicolas, L Ourson and the Wally's.
More pictures and videos on Thollon.org Facebook.
The last weekend of the season, some great memories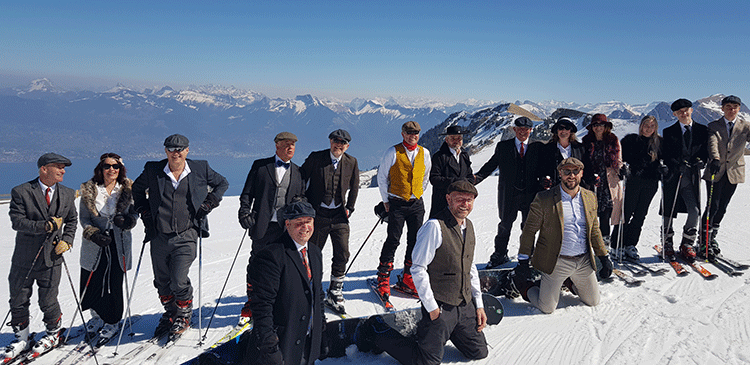 Thollon is a family resort and many visitors return every year to enjoy the great welcome.
Bit of nostalgia :-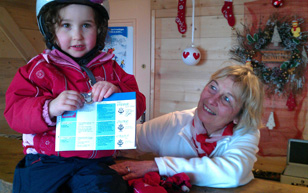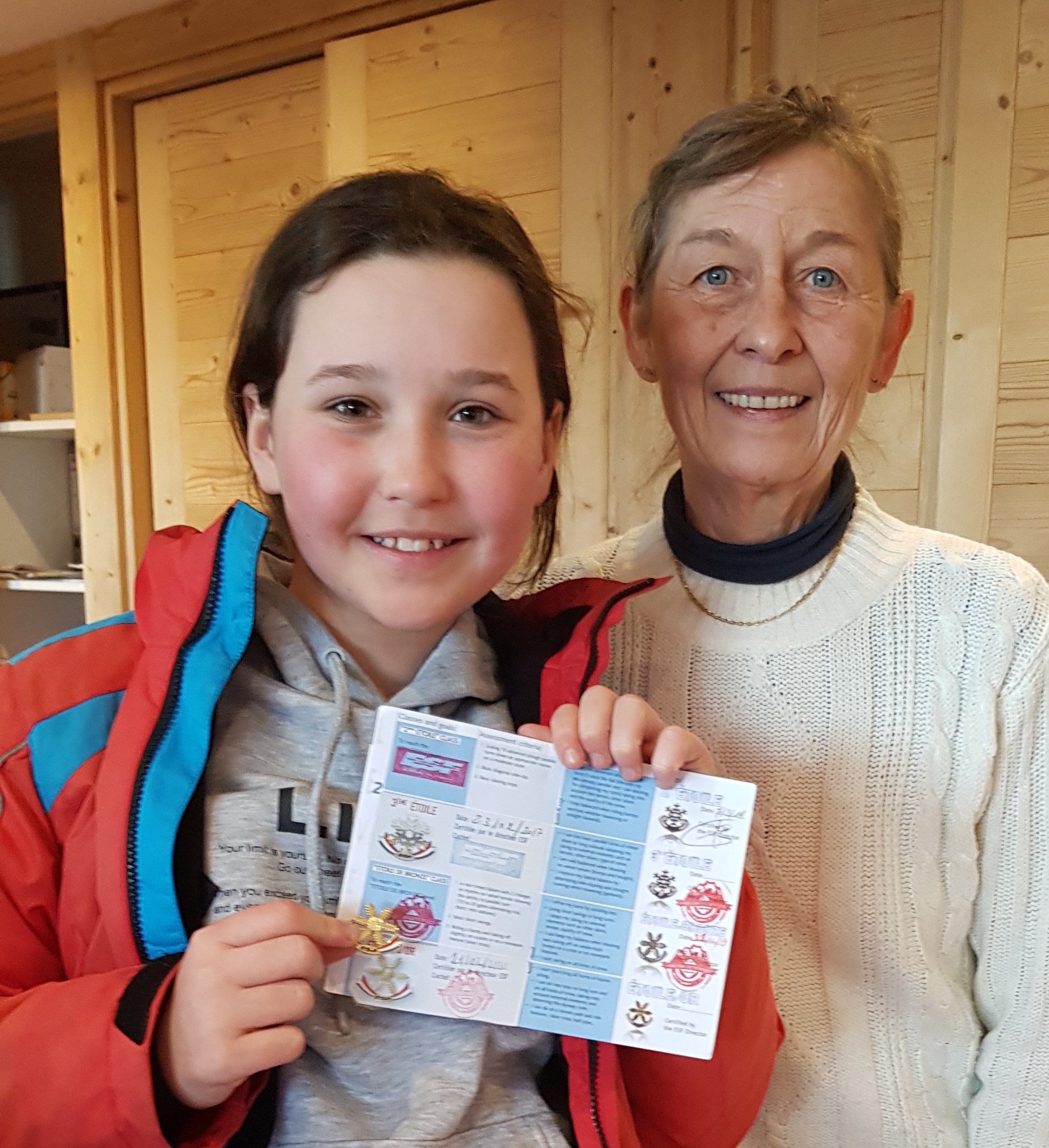 Christine (ESF Thollon Secretary)
presents a first badge to Cora age 4 and then Gold Award age 12 in February 2020.
Party in the Polyvante hosted by ESF, Ski Club, Fondue and music Mickael and accordion.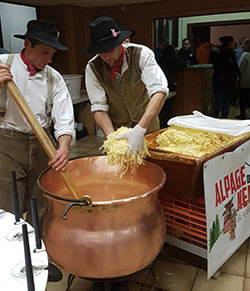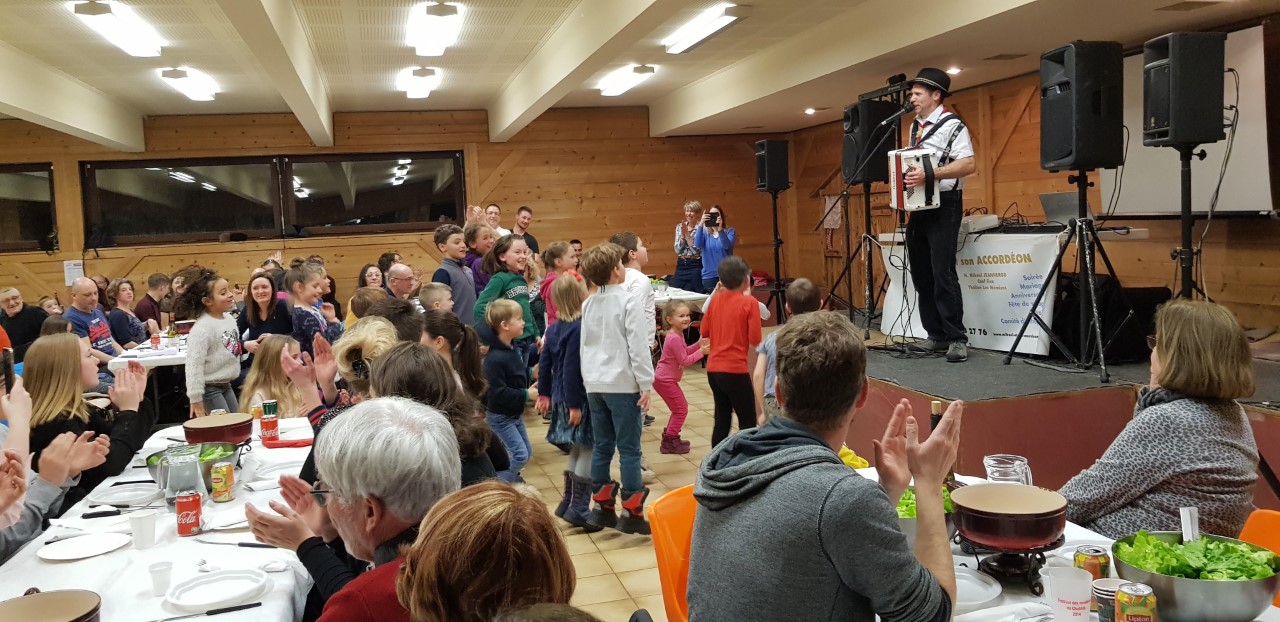 "Horseing around" Thursday 20th February 2020.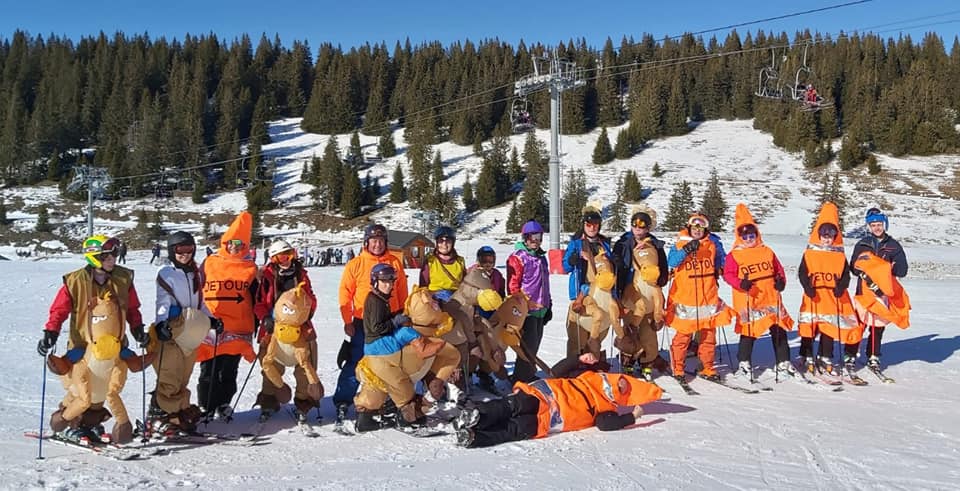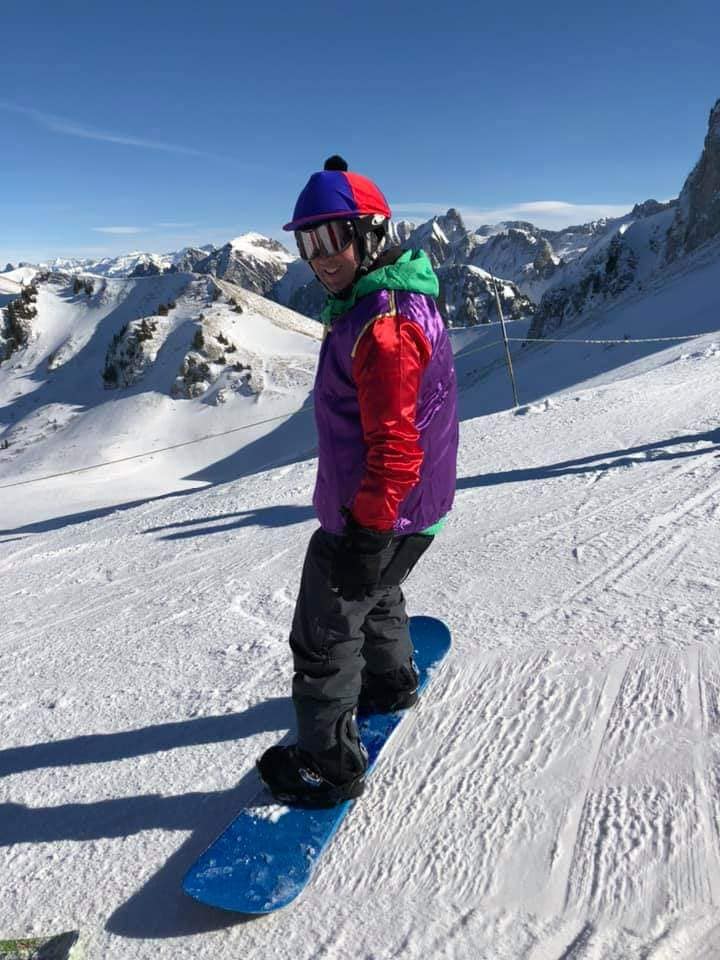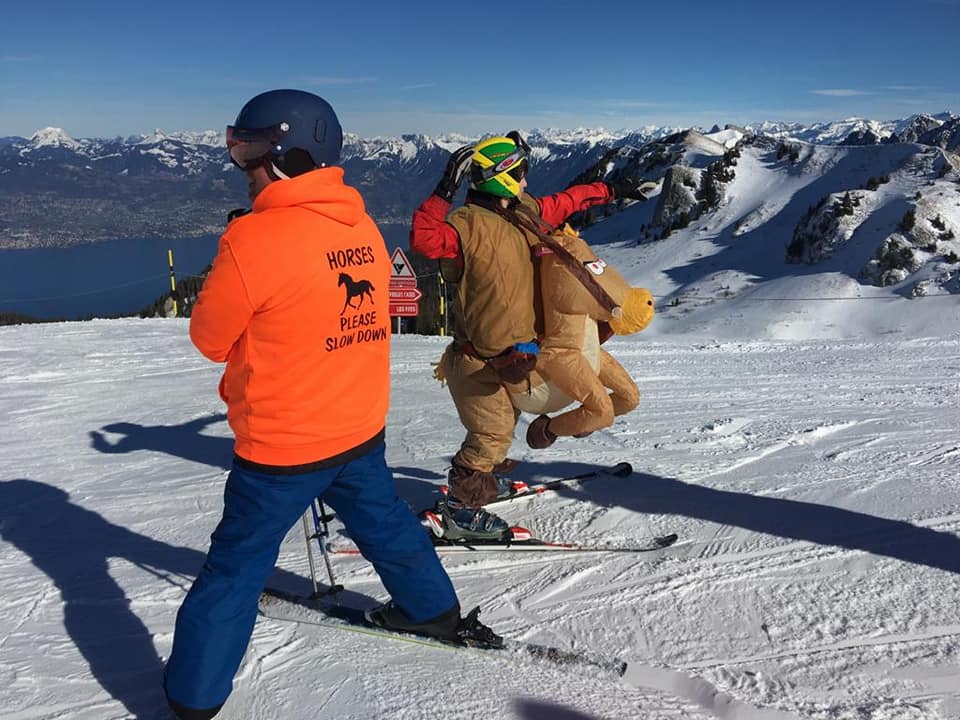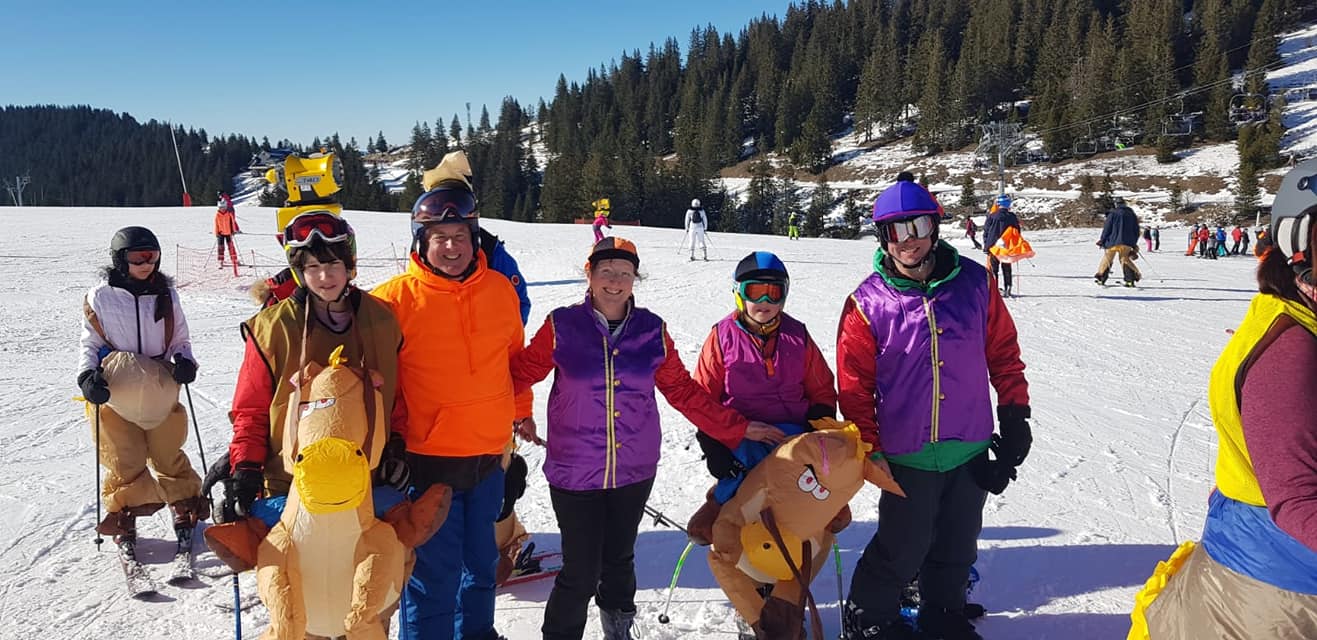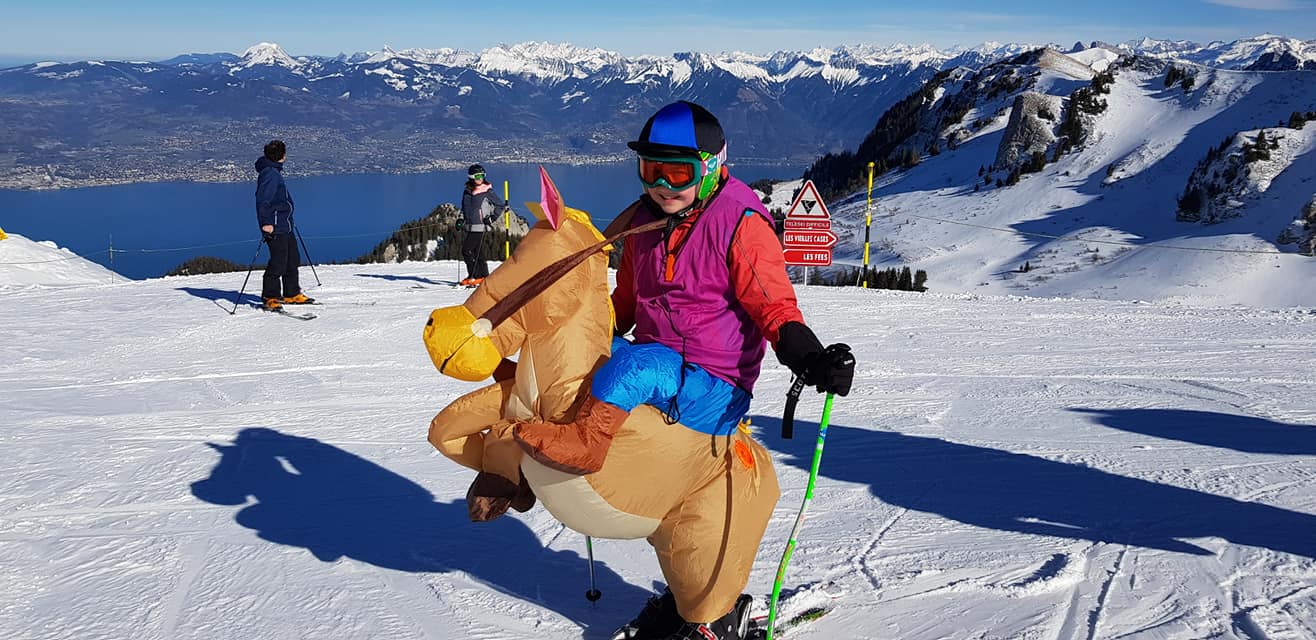 Thollon Snow Park
The Thollon Snowpark association organises events on the theme of freestyle skiing/ snowboarding. The half pipe, landing balloon and water jump add some fun to Thollon.
Reggae Fever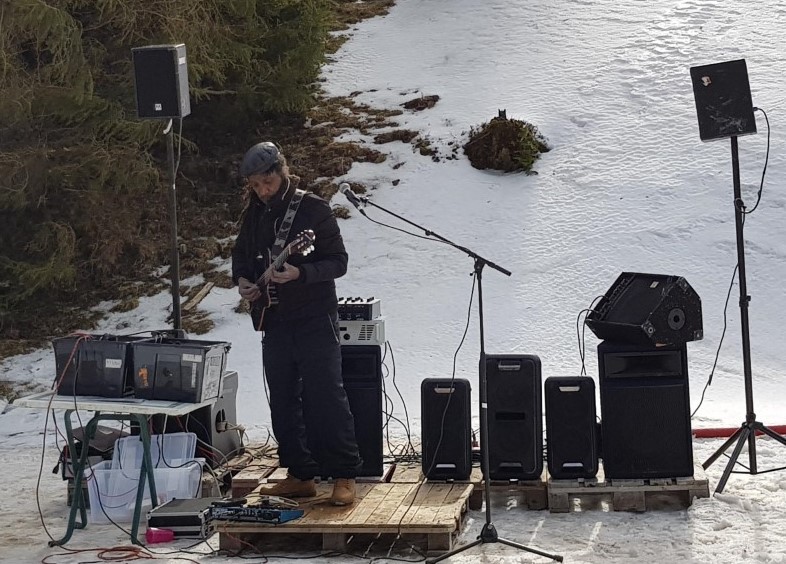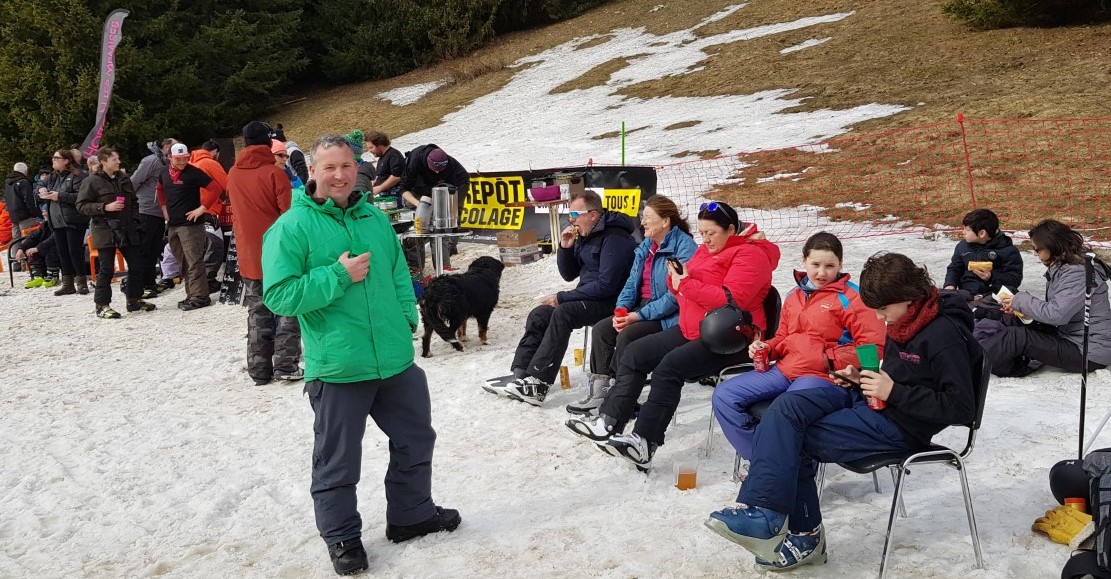 One of our own has a sneaky play.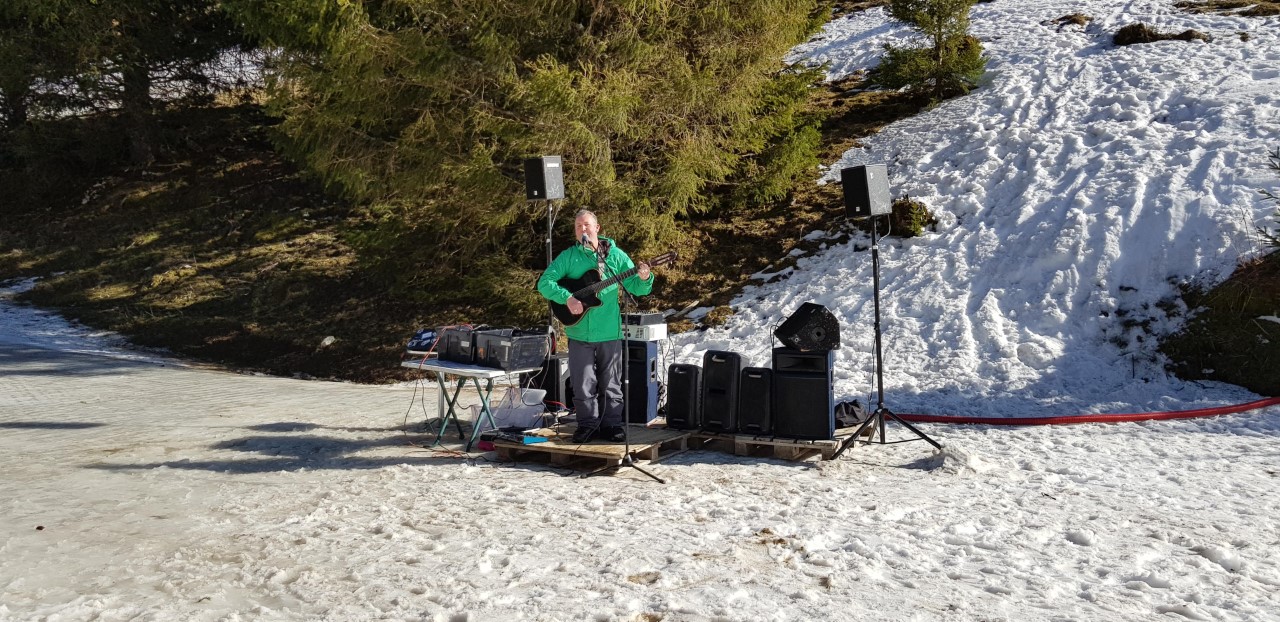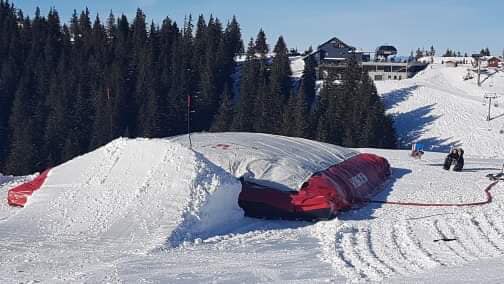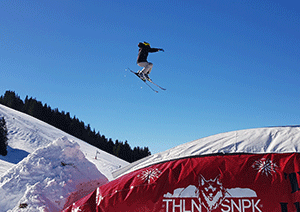 Below January 2020 BBQ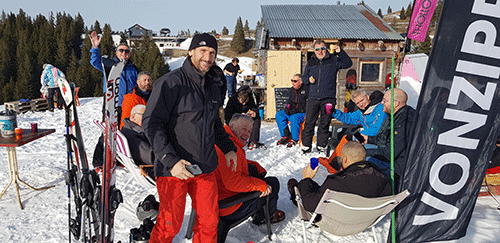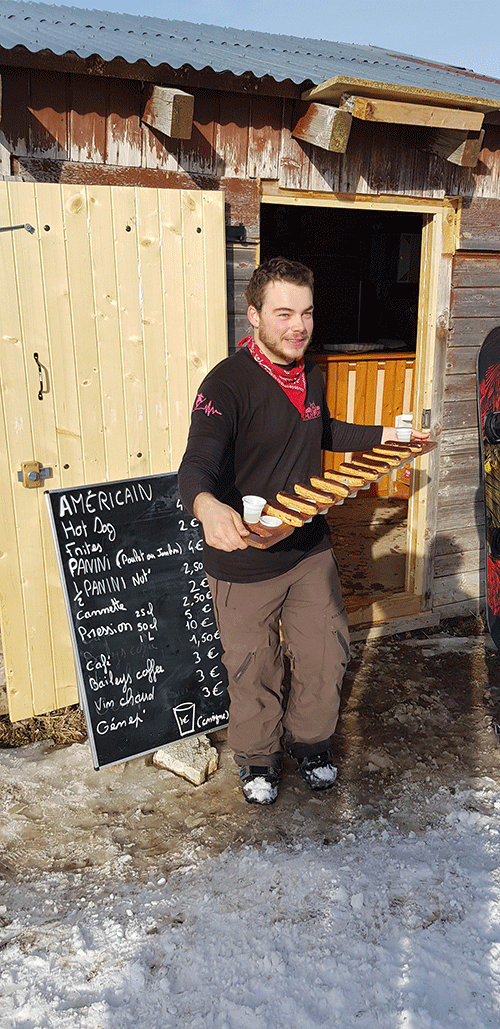 Carnaval in Evian see Evian page for photos from previous years.
Summer 2019.
Music and fun. Bars, fete, BBQ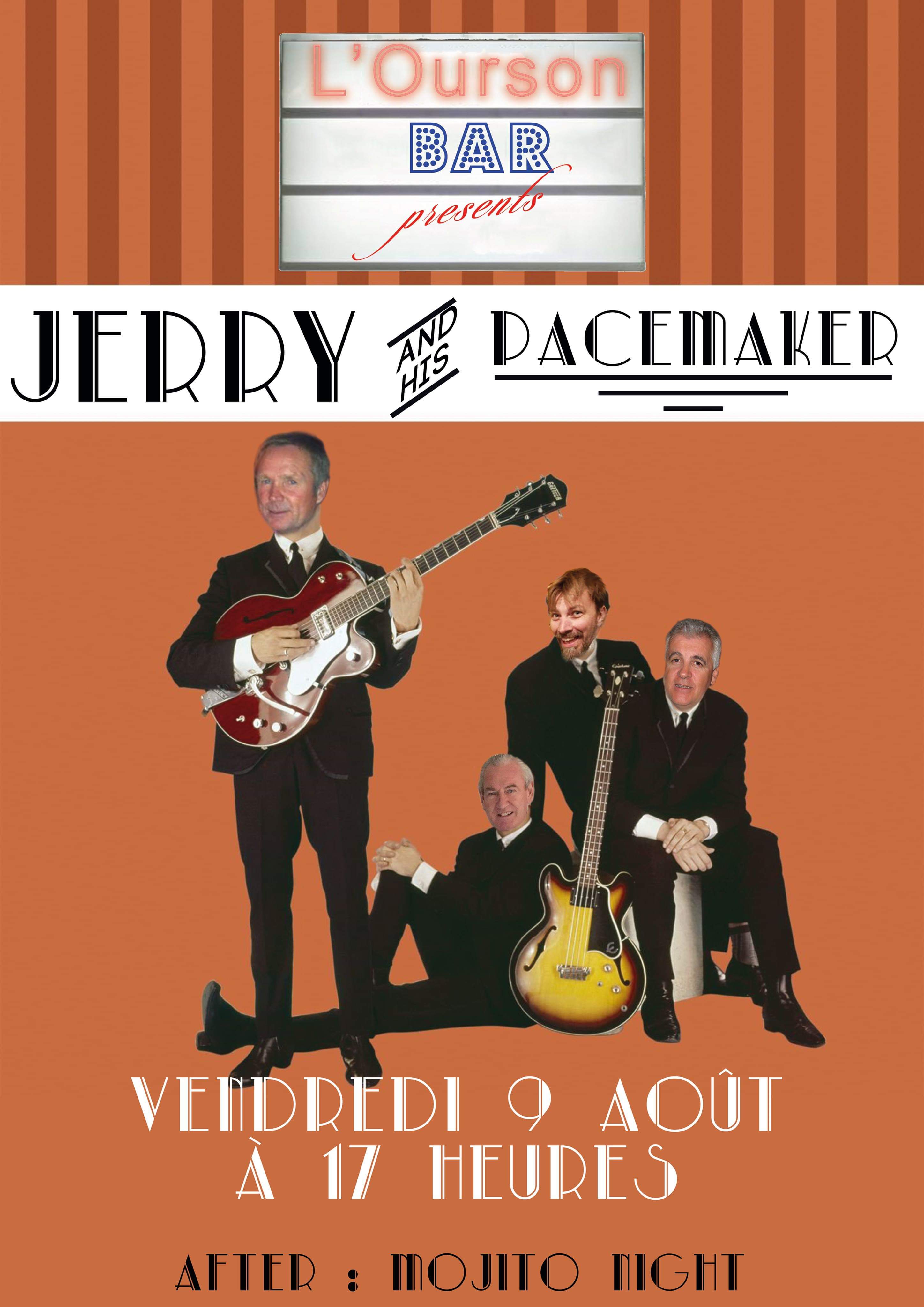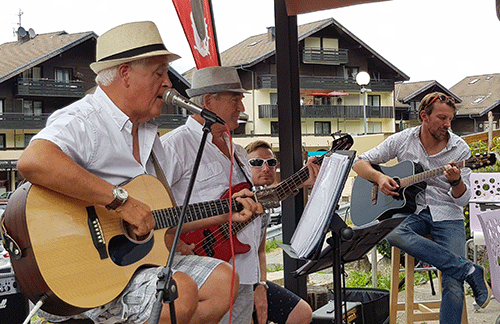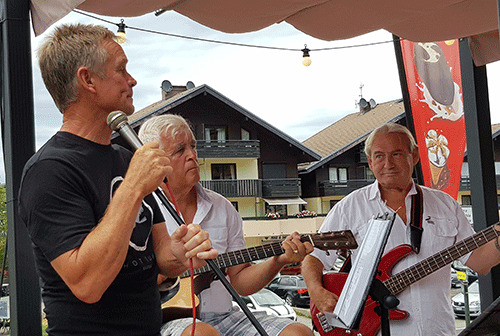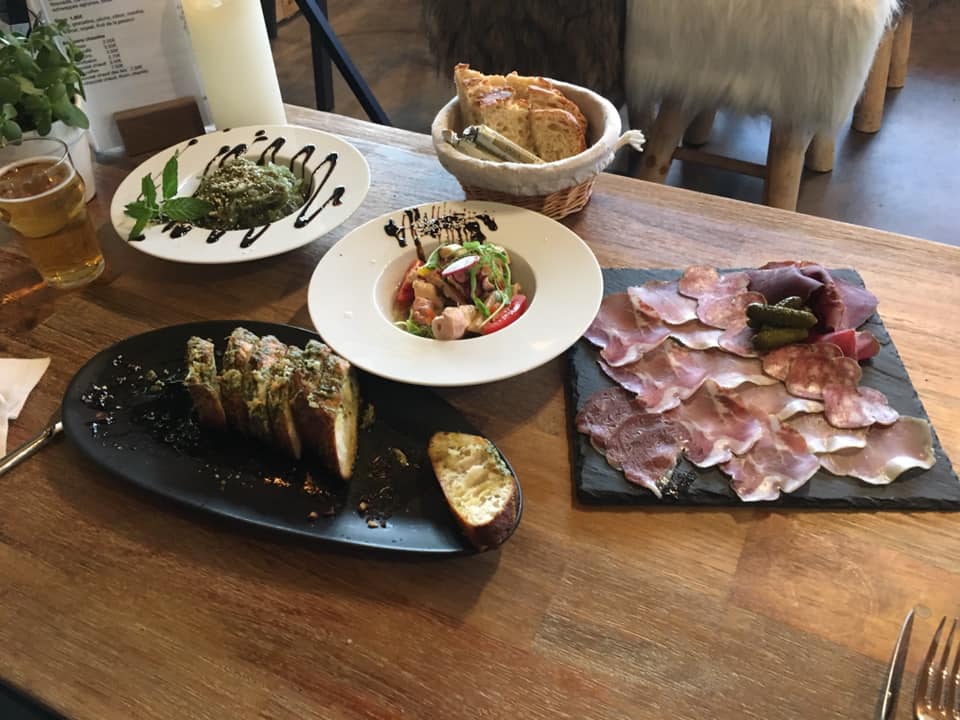 The annual fete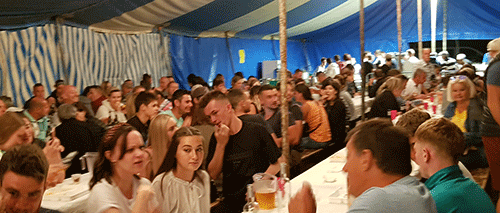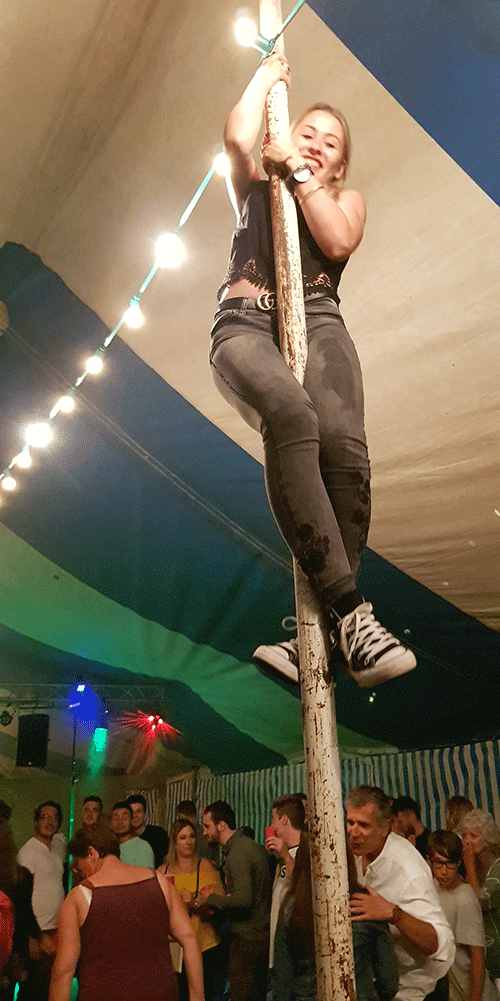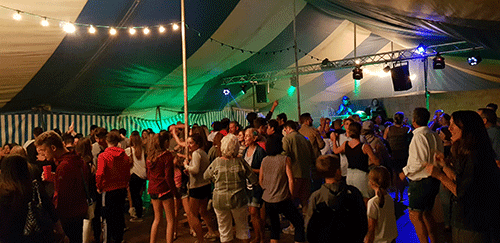 The site at the aerial Hucel which has a wonderful view over the lake was the venue for an inpromptu byo BBQ. A group of locals and Brits enjoyed food and wine as the sunset. The steep and dark climb down from the site was interesting.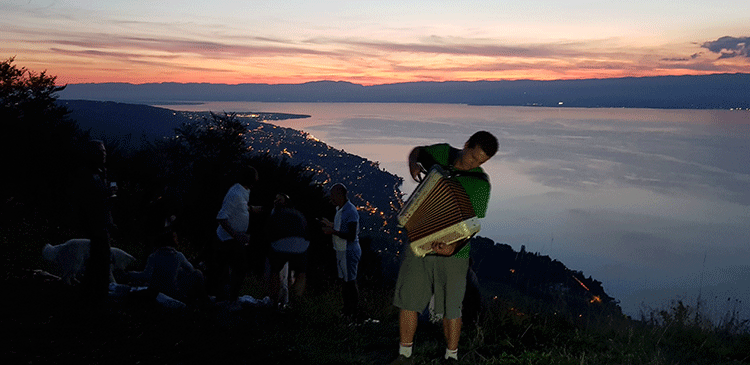 The Lake
Many of the Thollon group have boats on the lake and enjoyed a great summer of boating. The lake provided its usual mirror calm surface ideal for motor boats. The usual venues of Grand Rive "Nathalies" and new this year L'OXXY Beach providing refreshment.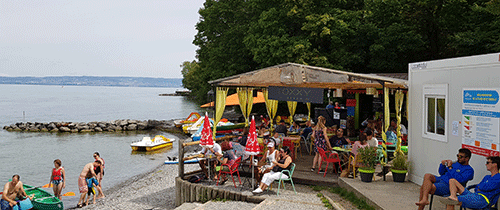 Annual Football Match
On Saturday 8th June 2019 at 3pm the annual football match was played on a lovely sunny day.
Result: England 8, France 7 yes we won!
As usual the band, ceremony and football of a standard only seen once a year. A great celebration.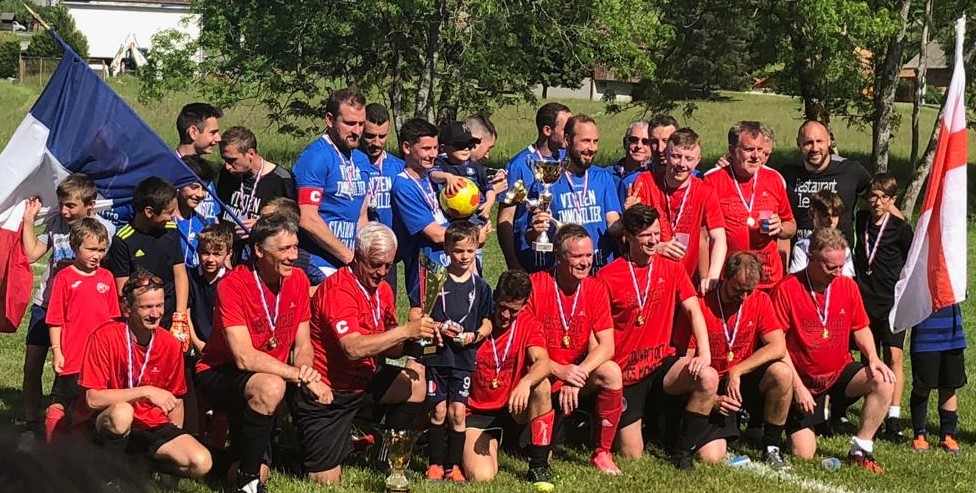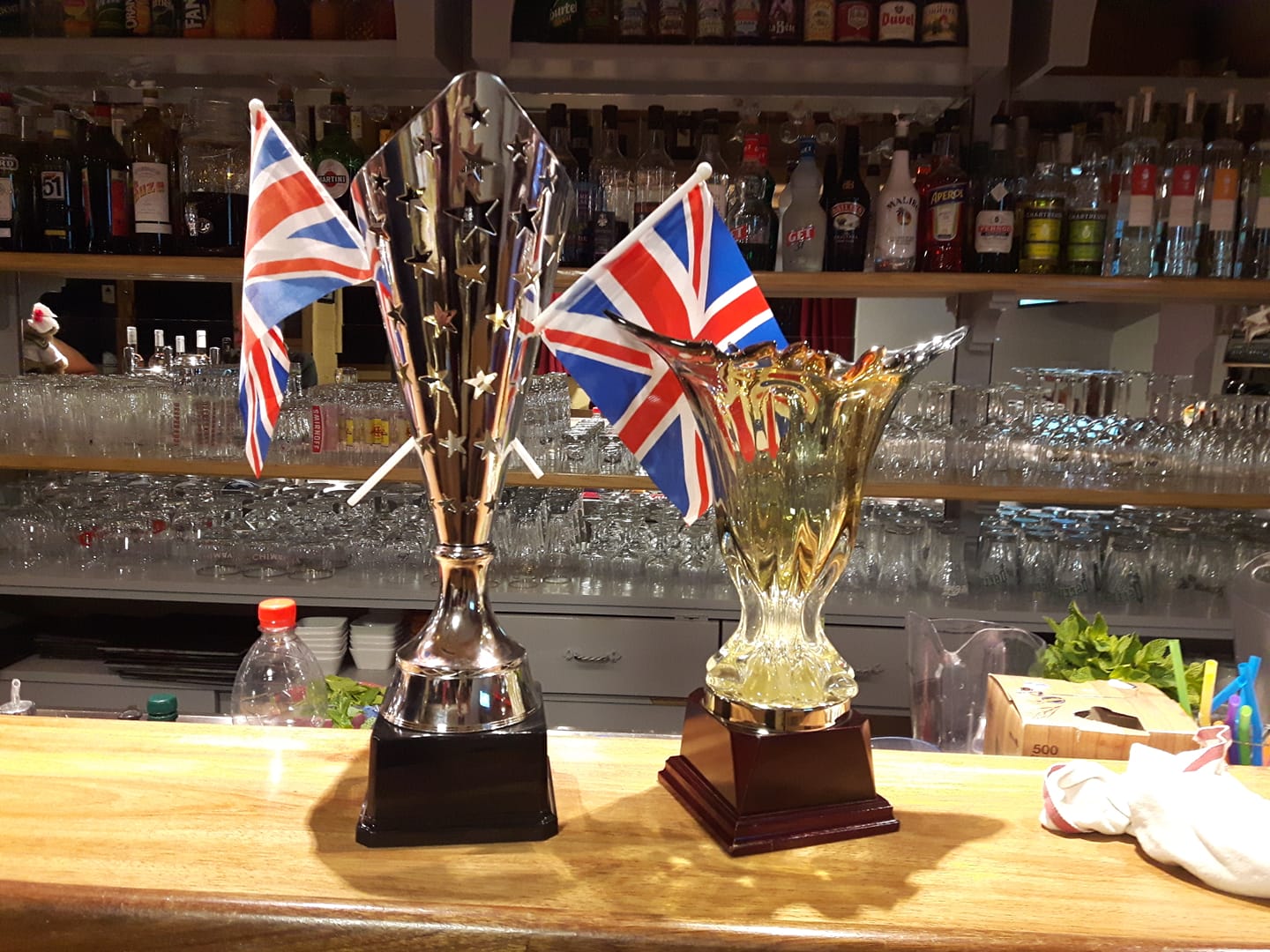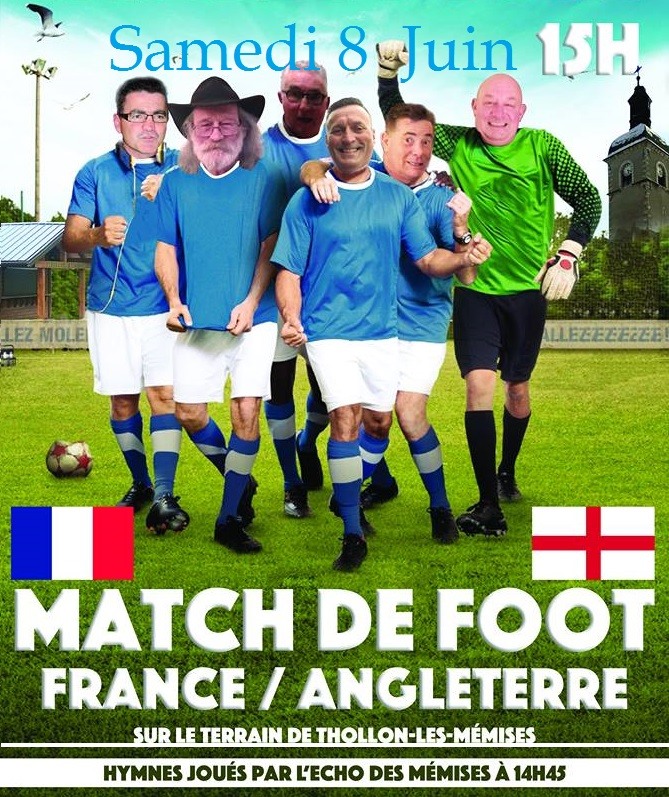 Pink Pub to Pegasus Bridge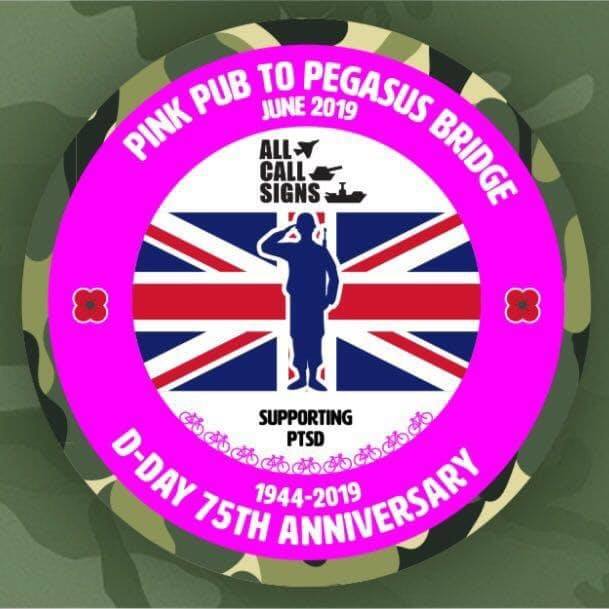 This site celebrates the link between many countries. We have a large British contingent. Several Bognor Regis members supported a great forces charity by cycling from Bognor Regis to Pegasus Bridge to celebrate D-Day leaving on Wednesday 5 May 2019. Have a look at the Facebook page. Pinkpub2PegasusBridge They have raised over £120,000....Great job guys.

They made it! Well done guys!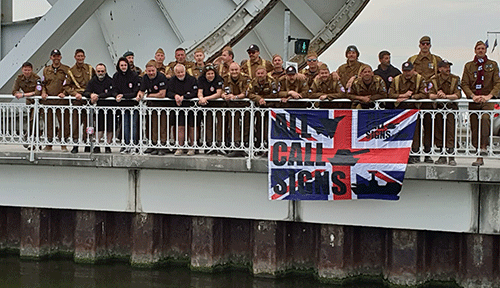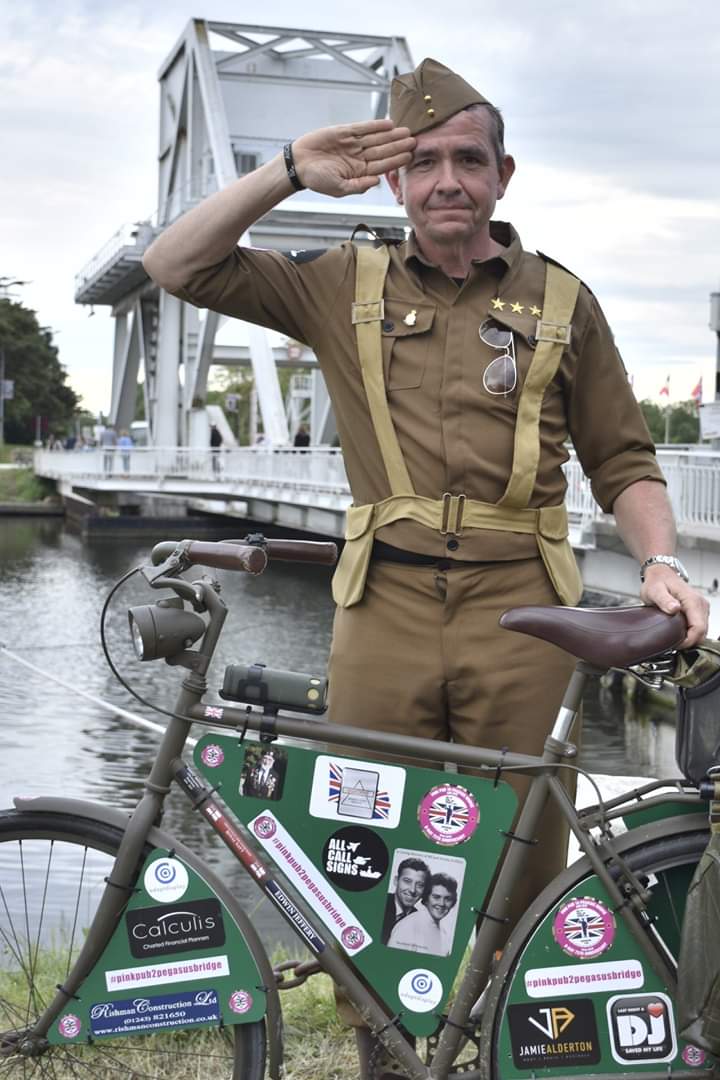 The Paddle steamers salute Evian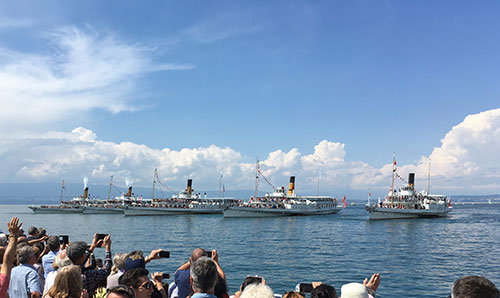 Winter 2018/19
The season closed with the UCAT Race and the water slide, and the British enthusiastically joining in the celebrations with this years theme of Peaky Blinders. Around 35 British visitors, and some Ex Pat residents joined in the fun.
Thollon.org entered a team of three generations photo below, 2 skiers and a snowboarder! A superb effort but no medals this year.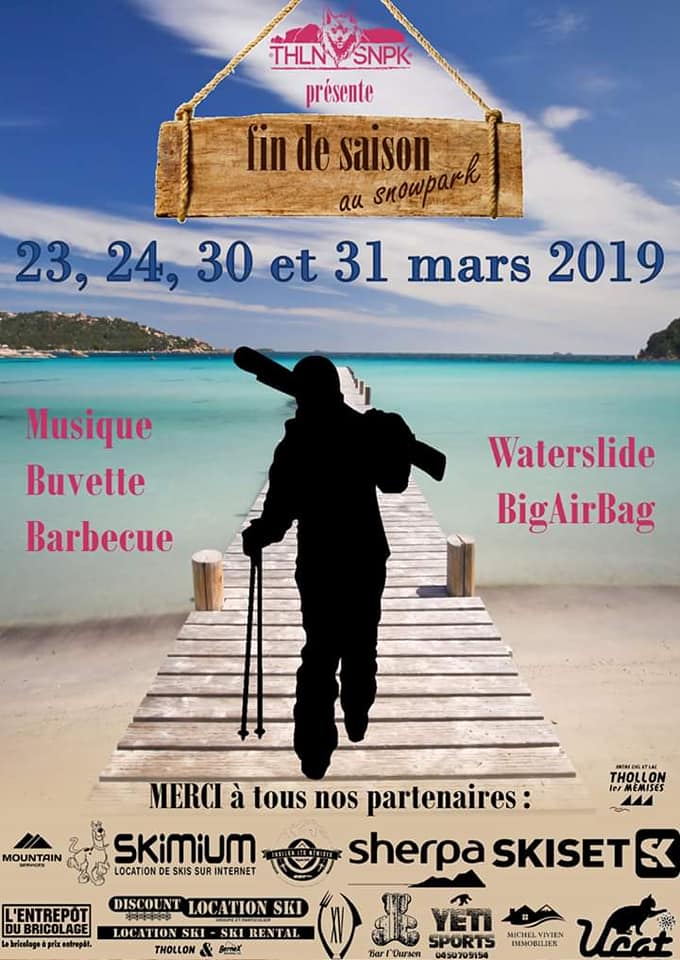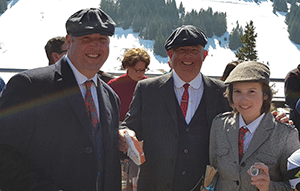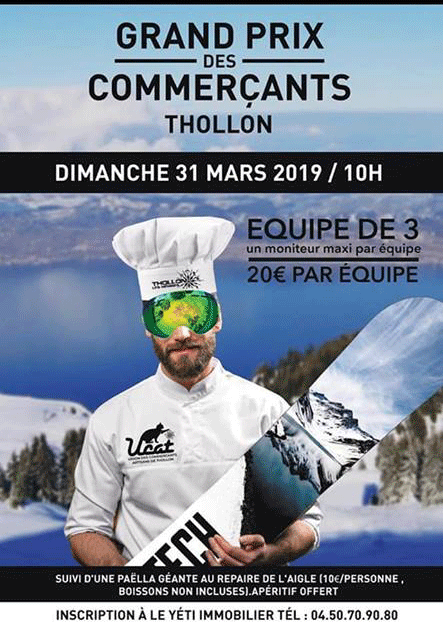 Below the race winners Garage des Memises and the British "second place?" Team Meda Sport (Ketts Taira Andy) we understand that we might have translated "Les Perdants" incorrectly..... Great trophy, medals, cheese and chocolates were all appreciated as was the great atmosphere and the paella served for lunch. Thanks to the organisers and the many supporters for such a fun event. The race had a unique compulsory half way stop with a glass of wine or juice being consumed before continuing to the finish.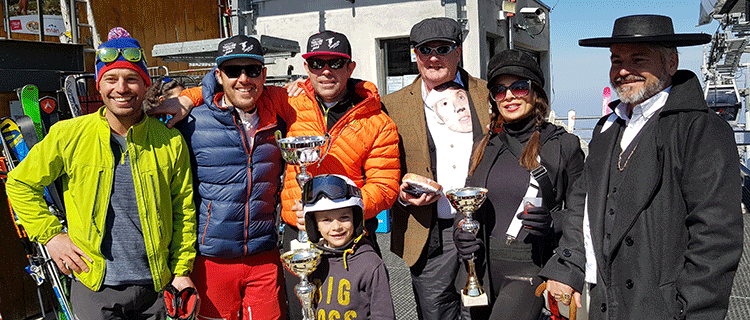 Results correctly reported in the le dauphine below on the 3rd April 2019 together with a picture of the Peaky Blinder racers.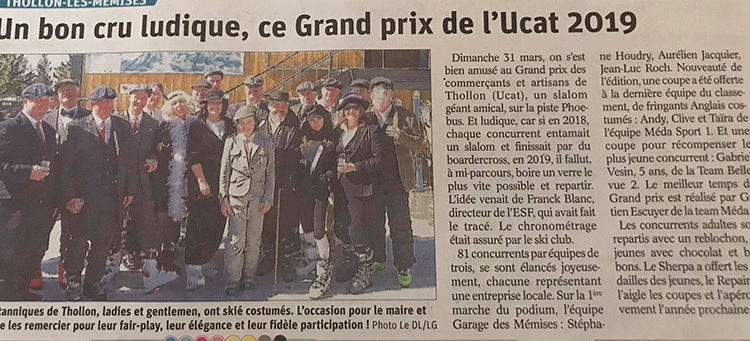 More pictures and video below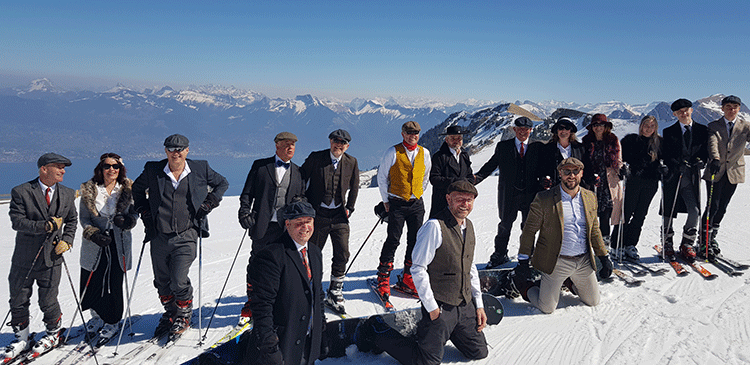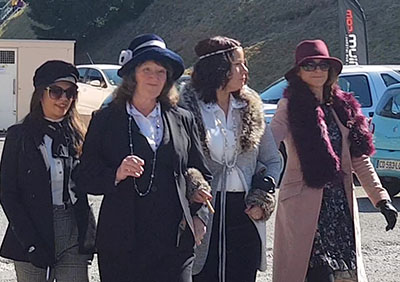 Peaky on the slopes PeakyYouTube video
The British half term, Monday 18th February 2019 brought many visitors to Thollon. A great sunny week with fun had by all.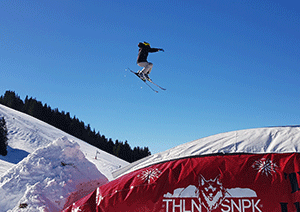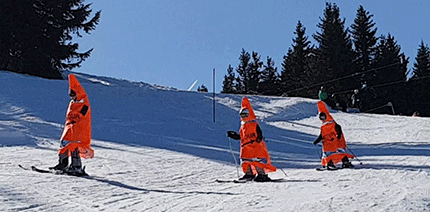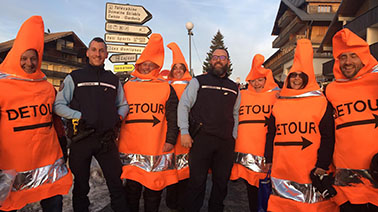 The Tourist Office will be running many events during the holiday season. Thollon les Mémises Tourisme Facebook publishes details. The "Agenda of the week" Programme d'animations. Torch light descent, table tennis. Karaoke and much more.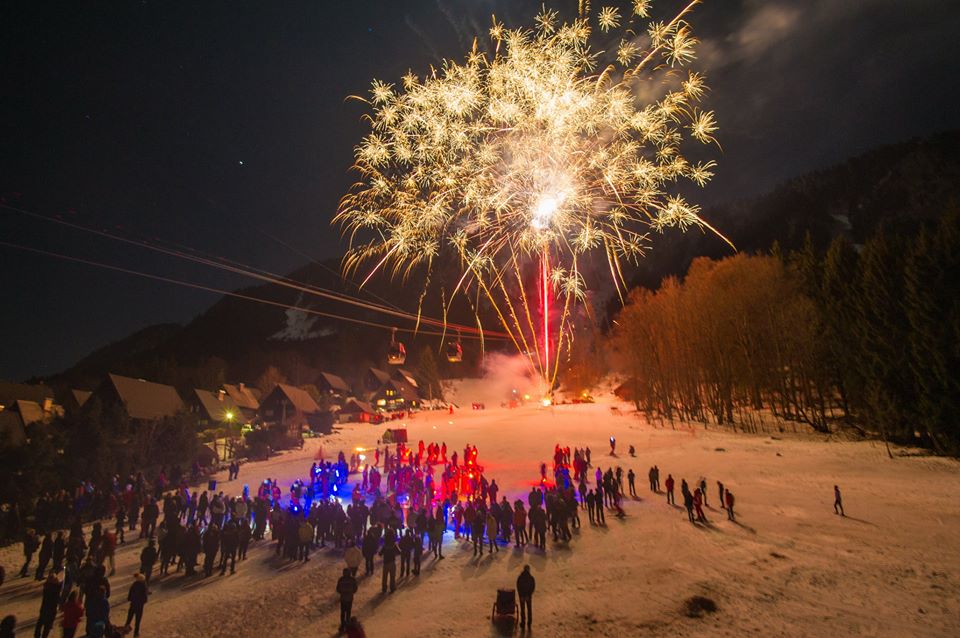 Winter fun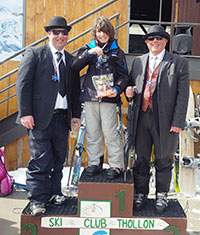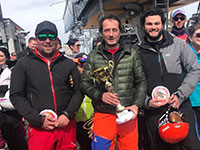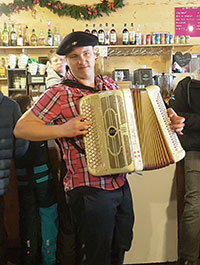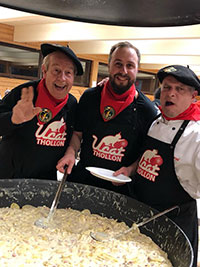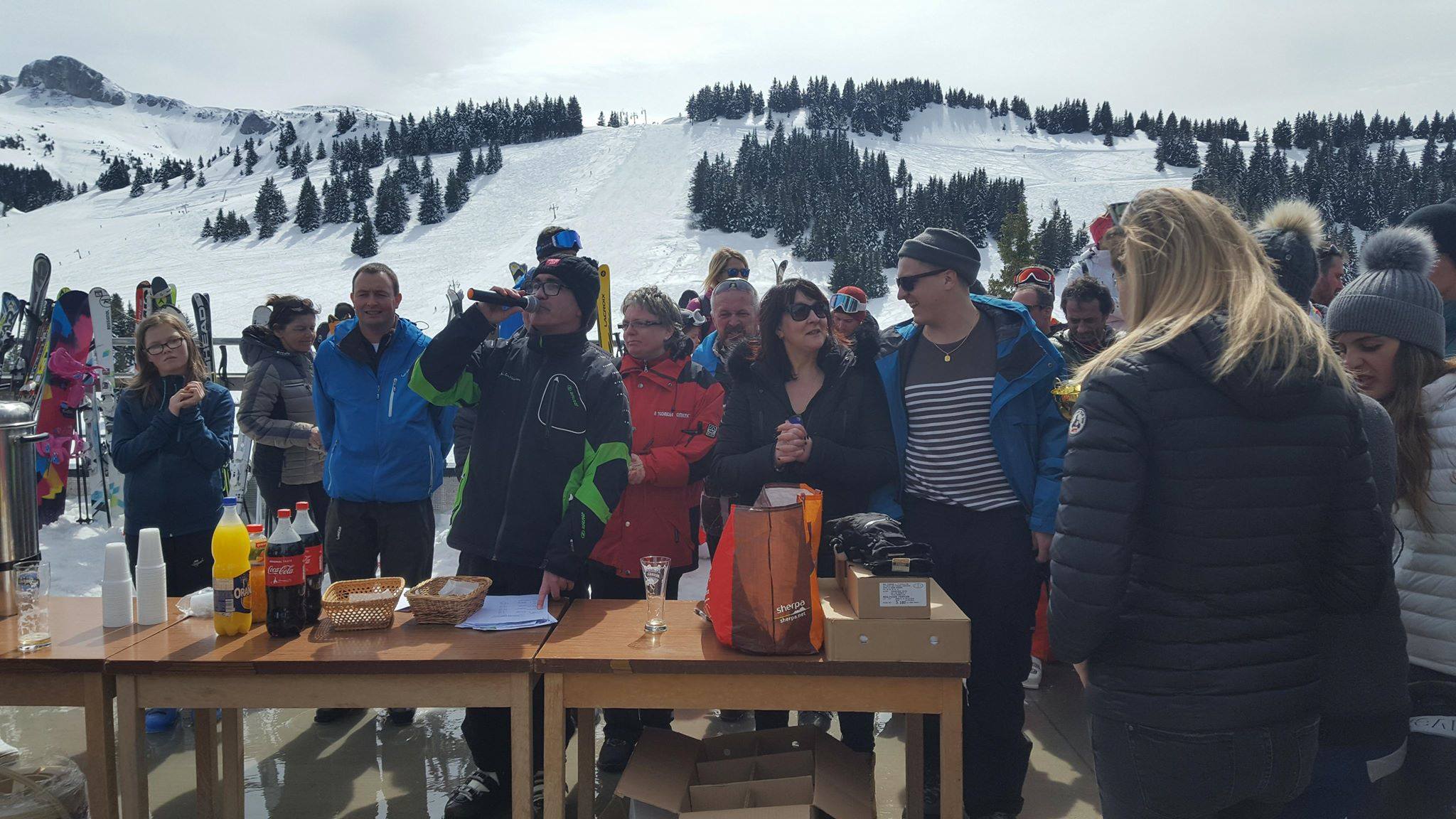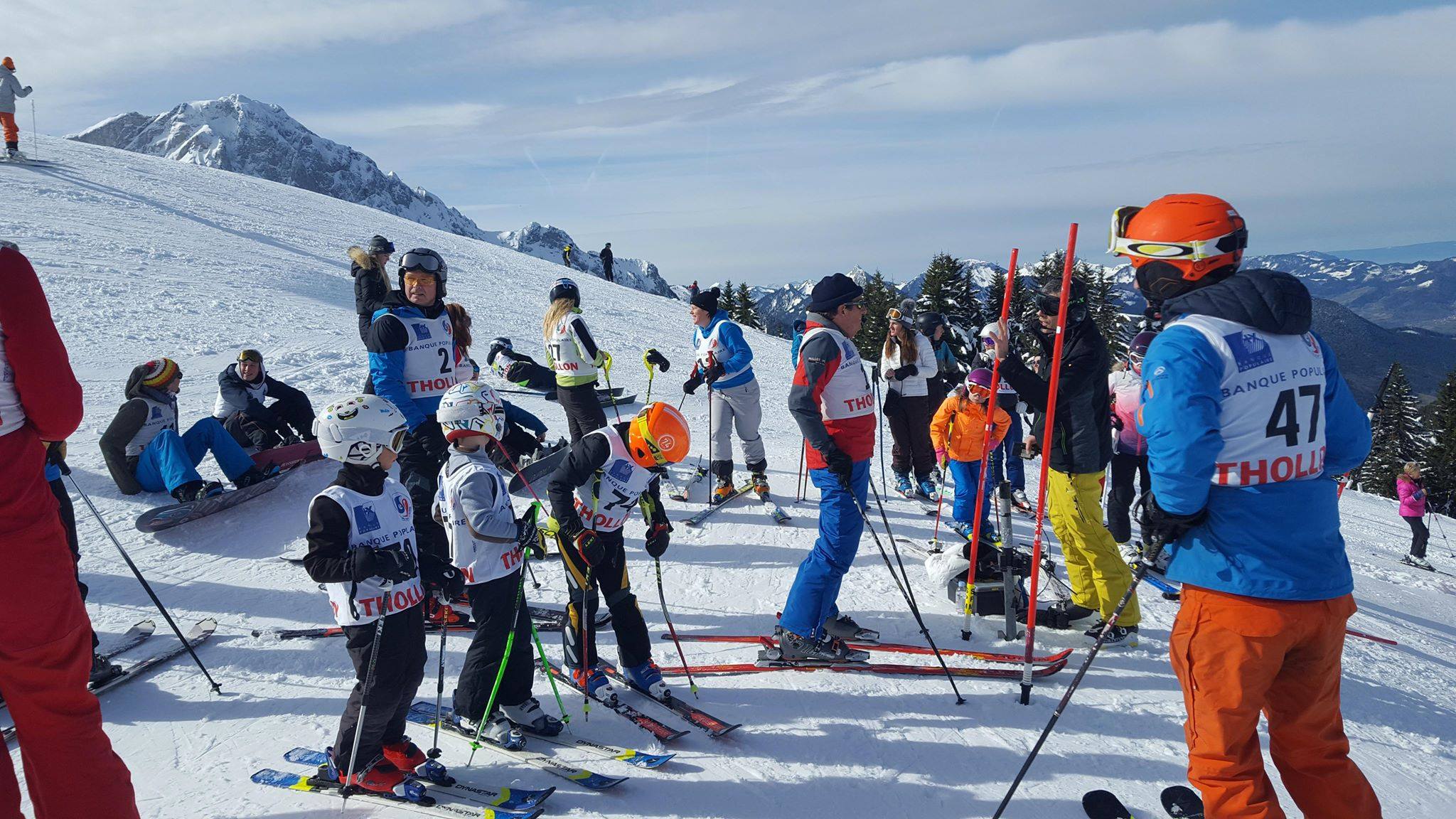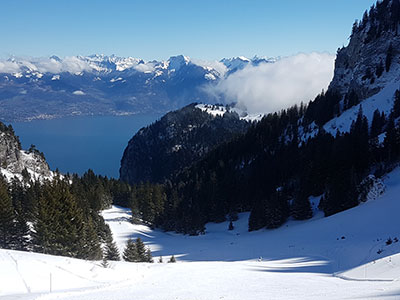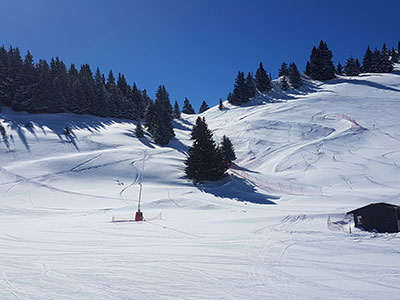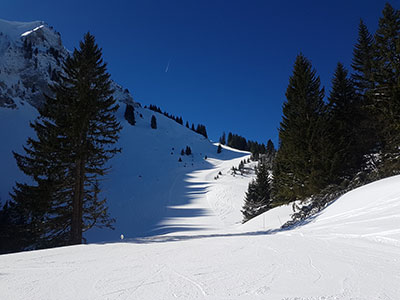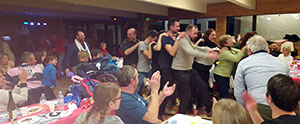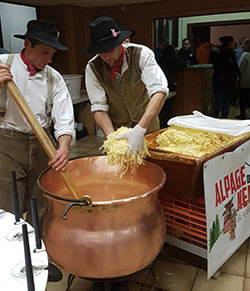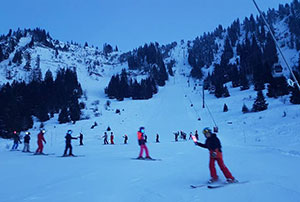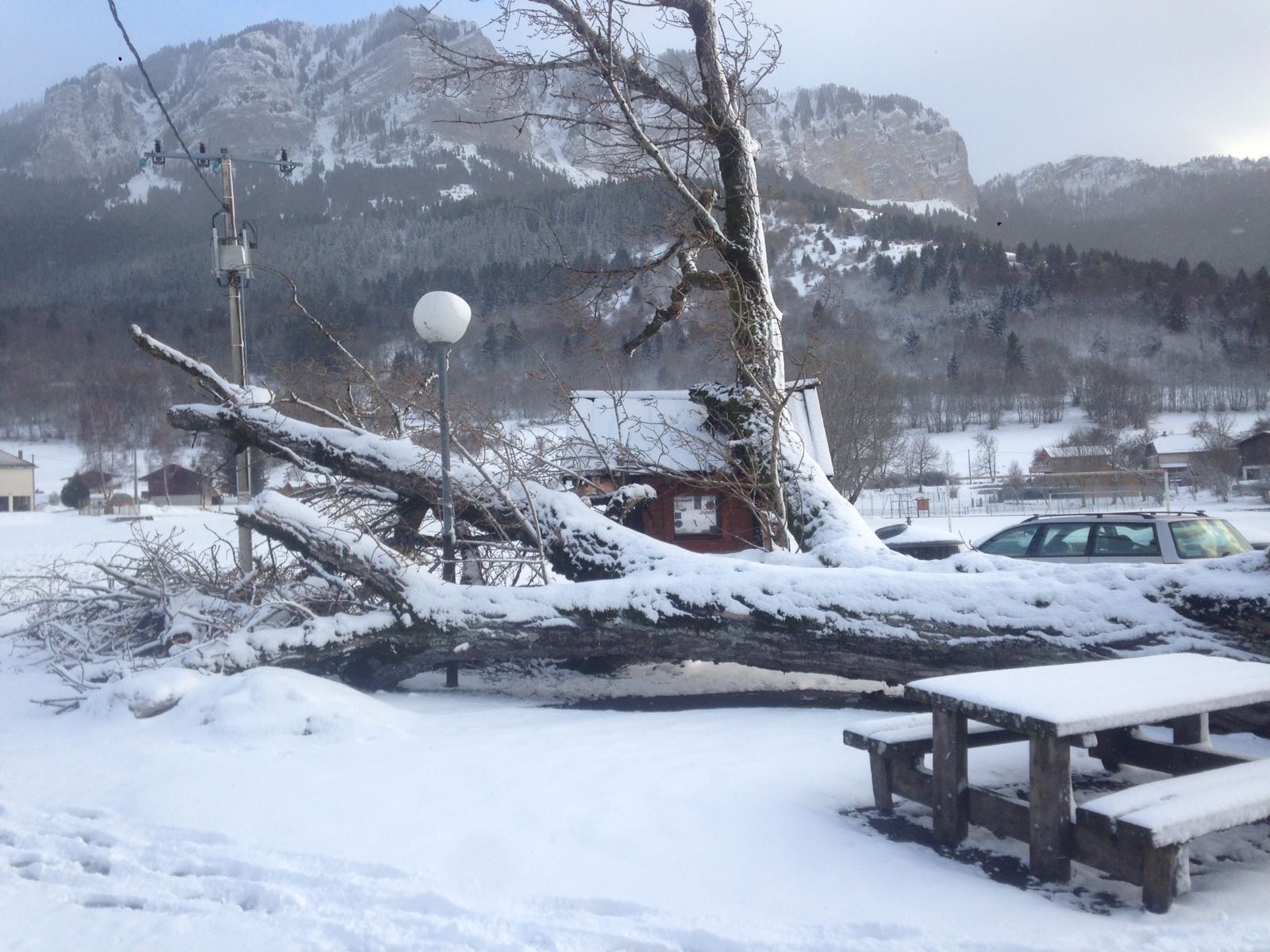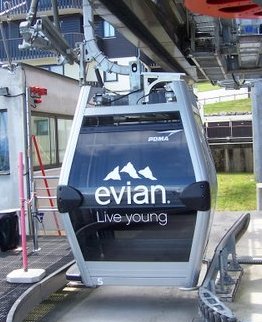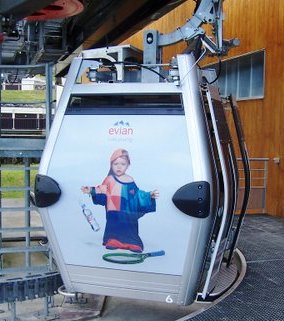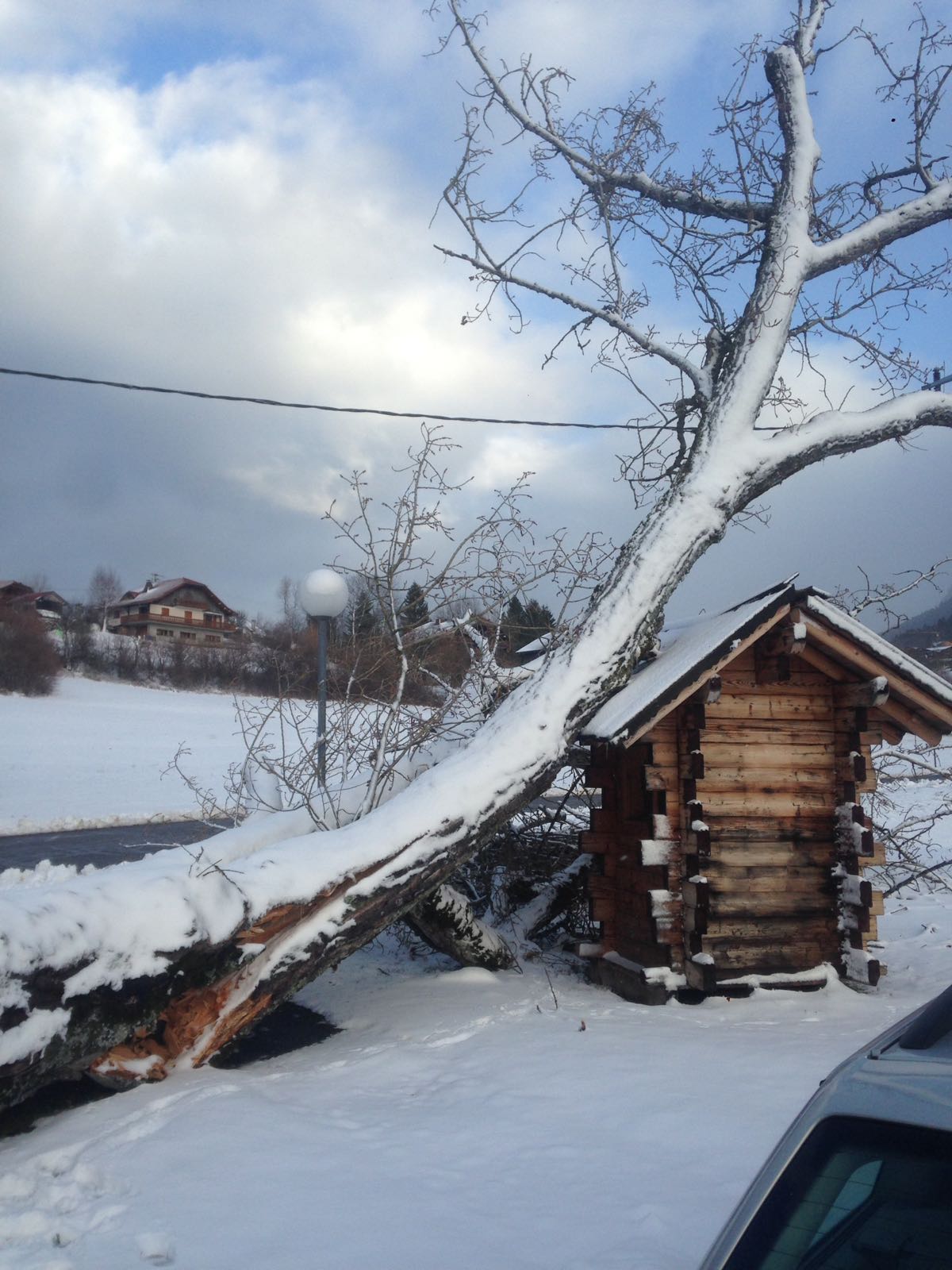 More on our News and Blog page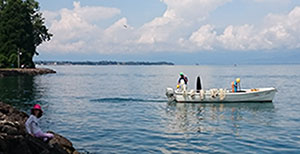 The website invites contributions and constructive comments: info@thollon.org
Do check in regularly as new articles are added.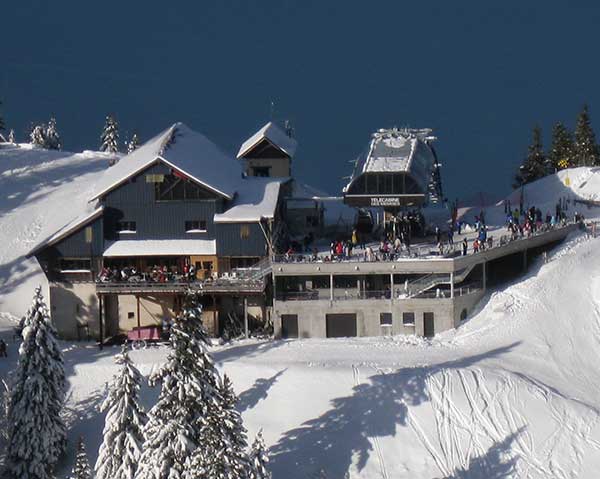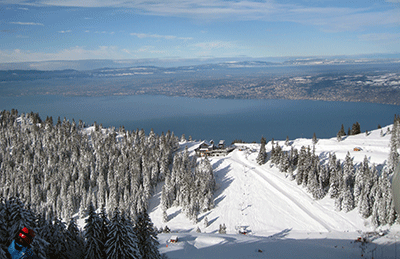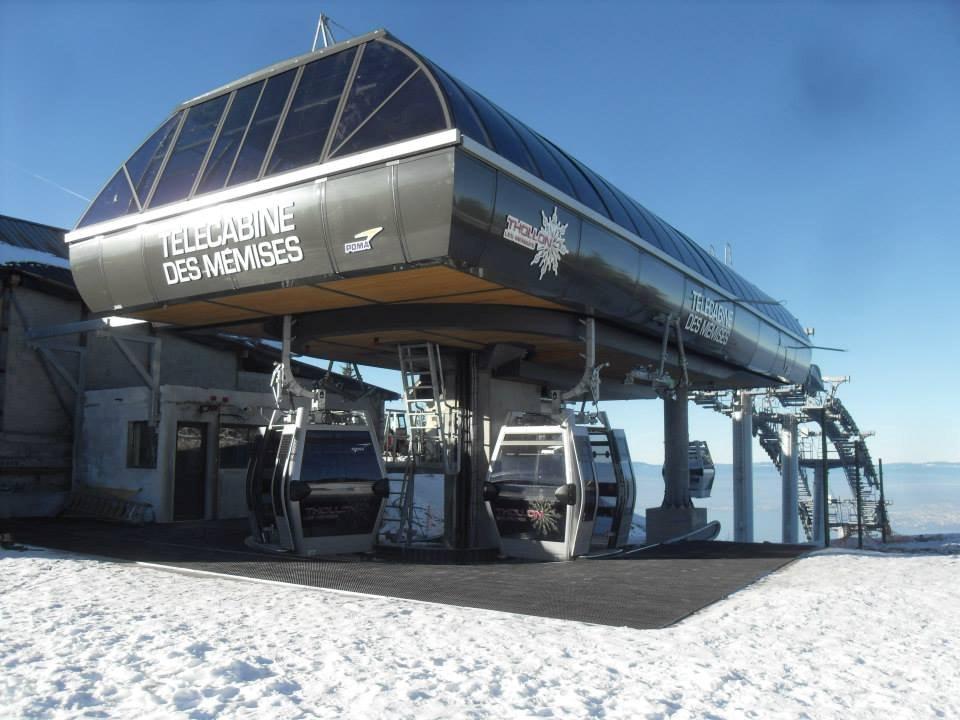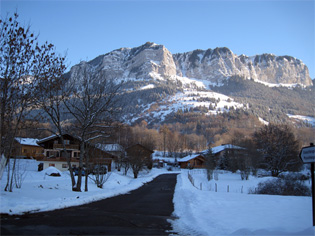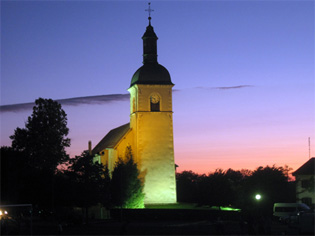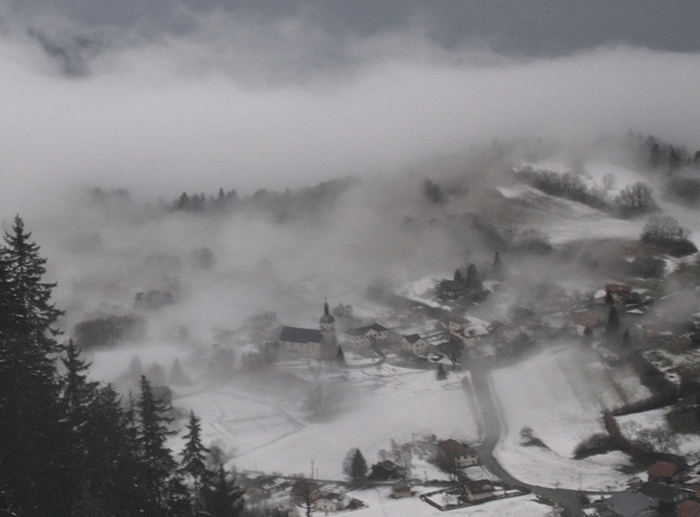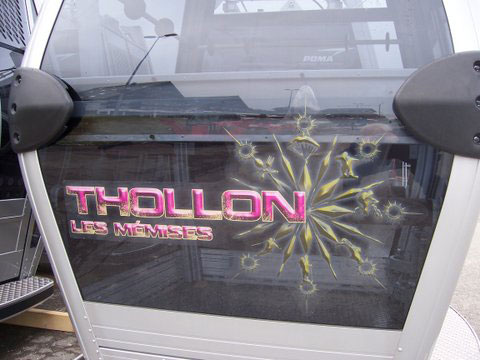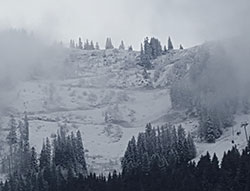 Map of suggested visits and Ski resorts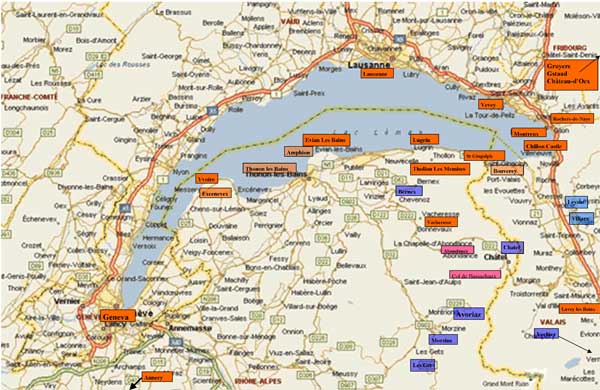 The site does not intend to duplicate the information that is available on local websites such as www.thollonlesmemises.com but to bring together information and welcomes suggestions and contributions,
To make a contribution please use our contact page.
Photographs that show a particular aspect of Thollon and the area are appreciated.
As the site is an exchange of information no liability for the correctness is accepted and visitors should verify for themselves if in doubt the information provided by contributors.
This is a UK based web site, maintained and governed in the UK.
All content copyright thollon.org