Welcome to Thollon
This website has the objective of gathering and sharing information for English speaking visitors to Thollon les Memises. To help visitors, apartment and chalet owners, and those renting properties. It aims to give a wider view than other web sites. Information that a visitor for a week or two may require. Not just for Thollon Les Memises but also the area that can by visited in a days drive.
Thollon.org has been updated, new format but same information news and updates.
We now welcome donations for advertising which will help towards the cost of running Thollon.org Donate, Advertise.

Historic winter web cam picture below.

There is a new web cam giving views from the "Top" fantastic views
Historic Webcam 19th December 2019

We now have the use of a new web cam from the the Gondola in Thollon.
Les Lanches web cam Many thanks to Andy .
Check out Facebook Telecabine Thollon for regular updates and lift opening.
Telecabine
See notice boards for special offers of lunch and lift combined. Also offers of discounted lift passes and rates for the new ski season when purchased early at thollonlesmemises.com Resort/Hiver New for winter 2019/20 combined pass with options, Thollon Bernex and Abondance. When the resort can only open limited runs, a reduced rate is sometimes applied. There is now a site showing what runs are open. Plan Thollon Alpin.
Check out the Facebook Telecabine and Facebook UCAT for latest and further information.
The Association of Traders website UCAT Thollon. Good information and links to the traders and on The Evian page a link to Bus Timetables for the Evian / Thollon shuttle.
Cafes restaurants hotels and shops. Lockdown Winter 2020. If you are in Thollon do support those that can open and when we get back and can visit we all need to use them to ensure that these great people can keep going.
With Thollon first in lockdown and as the summer comes and goes...... and we are now in winter........one of our own is writing this excellent blog. Many thanks to LB
This and earlier letters are on the Letter from Thollon page
The Kindness of Strangers January 2021
'My sincere condolences to everyone living in Britain, you are going through so much at the moment, things are really bad in your country', said the middle-aged Frenchman who approached me out of the blue in the supermarket car park last week.
I'd seen him looking with interest at the car number plate, (lately replaced by a French one), and was bracing myself for a comment on the British running away from Verbier. I was touched by his concern over the rapid spread of this virus and thought I'd pass on his kind wishes to you here.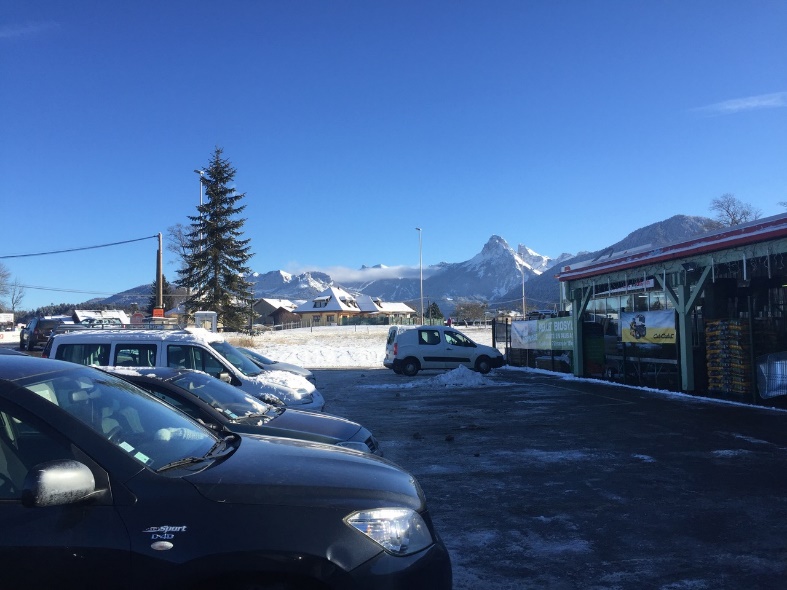 Drive-In Beauty
As supermarket car parks go, there can't be many better than the SuperU at Vinzier.
A 5-minute drive from Thollon, the trip to the supermarket takes you down narrow twisty country lanes, through a ramshackle hamlet or two, and offers tantalising glimpses of the lake.
If Michelin gave stars for car parks, (which being a tyre company you would think they would), this would be a 3-star! 'Meh, it's always chaos… in that charming French way' I hear you say. Yes, but, while you're waiting to squeeze into that tiny space left by the local farmer on a 1930's Massey Ferguson, you can sit back and admire the view.
And what a view!
Rising to 2,221 m behind the car park sits the Dent d'Oche. Towering over the village of Bernex, this is what a real mountain should look like. Its craggy peak, often draped in snow, calls to intrepid hikers who scramble up its sides in the summer, desperate to 'beat the clock'. Its lower slopes play host to battalions of skiers in the winter and more recently, to dare-devil mountain bikers.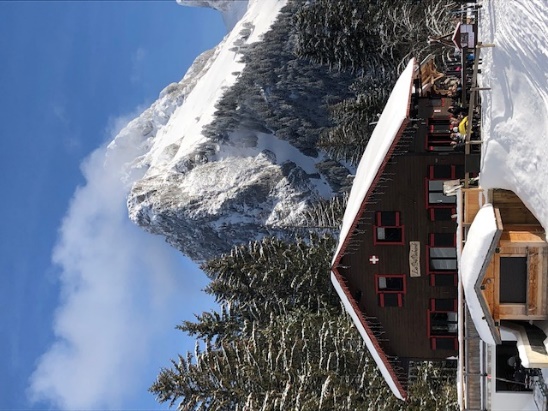 The Dent d'Oche
Back in Thollon we're still enjoying the most snow we've seen here for years. It's frustrating for everyone that the lifts are still closed but perhaps understandable when you look at the high infection numbers in France too. We're getting plenty of exercise though…. digging the car out of the car park each time the snow plough goes past, blocking it in withheaps of snow.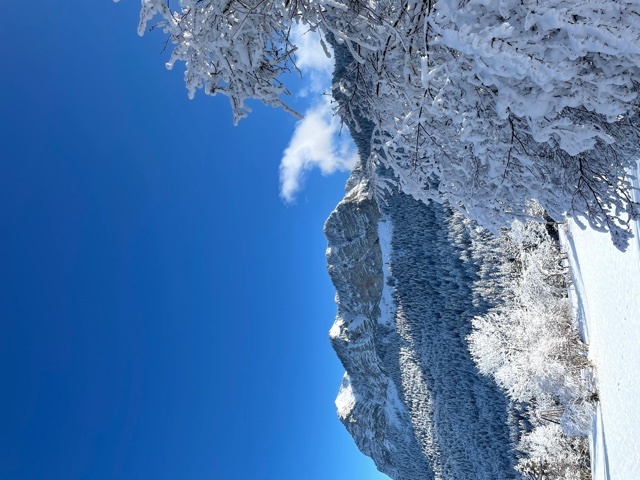 The Memises
The Upside
We're also counting our blessings. At the moment, apart from the 8pm curfew, we can at least leave the house and head out on foot into this idyllic winter landscape.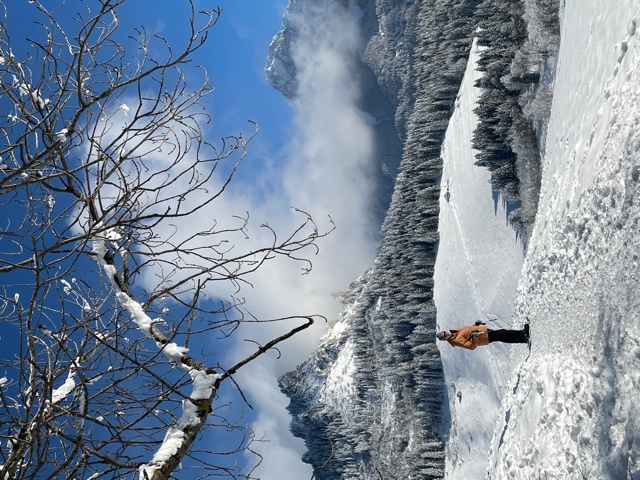 The snow sparkles like a field of diamonds and forms banks of crystals that would give geologists palpitations.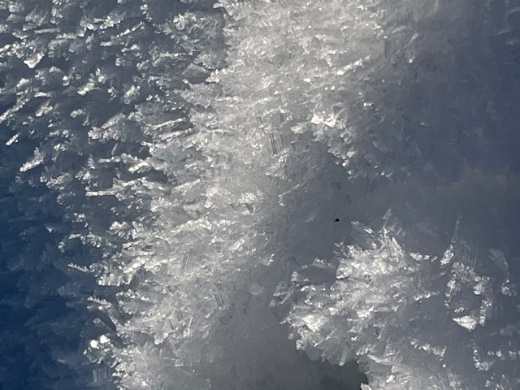 In the distance the church bell is ringing and at weekends the village slopes are covered with a patchwork of children tobogganing, and adults on snowshoes desperate to be 'on the piste'. At times we feel like we're living in a Christmas card.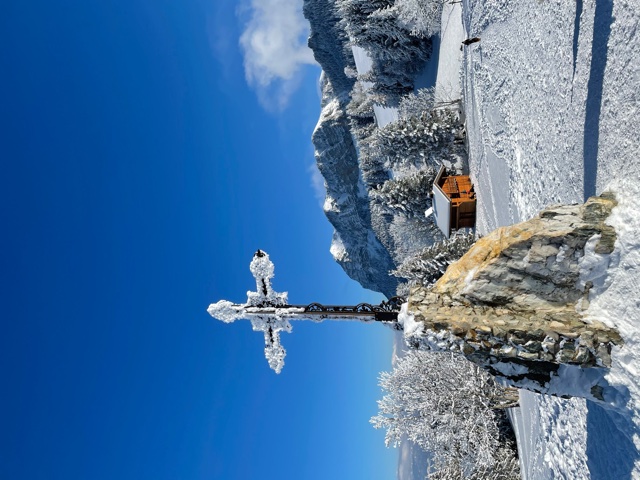 The Memises from Mont Benand
The Downside
On the other hand, we miss our families. It is really, really cold here, and although they are slowly rolling out the vaccine in France, we wait with trepidation to see if the new variant of COVID will reach us in Thollon.
Looking for a nice quote to finish with, I found this one from Theodore Roosevelt, one of the better American Presidents:
"Do what you can, with what you have, where you are" … which I think just about sums it up.
Thanks to LB
..............................................................................................................................................................................................
November 2020 Kevin et Thibaut Are pleased to announce the upcoming opening of our restaurant Les Balcons du Lac.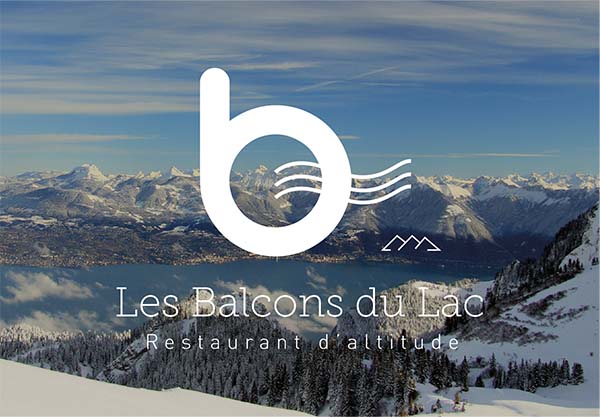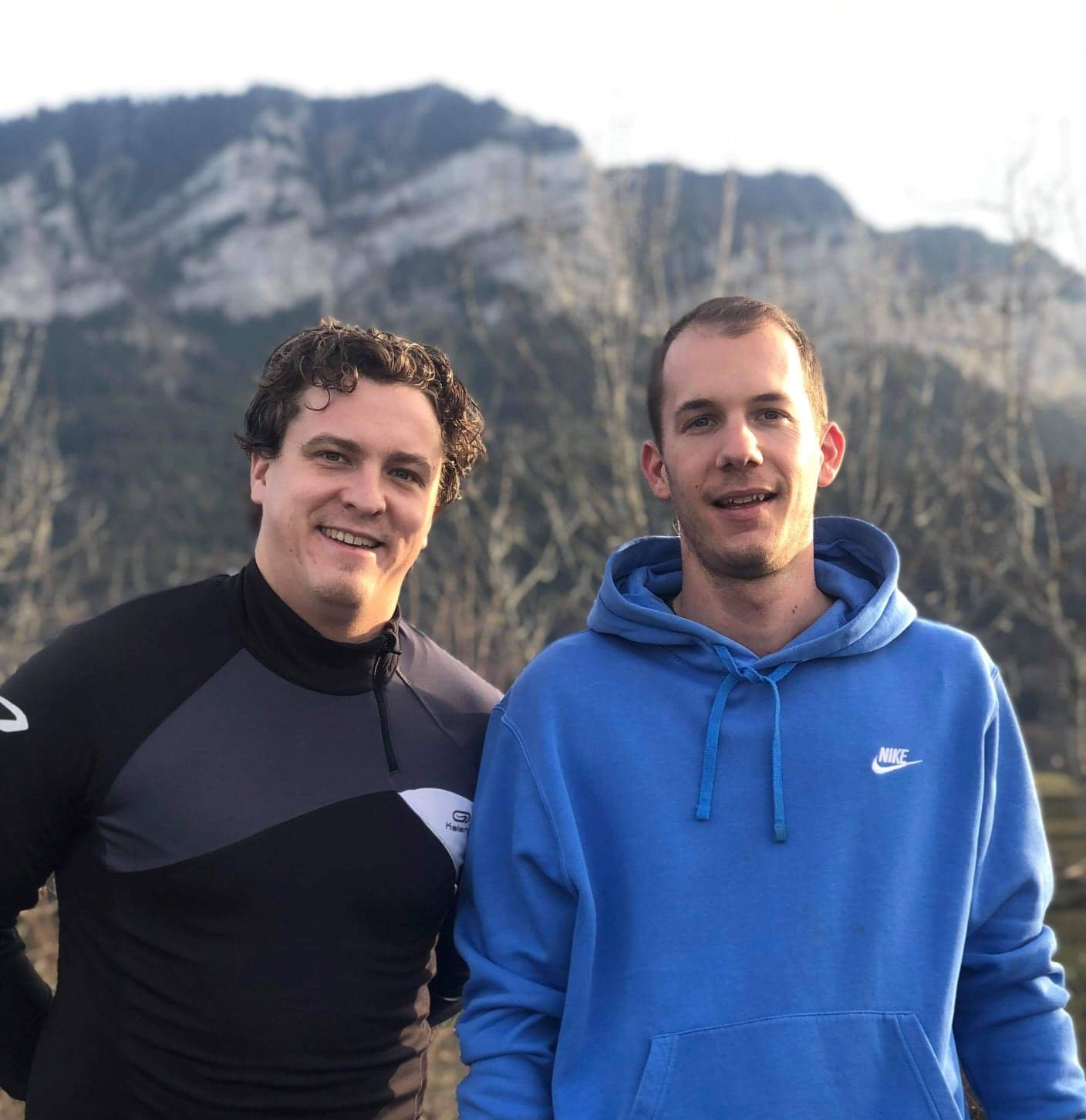 Located in the heart of Thollon-les-Mémises, France in a unique place with an amazing view of the Geneva lake. The old restaurant named "Le Repaire de l'Aigle" will be completely refurbished will become Les Balcons du Lac.
The restaurant will be open for business this year and will welcome you this winter season. French traditional cuisine pedestrian accessible or by ski.
Les Balcons du Lac it is also: - An outside terrasse - Two type of restauration; self-service and snack - A panoramic bridge - A lounge and chill out place - An outside bar - New guests' experiences - A unique place with good vibes - And more to come…... Stay tuned Tous ensemble tout schuss !!!! Do follow what is happening on the Les Balcons du Lac Facebook page Thollon.org wishes Kevin and Thibaut every success.


The view from the new balcony.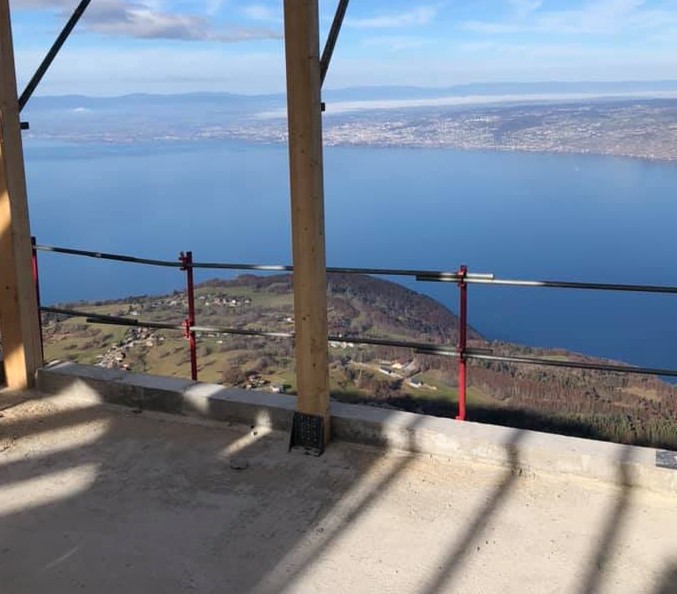 New Library for the village November 2020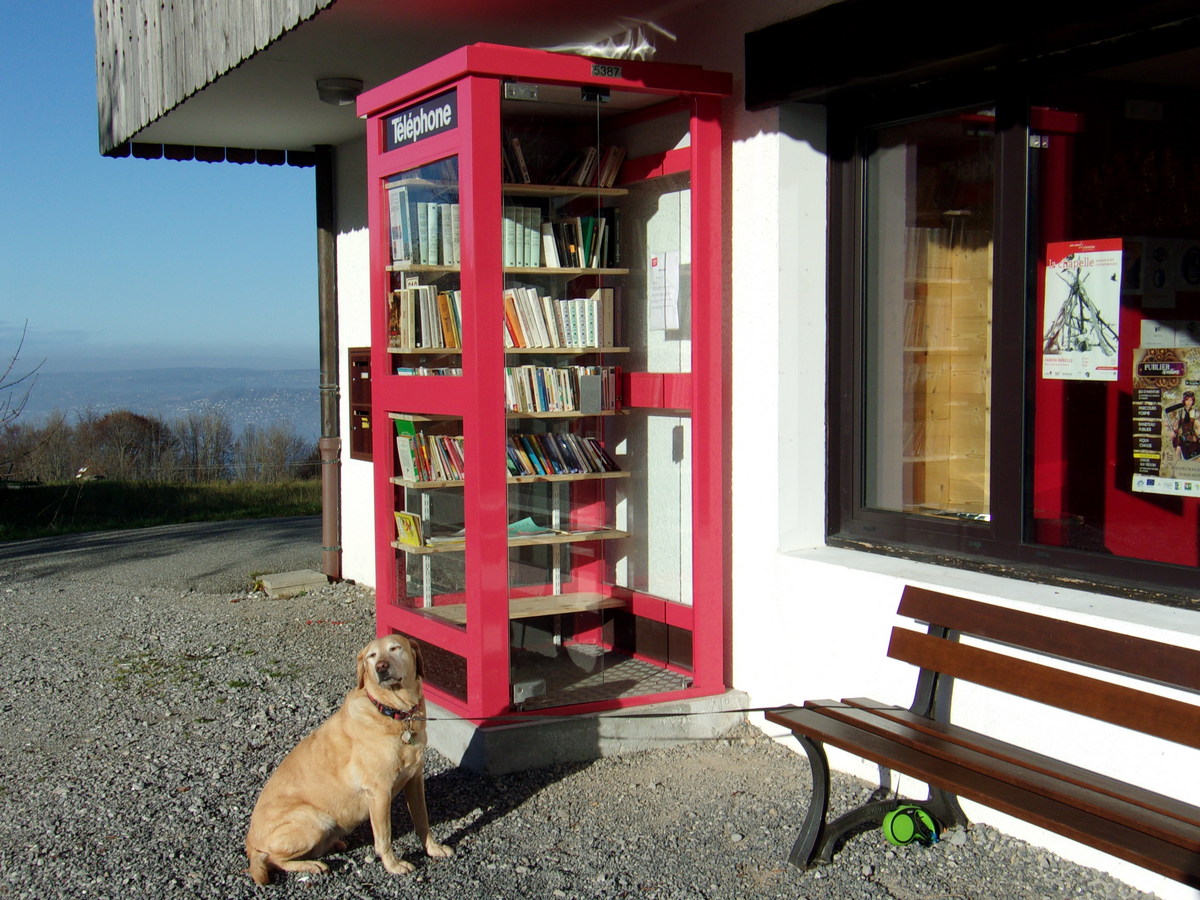 The Le XV Restaurant and Bar is open for takeaways.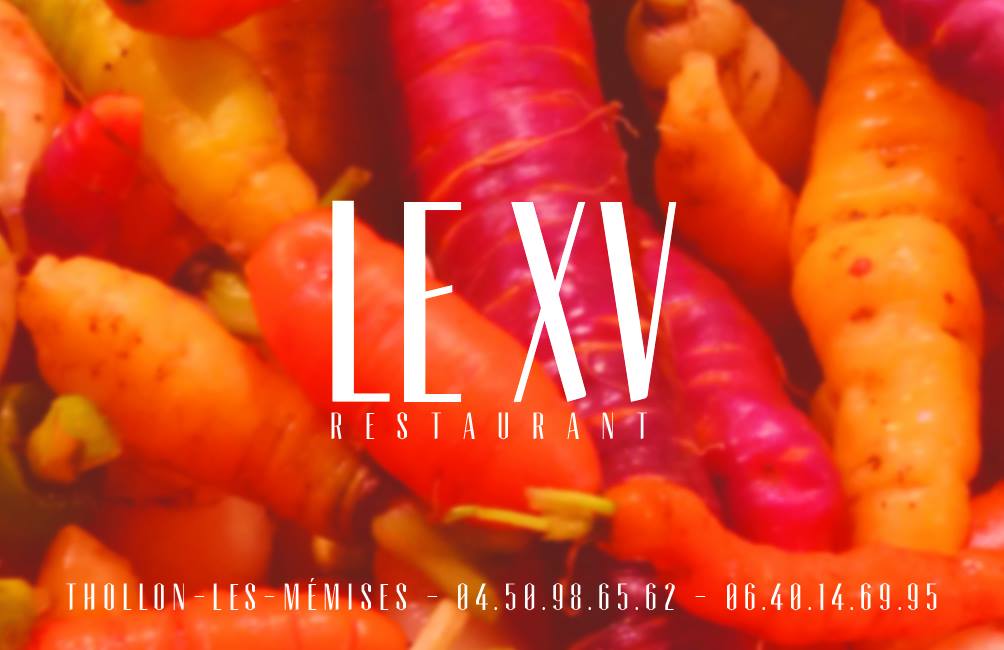 Arnaud had stocked up for his reopening and then was hit by lockdown. He will have an extensive new take away menu. Please support him. Details on his facebook page. Le XV
The UCAT Thollon Facebook site has updates for the new traders and what is open and when. UCAT is the organisation of local traders.
Snow on the Mountain 26 October 2020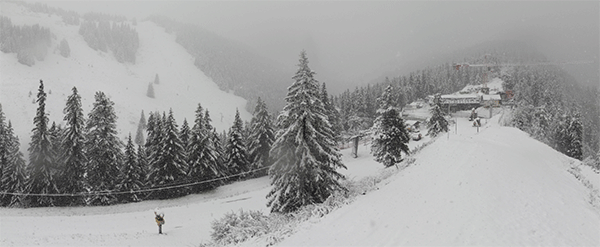 New: 30 Oct 2020 Video from the company undertaking the restaurant construction. This is a great video which shows the new roof being fixed.
Video Click here. Thanks to Transports Tromberts
New : 9 Nov Another great video shows the new roof.Video Click Here Thanks to Livio
...........................................................................................................................................................................................................................................................
Our correspondent had a short meeting with the Mayor of Thollon Regis Bened on the 27th July 2020. Full details on the News/Blog page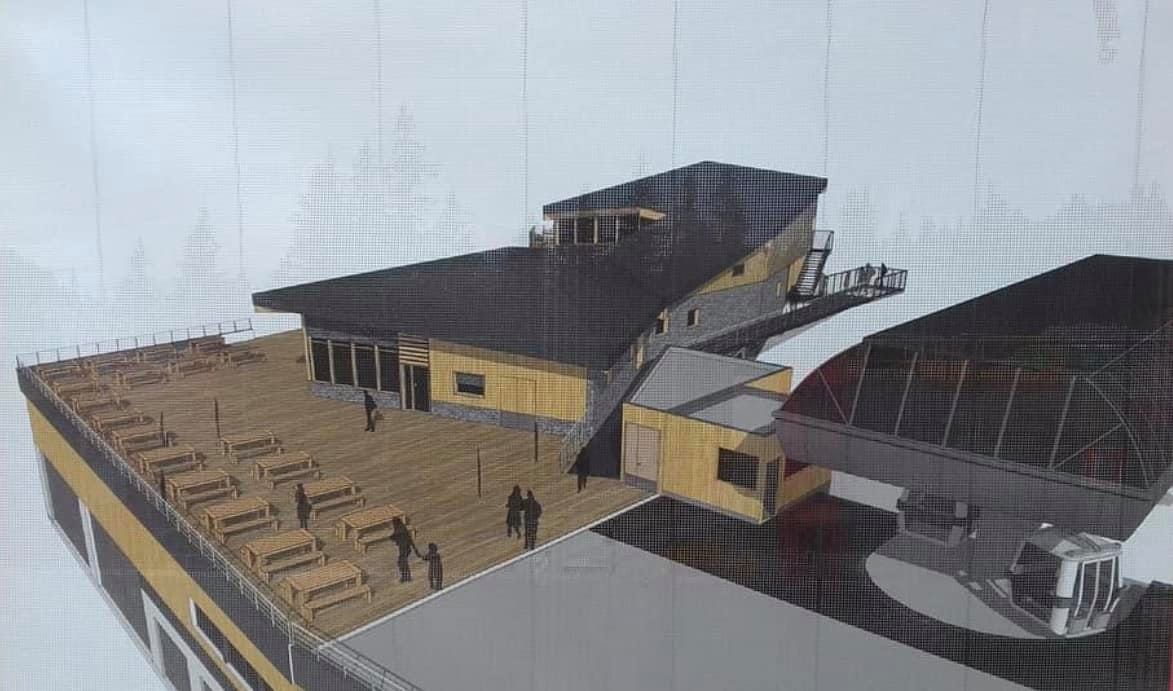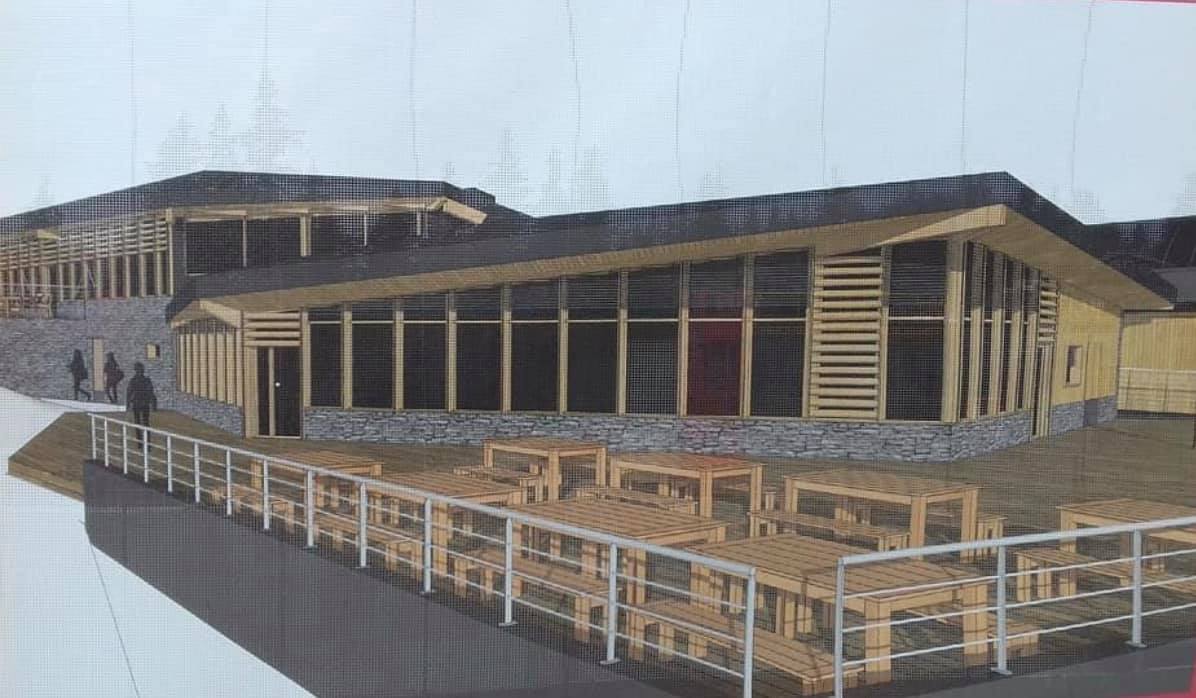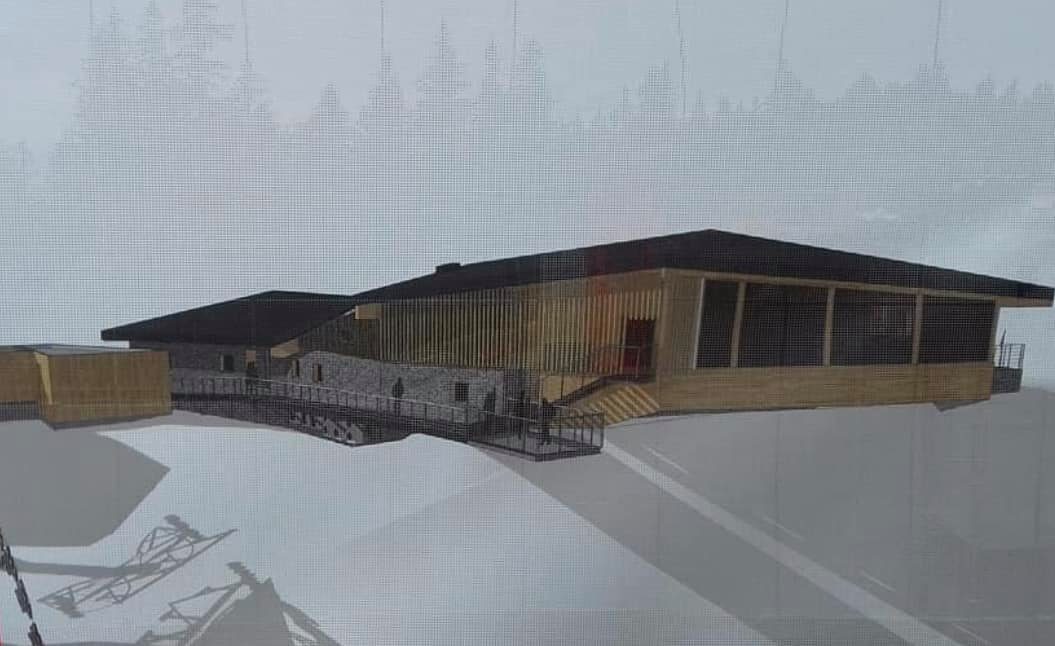 The building of the new Telecabine Restaurant is well underway.
Photos 27 August 2020. Work is progressing well, weather has been good.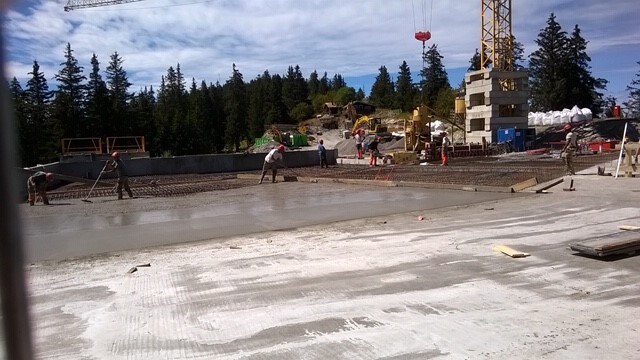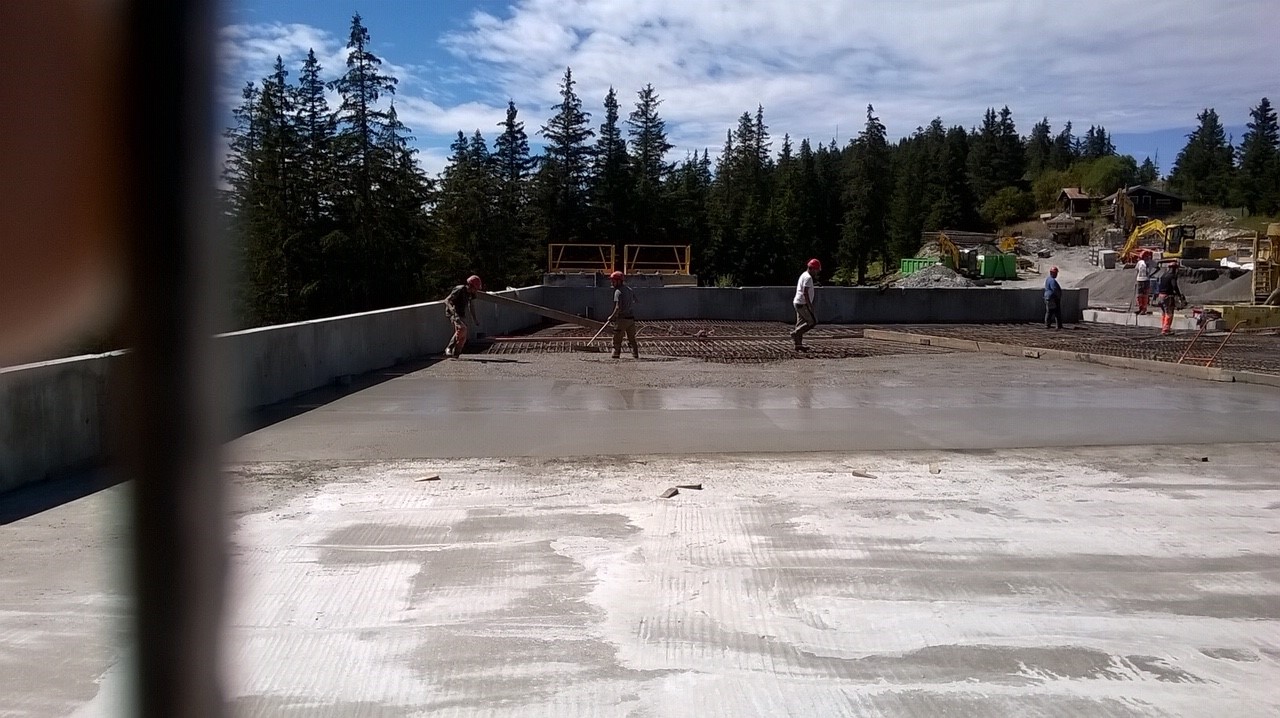 ............................................................................................................................................................................................................
Thollon is a family resort and many visitors return every year to enjoy the great welcome.
Bit of nostalgia as we look forward:-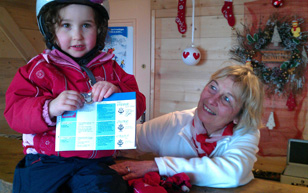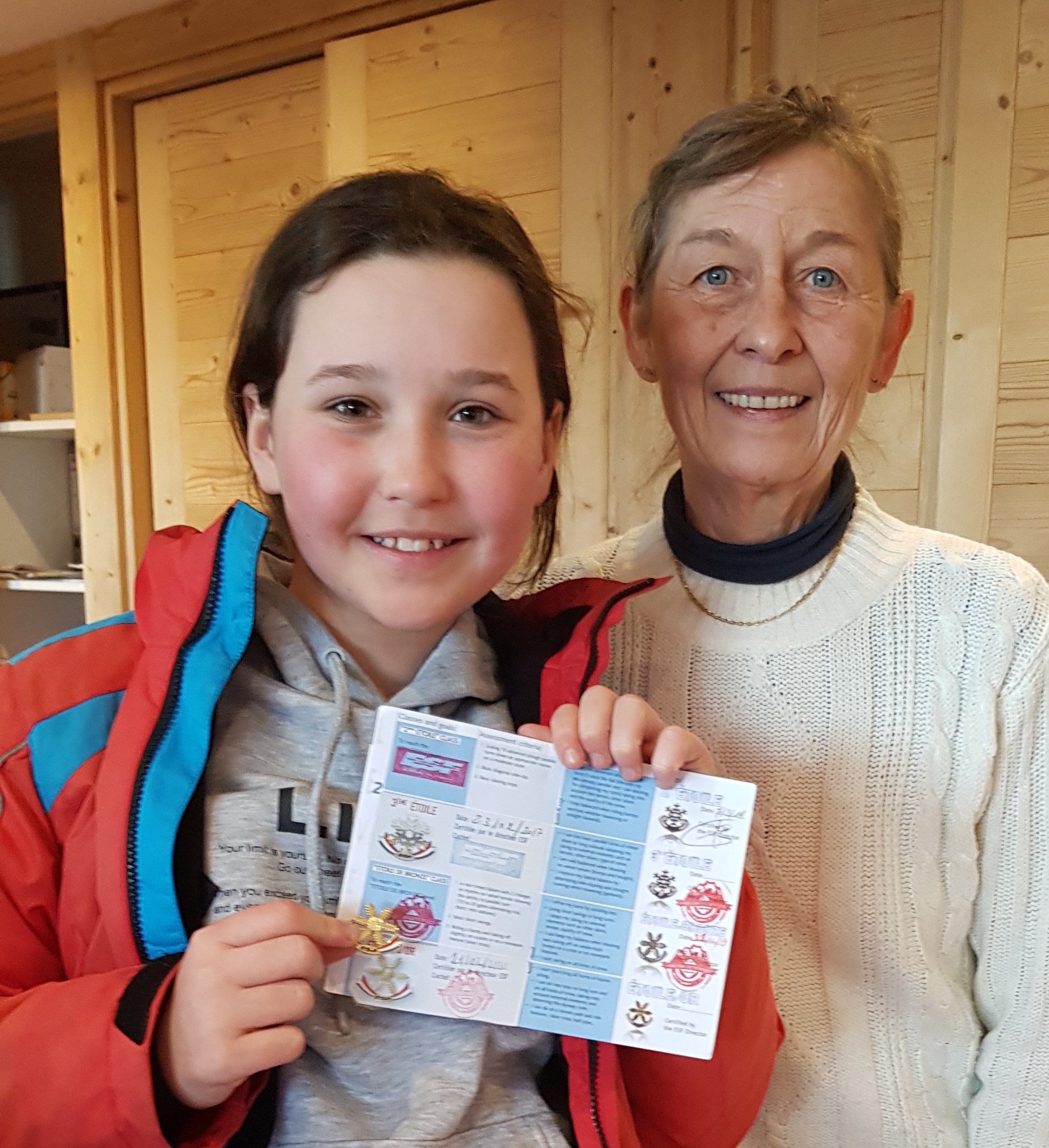 Christine (ESF Thollon Secretary)
presents a first badge to Cora age 4 and then Gold Award age 12 in February 2020.
Wednesdays February Party 7pm in the Polyvante hosted by ESF, Ski Club, Fondue and music Mickael and accordion.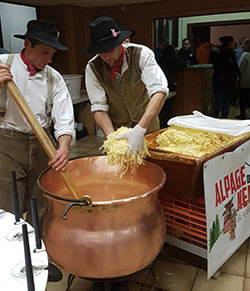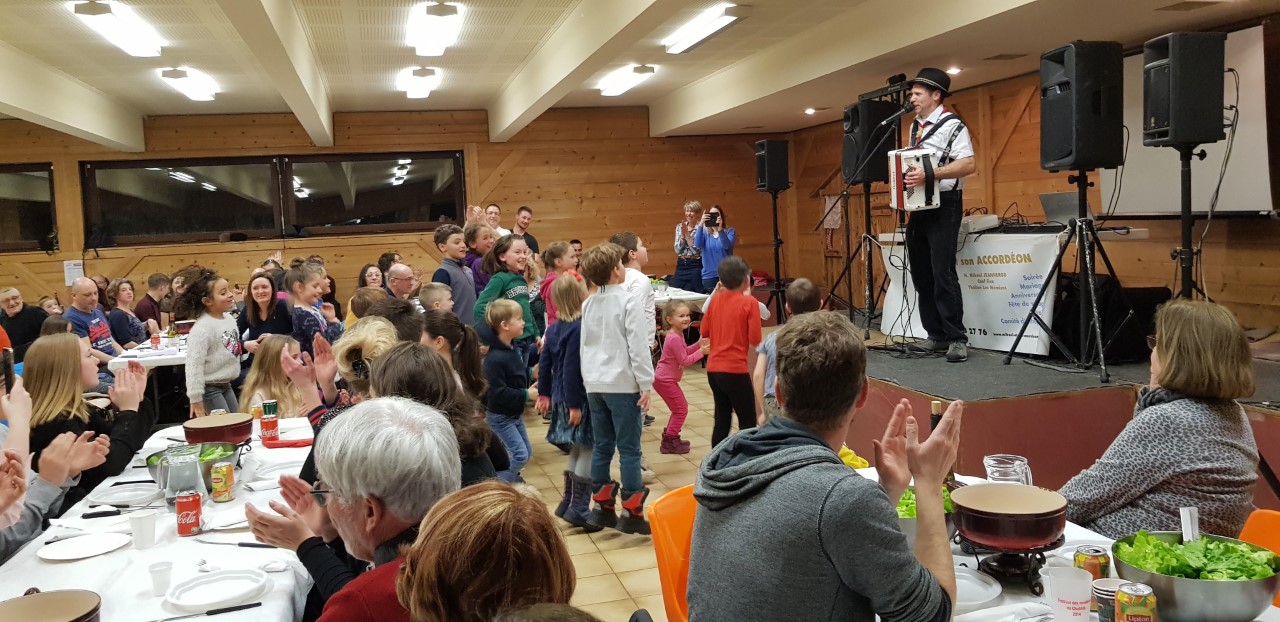 "Horseing around" Thursday 20th February 2020.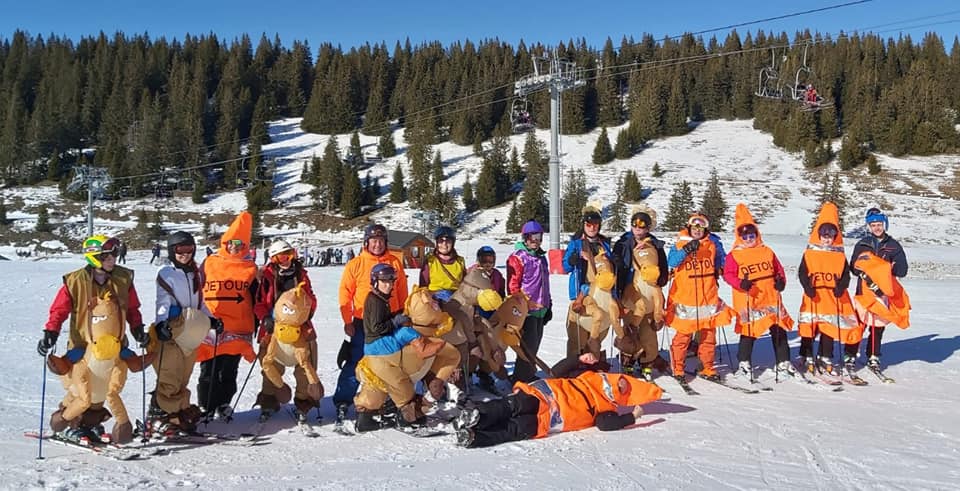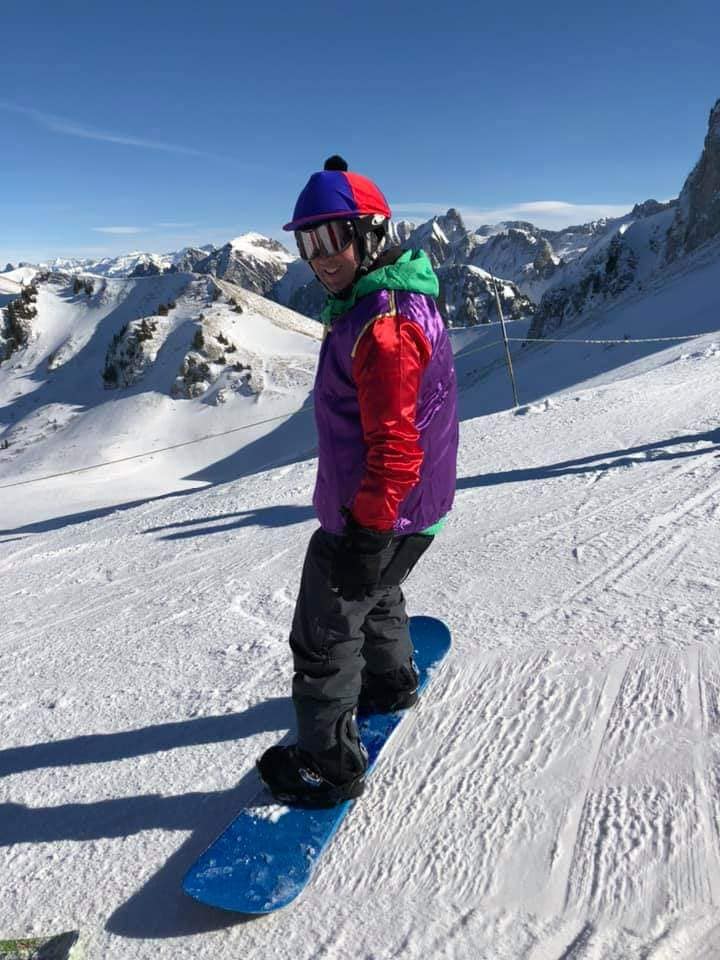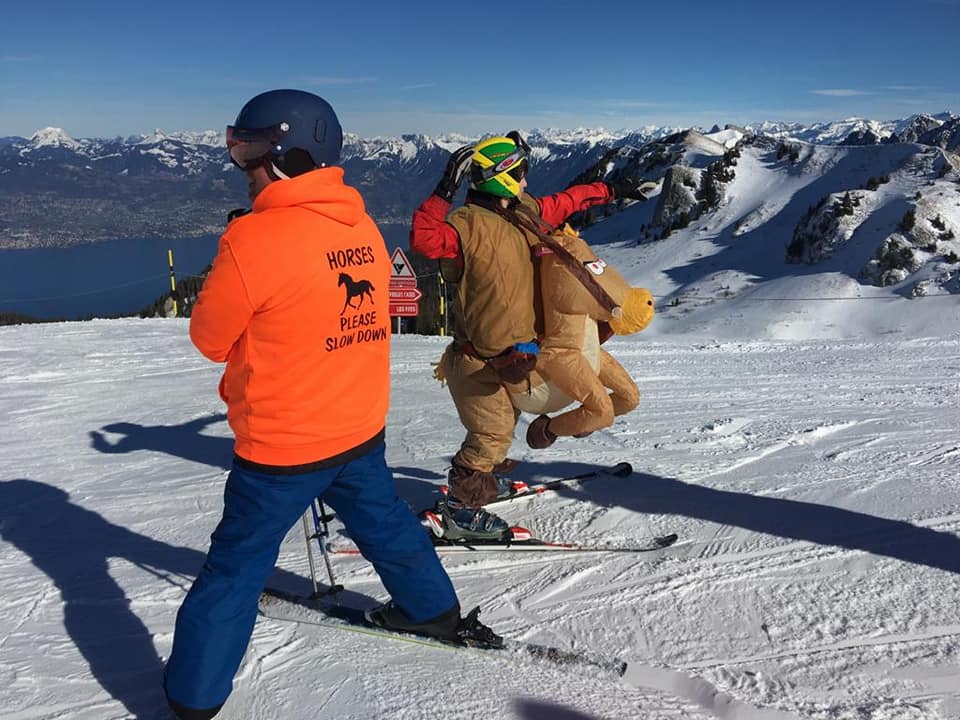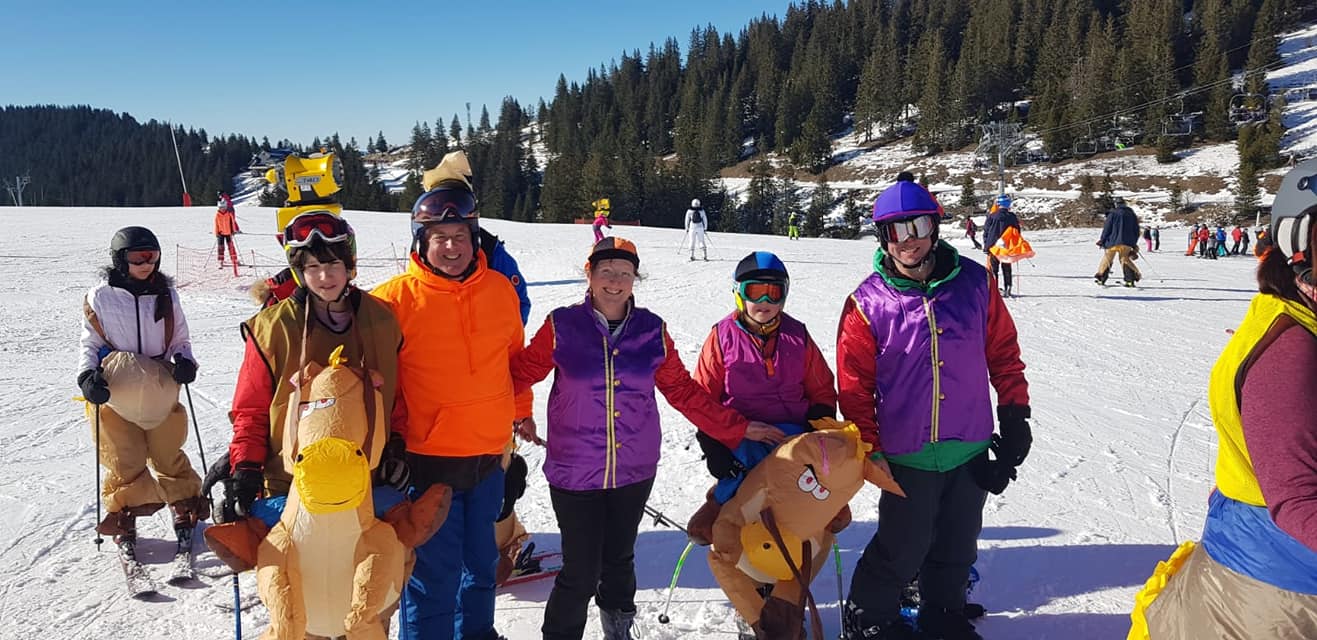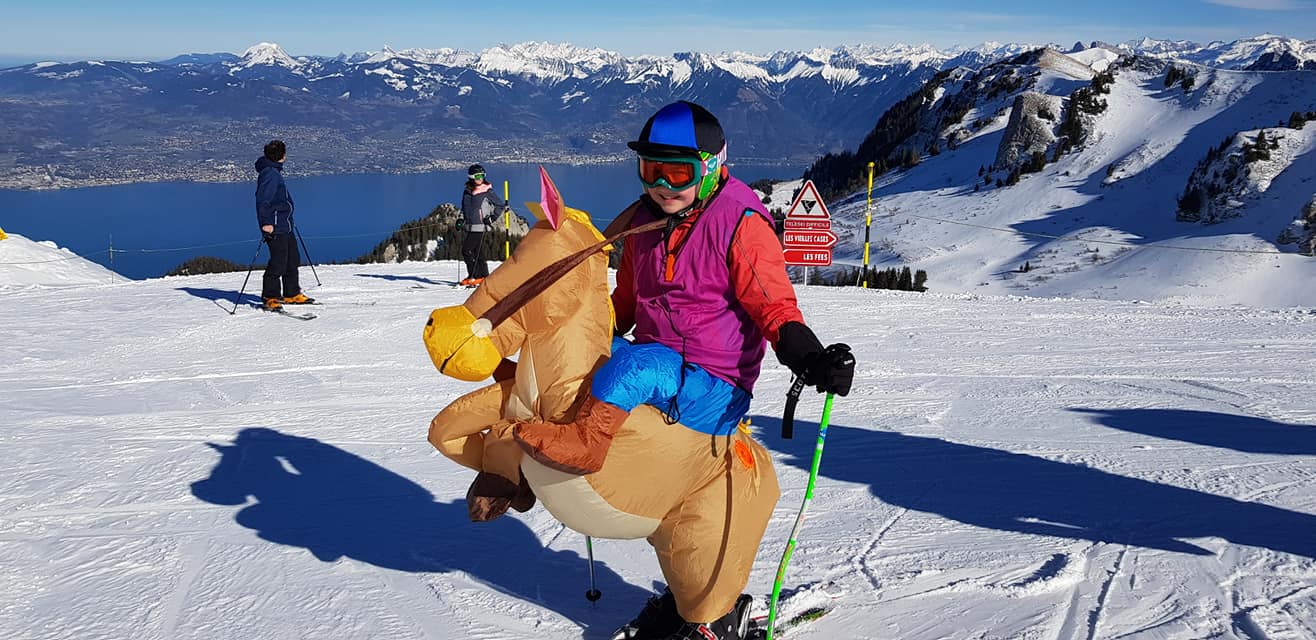 Thollon Snow Park
The Thollon Snowpark association organises events on the theme of freestyle skiing/ snowboarding. The half pipe, landing balloon and water jump add some fun to Thollon.
Reggae Fever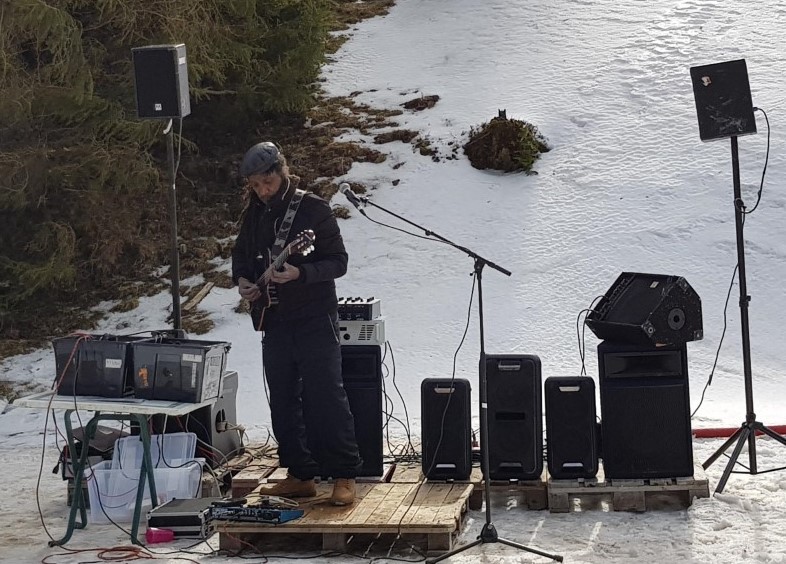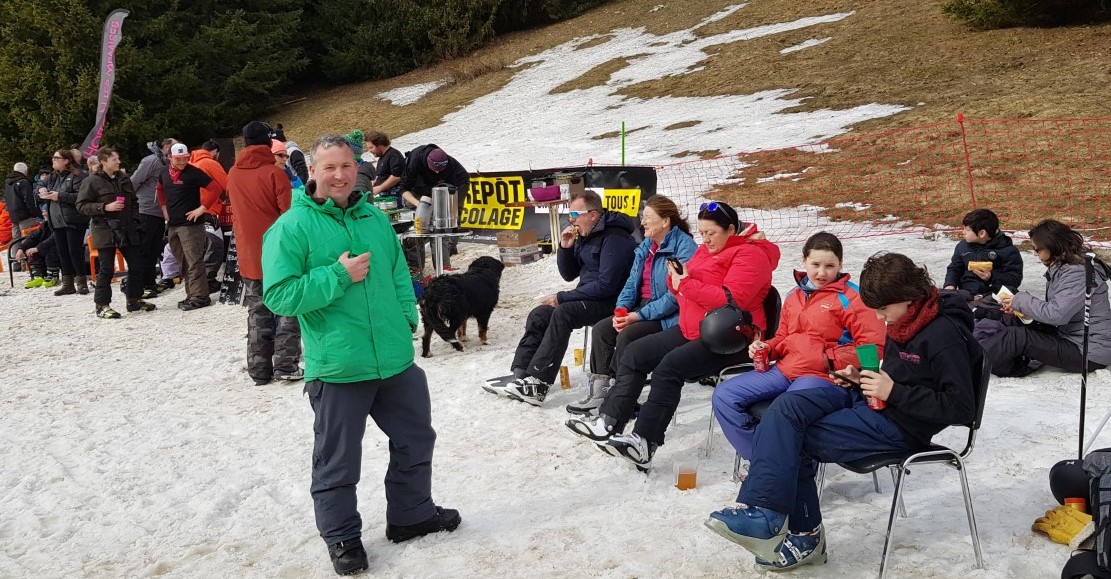 One of our own has a sneaky play.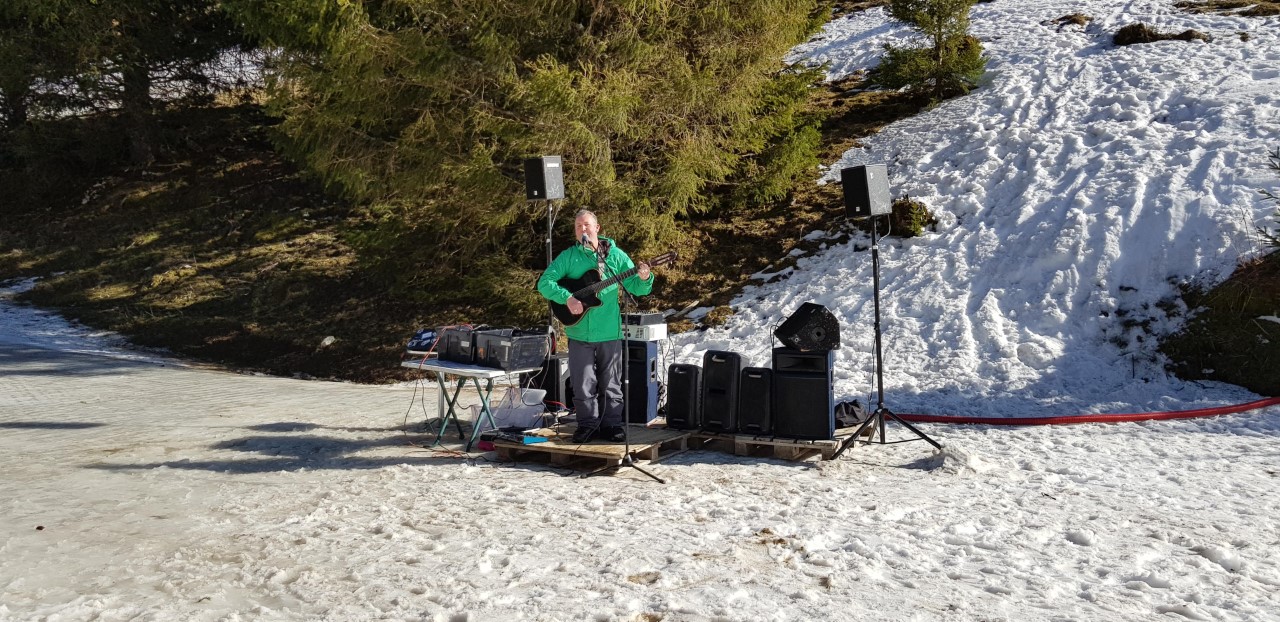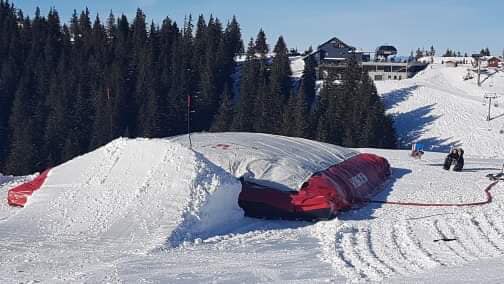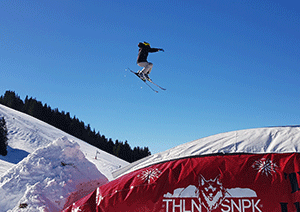 Below January 2020 BBQ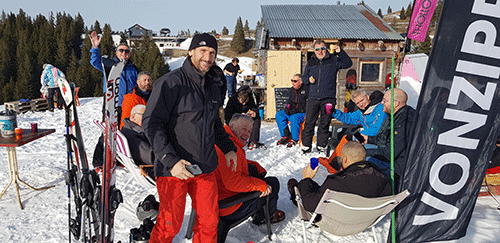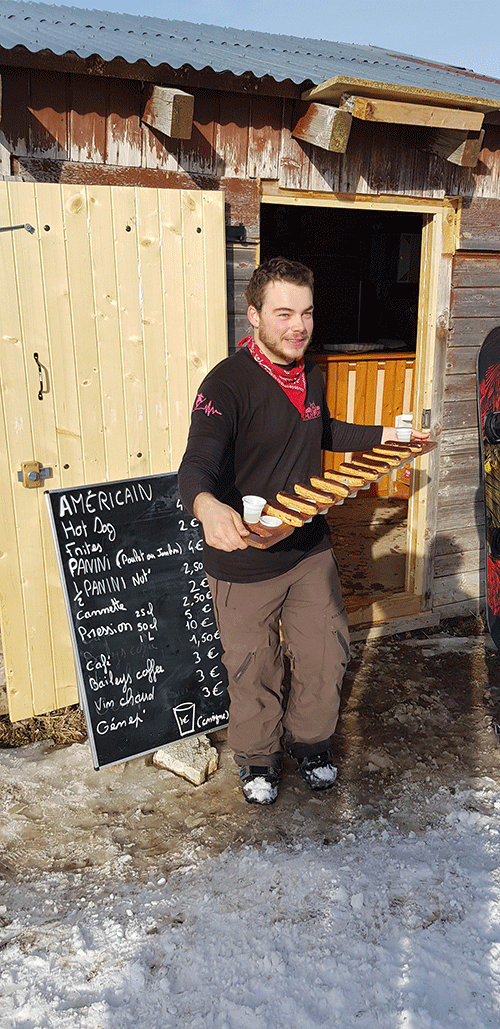 Carnaval in Evian see Evian page for photos from previous years.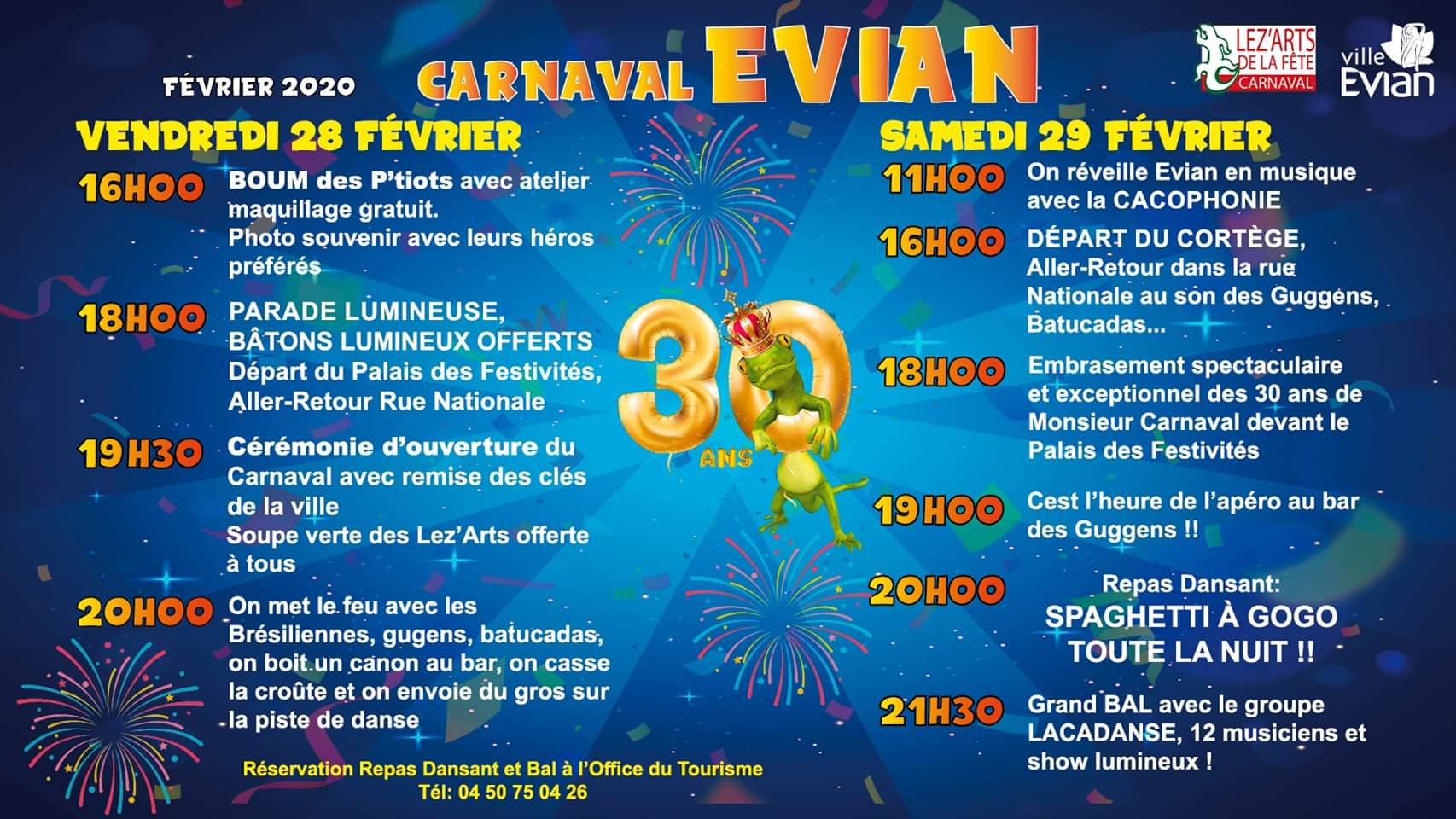 New snow cannon installation There are 65 or is it 74? new snow cannons. They will cover all the slopes which are visible from the restaurant. There does not appear to be any plans at the moment to do the "back run" the Via Casse. So the resort should be well and truly ready for this year's winter season, 2019/2020. Pictures below summer 2019 lots of activity in the car park and on the slopes. Lorries and a helicopter has been moving the materials.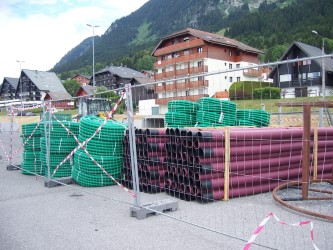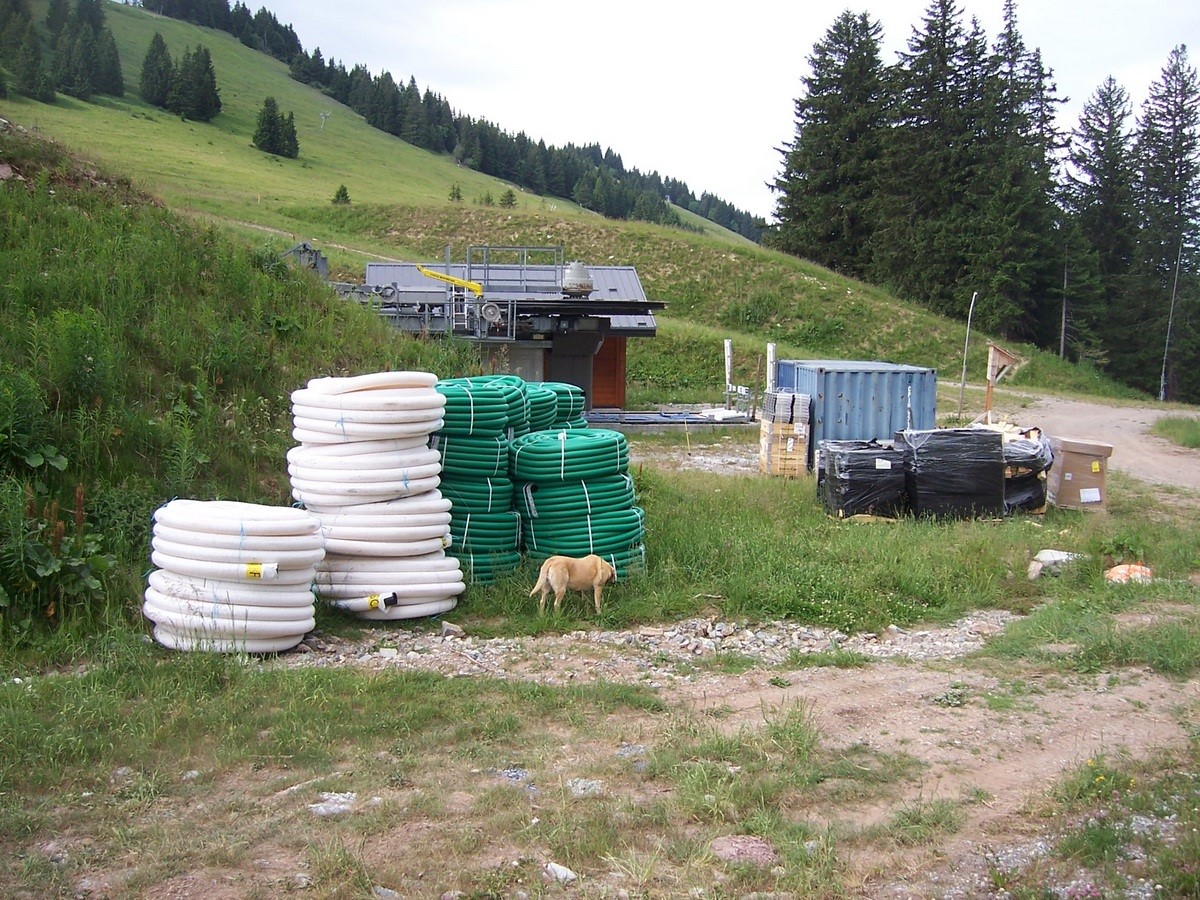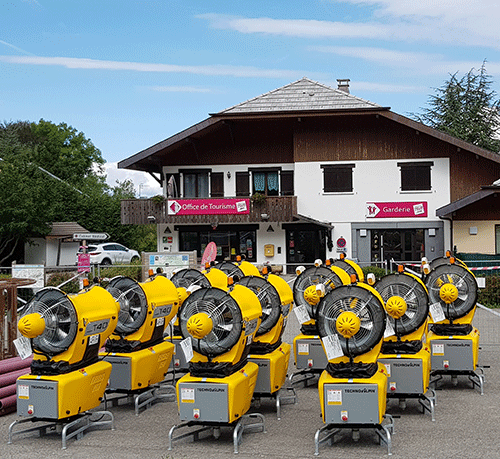 Summer 2019. A review
Music and fun. Bars, fete, BBQ
Bar Ourson is worthy of an extra mention for the many fun evenings some with live music. Corrine has been popular with the British clientele and the annual get together of British musicians with the new band Jerry and his Pacemaker was in fine form. The outside area in front of the bar making for a great area to relax party and listen to music. Also new for 2019 was Arnaud offering excellent Tapas in his bar area in Le XV making for a relaxed drink and food sitting on the sofa's. The bars Saint Nicolas and Choumas continued to be popular and offered good hospitality. Many of us also braved the walk to visit the Hotels Bon Sejour and Bellevue, whose restaurants offered excellent fare.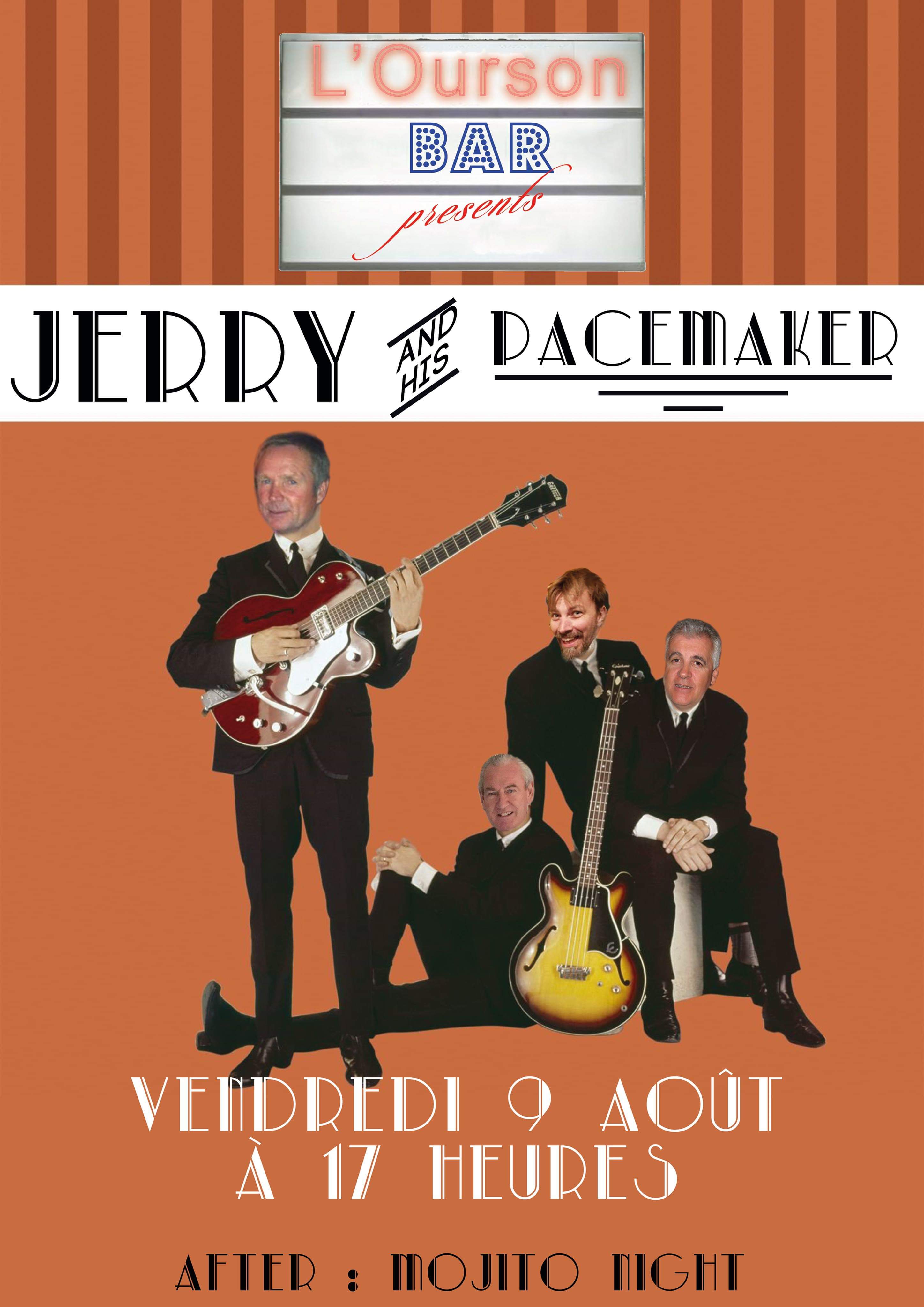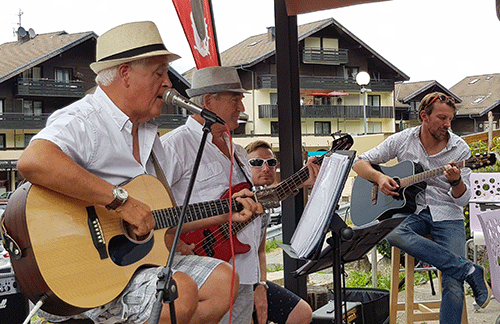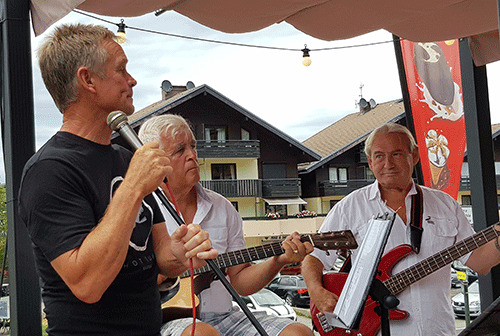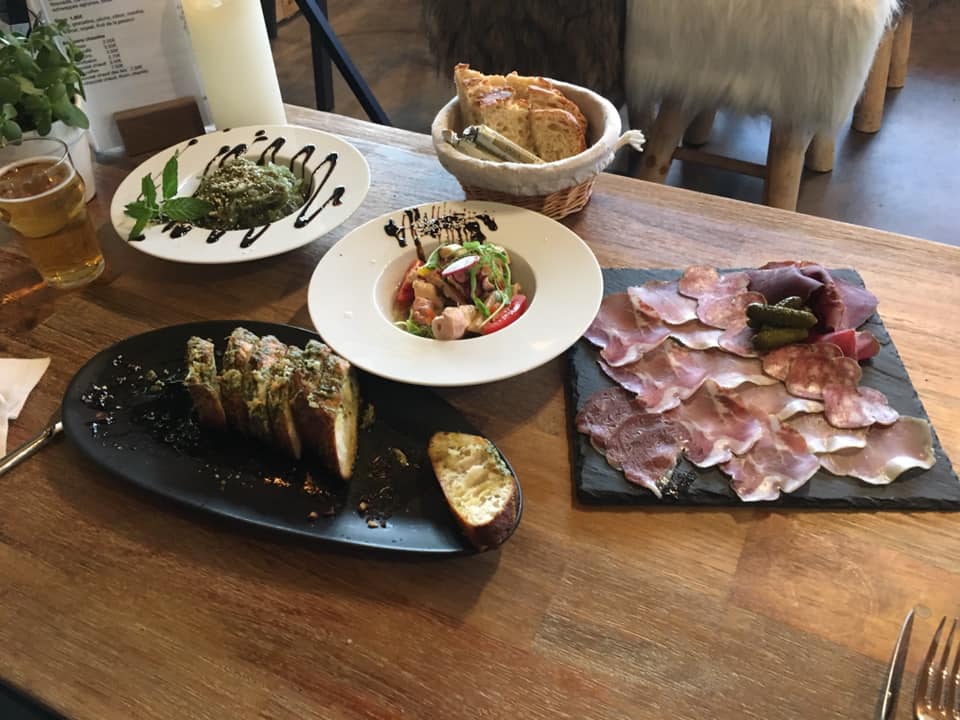 The annual fete was held in August, two nights of party which was well supported by the Thollon.org crowd. There were also music events held outside the Tourist Office, by the car park.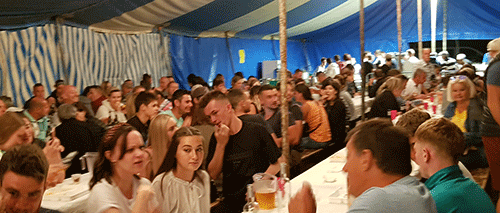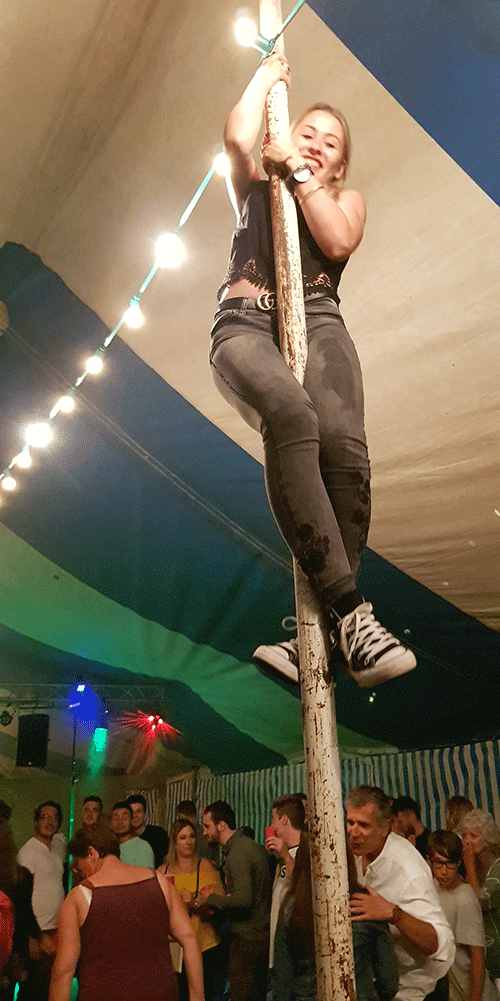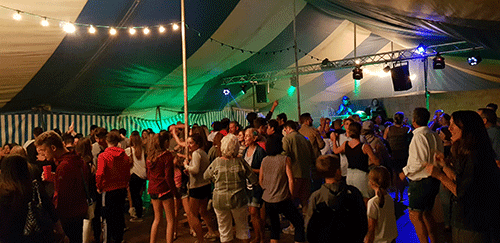 The site at the aerial Hucel which has a wonderful view over the lake was the venue for an inpromptu byo BBQ. A group of locals and Brits enjoyed food and wine as the sunset. The steep and dark climb down from the site was interesting.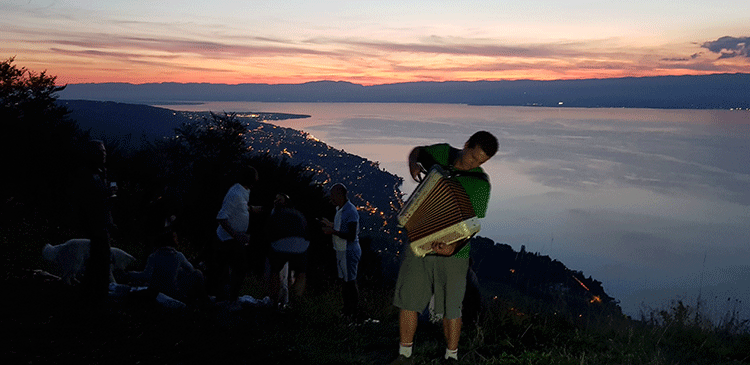 Priory Meillerie
A visit was organised to visit the Priory of the Meillerie www.meillerie-prieure.com. Many of us use the road and pass close by to this Priory. The visit was excellent for a number of reasons, the views are fantastic especially from the graveyard above. The history of the priory and its role in commanding the area and its links to Thollon were fascinating. The talk by Sidonie Bochaton (local archeologist, historian, and writer) was excellent as it gave a wider view and helped many of us understand the local history of the Haute Savoie. The web site is excellent and if you are considering a walk around is to be recommended to set the scene. Thanks to AS for organising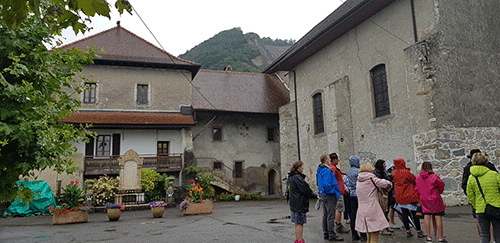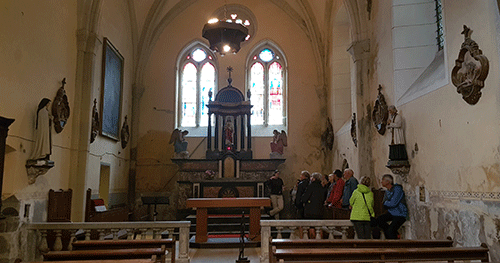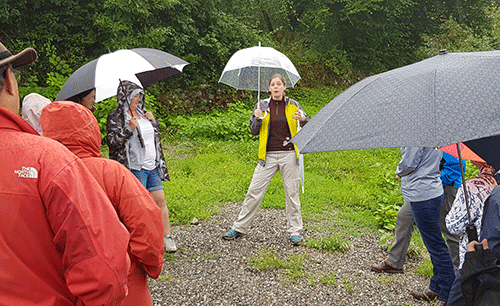 The Lake
Many of the Thollon group have boats on the lake and enjoyed a great summer of boating. The lake provided its usual mirror calm surface ideal for motor boats. The usual venues of Grand Rive "Nathalies" and new this year L'OXXY Beach providing refreshment.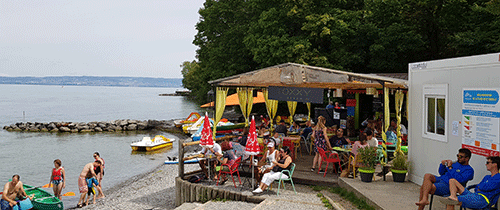 Annual Football Match
On Saturday 8th June 2019 at 3pm the annual football match was played on a lovely sunny day.
Result: England 8, France 7 yes we won!
As usual the band, ceremony and football of a standard only seen once a year. A great celebration.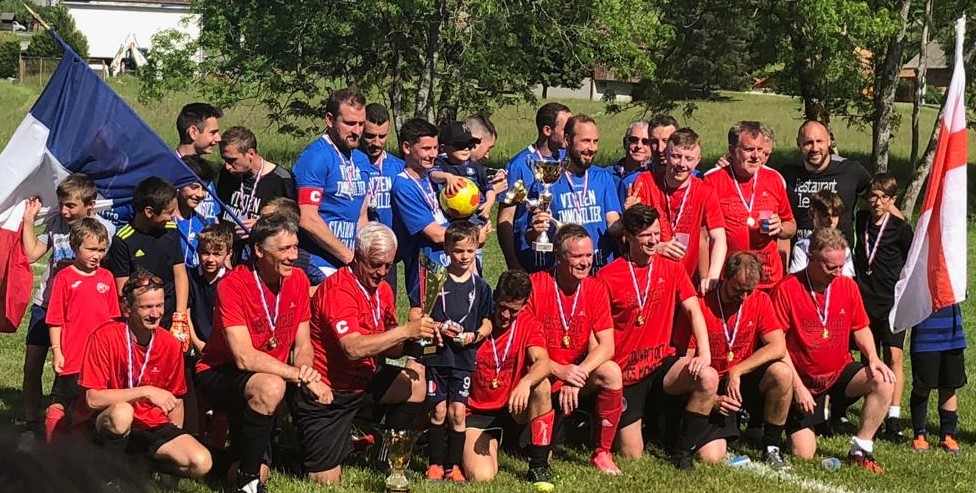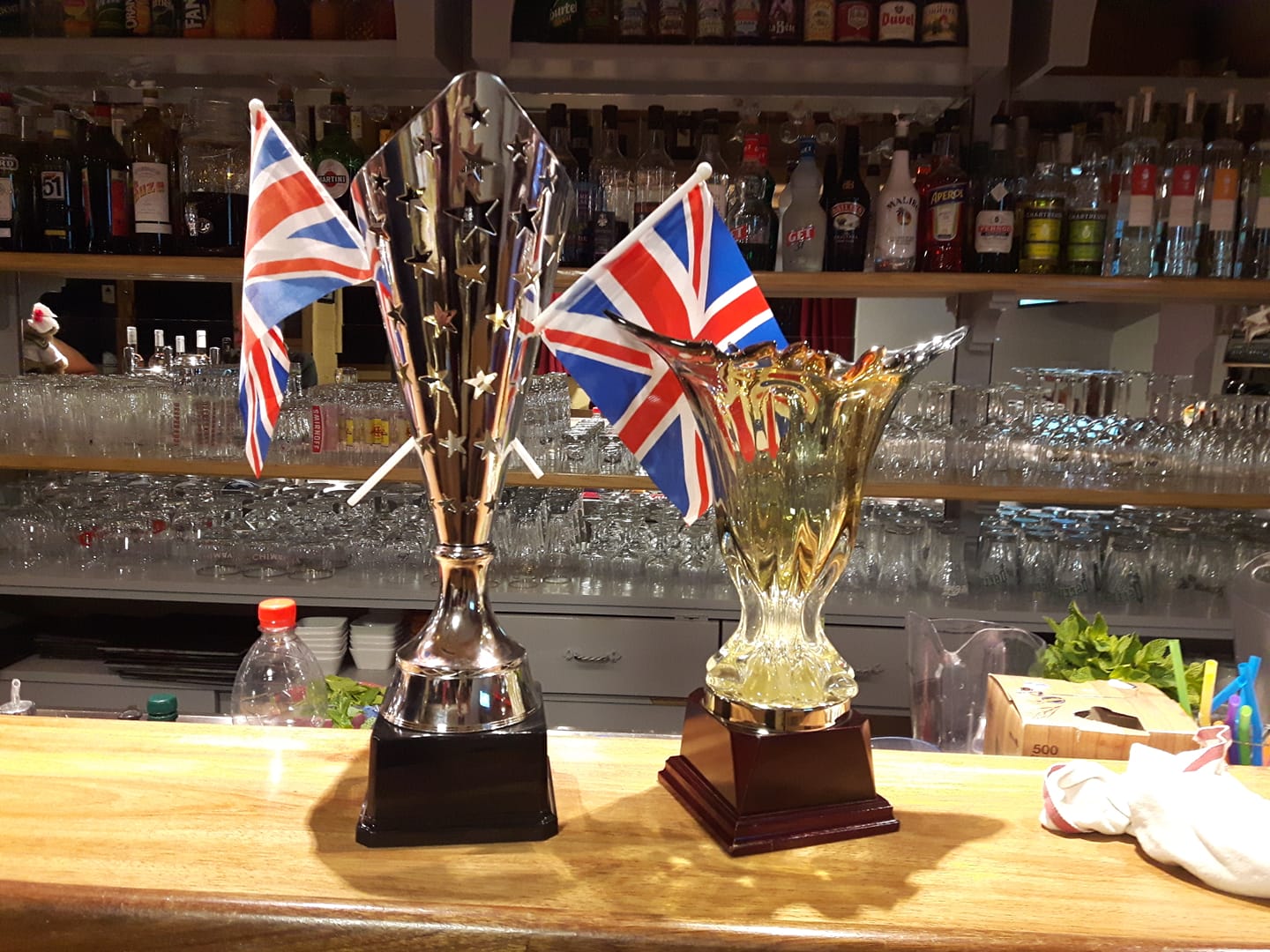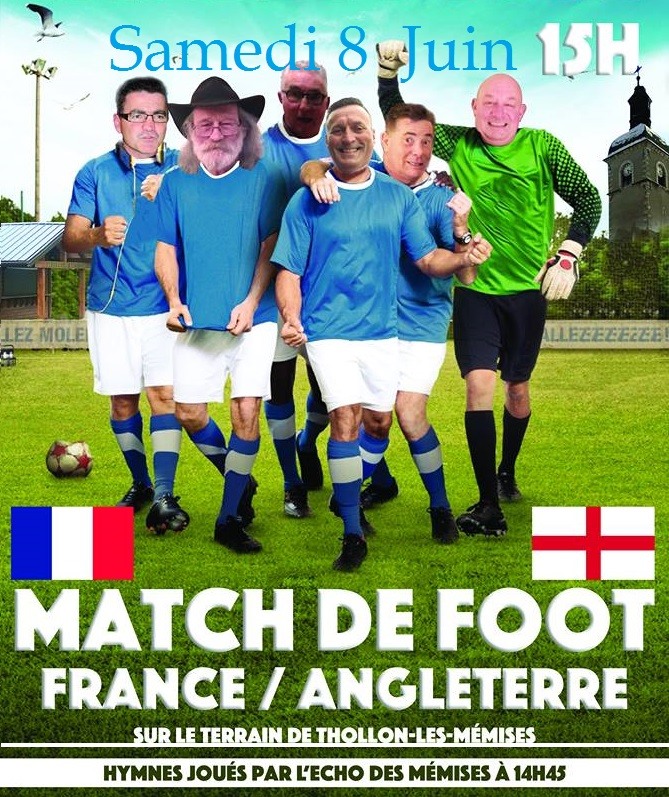 Pink Pub to Pegasus Bridge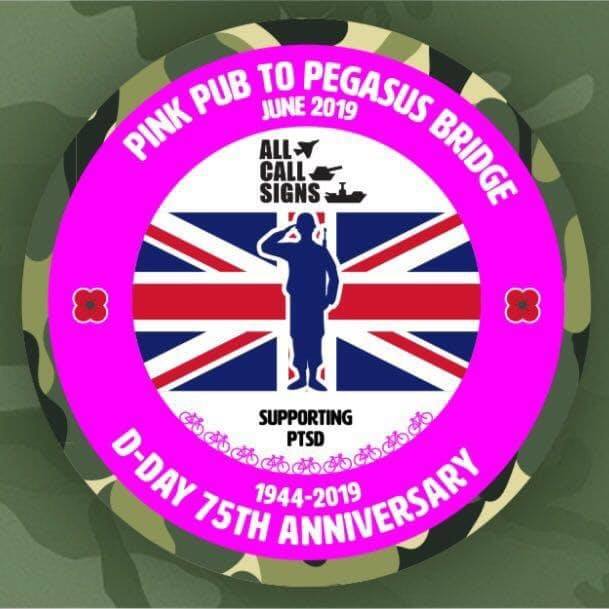 This site celebrates the link between many countries. We have a large British contingent. Several Bognor Regis members supported a great forces charity by cycling from Bognor Regis to Pegasus Bridge to celebrate D-Day leaving on Wednesday 5 May 2019. Have a look at the Facebook page. Pinkpub2PegasusBridge They have raised over £120,000....Great job guys.

They made it! Well done guys!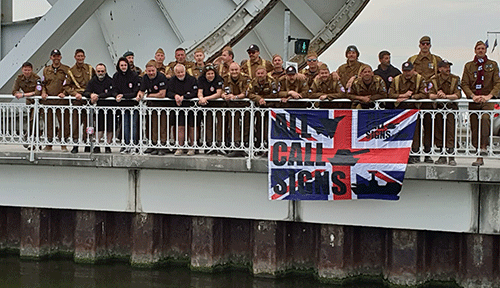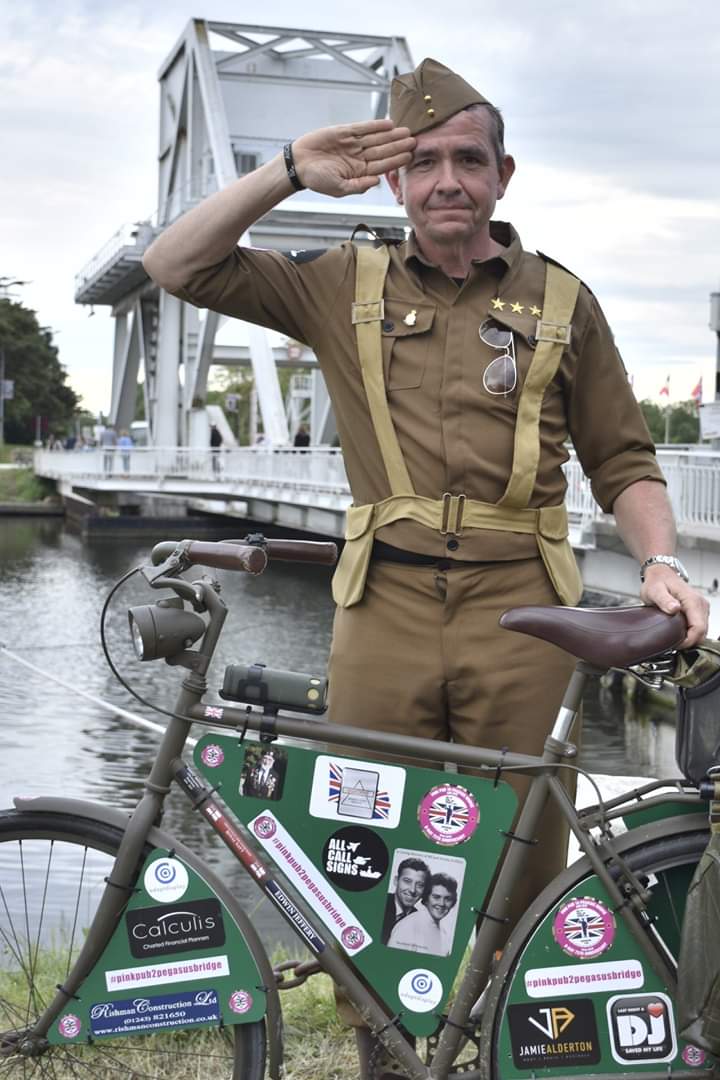 Bolton Celebration
Thollon friends stretch wide across the world. On the 11 May 2019 a group of around 30 Thollon friends came from various parts of Europe to visit Bolton to help celebrate 30 years in business for a Thollon regular. Much drinking and great hospitality from Dave and Deb's.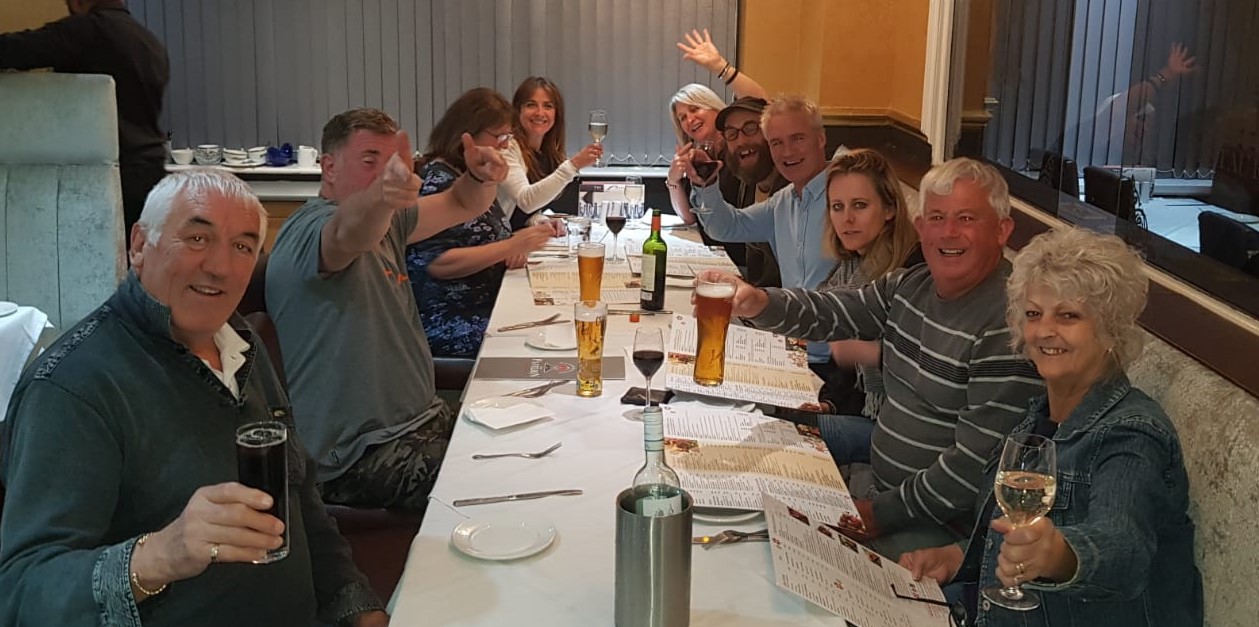 The Paddle steamers salute Evian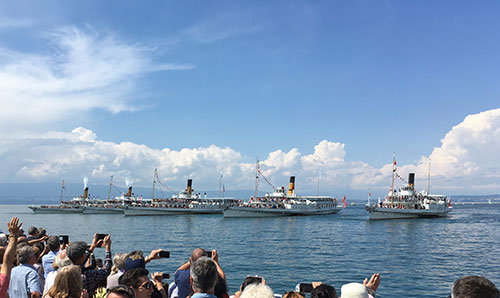 Winter 2018/19
The season closed with the UCAT Race and the water slide, and the British enthusiastically joining in the celebrations with this years theme of Peaky Blinders. Around 35 British visitors, and some Ex Pat residents joined in the fun.
Thollon.org entered a team of three generations photo below, 2 skiers and a snowboarder! A superb effort but no medals this year.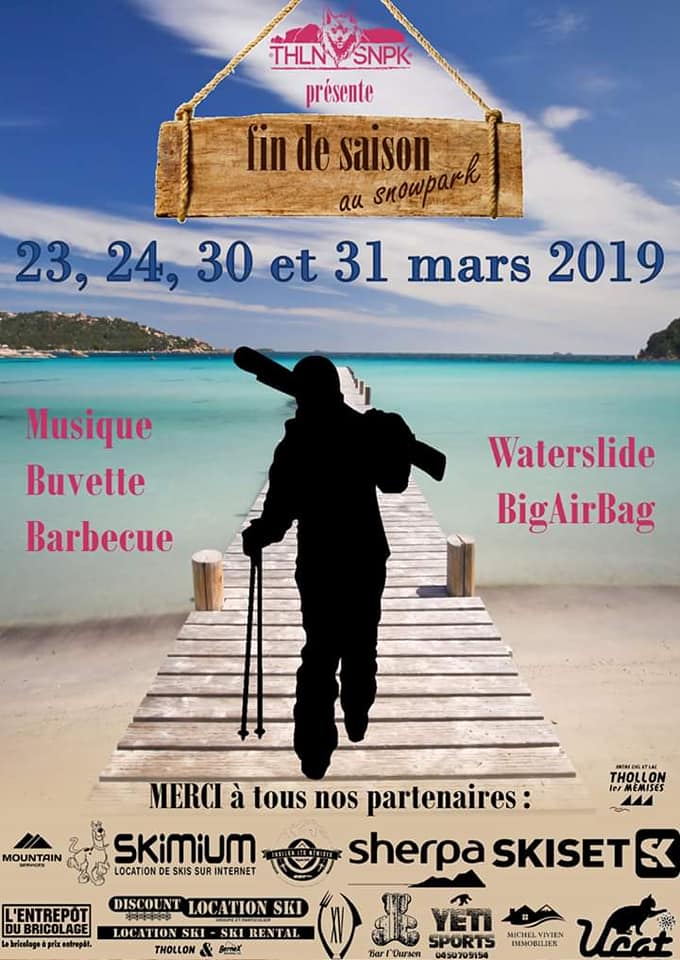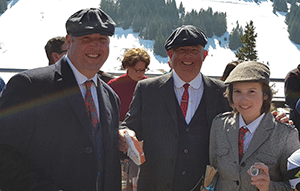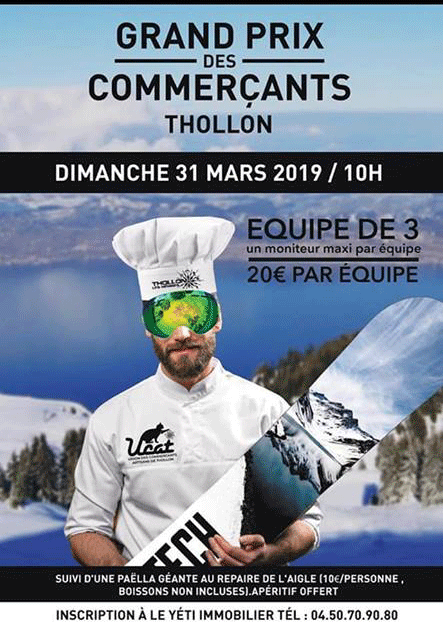 Below the race winners Garage des Memises and the British "second place?" Team Meda Sport (Ketts Taira Andy) we understand that we might have translated "Les Perdants" incorrectly..... Great trophy, medals, cheese and chocolates were all appreciated as was the great atmosphere and the paella served for lunch. Thanks to the organisers and the many supporters for such a fun event. The race had a unique compulsory half way stop with a glass of wine or juice being consumed before continuing to the finish.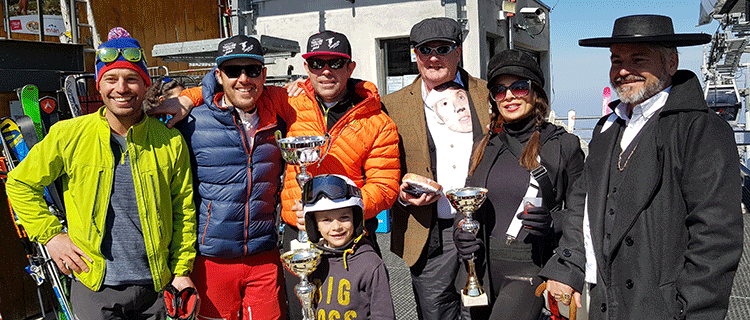 Results correctly reported in the le dauphine below on the 3rd April 2019 together with a picture of the Peaky Blinder racers.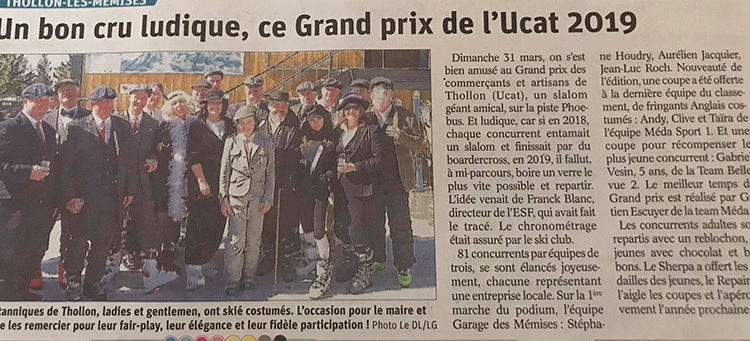 More pictures and video below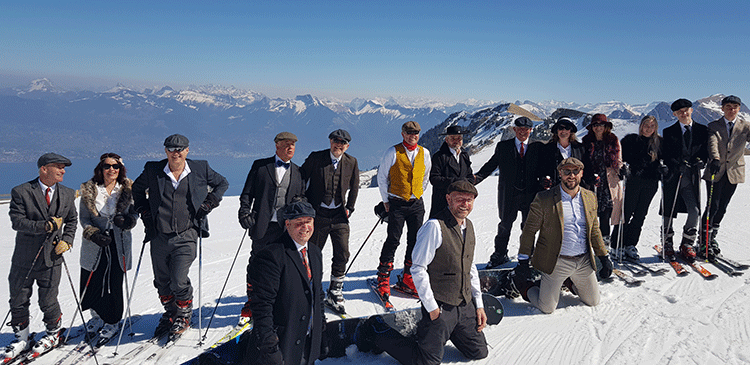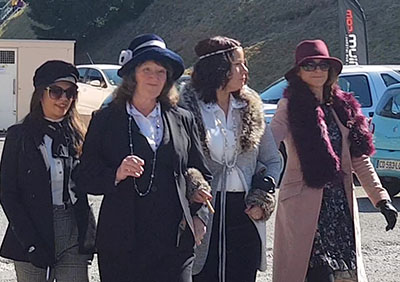 Peaky on the slopes PeakyYouTube video
Romantic Thollon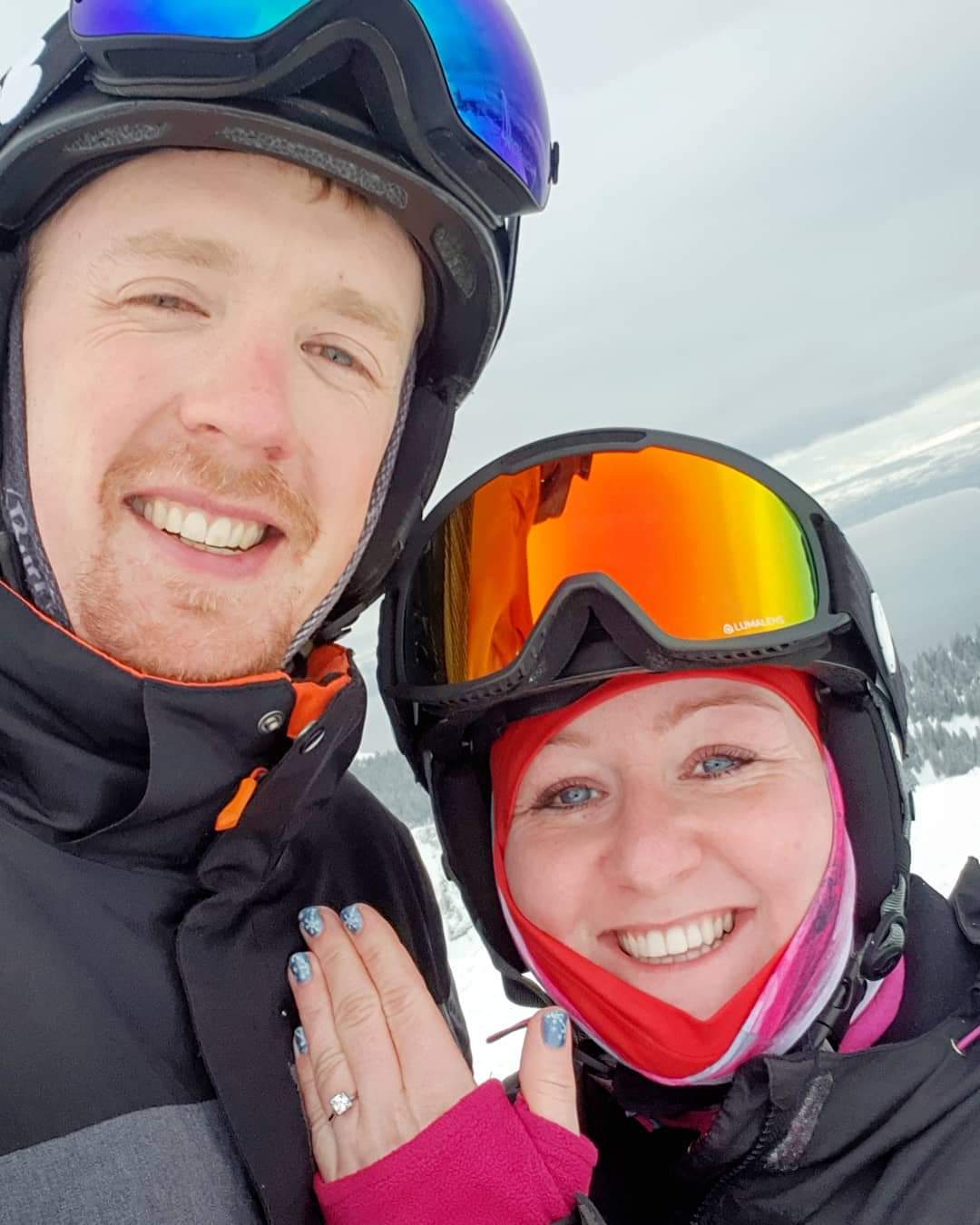 We all love the view from the top of the mountain, and what better place to propose marriage.
Regular visitor Ross proposed, and Nicola said yes.
The British half term, Monday 18th February 2019 brought many visitors to Thollon. A great sunny week with fun had by all.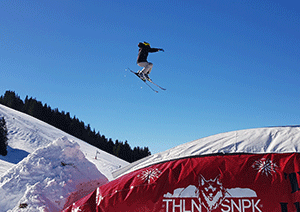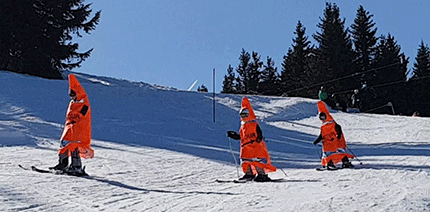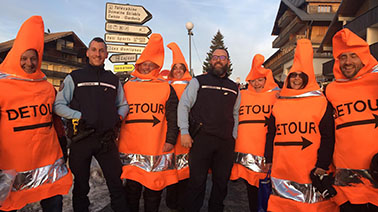 The Tourist Office will be running many events during the holiday season. Thollon les Mémises Tourisme Facebook publishes details. The "Agenda of the week" Programme d'animations. Torch light descent, table tennis. Karaoke and much more.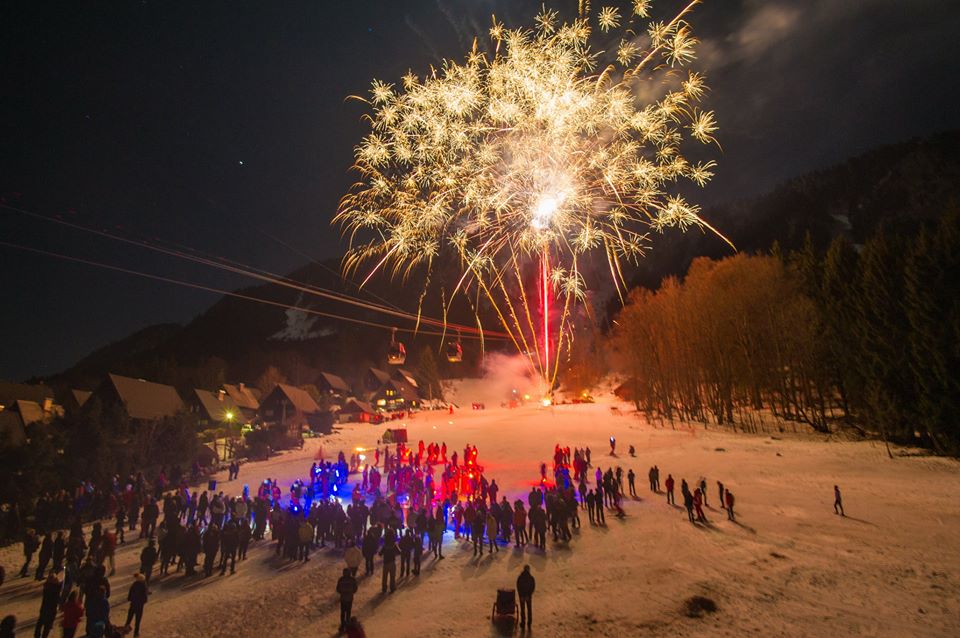 Great news, Thollon and Bernex have signed an agreement making available a ski pass for both resorts for the 2017/18 Season The season pass is for both resorts and 3 visits to the Bernex Ice rink. There is a also a new web site Les Montagnes D' Evian promoting the joint venture, and the various options. The pass is available to buy on line. We look forward to further initiatives.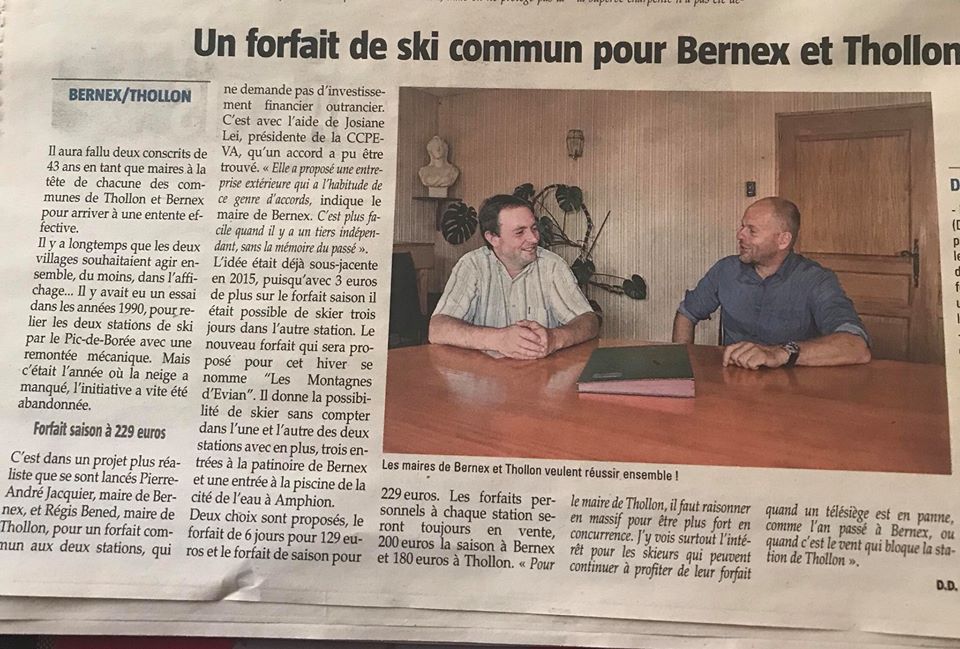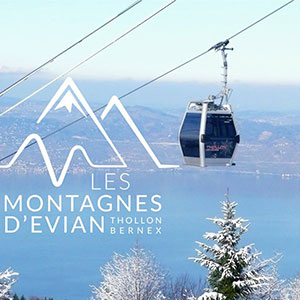 A picture reminder of last Winters fun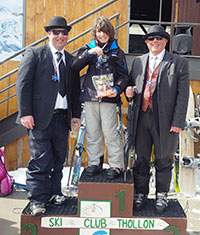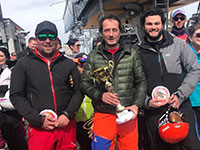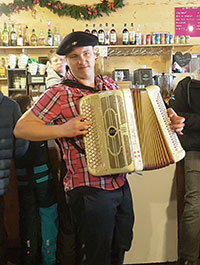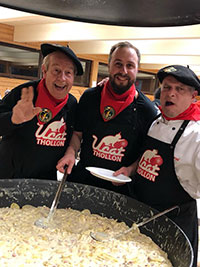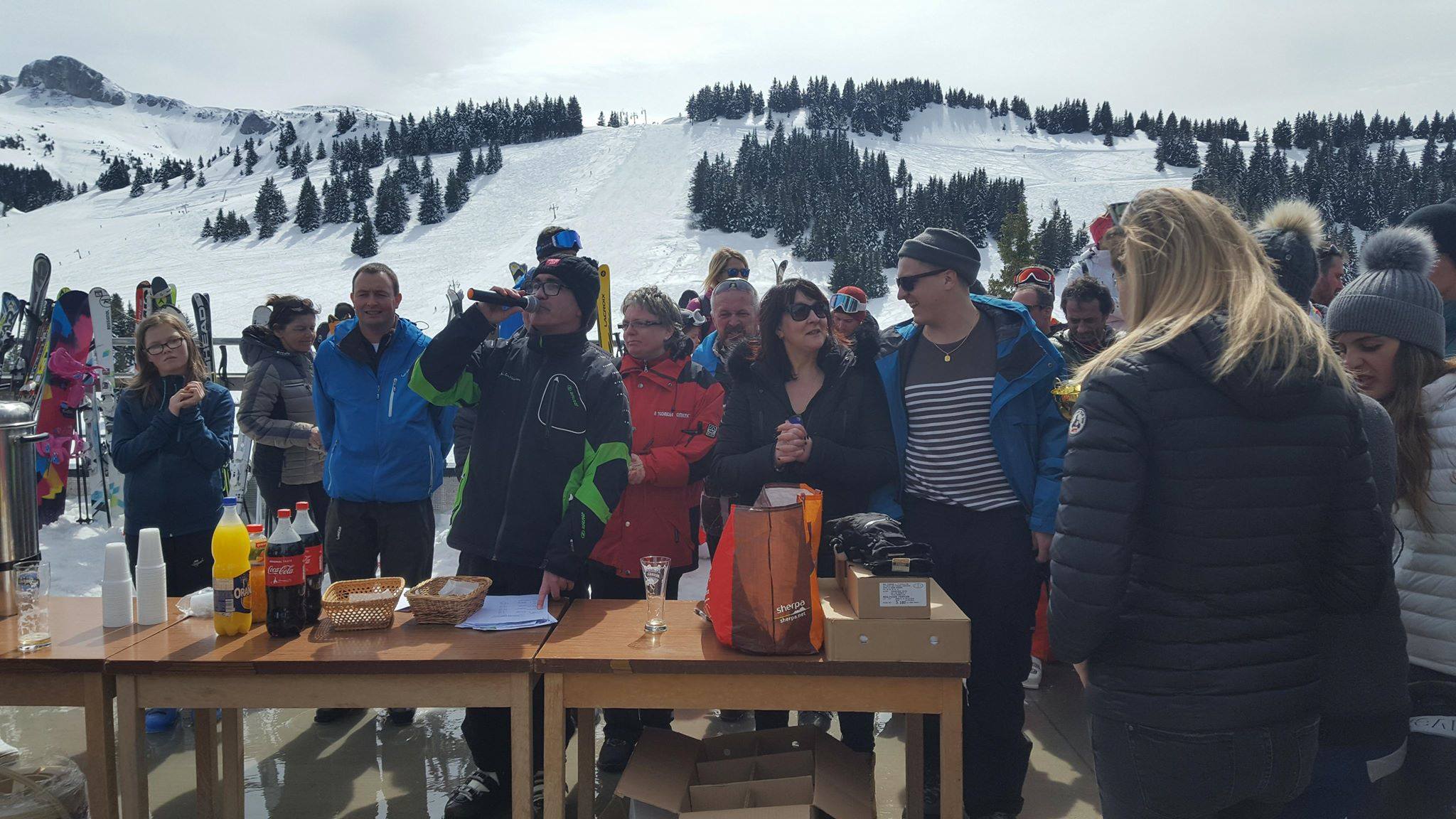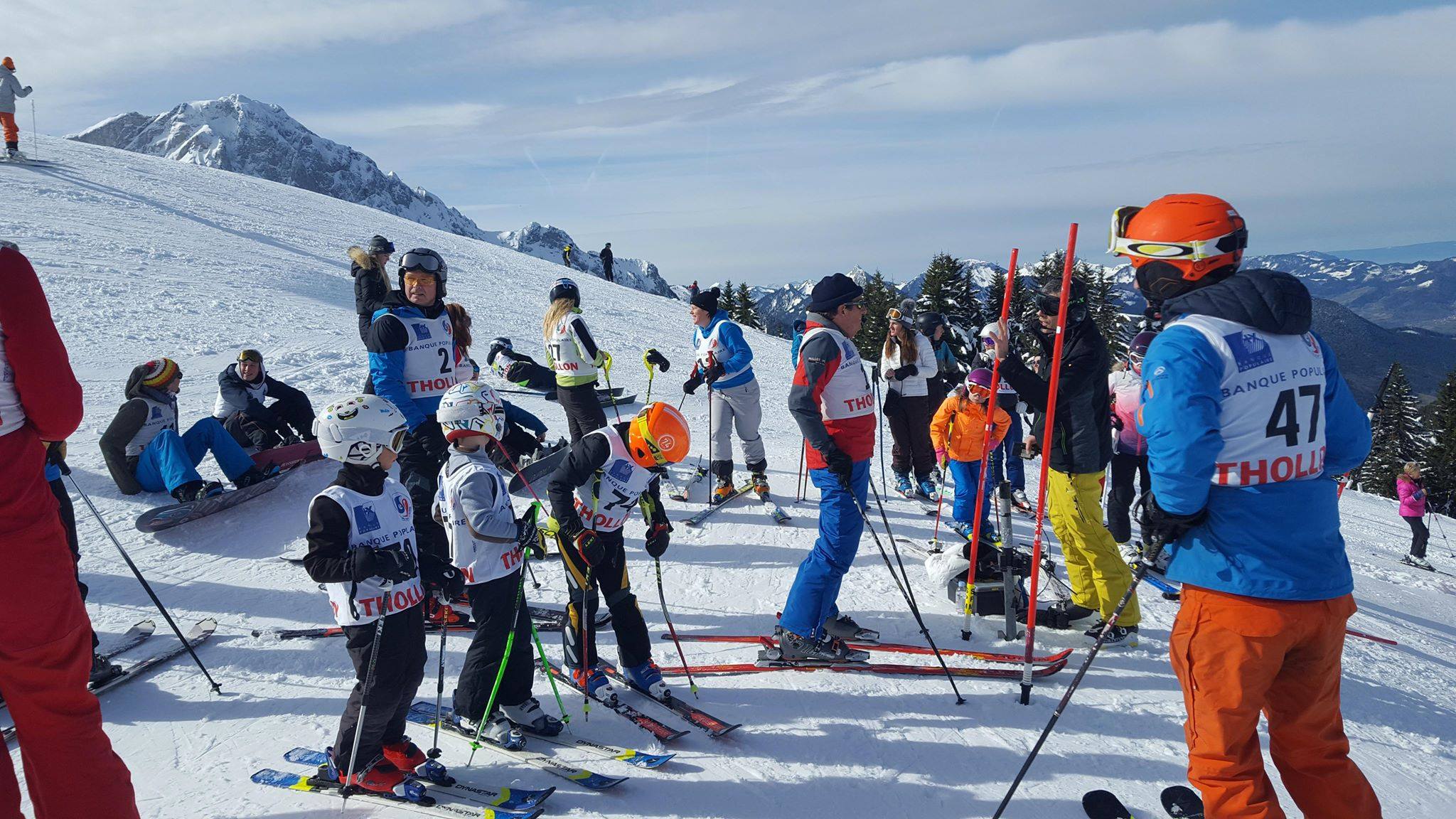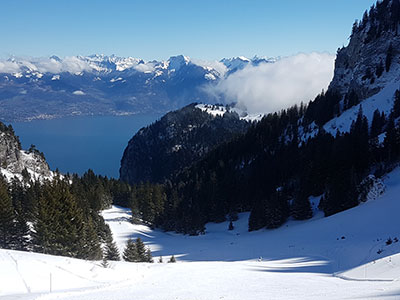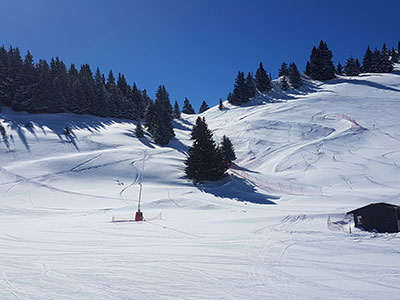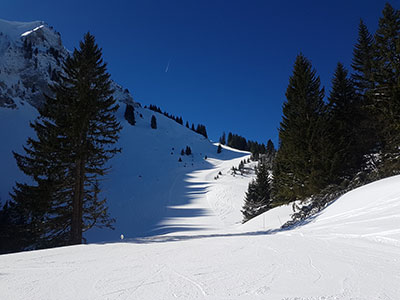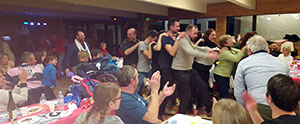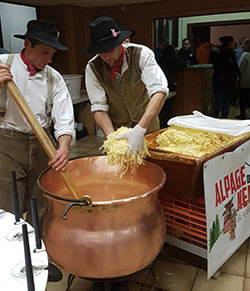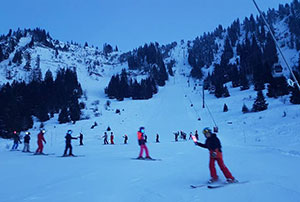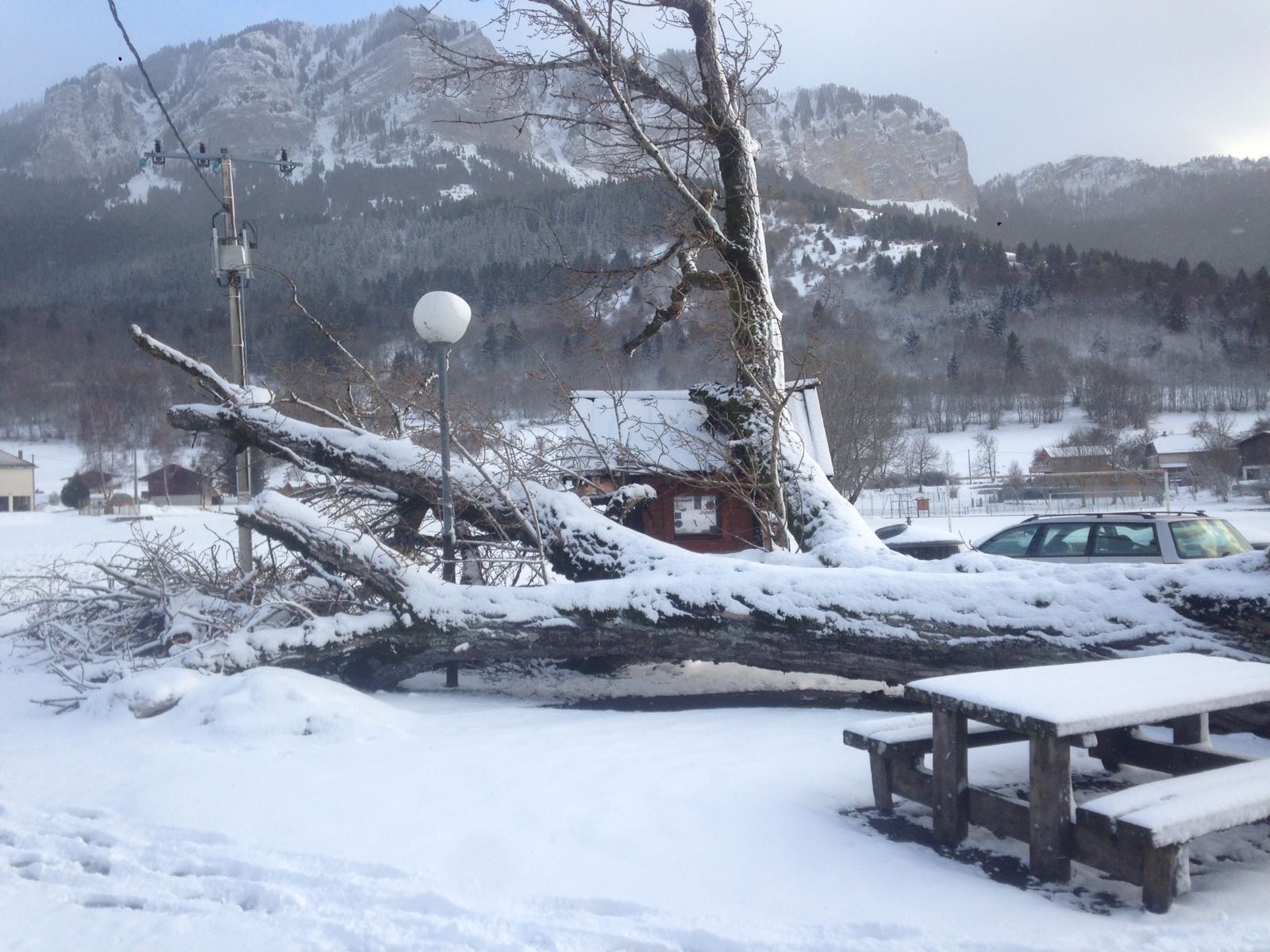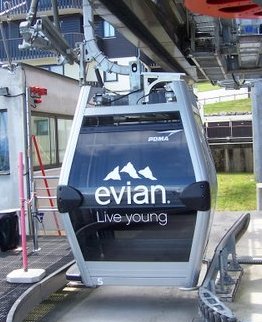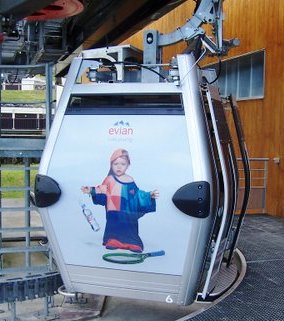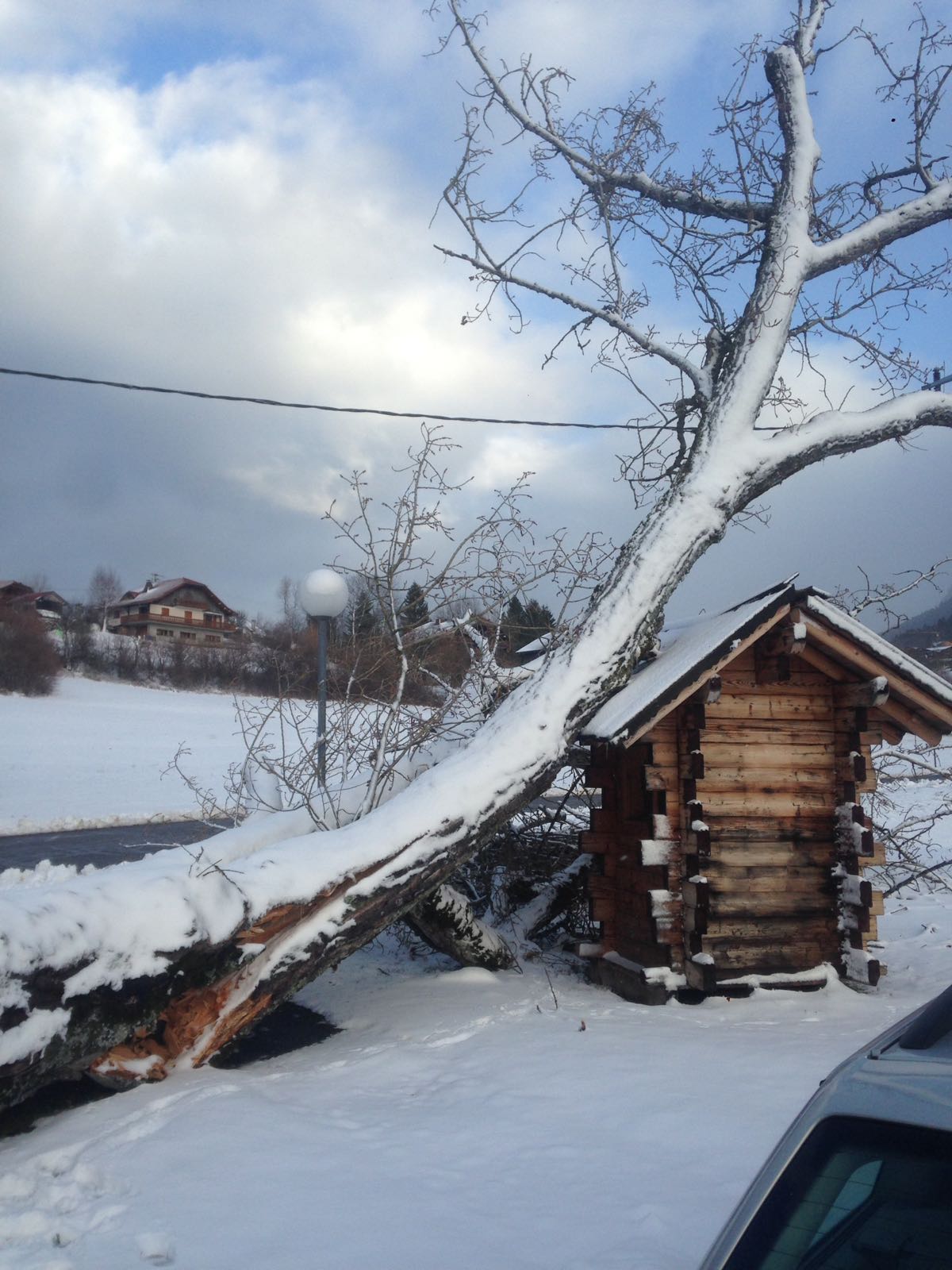 More on our News and Blog page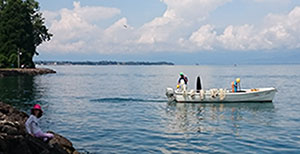 The website invites contributions and constructive comments: This email address is being protected from spambots. You need JavaScript enabled to view it.
Do check in regularly as new articles are added.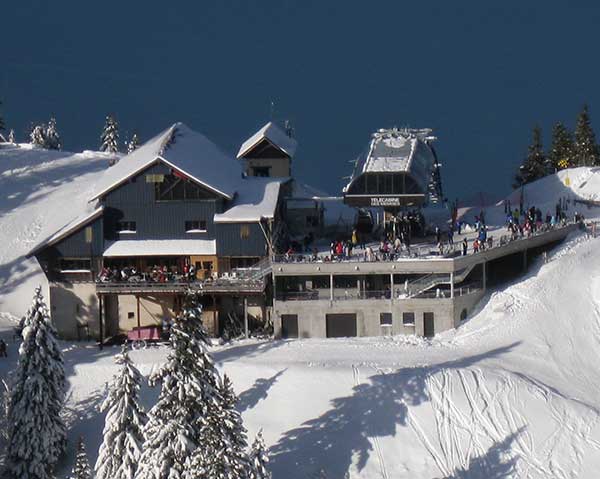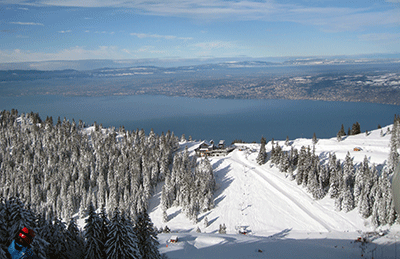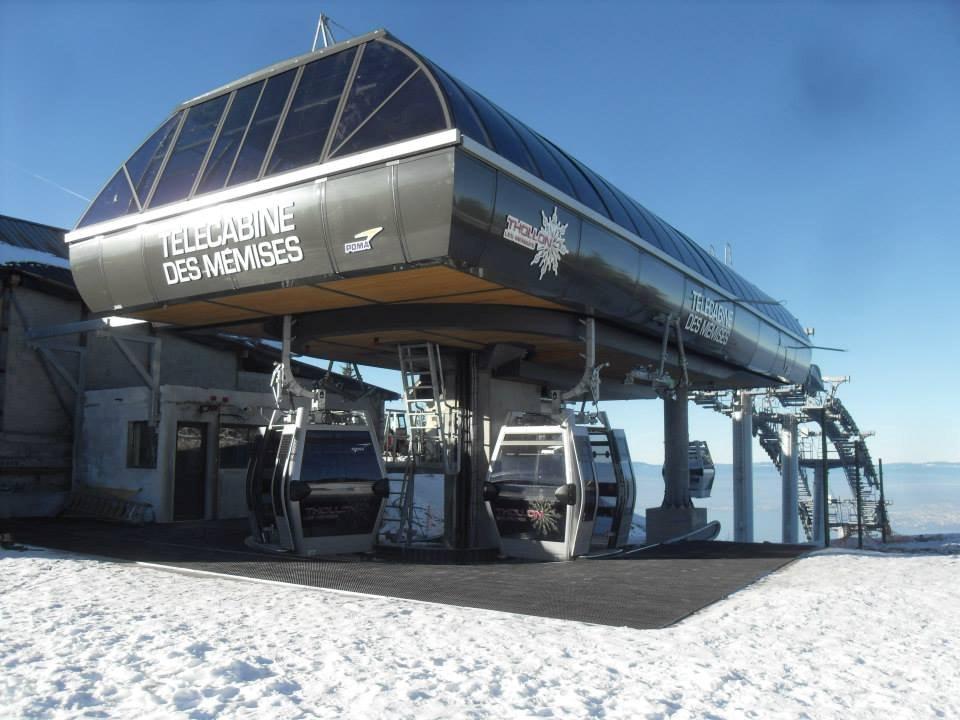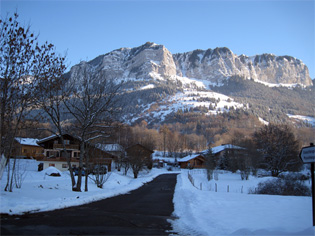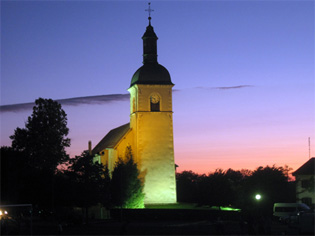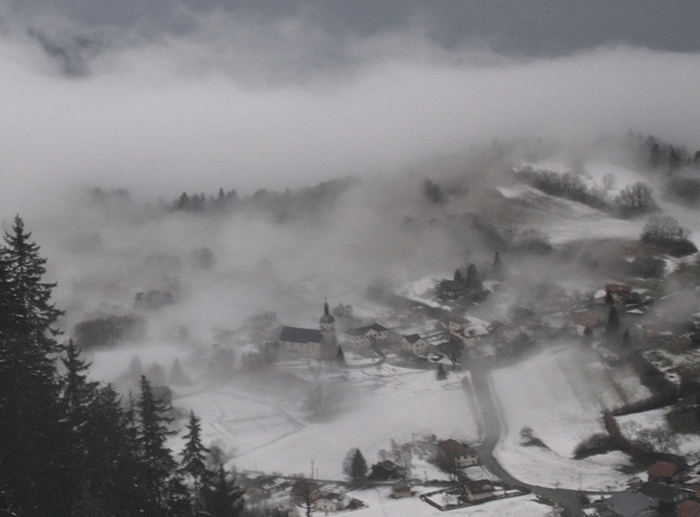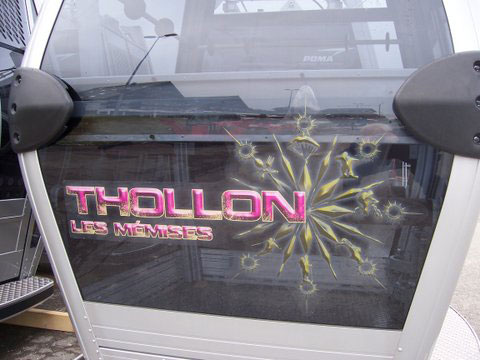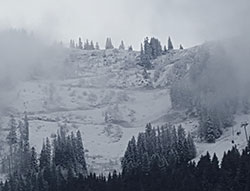 Map of suggested visits and Ski resorts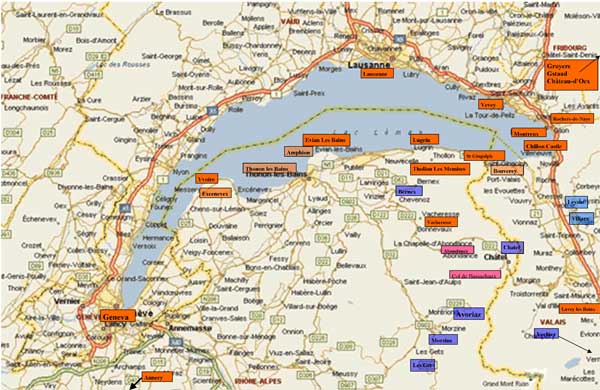 The site does not intend to duplicate the information that is available on local websites such as www.thollonlesmemises.com but to bring together information and welcomes suggestions and contributions,
To make a contribution please use our contact page.
Photographs that show a particular aspect of Thollon and the area are appreciated.
As the site is an exchange of information no liability for the correctness is accepted and visitors should verify for themselves if in doubt the information provided by contributors.
This is a UK based web site, maintained and governed in the UK.
All content copyright thollon.org