Welcome to Thollon
This website has the objective of gathering and sharing information for English speaking visitors to Thollon les Memises. To help visitors, apartment and chalet owners, and those renting properties. It aims to give a wider view than other web sites. Information that a visitor for a week or two may require. Not just for Thollon Les Memises but also the area that can by visited in a days drive.
Thollon.org has been updated, new format but same information news and updates.
We now welcome donations for advertising which will help towards the cost of running Thollon.org Donate, Advertise.
New Thollon.org Facebook page, like to get advised when new artcicles are added to this website

Historic winter web cam picture below.

There is a new web cam giving views from the "Top" fantastic views
Historic Webcam view

We now have the use of a web cam from the the Gondola in Thollon.
Les Lanches web cam Many thanks to Andy .
Check out Facebook Telecabine Thollon for regular updates and lift opening.
Telecabine
See notice boards for special offers of lunch and lift combined. Also offers of discounted lift passes and rates for the new ski season when purchased early. Go to https://thollonlesmemises.axess.shop/ There are combined pass with options, Thollon Bernex and Abondance. https://lesmontagnesdevian.com/#!/tarifs
When the resort can only open limited runs, a reduced rate is sometimes applied. There is now a site showing what runs are open. Plan Thollon Alpin.
Check out the Facebook Telecabine and Facebook UCAT for latest news and further information and requirements to use the lifts.
The Association of Traders website UCAT Thollon. Good information and links to the traders and on The Evian page a link to Bus Timetables for the Evian / Thollon shuttle.
The resort ski restaurant Les Balcons du Lac gives up to date information on their Facebook page Les Balcons du Lac
Telecabine Re-opens April 30 2022 for Wednesday, Saturday, Sunday and bank holidays
Lindsay continues her excellent blog. Many thanks. More on the Letter from Thollon page

Lindsay now has her own website where she will be writing a more personal account of tales from the balcony
It's raining cats and dogs
April 2022
…but not in the way that you think. In fact, Thollon's been basking in spring sunshine for the last week or so.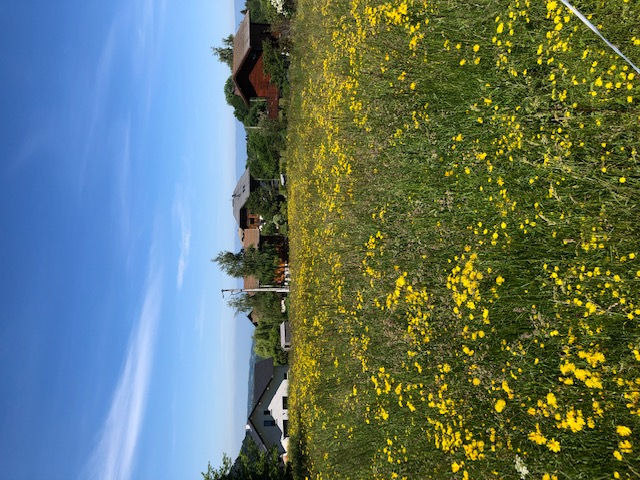 Thollon's carpets of wildflowers
No, it's genuinely raining cats.
Picture the scene…a quiet Sunday evening curled up on the sofa watching John Craven tackling a peat bog. All of a sudden there's a high pitched noise (think Ducati rounding a bend in the Isle of Man TT).
From the corner of my eye, I catch sight of a high velocity object passing the window. In the hallway outside the apartment there's the sound of urgent whispers and rapid footsteps down the stairs.
High drama…. the cat's dropped off the balcony! Now this is a balcony at least 16 metres or 50 feet from the ground.
Whether it was a desperate bid for freedom, a prank, or simply something that seemed like a good idea at the time, we just don't know. What we do know, is that cats do in fact bounce, and this one definitely has nine lives. Now eight.
After they'd dismantled the car engine, where the said cat had sought refuge,the slightly shaken skypilot was given a clean bill of health by the local vet. He's now back (with slightly shorter legs) installed on the balcony rail, daring the cat next door to 'give it a go'.
Thank goodness they don't have a dog.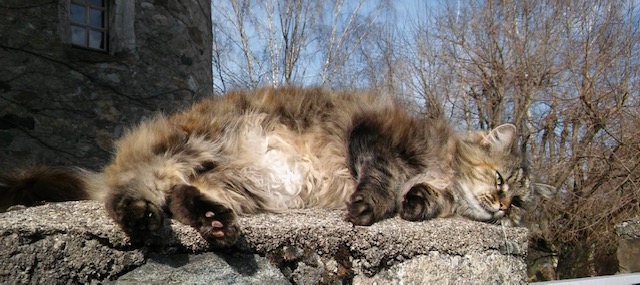 The recovery position
Obviously, fitness played a key role here. If you're contemplating a triple pike from your own balcony, or even just an energetic stroll across the Memises, you might be thinking about upping your fitness levels.
There are so many wonderful hikes, or gentle walks around Thollon that it's easy to increase your exercise while you're here. Add to that swimming in the lake from May to October, all year for some, and enough cycling to keep even Eddy Merckx happy.
For something more structured that will build strength, balance, coordination and general all-round fitness then there are some great opportunities right on the doorstep.
Let's start with Thollon's own fitness instructor and personal trainer, Joe Brady and Basecamp Fit. Joe's been running fitness classes for all ages, from spring to autumn,here in Thollon for several years now. In addition to his tailored workouts, this year he's offering new 'Fitness with a View' outdoor classes.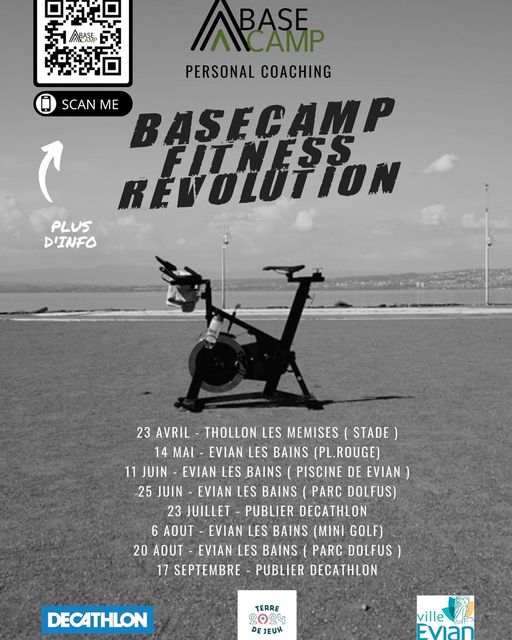 In partnership with Decathlon and the Ville d'Evian, Basecamp Fit are organising spinning and fitness classes on Saturday mornings in some extraordinary outdoor spaces. Venues includeThollon, the Esplanade in Evian, the Parc Dolfuss, and the Lido. Check the website www.basecamp.training/bfr for full details.
Another option is Evian Thermes.You will have passed this building if you've ever visited Evian or Thollon. Close to the ferry terminal, the Thermes has an austere look from the outside. Inside it's a different story. There's a small but well thought out gym with the usual cardio machines, fitness equipment, free weights and a view of the lake. Downstairs are the spa facilities, saunas, hammam and swimming pool.
The Thermes offer a wide variety of classes, such as aqua-fitness, yoga, Pilates and more, plus a long list of beauty treatments and massages. The receptionists speak English if necessary and are super friendly and helpful. Parking is available and the changing rooms are spotlessly clean, albeit with a slightly complicated locker system.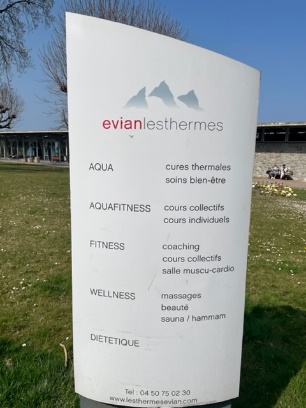 The Hilton Hotel next door also has a small Ayurvedic spa offering beauty treatments, relaxation and massage for non-residents. Decorated in rich browns and gold with an oriental feel it's a nice place to spend an afternoon. It's small gym and indoor pool are currently only open to residents.
If you really want to push the boat out, then there's always the Royal Hotel in Evian les Bains. Access to their spa facilities for non-residents is possible on the 'Journee de Détente' or 'relaxation day' package which includes lunch and a choice of beauty treatments. More to my liking is the traditional Afternoon Tea with a glass of champagne, plus use of the spa, maybe in reverse order though.
Enough!
Just the thought of all this exercise is sending me to the fridge in search of a Scooby snack. Whatever form of exercise you decide to take just remember, that as long as you land on your feet you'll be fine.



....................................................................................................................................................................................................................
27th March 2022. What a great last day. "The Closing" started at 10.00 with the infamous ski race. There were of course the real competitors who showed the rest of us how to ski a slalom. There were the pisteurs who dramatically negotiated the course pulling stretchers between two skiers with a "casualty". There was the ESF instructors who came down at high speed on plastic sledges. And of course the Thollon.org team with the border who took out a whole section of poles.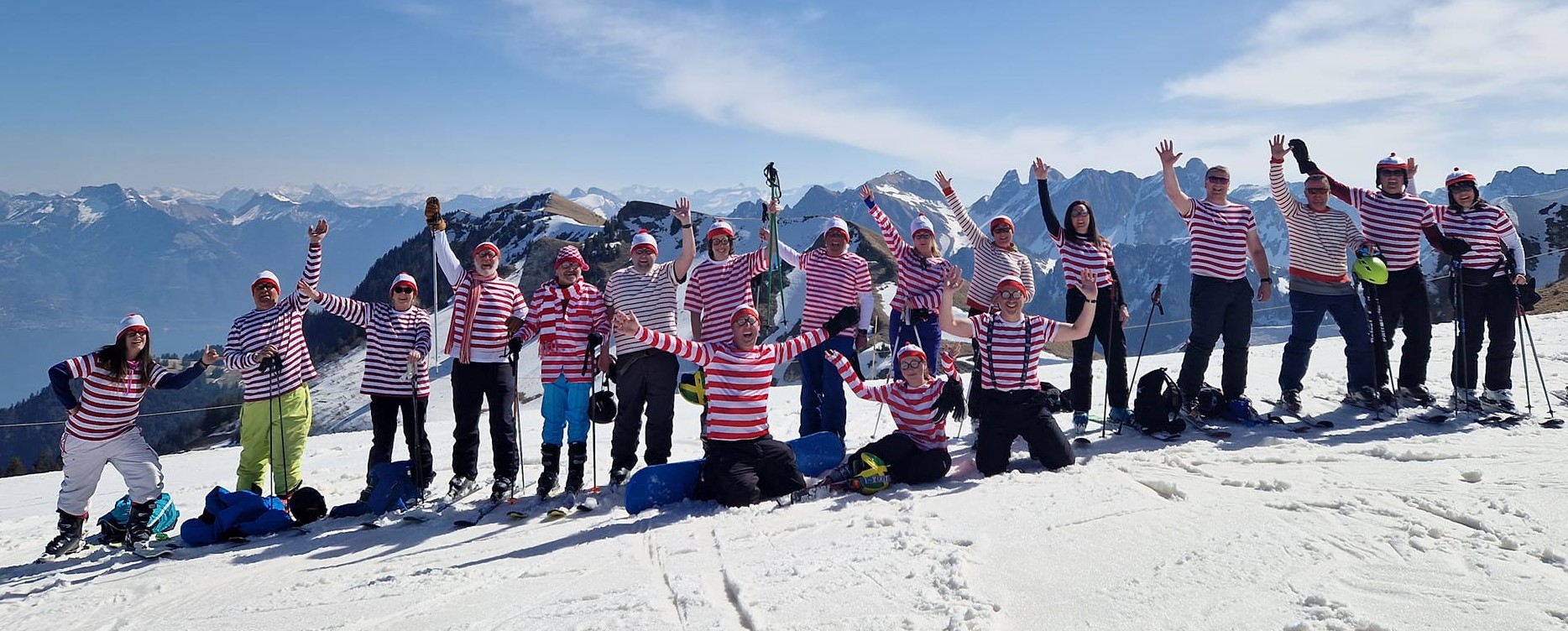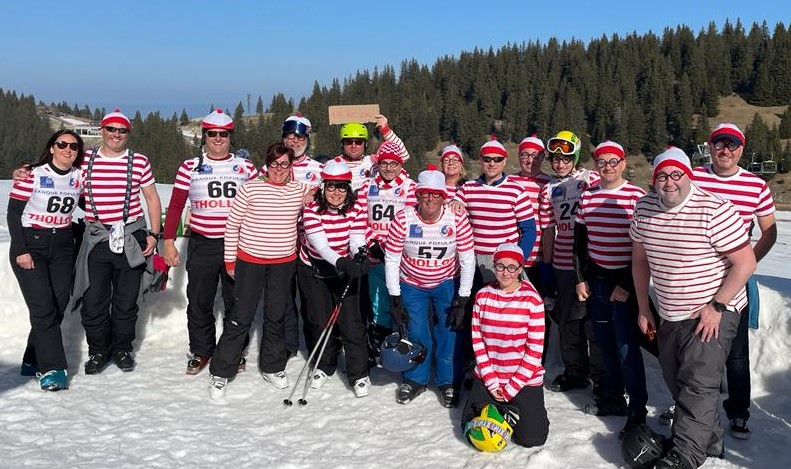 Prize giving... Thollon.org win again!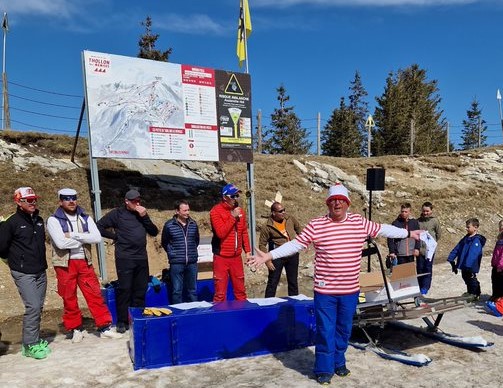 The "Where's Wally's" assembled at the finish line to have a well earned beer and recreated the end of season group photo at the top of the mountain.
Festivities continued with Lojah a great band at Les Balcons and the food festival with stalls serving everything from delicious squid, moules, and great Savoyard specials. Fantastic atmosphere.
As Les Balcons closed for the evening, we took the last lift of the season and moved to Le Carnotzet and St Nic's where a great DJ performed with Arnaud serving a fantastic BBQ. Sparkling wines showering the assembled very happy party goers. But we were not finished at L'Ourson another band Les gwapps started.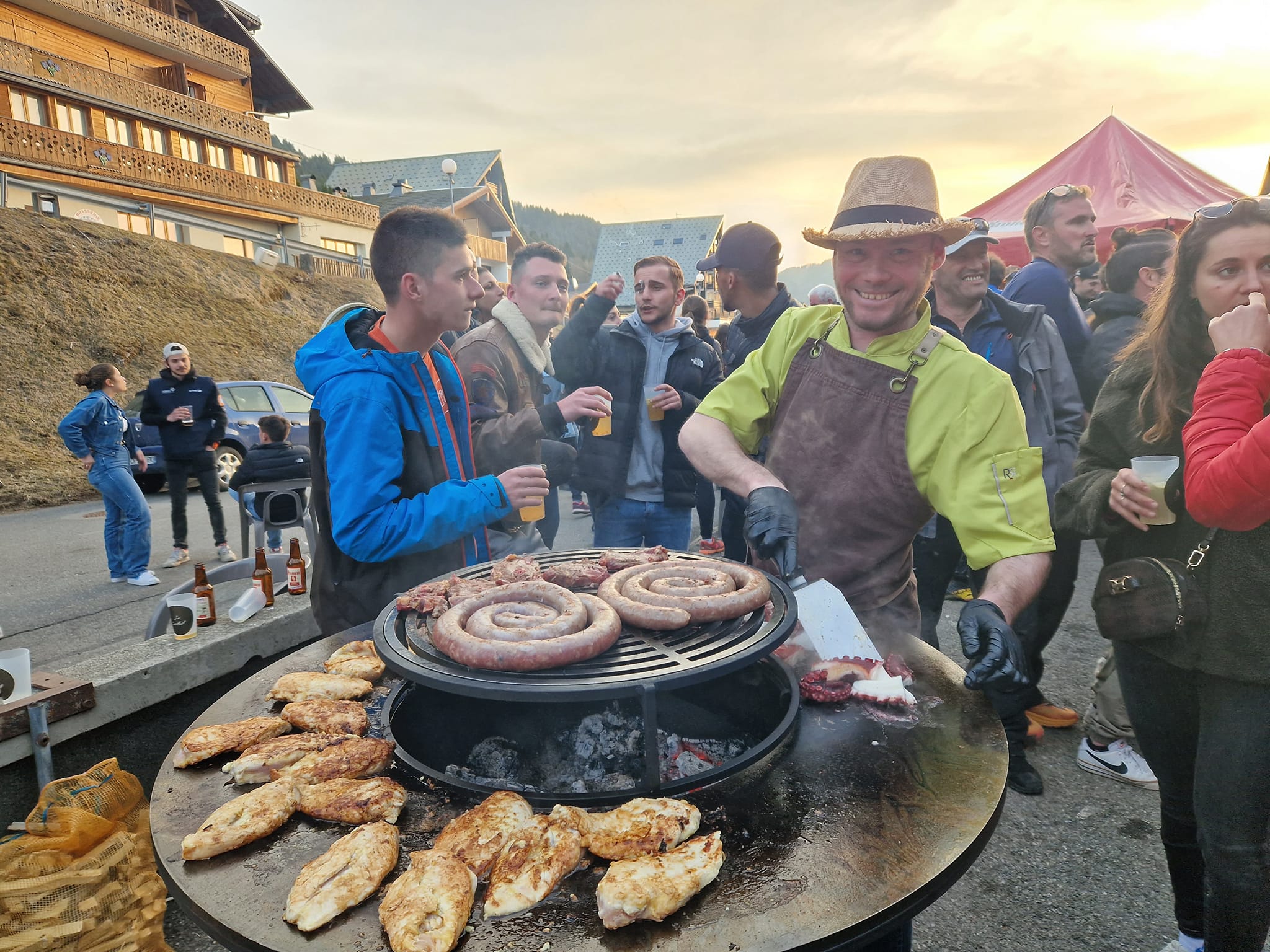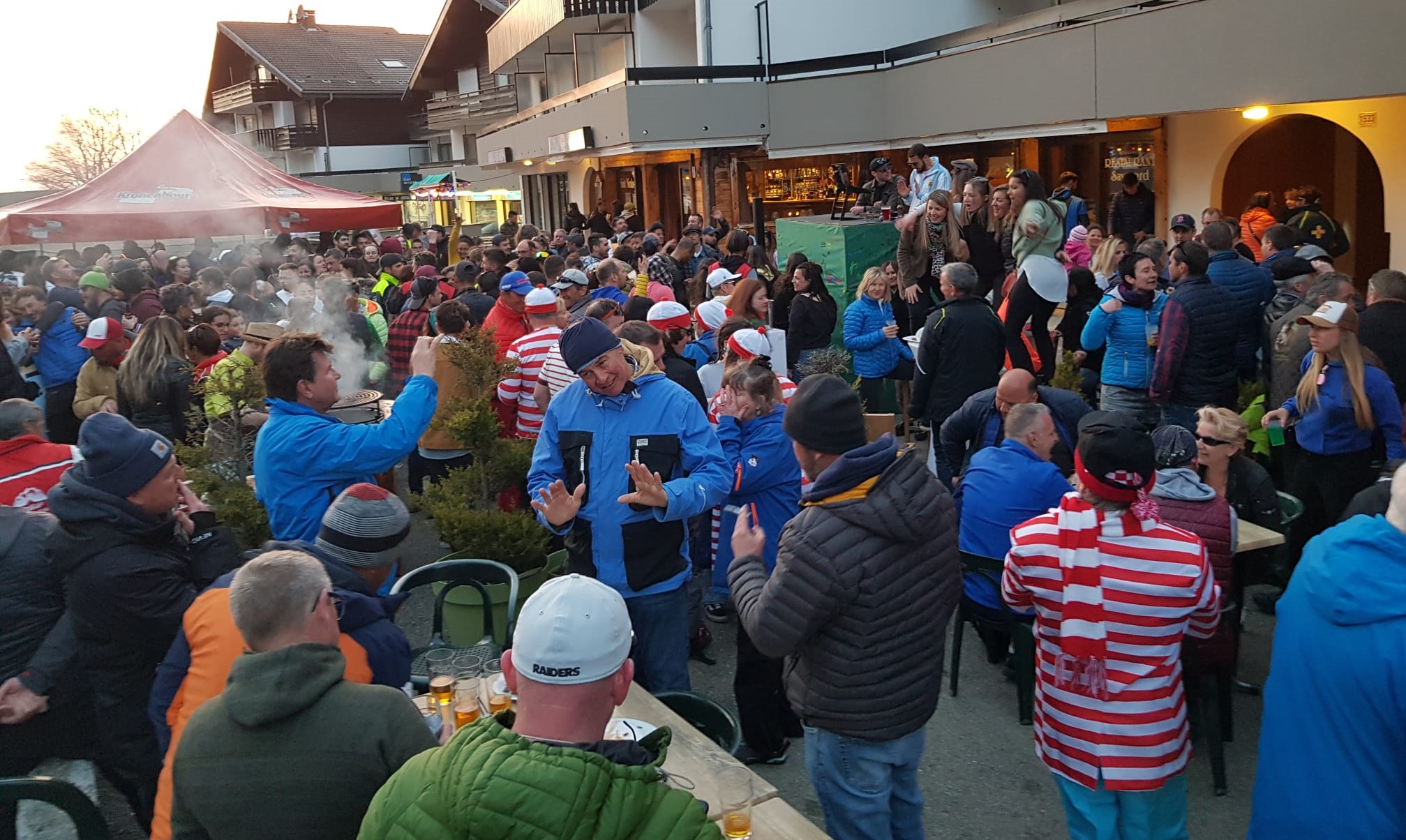 The party continued. Many thanks to ESF, Pisteurs, Telecabine, Les Balcons, Le Carnotzet, St Nicolas, L Ourson and the Wally's.
More pictures and videos on Thollon.org Facebook.
The last weekend of the season, some great memories, scroll down this page for more.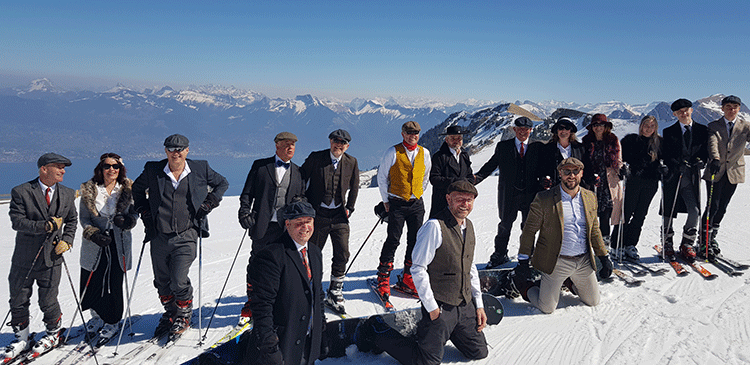 22 March 2022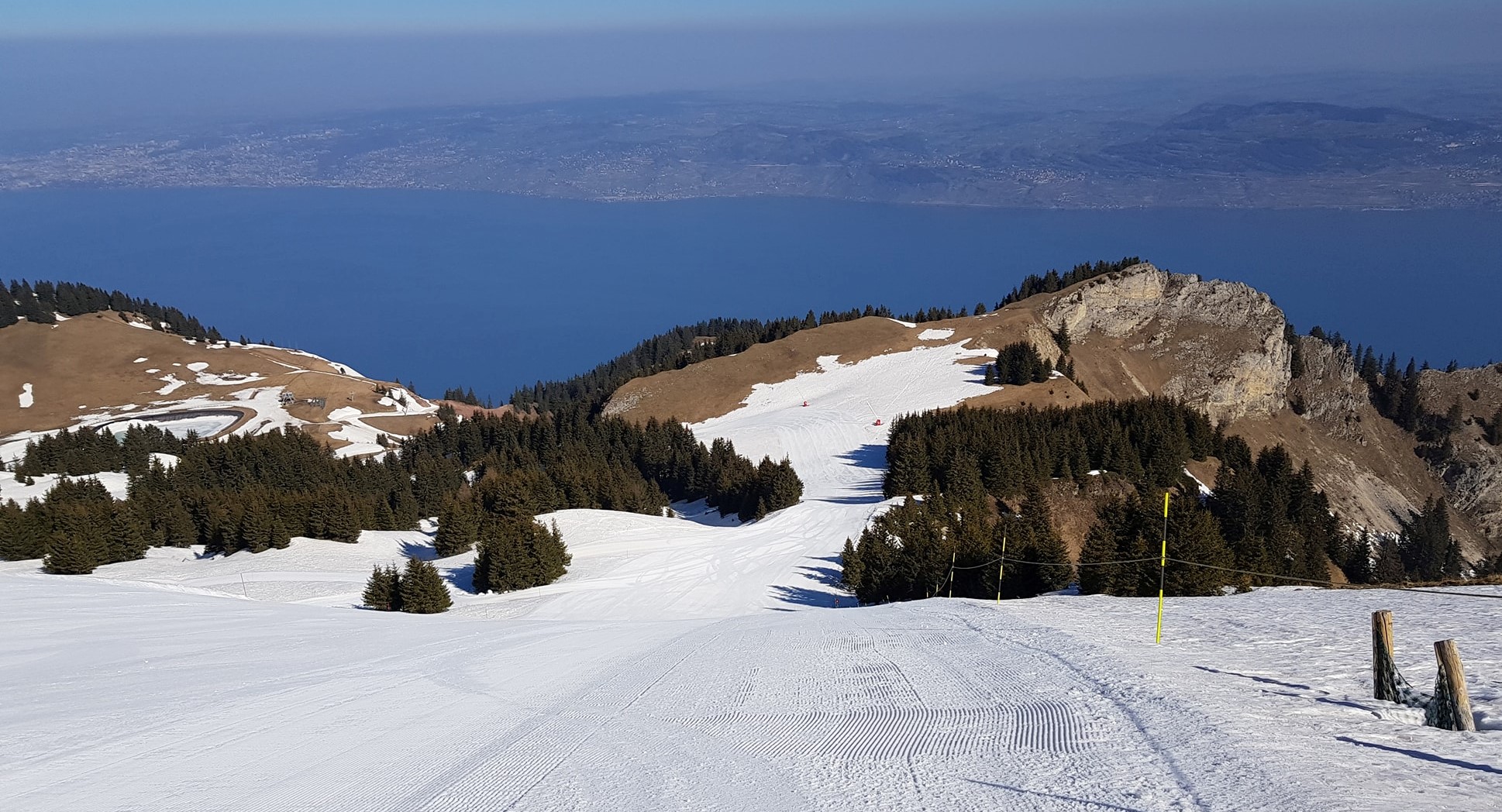 As we approach the last few days of the season we have sunshine and hard packed slopes. With many piste closures there will be a reduce daily rate of 19.50 euros to ski. See above for link to the Plan Thollon Alpin for updates. Lindsay's blog below sets out what is planned.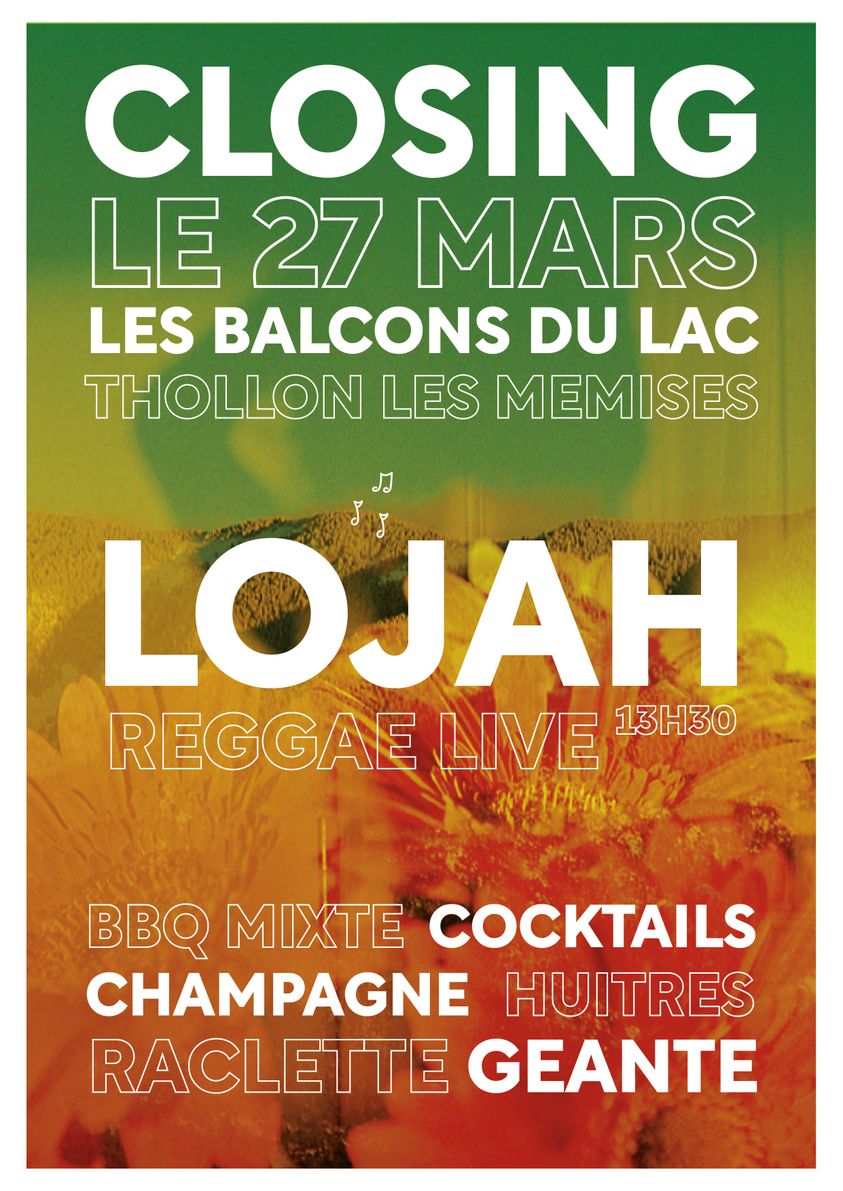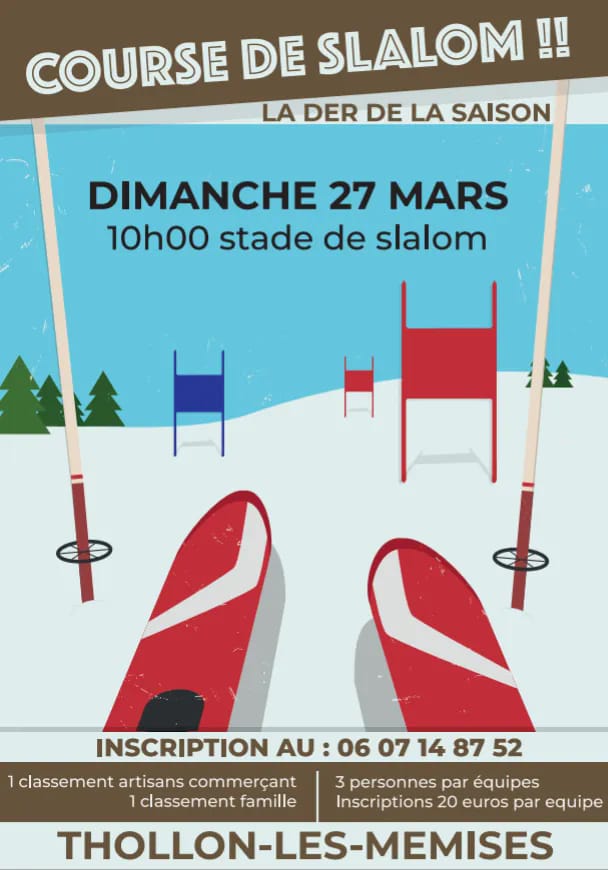 .....................................................................................................................................................................................................................
The English Language film season in Thollon.
The last VOST film of the English winter season 24 March at 8.00pm !!!!! The BATMAN
The 4th highest grossing film of 2022 so far. Critically acclaimed. Praised for performances, cinematography, direction etc
Only with the support of the English speaking community will English films continue to be shown. So please come along.
.........................................................................................................................................................................................................................
............................................................................................................................................................................................................
Thollon is a family resort and many visitors return every year to enjoy the great welcome.
Bit of nostalgia :-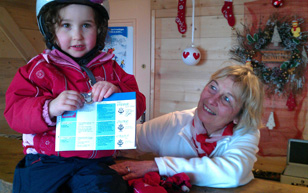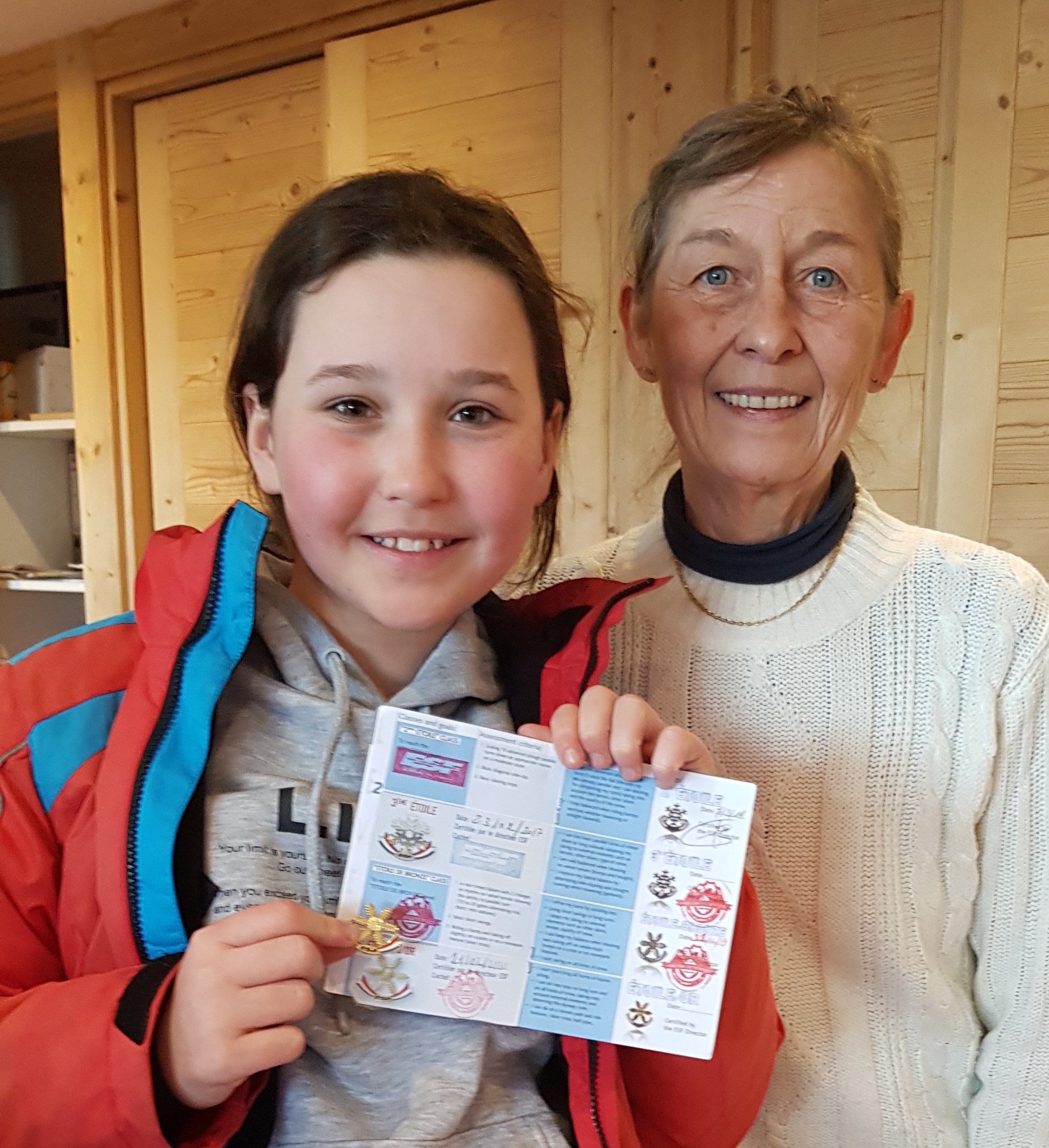 Christine (ESF Thollon Secretary)
presents a first badge to Cora age 4 and then Gold Award age 12 in February 2020.
Wednesdays February Party 7pm in the Polyvante hosted by ESF, Ski Club, Fondue and music Mickael and accordion.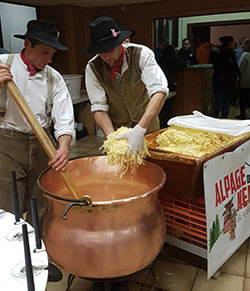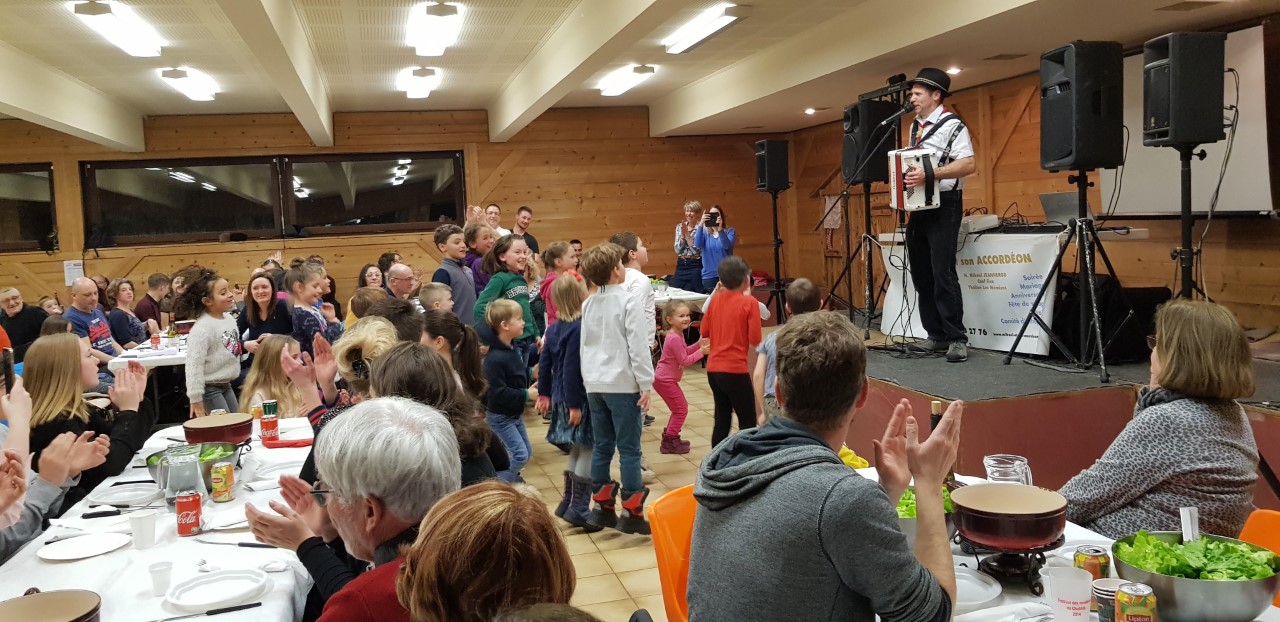 "Horseing around" Thursday 20th February 2020.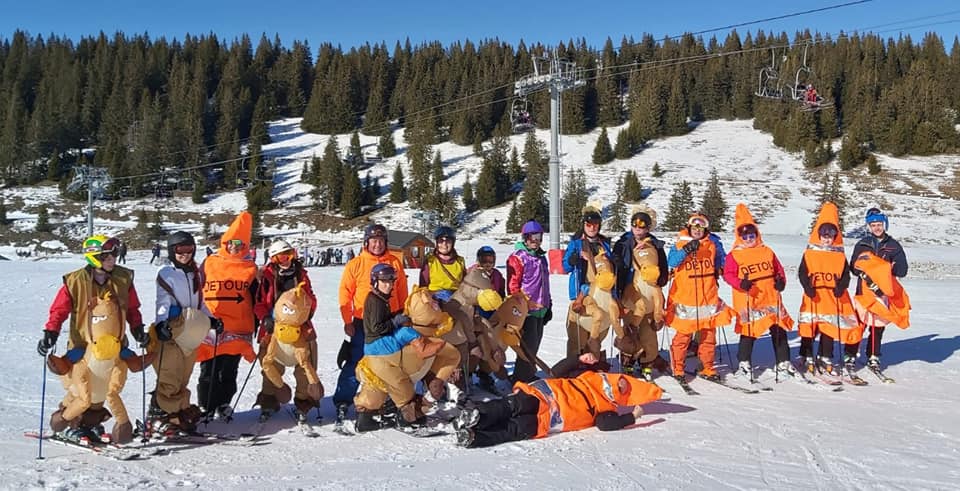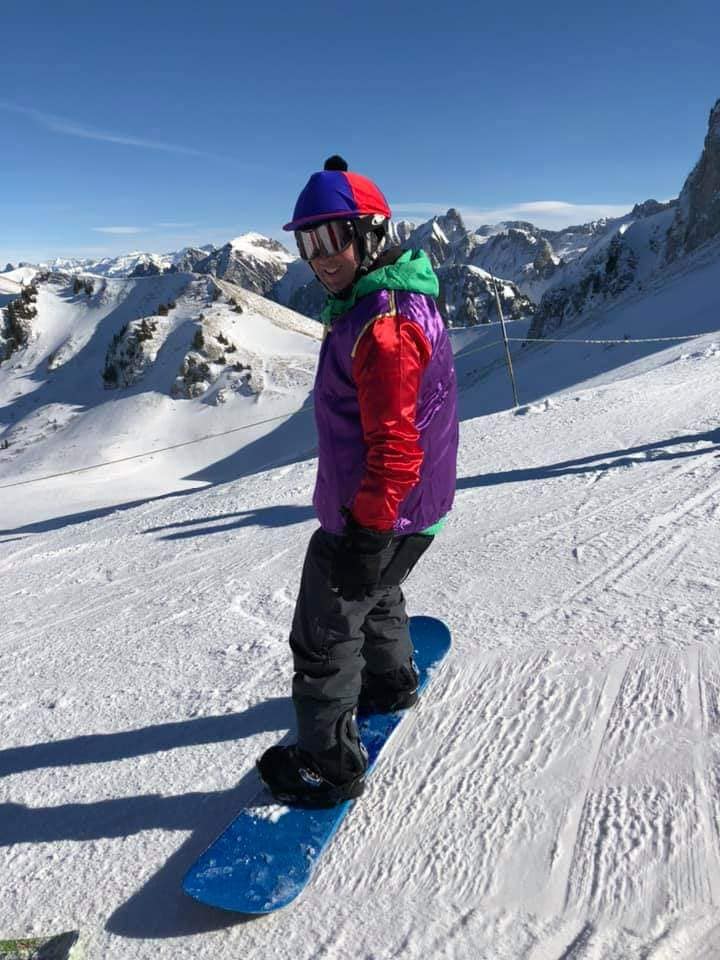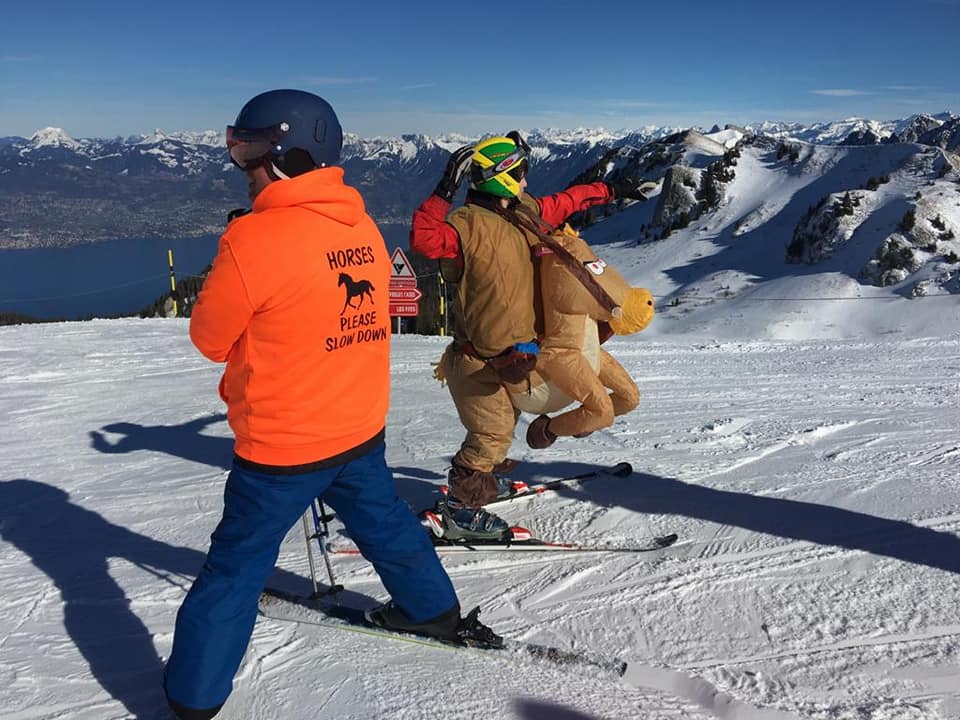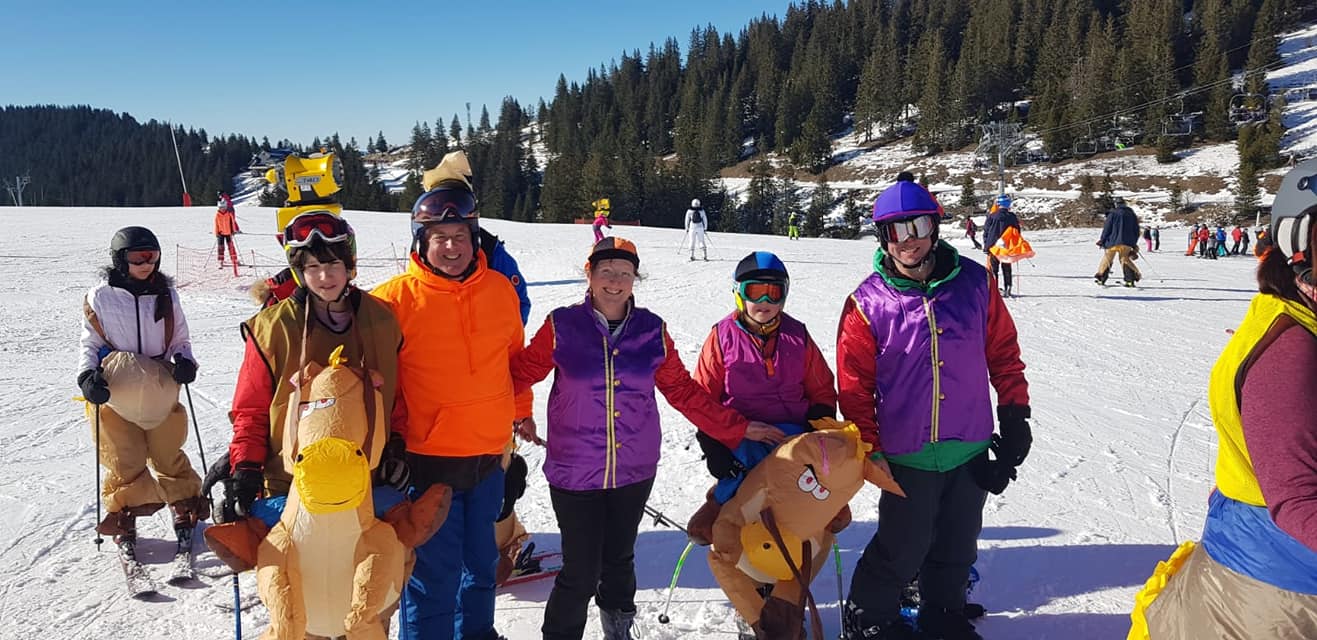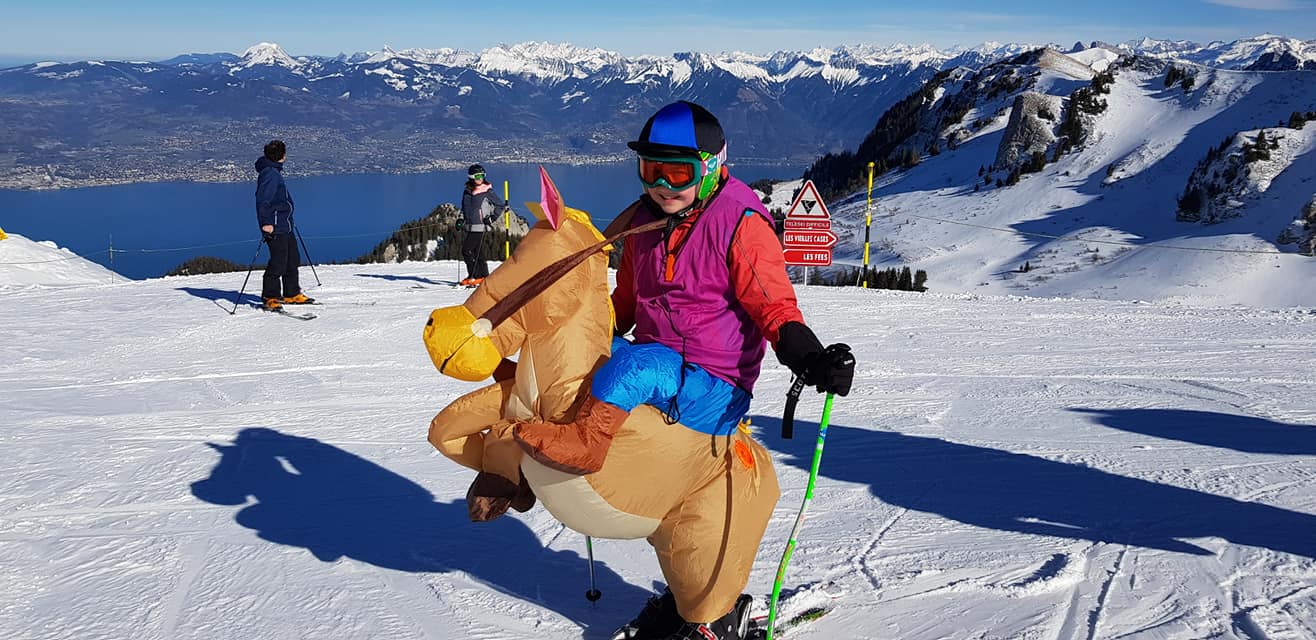 Thollon Snow Park
The Thollon Snowpark association organises events on the theme of freestyle skiing/ snowboarding. The half pipe, landing balloon and water jump add some fun to Thollon.
Reggae Fever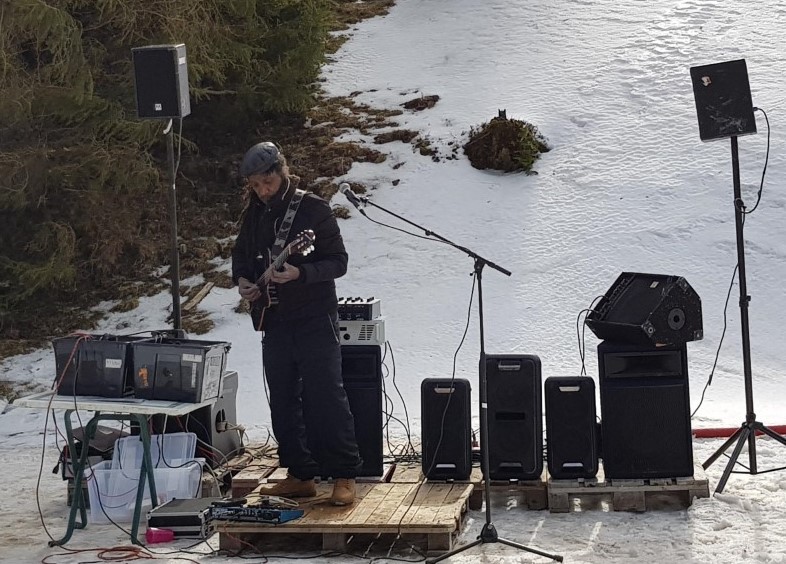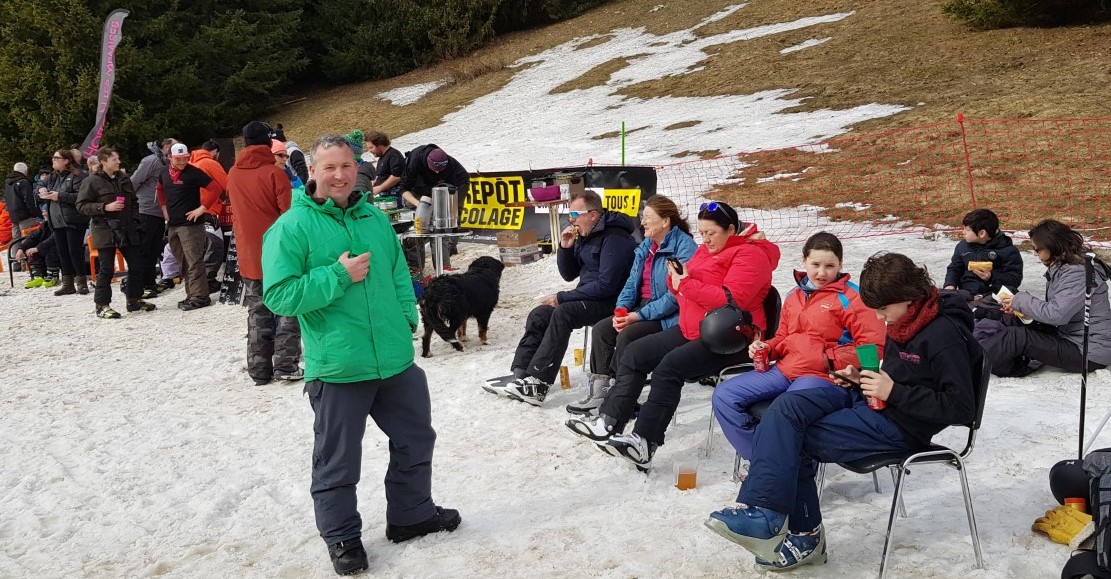 One of our own has a sneaky play.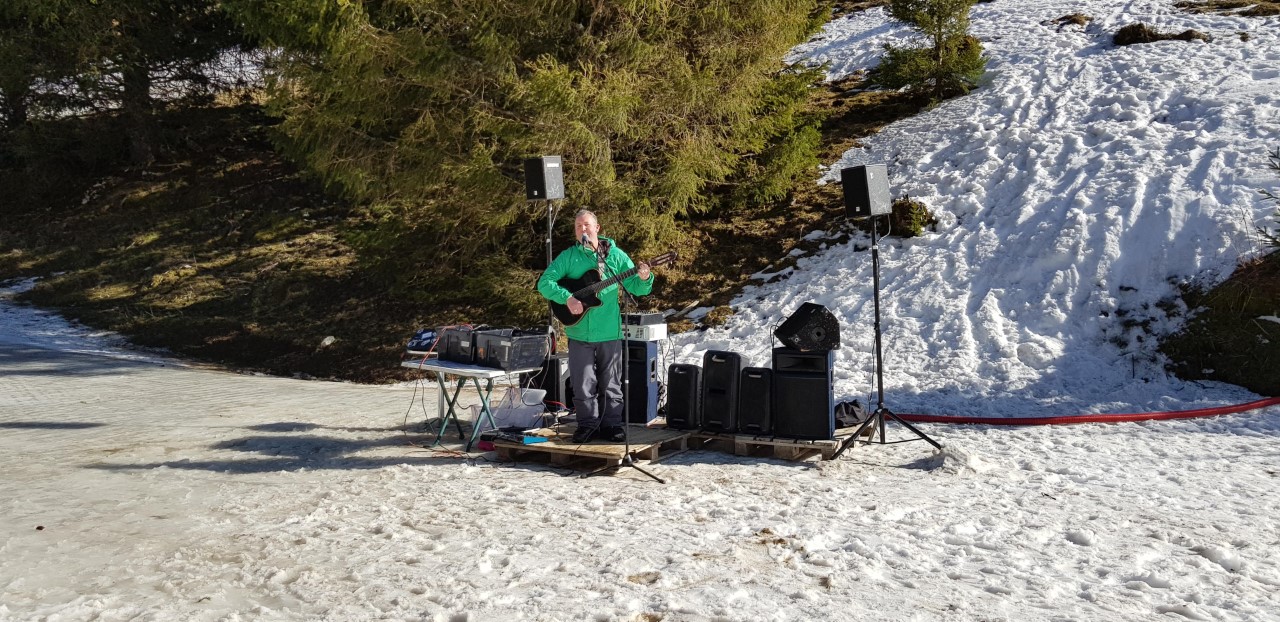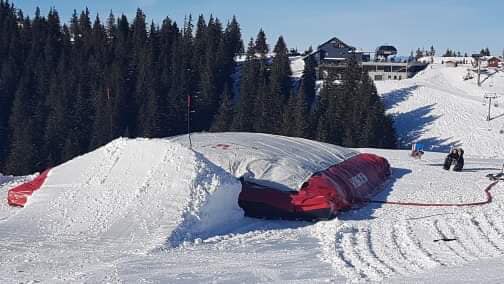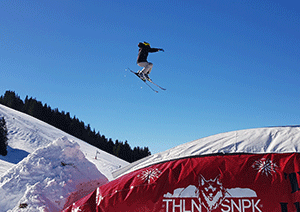 Below January 2020 BBQ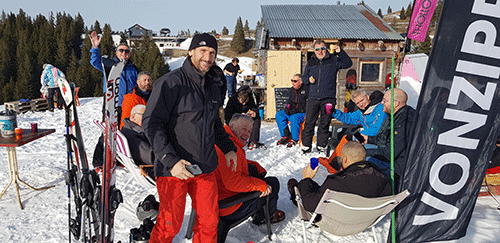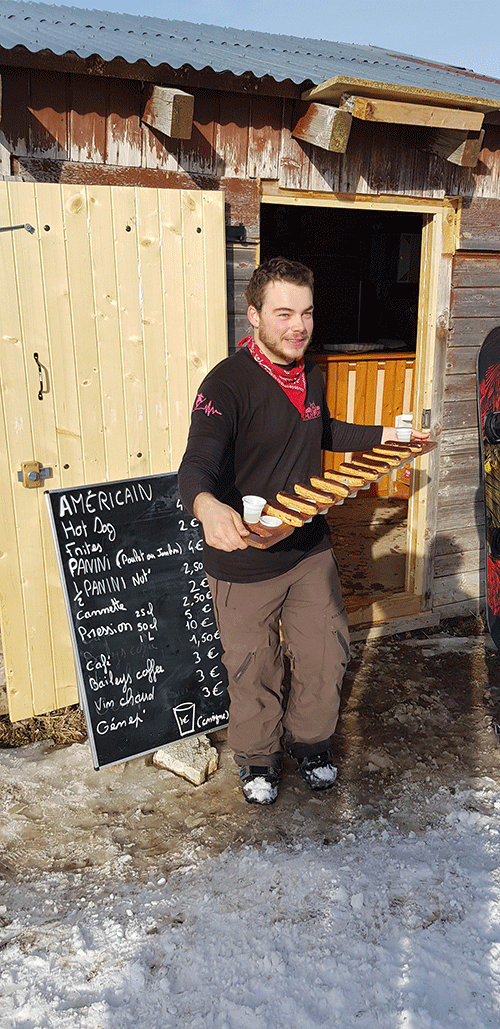 Carnaval in Evian see Evian page for photos from previous years.
Summer 2019. A review
Music and fun. Bars, fete, BBQ
Bar Ourson is worthy of an extra mention for the many fun evenings some with live music. Corrine has been popular with the British clientele and the annual get together of British musicians with the new band Jerry and his Pacemaker was in fine form. The outside area in front of the bar making for a great area to relax party and listen to music. Also new for 2019 was Arnaud offering excellent Tapas in his bar area in Le XV making for a relaxed drink and food sitting on the sofa's. The bars Saint Nicolas and Choumas continued to be popular and offered good hospitality. Many of us also braved the walk to visit the Hotels Bon Sejour and Bellevue, whose restaurants offered excellent fare.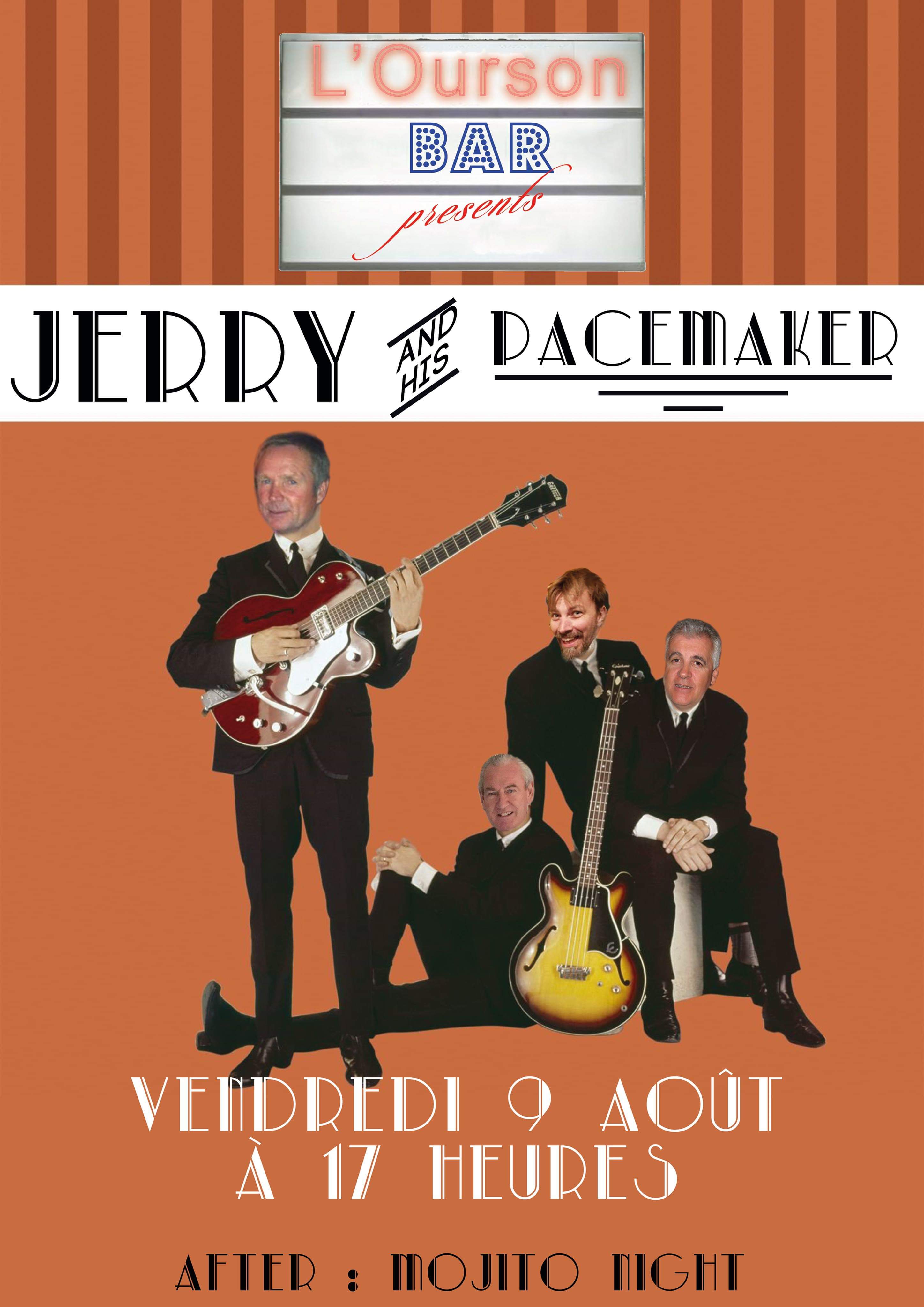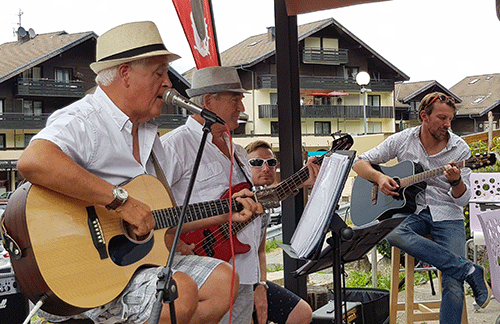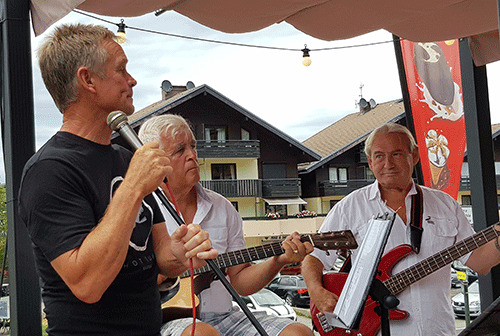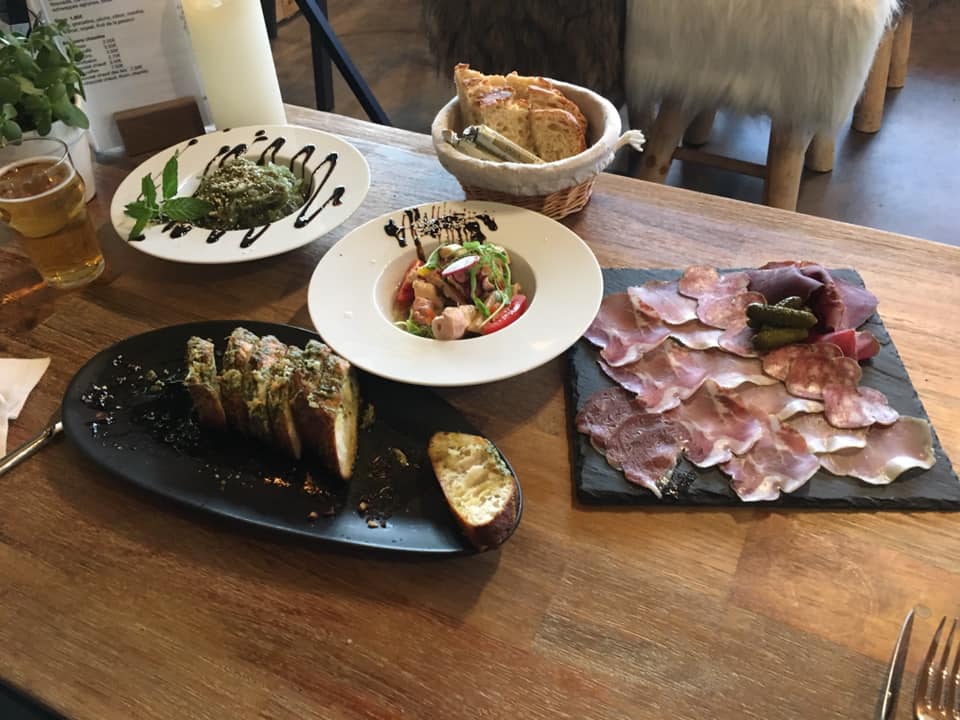 The annual fete was held in August, two nights of party which was well supported by the Thollon.org crowd. There were also music events held outside the Tourist Office, by the car park.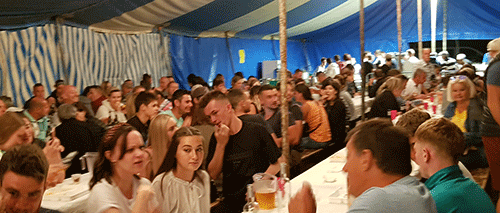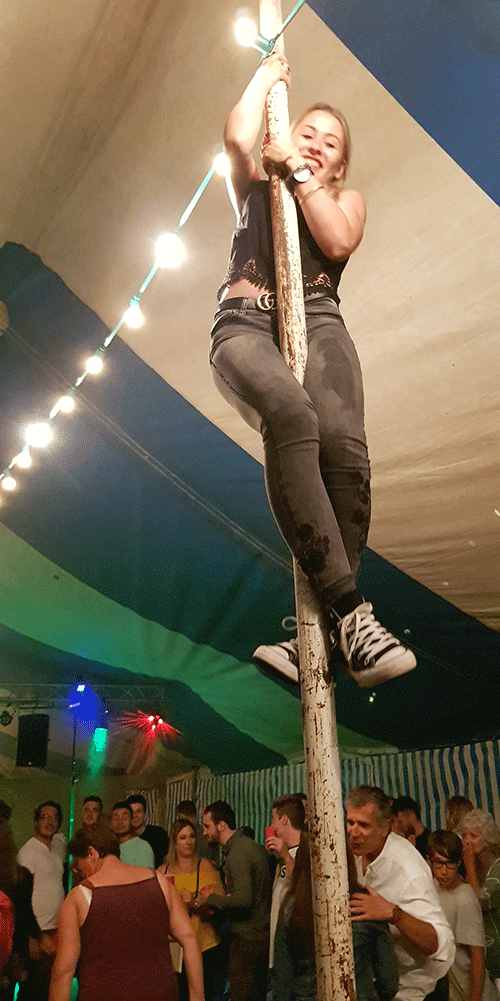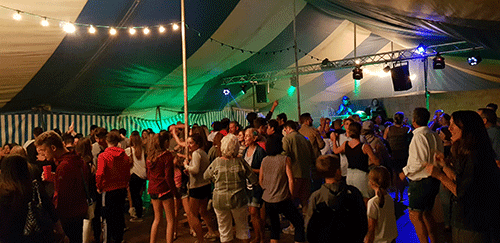 The site at the aerial Hucel which has a wonderful view over the lake was the venue for an inpromptu byo BBQ. A group of locals and Brits enjoyed food and wine as the sunset. The steep and dark climb down from the site was interesting.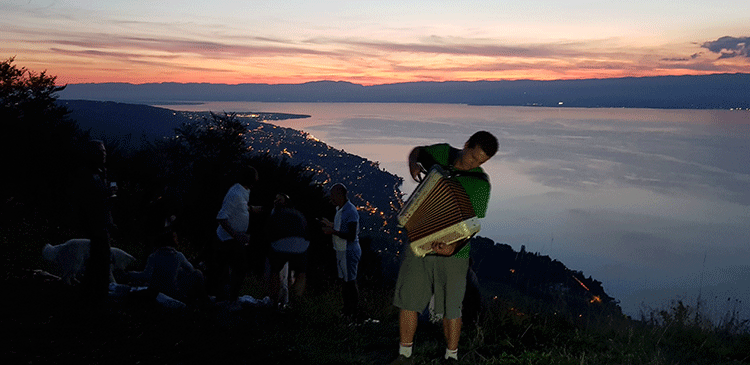 Priory Meillerie
A visit was organised to visit the Priory of the Meillerie www.meillerie-prieure.com. Many of us use the road and pass close by to this Priory. The visit was excellent for a number of reasons, the views are fantastic especially from the graveyard above. The history of the priory and its role in commanding the area and its links to Thollon were fascinating. The talk by Sidonie Bochaton (local archeologist, historian, and writer) was excellent as it gave a wider view and helped many of us understand the local history of the Haute Savoie. The web site is excellent and if you are considering a walk around is to be recommended to set the scene. Thanks to AS for organising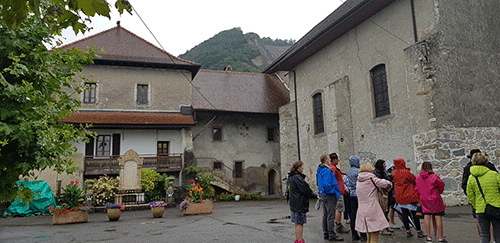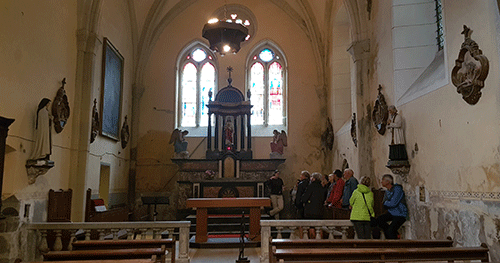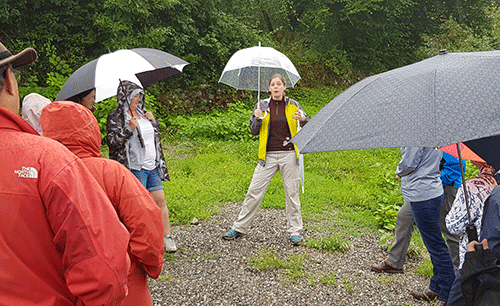 The Lake
Many of the Thollon group have boats on the lake and enjoyed a great summer of boating. The lake provided its usual mirror calm surface ideal for motor boats. The usual venues of Grand Rive "Nathalies" and new this year L'OXXY Beach providing refreshment.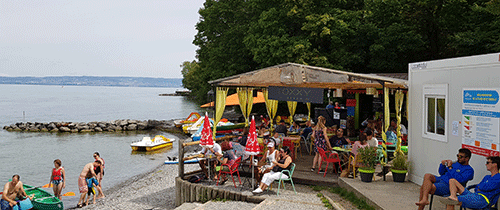 Annual Football Match
On Saturday 8th June 2019 at 3pm the annual football match was played on a lovely sunny day.
Result: England 8, France 7 yes we won!
As usual the band, ceremony and football of a standard only seen once a year. A great celebration.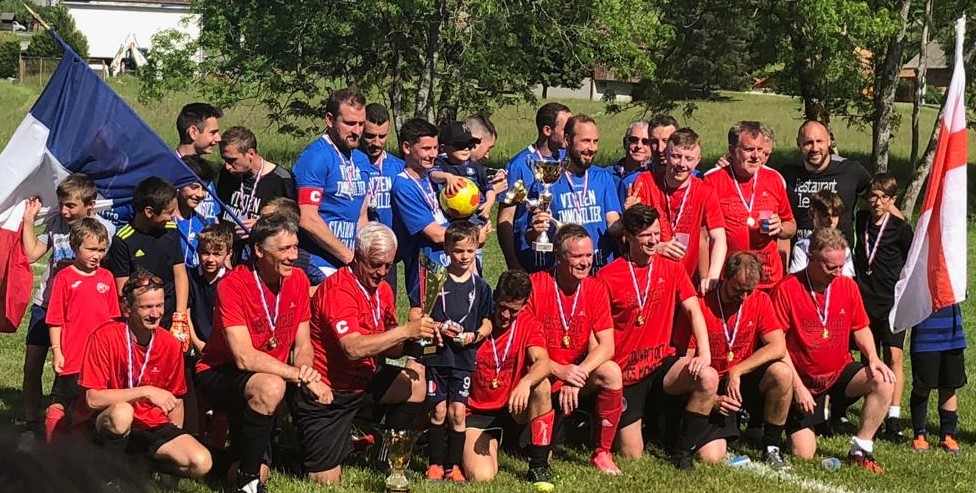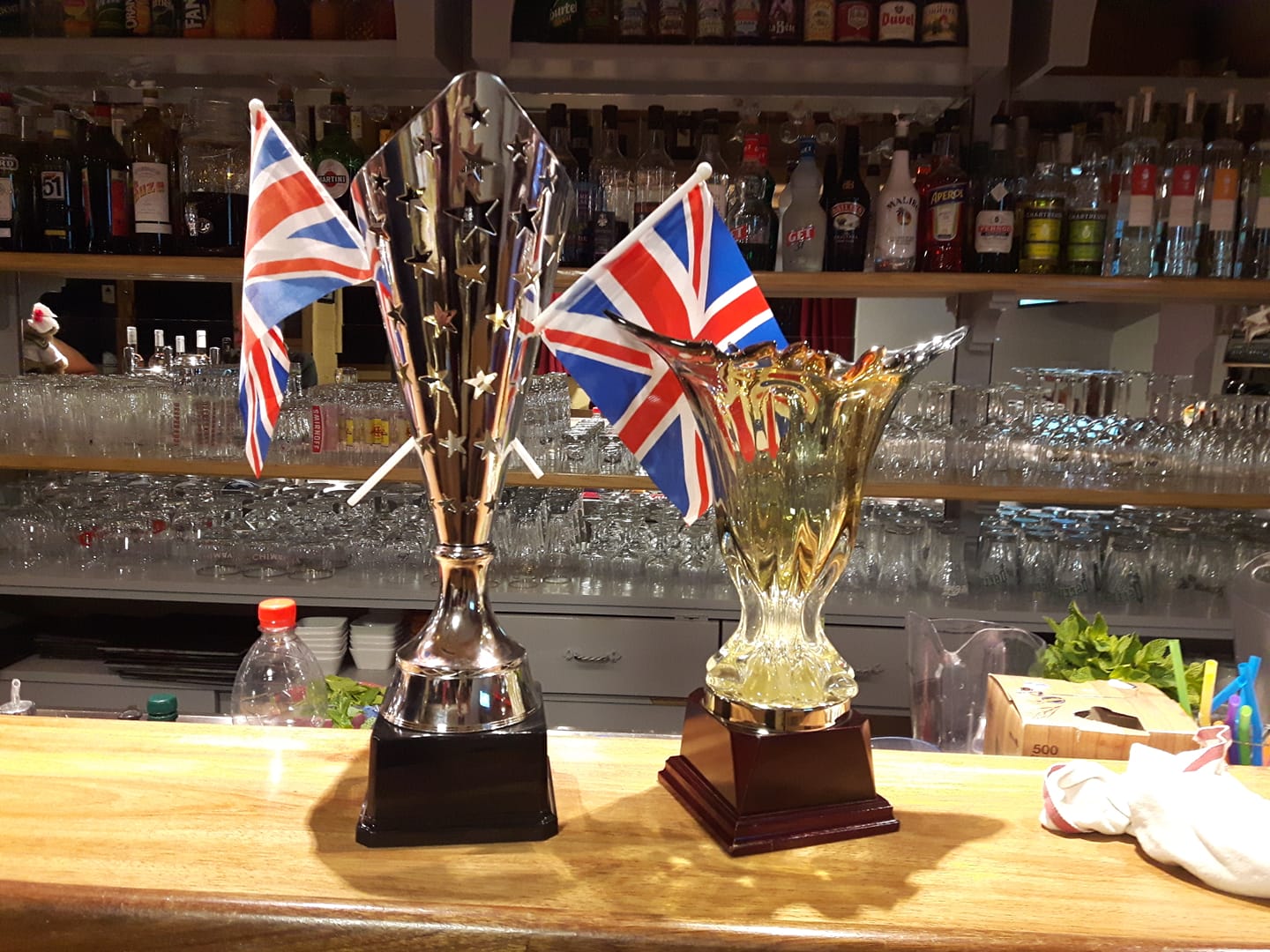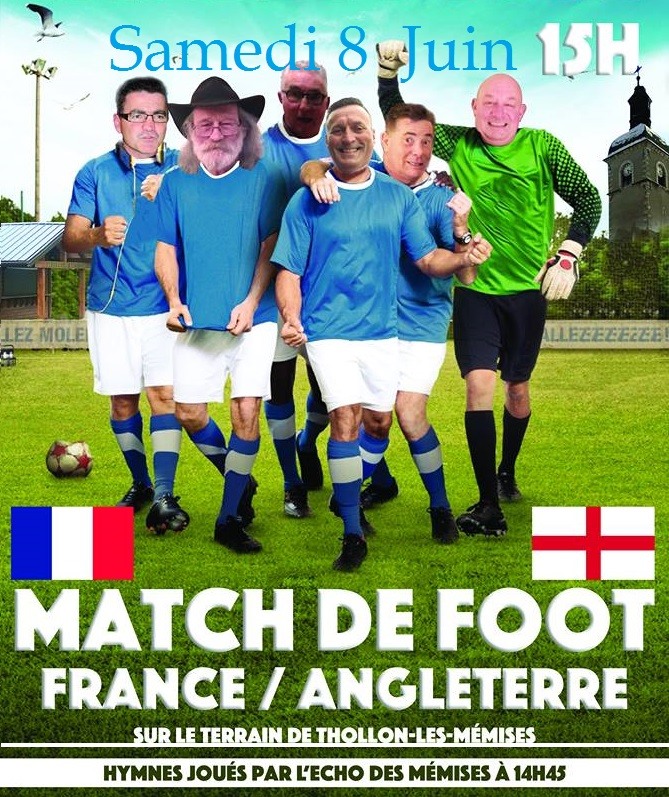 Pink Pub to Pegasus Bridge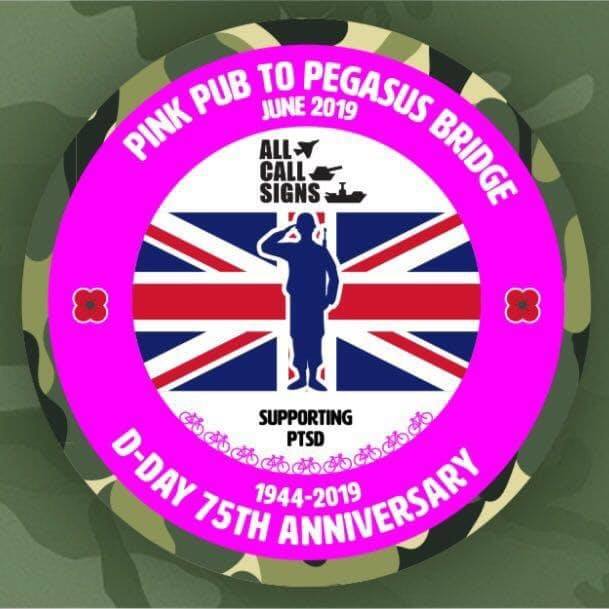 This site celebrates the link between many countries. We have a large British contingent. Several Bognor Regis members supported a great forces charity by cycling from Bognor Regis to Pegasus Bridge to celebrate D-Day leaving on Wednesday 5 May 2019. Have a look at the Facebook page. Pinkpub2PegasusBridge They have raised over £120,000....Great job guys.

They made it! Well done guys!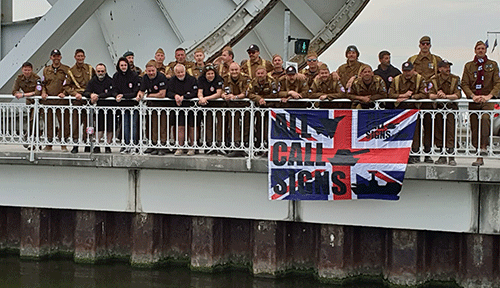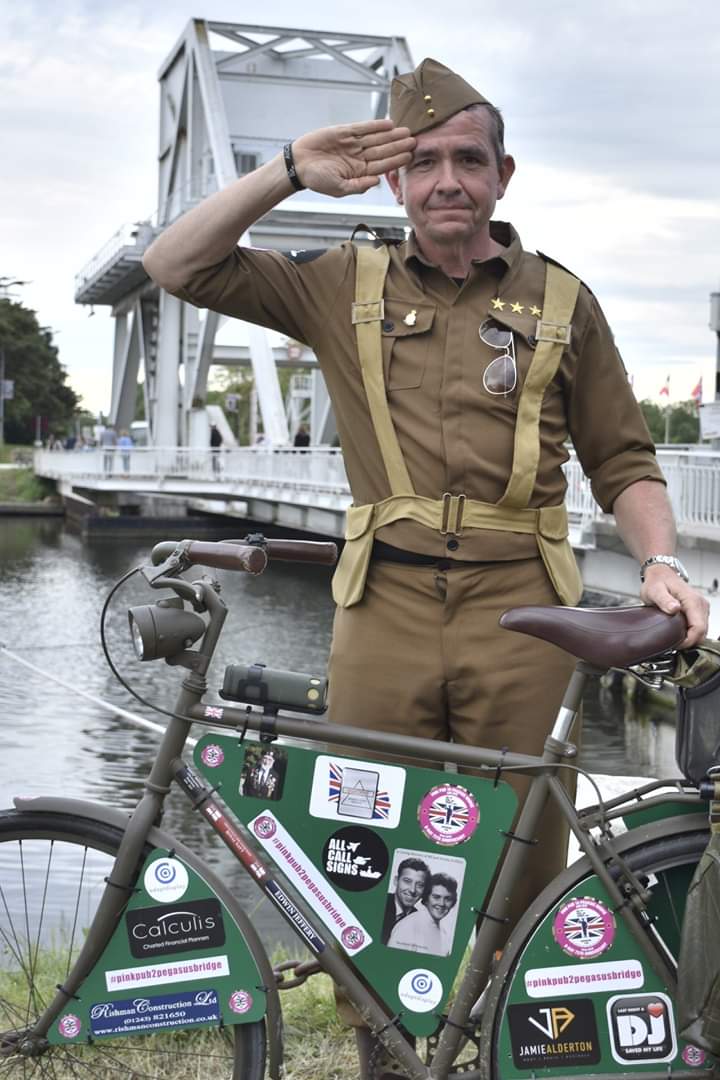 Bolton Celebration
Thollon friends stretch wide across the world. On the 11 May 2019 a group of around 30 Thollon friends came from various parts of Europe to visit Bolton to help celebrate 30 years in business for a Thollon regular. Much drinking and great hospitality from Dave and Deb's.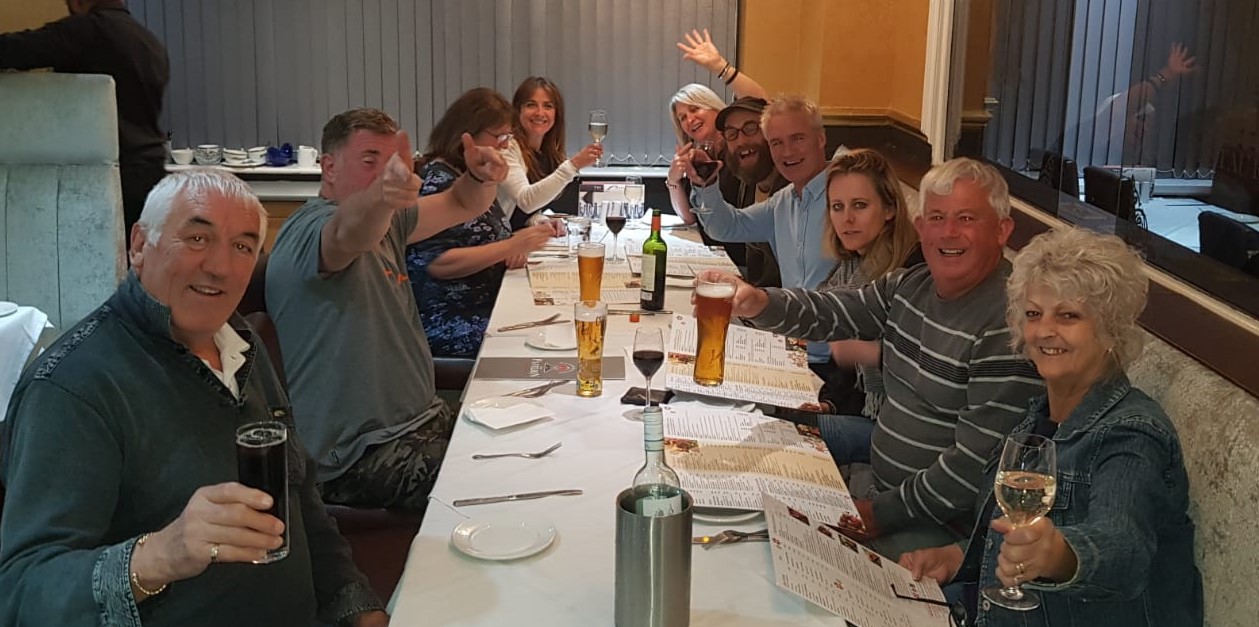 The Paddle steamers salute Evian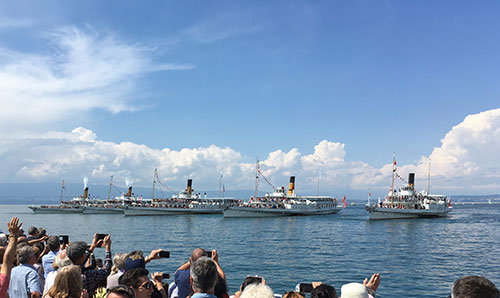 Winter 2018/19
The season closed with the UCAT Race and the water slide, and the British enthusiastically joining in the celebrations with this years theme of Peaky Blinders. Around 35 British visitors, and some Ex Pat residents joined in the fun.
Thollon.org entered a team of three generations photo below, 2 skiers and a snowboarder! A superb effort but no medals this year.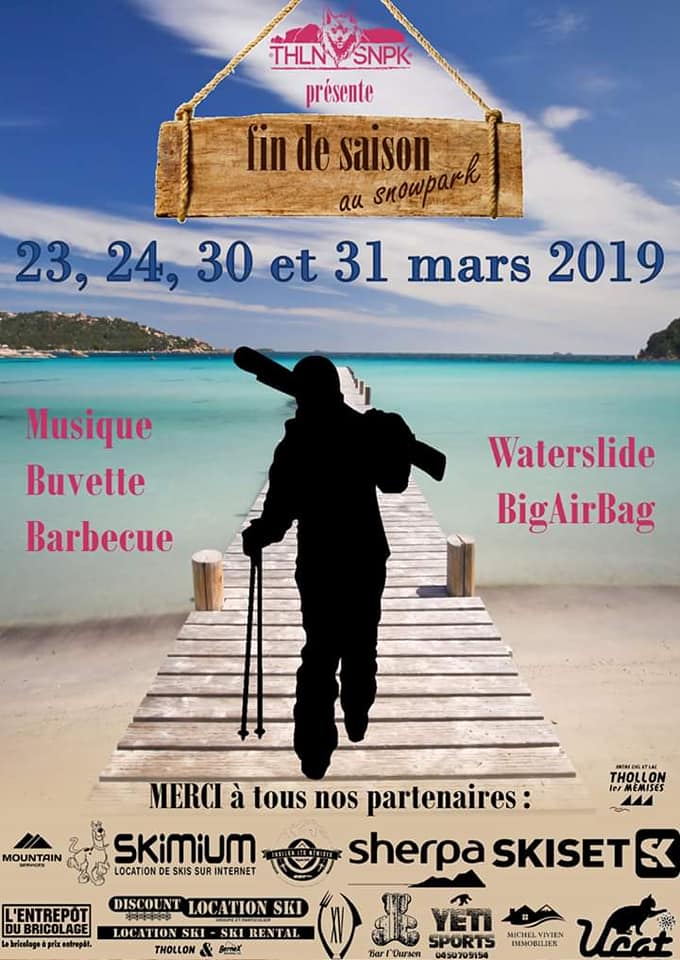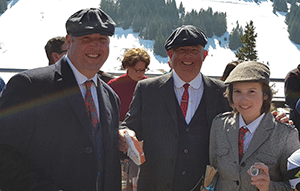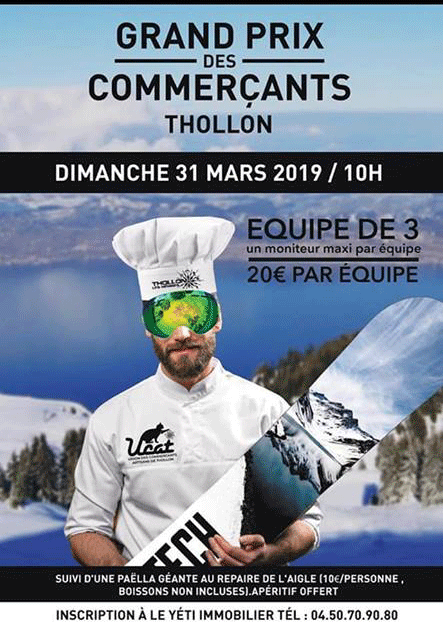 Below the race winners Garage des Memises and the British "second place?" Team Meda Sport (Ketts Taira Andy) we understand that we might have translated "Les Perdants" incorrectly..... Great trophy, medals, cheese and chocolates were all appreciated as was the great atmosphere and the paella served for lunch. Thanks to the organisers and the many supporters for such a fun event. The race had a unique compulsory half way stop with a glass of wine or juice being consumed before continuing to the finish.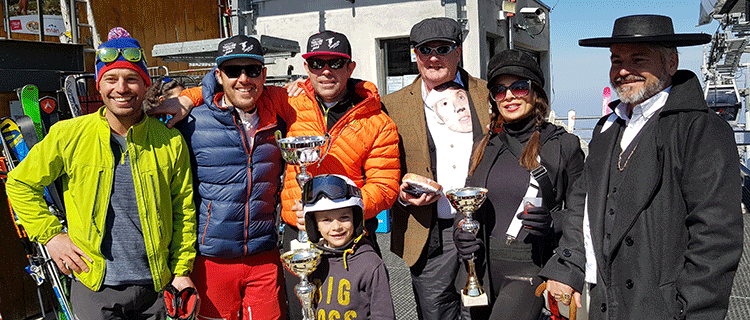 Results correctly reported in the le dauphine below on the 3rd April 2019 together with a picture of the Peaky Blinder racers.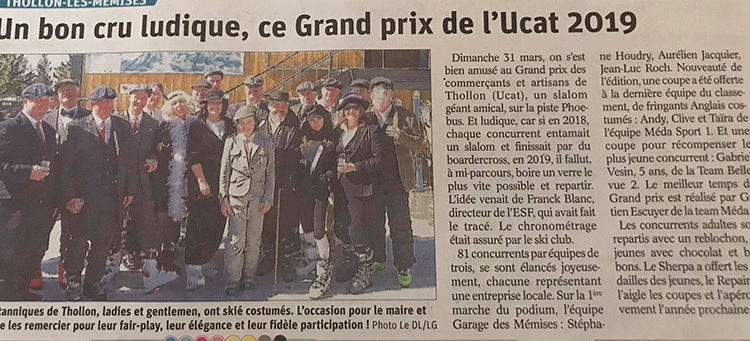 More pictures and video below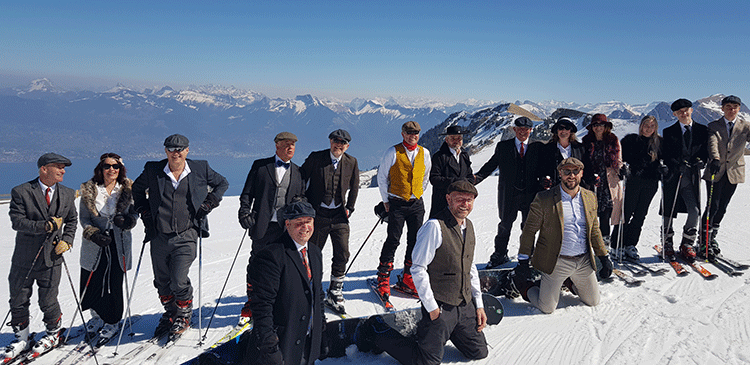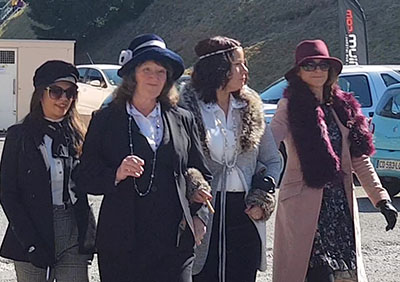 Peaky on the slopes PeakyYouTube video
Romantic Thollon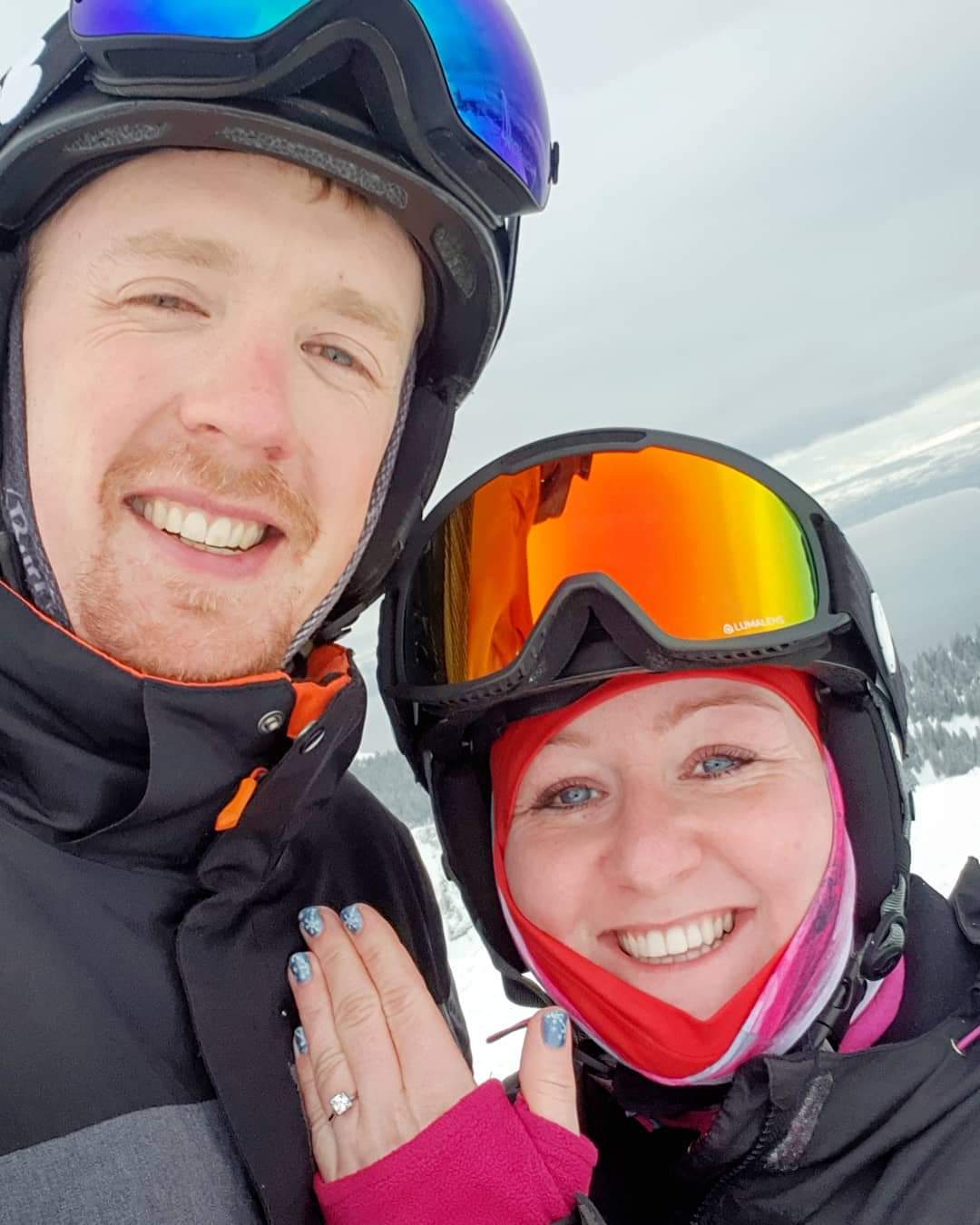 We all love the view from the top of the mountain, and what better place to propose marriage.
Regular visitor Ross proposed, and Nicola said yes.
The British half term, Monday 18th February 2019 brought many visitors to Thollon. A great sunny week with fun had by all.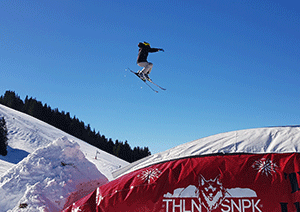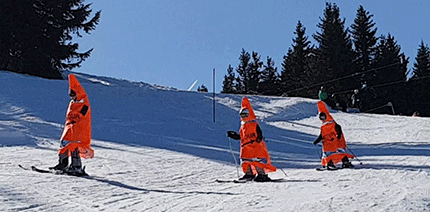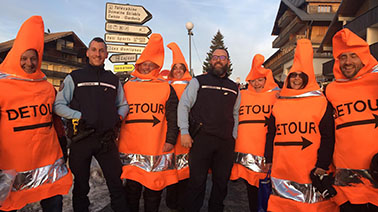 The Tourist Office will be running many events during the holiday season. Thollon les Mémises Tourisme Facebook publishes details. The "Agenda of the week" Programme d'animations. Torch light descent, table tennis. Karaoke and much more.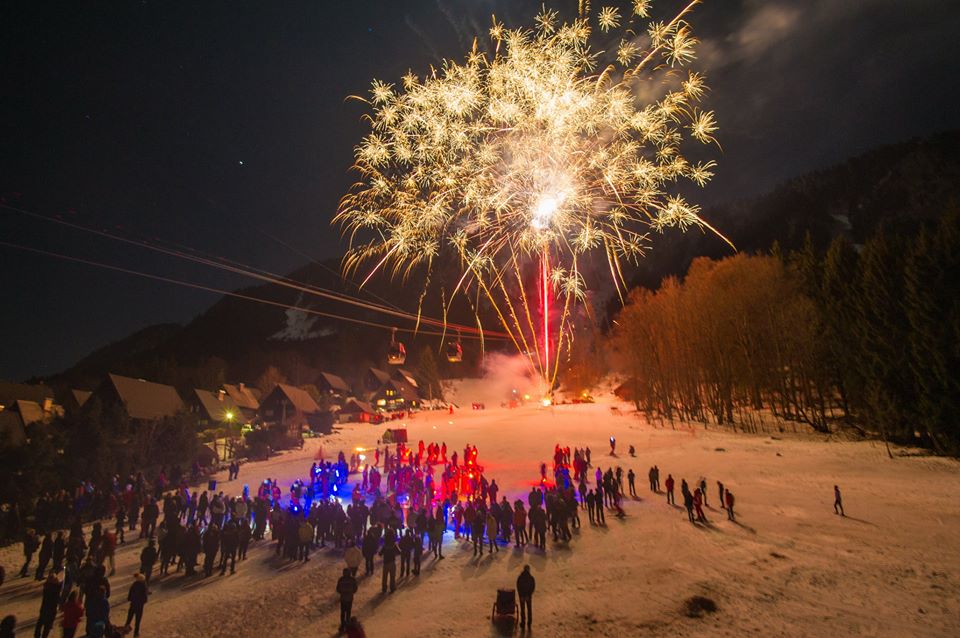 Great news, Thollon and Bernex have signed an agreement making available a ski pass for both resorts for the 2017/18 Season The season pass is for both resorts and 3 visits to the Bernex Ice rink. There is a also a new web site Les Montagnes D' Evian promoting the joint venture, and the various options. The pass is available to buy on line. We look forward to further initiatives.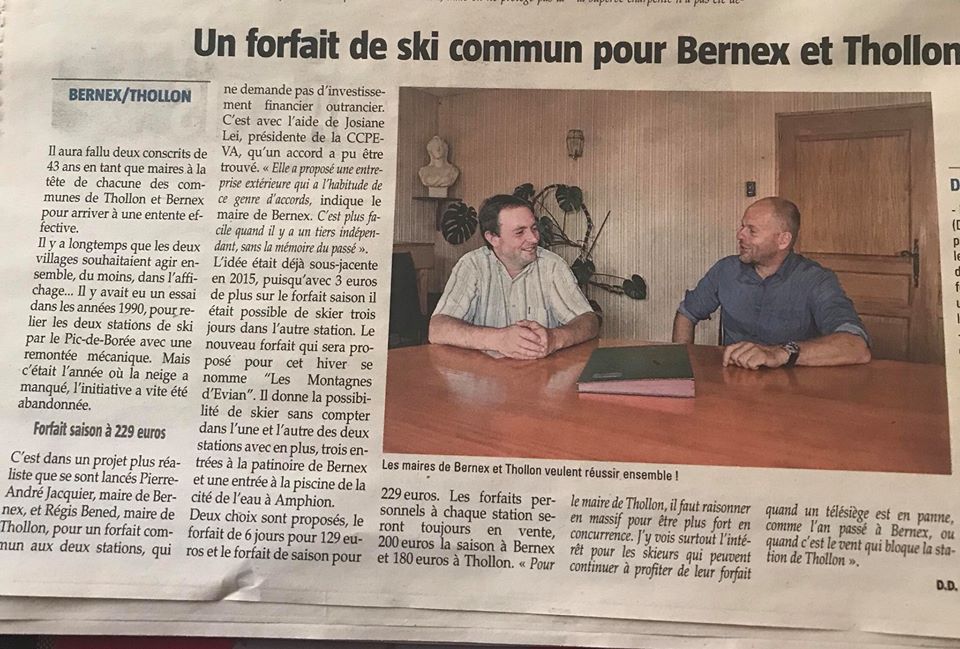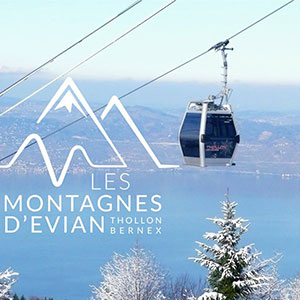 A picture reminder of last Winters fun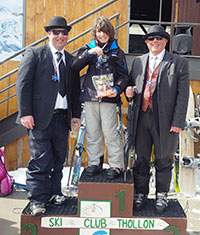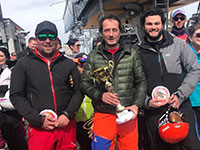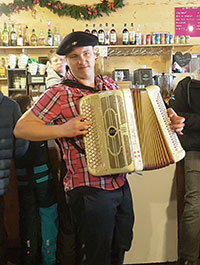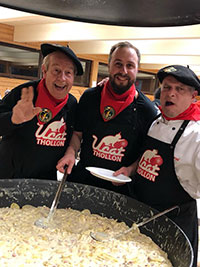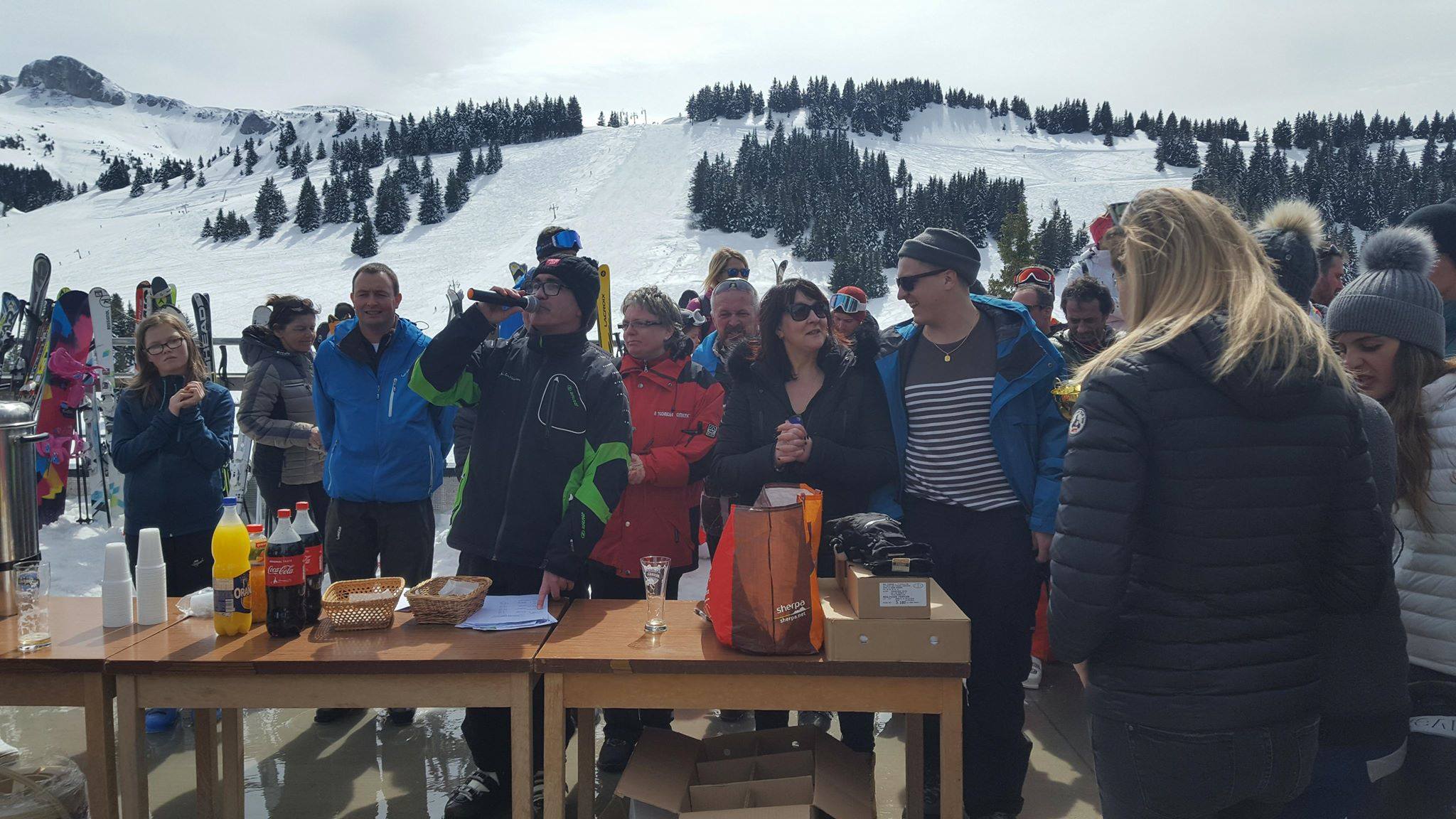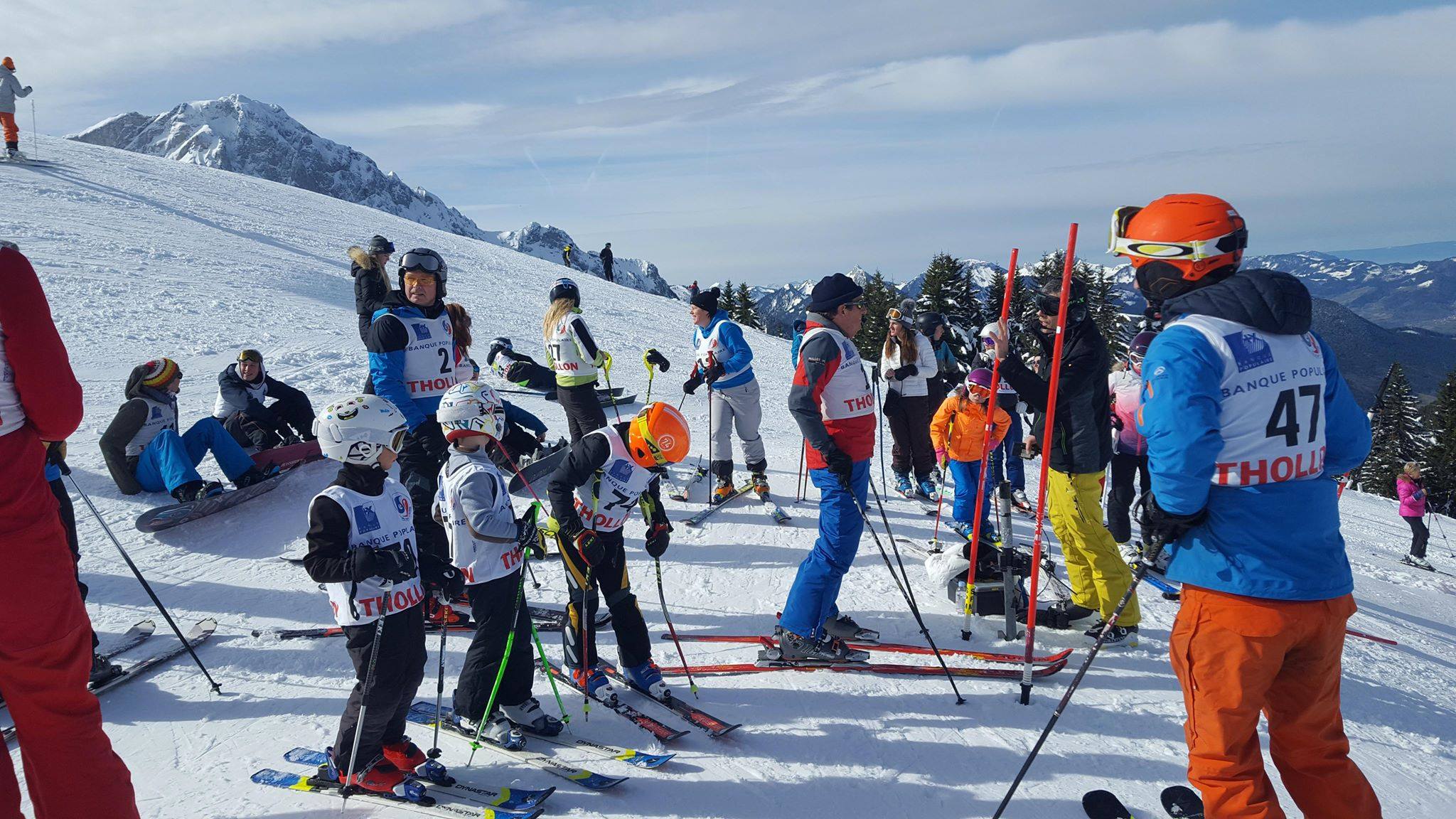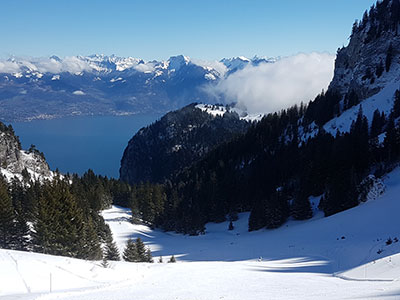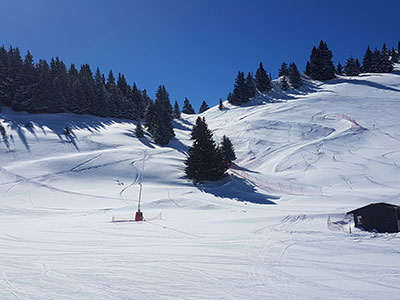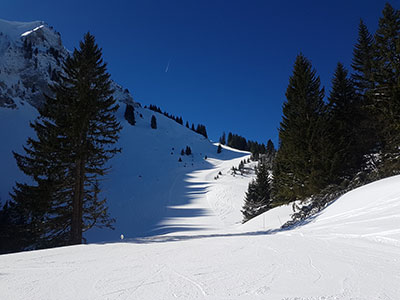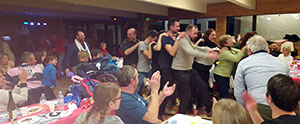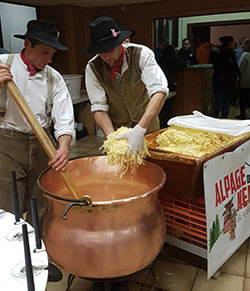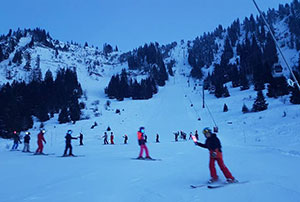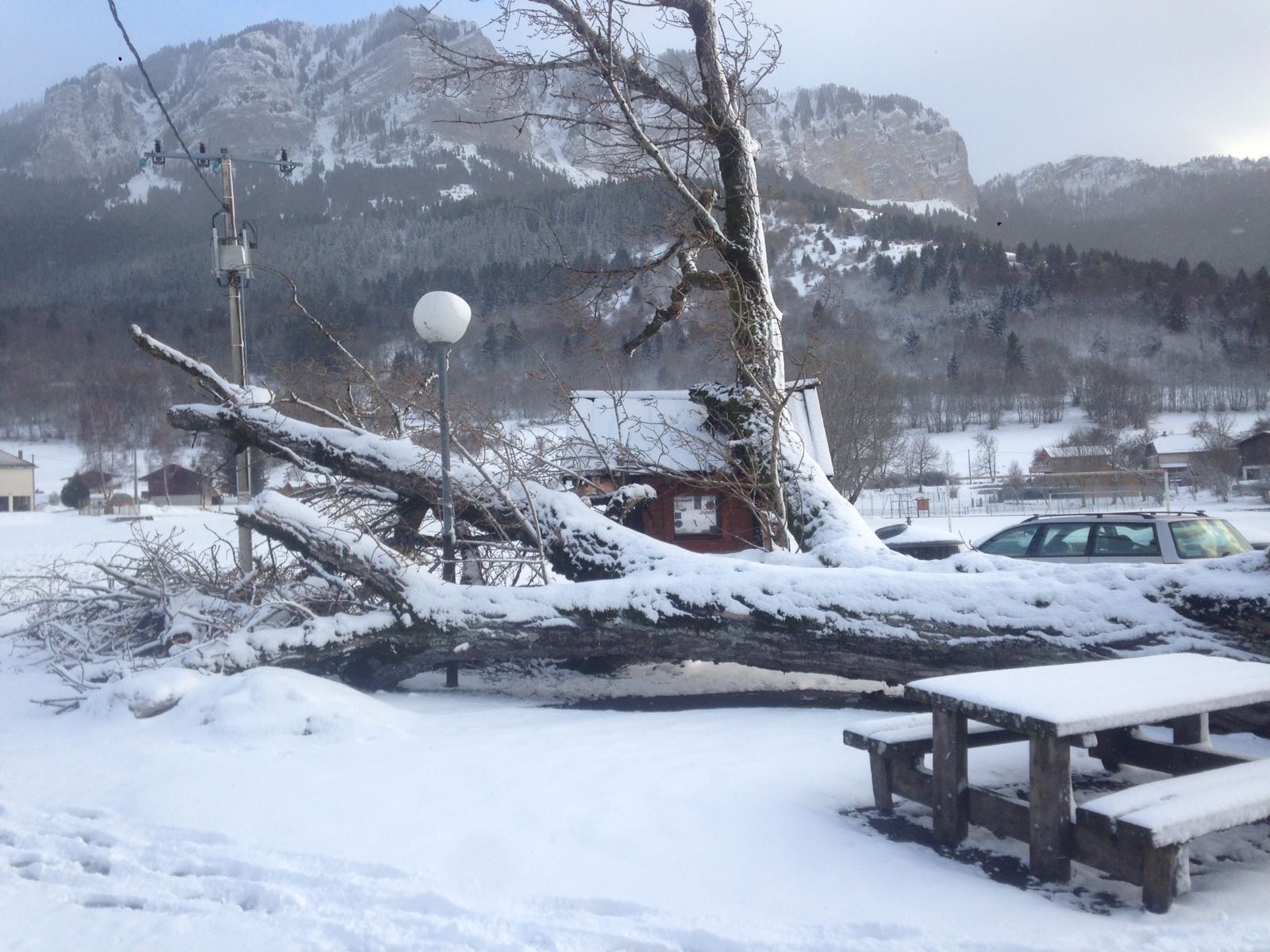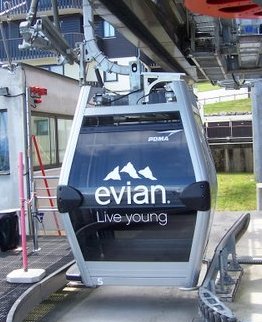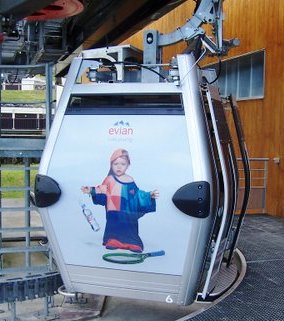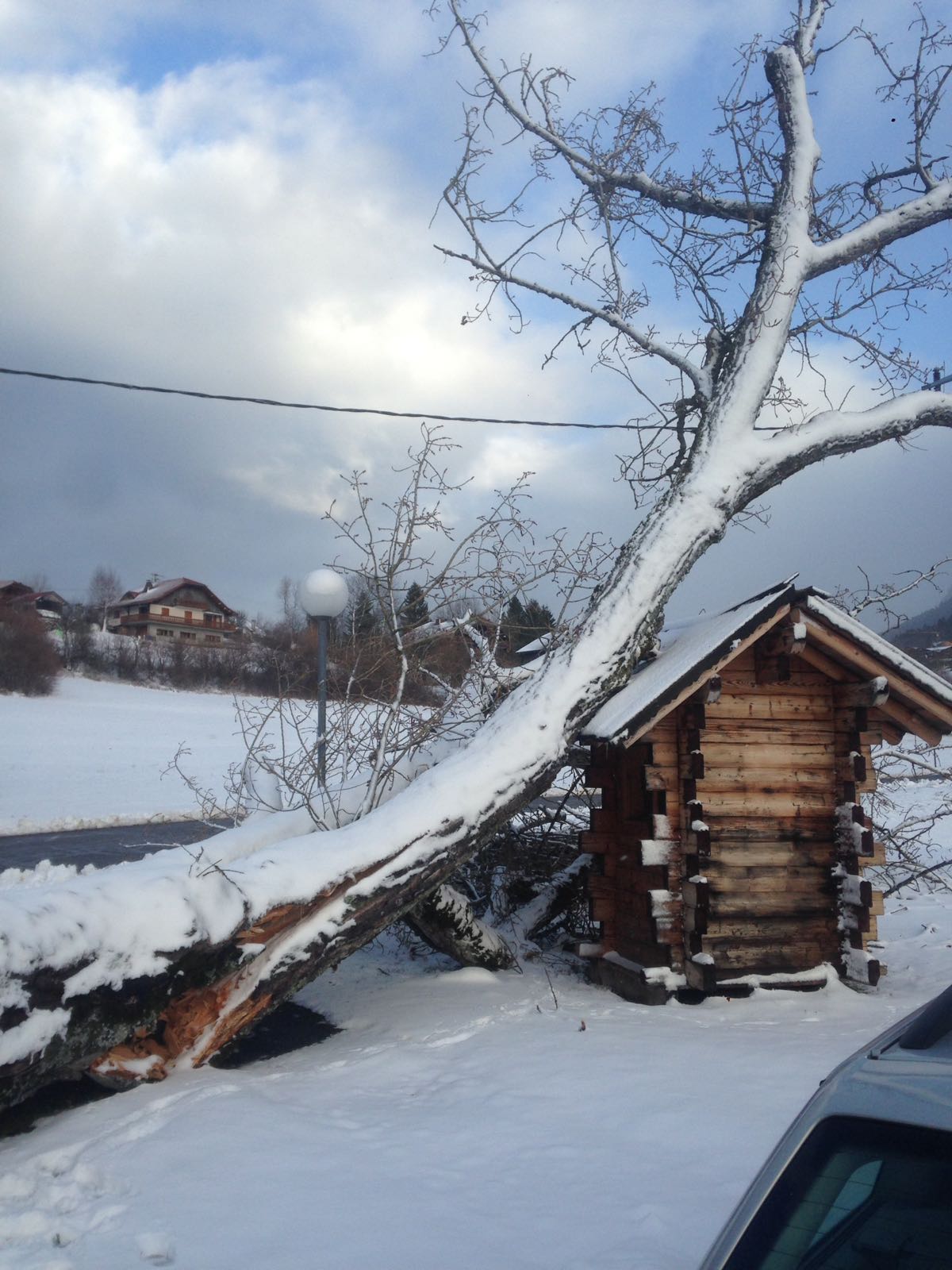 More on our News and Blog page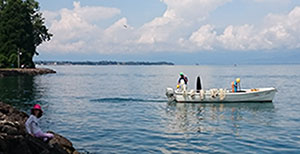 The website invites contributions and constructive comments: This email address is being protected from spambots. You need JavaScript enabled to view it.
Do check in regularly as new articles are added.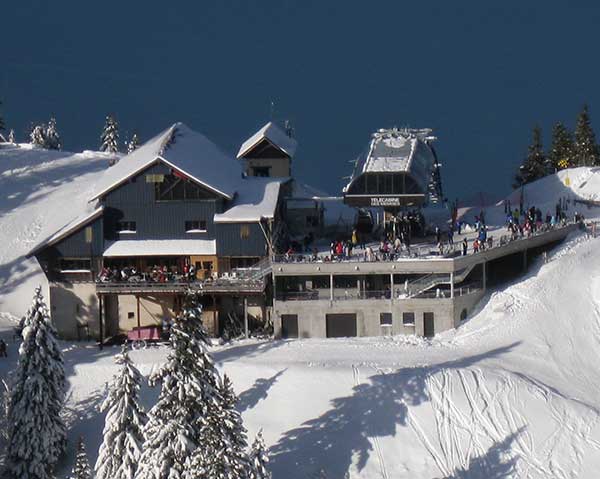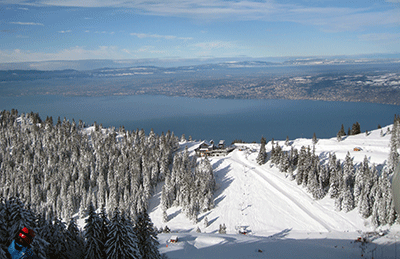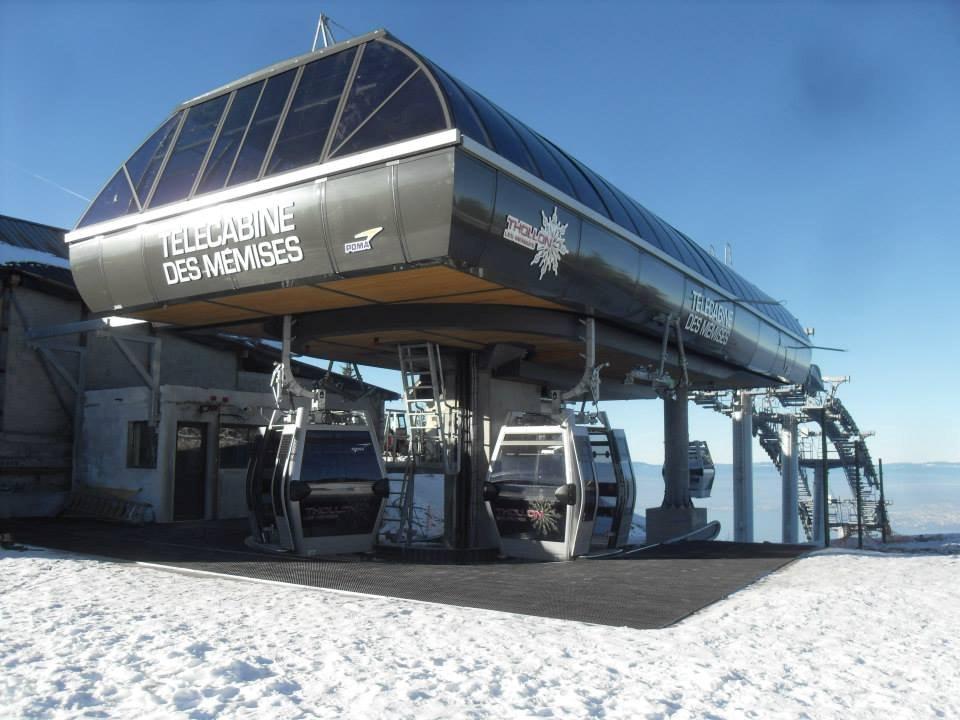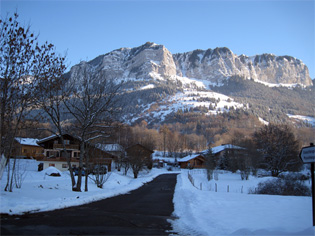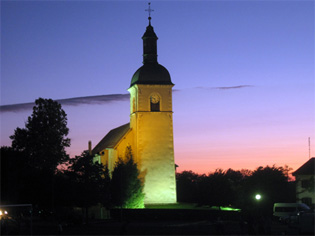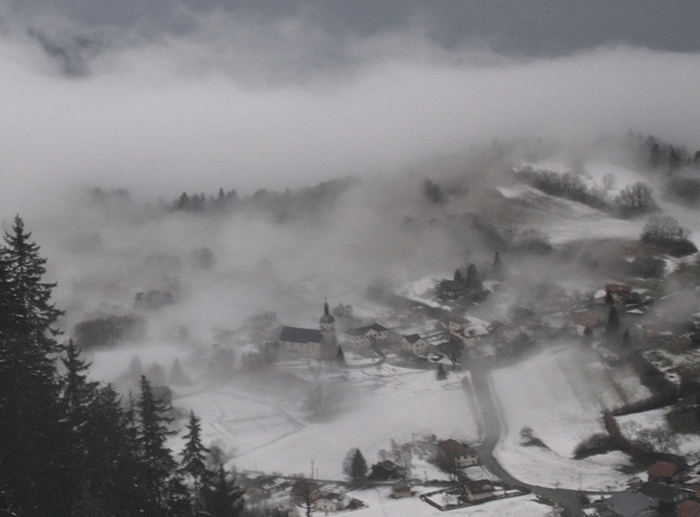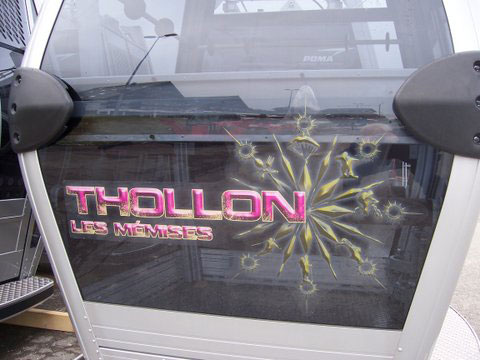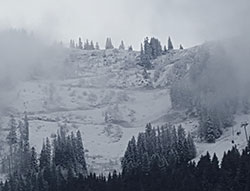 Map of suggested visits and Ski resorts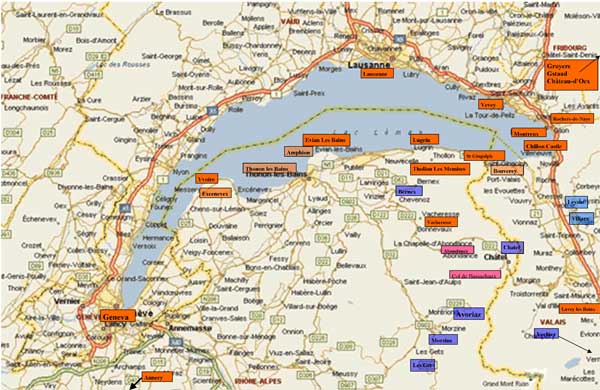 The site does not intend to duplicate the information that is available on local websites such as www.thollonlesmemises.com but to bring together information and welcomes suggestions and contributions,
To make a contribution please use our contact page.
Photographs that show a particular aspect of Thollon and the area are appreciated.
As the site is an exchange of information no liability for the correctness is accepted and visitors should verify for themselves if in doubt the information provided by contributors.
This is a UK based web site, maintained and governed in the UK.
All content copyright thollon.org