Tourist Information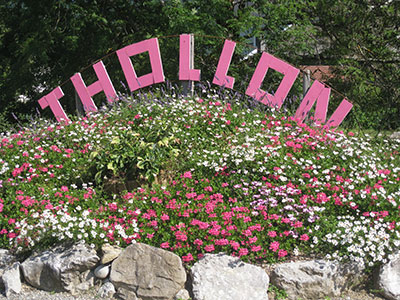 Thollon Les Mémises is a tranquil, rural village, with a warm and friendly atmosphere that makes it the ideal place to get away from it all and just relax. However, this does not mean that there's nothing to see or do in the village. It has a very welcoming and enthusiastic community and there is usually a full program of events and activities laid on each week in high season. Details can be found in the Tourist Information office. A weather forcast is posted in the window. If you have internet access you can also get six day reports http://www.snow-forecast.com/resorts/Thollon There is also a larger Tourist Office in Evian which has a wider range of whats on. The Tourist office in Montreux gives details of Swiss destinations.
The ski area has some of the best views seen anywhere, the telecabine does also run in the main summer months and gives access to a wonderful walking area with fanatastic views of the Lake.
Wifi is available at the Tourist Office and at Bar Ourson and St Nicolas.
There is a large British speaking group who visit and own properties, some have also moved to live in the village. Many can be found in the bars!
Many of the Tourist Offices and the telecabine now use Facebook as a way of updating visitors as to whats on. Thollon Telecabine and Remontees Mechaniques also updates what is happening in the ski area.
Facebook: Bureau d'Information Touristique de Thollon les Mémises
Facebook: Infos Remontées Mécaniques
Facebook: Télécabine Thollon
The Village is now very popular in the ski season and the car park can get full at times. This varies with the different school holiday dates in France, Belgium and the UK which has now two different weeks in February depending on where you live. February can be busy.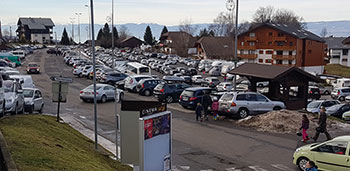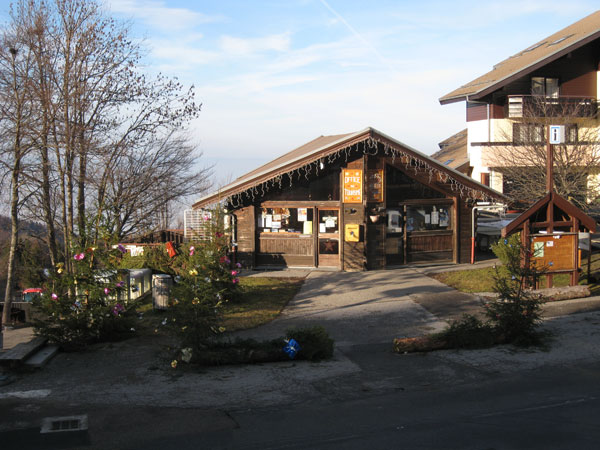 The Old Tourist Office, now empty we await to hear what is to happen to the building.