Cinema
There is a cinema in Thollon Les Memises that shows films each week and in the tourist seasons shows weekly VOST films. These are films shown in the original version, that is in English but with French subtiltles.
Look out for adverts opposite the Tourist Office, on Facebook and on the Cinema Notice board oppsoite the digital display in the centre of the village. Thollon.org in the News section will advise when VOST fils will be shown.
A film showing our projectionist is on Utube. Click Here> Thollon Cinema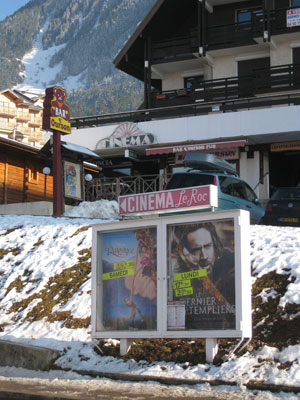 A new cinema has opened (in January 2011) just off the Thonon Les Bains by pass. It's at exit 4, head towards the mountains going over the by pass then over two roundabouts. It has 8 screens. Very comfortable seats. The main benefit for English visitors is that English films are often shown on one of the screens. They are are called VOSP, which we think means version original speech, that is in English, sometimes with French subtitles.
Cine Leman Av de Senevulaz 74200 Thonon-les-Bains http://www.cineleman.fr/