Travel
The 2023 Evian to Thollon Bus time tables can be found here.
Page 1 : Timetable for buses operating on Wednesdays, Saturdays and Sundays until 3/02 and from 7/03 to 26/03/2023 inclusive
Page 2 : Timetable for buses operating every day from 4/02 to 6/03/2023 inclusive
January 2016 Rail and road improvements. If you have any further updates please email info@thollon.org.
Regular visitors to Thollon will know that there is an excellent service to Geneva by several airlines with easyjet offering an especially good service at a good price. Once you get to Geneva you have the journey to Thollon. This journey can take longer than your flight, as Geneva is congested and the road to Thollon slow. One of the alternatives is a rail journey to Lausanne, and then the ferry to Evian.
It's therefore good to hear that there are moves underway to improve our journey. The first is a motorway link between Machilly and Thonon-Les-Bains, approximately 16.5 km, to link the A40 South of Annemasse to Thonon. This consultation will start in March 2016 so it is still many years away.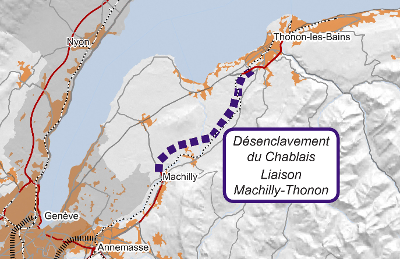 There is a project underway in Geneva to provide a new 16km rail link, the railway line will connect CEVA Cornavin to Annemasse. This will not be a direct link to Evian (but via Annemasse ) to Geneva airport : it will be necessary to change trains . The projceted completion was December 2016 Latest news is that thollon.org understands that a revised completion date is December 2019.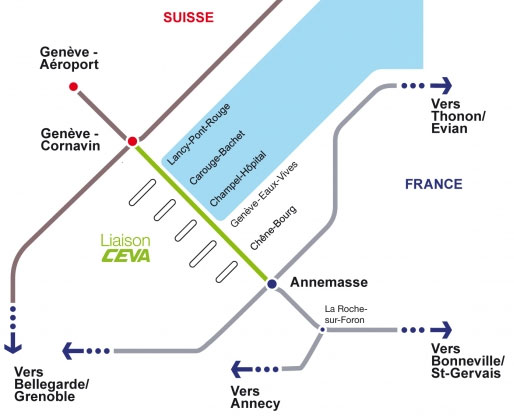 British visitors on being introduced to Thollon Les Memises ask two questions:
Where is it? and How do you get there?
The following is a personal view of a regular traveller to Thollon

Most visitors either drive (quickest time from Calais is about 9 hours) or fly to Geneva airport and hire a car. Getting to Thollon Les Memises by public transport is not easy! Although visitors can fly and then arrange a taxi, the taxi is expensive £65+ each way? Alternatively visitors do take the train to Lausanne and then a ferry to Evian and then a taxi to Thollon. Also a car is very handy to both site see and to visit other ski resorts. There is now a regular bus service from Evian Gare to Thollon. Timetable is to follow.
Fly
As well as the main airlines easyjet fly regularly to Geneva from several airports in the UK.
Car
Car hire is expensive compared to other European areas (in winter about £250-£300 per week, cheaper in the summer) In winter cars are "winterised" that is they come with winter tyres and snow chains supplied. Watch out for this "extra charge" sometimed payable when you arrive in winter. Hire from the Swiss side of the airport as cars will come with the Swiss motorway vignette, basically a tax disc required to travel on Swiss motorways. The vignette can also be bought at border crossings and costs 40 SwFr (about £34) for a calender year for using the Swiss motorways.
Thollon Les Memisesis is usually above the snow line in winter and as you come up the mountain you will see the sign that indicates that snow chains should be carried and used as dictated by road conditions. Most locals now use winter tyres. However the road is on a school run and therfore well snow ploughed and gritted and chains are rarely used.
Ferry's to Calais: P&O & Sea France and others. Also worth considering is Calais to Dunkirk, a route by Norfolk line, and this is usally the cheapest between £45 and £90 for car. The cossing takes about 30 mins longer.
Euro tunnel is quick at 36 mins a crossing costs around £120 to £180 depending on times. Also if you turn up early on the way back they are good at letting you on early, unless busy. This is the same with ferrys, however they will only let you take the one departure before and may try and charge. Worth checking the rules. Tesco club card vouchers are also an option.
All costs and timings are only a guide given from past experience, to give an idea and to also the options avaialble.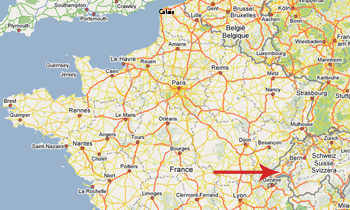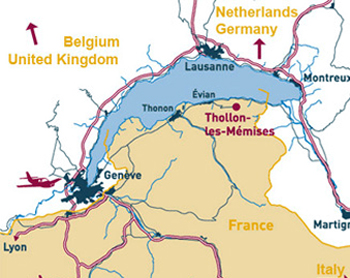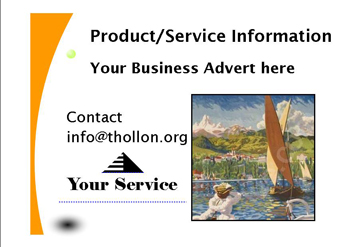 Routes to Thollon Les Memises
By Car

www.via michelin provides some excellent route suggestions.
These are a summary of suggested routes
Note if you use the Swiss motorways you need a Swiss motorway vignette (sticker for window) 40 Sw Fr in 2016, about £34, valid for calendar year. Purchase at border
The quickest is via French motorways the quickest (and often recommended on Sat Navs)
Calais, Rheims, Troyes, Dijon, Bourg-en Bresse, towards Geneva, but go on to Annemasse then to Thonon les Bains, up the mountain to Thollon. Can be driven in one day. (about 70 euros in French tolls each way!) 8/10 from Calais
Route 2. ( Calais to Rheims (via toll road 20 euro). Then there are sevral options head via toll road towards Chalons-en-champagne. When you see signs to Saint Dizier follow this (this is were you leave French tolls for the rest of the journey), after Saint Dizier head towards Langres, then to Versoul, from Versoul to Besancon then Pontarlier, then head towards Lausanne (over the Dura mountains) to Switzerland (stop at border to purchase swiss tax as mentioned above), after Lausanne head towards Montreux, round the lake and up to Thollon-les-memise.
Route 3. As route 2, but continue to south of Dole and then head across country to Champagnole, cross into Switzerland at Metabief, towards Lausanne and then Montreux on to Thollon. Best witha Sat Nav and in good weather. (50 euros + Vignette)
Local directions to Thollon Les Memises
From Montreux / Switzerland. Follow the lake, crossing border into France at St Gingolph. If you have a Sat Nav it will tell you to turn left just after Meillerie under a very small railway bridge, this is correct, and saves a few minutes to get to Thollon. Otherwise continue to Lugrin and look for sign to Thollon, again turning left to go up the mountain.
From Geneva Follow signs to Evian Les Bain, care in Geneva when you reach the lake, keep the lake in view on your left. There is a badly sign posted left turn near the flume. Continue towards Thonon Les Bains and take the new bypass (not on some maps or some Sat Nav, new in 2008) signposted Evian/Montreux. At the end of the bypass continue towards Evian, but look for signs to Thollon. In Evian if you have missed the turning, again look for signs to Thollon, but if you miss any of the various routes you can still turn off at Lugrin. There are several routes, probably the best is via Publier (signposted first right after the end of the Thonon by pass)
Note ! Thollon Les Memises is Thollon by the Memises mountain, so you go through various parts of the Thollon commune such as Chez –Cachat, the village of Thollon (lovely church, no shops) and Nouy, finally into Thollon Les Memises. Passing on your way the Hotels/Restaurants Bon Sejour and Bellevue and then the Casino supermarket and bakery. If heading to Thollon Les Memises you are going to the "station" that is the ski station.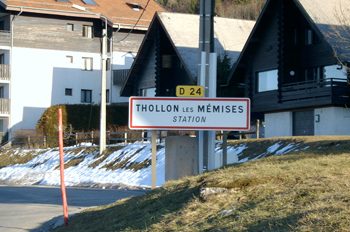 The above is provided as a guide and all should be checked before relying on as no responsibility can be accepted for correctness. Thollon.org is an exchange of information and whilst the correctness of information supllied is checked as far as possible it cannot be guaranteed.