Letter from Thollon
Lindsay continues her excellent blog. Many thanks.
Lindsay now has her own website where she will be writing a more personal account of tales from the balcony
Welcome to 2023!
Have we really been together for 3 years? Where has all that time gone? We've certainly had our ups and downs…There have been times when I haven't spoken to you for weeks…. But like all true friendships, it's easy to pick up where we left off last time. So,let's catch up with the latest tittle tattle from Thollon.
Before Christmas I was having a small meltdown at the prospect of the entire family rocking up for the festivities. Happily, I survived and so did most of the family.However, while we're on the subject of meltdowns…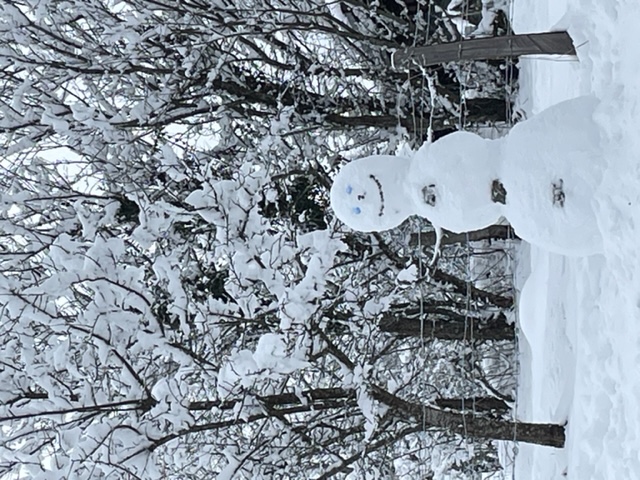 What has happened to the snow?
If you're familiar with Thollon in winter you'll probably have noticed that the arrival of shed loads of snow has been getting later and later. For the past few years, we've had flurries in late November/early December, then a milder spell, followed by skiable snow from just after Christmas (even though the lifts have optimistically opened around 18th December).
This year we had metres of the white stuff in the middle of December and since then, next to nothing… apart from torrential rain that is. The newspapers have been full of gloom, Cassandra's having the time of her life andif you listen carefully, you can even hear Captain Mainwaring in the background muttering 'We're doomed Pike, we're all doomed'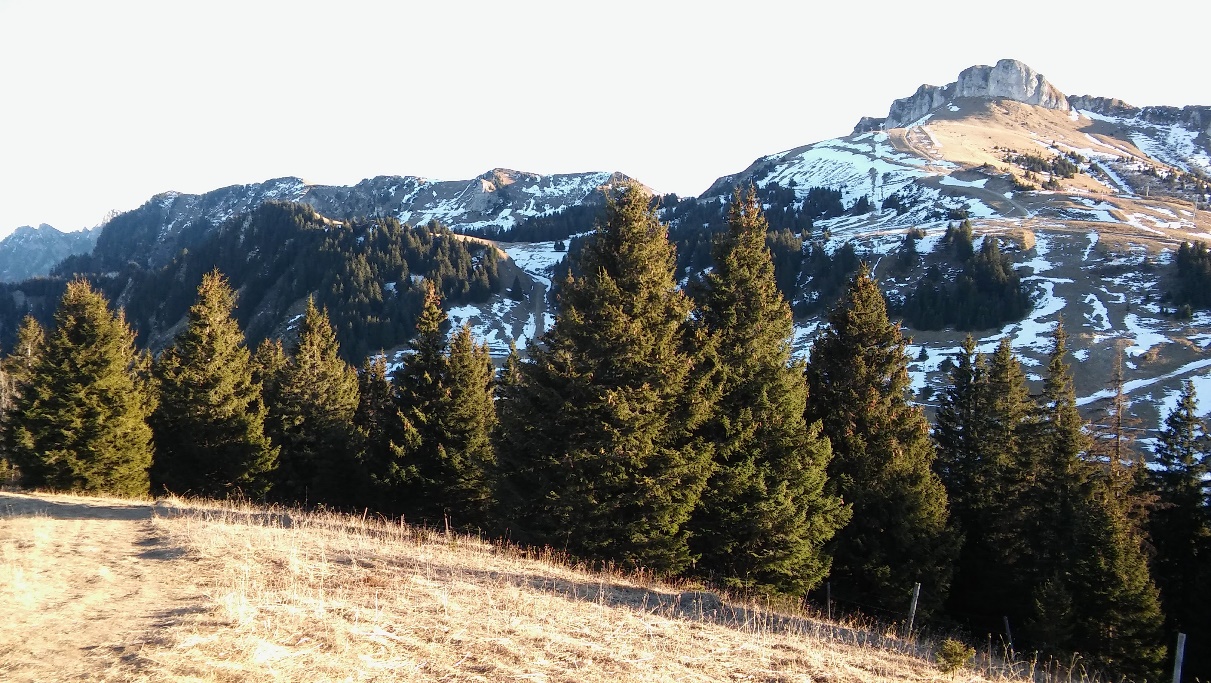 How the pessimists see the slopes
Having a meltdown
Climate change analysts have been predicting milder winters for years, and a bit like Mr B's hairline the glaciers have been receding at a rate of knots. This year however 'they' seem to have got it right. On checking the stats, this is by far the mildest winter we've ever had in the Haute Savoie.
According to our old favourite, 'radio couloir', they were barbecuing on the slopes in Thollon, in shorts and t-shirts on Christmas Day, 1984. Then again, 1984 was a bit of a strange year, just ask George Orwell.
What are the prospects?
So, is it really that bad? Well yes and no. If you're prepared to go high, really high, then there's plenty of skiable snow. Resorts like Verbier, Avoriaz, Val Thorens and Zermatt have great snow. They also have crazy numbers of skiers on the slopes.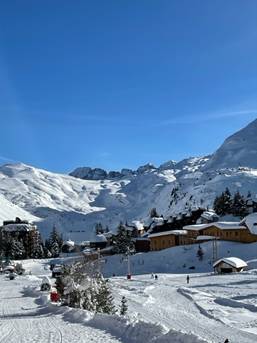 Avoriaz
Resorts that are under 2000 metres are taking it day by day. Many lower resorts, including Thollon, only have their green runs open. Even then, despite Herculean efforts to move what snow there is, the weather is too mild to maintain good coverage. The snowfall we had in Thollon last week was promising and although it's been washed away by rain in the village, it's still hanging around on the upper slopes.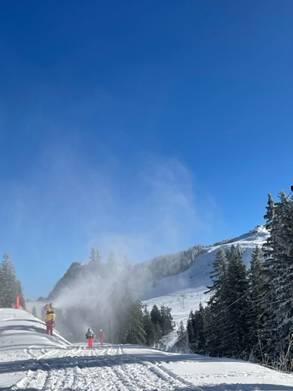 Thollon last week, and hopefully again next week
But now for the good news!
The temperatures are set to plummet next week and snow's forecast for several days (have I heard that somewhere before?). Thollon is gearing up for a busy week as people try to get value out of the season passes they optimistically bought before Christmas and we're all crossing our fingers for the half-term holidays in February.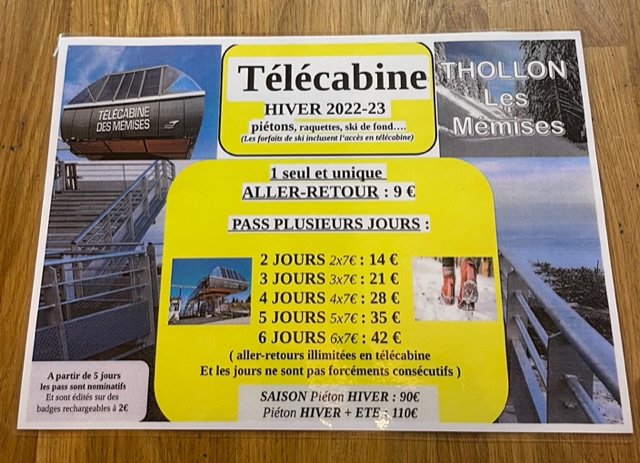 Still the cheapest ski passes in the Alps
Mr B will be delighted, he's been sleeping in his ski boots for the past month, ready to hit the slopes if a snowflake falls on the Velux. Mrs B is secretly delighted that she doesn't have to dig the car out every day, or strap planks of wood to her feet and cartwheel down the mountainside in a sweaty thermal vest just yet. Only 100 sleeps till summer!

.......................................................................................................................................
Sliding into New Year
December 2022
I'm allergic to New Year. It's not just an intolerance, it's a full-blown bring you out in a rash allergy. New Year always seems a bit of a damp squib to me, it promises to be the best night you've ever had but somehow never quite gets there.
Previously, I would spend weeks looking forward to the big end of year blowout party. I couldn't buy anything in the shops that wasn't covered in sequins and don't talk to me about the hair! Jacques Dessanges could have retired at 25 with the amount I spent in his salons for 'les fêtes'.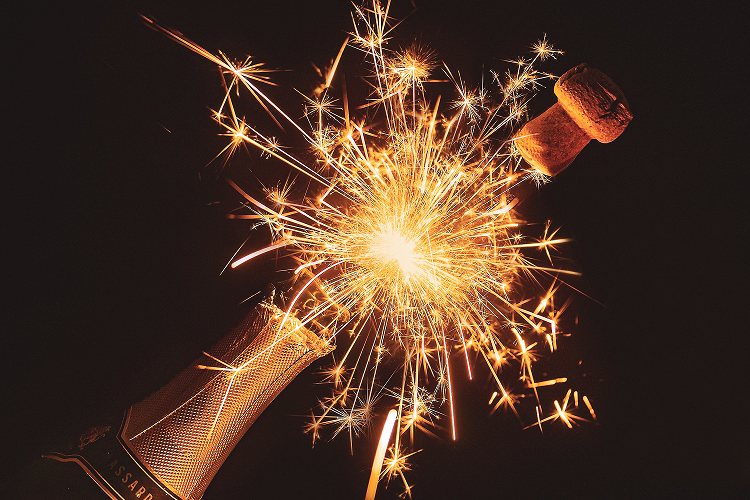 Photo by Myriam Zilles on Unsplash
Since those 'heady' days of city life I seem to have come to my senses. I don't want to stand on someone's shoulders in Princes Street, Edinburgh to see the Hogmanay fireworks. I don't want to be crushed in the crowds at the Champs de Mars watching the Eiffel Tower light up as they countdown to midnight. I don't even want to be squashed against the bar in my local hostelry. Nope, I'm putting hedonism on hold!
This year, at the stroke of midnight, I'm going to step out onto my little Thollon balcony and marvel at the starlit sky. The lights of Lausanne and the small towns and villages of the Swiss Vaud will twinkle as always, reflected in the water of Lake Geneva like a giant glitter ball. Towards the east, the snow-capped mountains that stalk the end of the lake will be shining in the moonlight.
In the village the shrieks and laughs of the partygoers will be amplified in the still night air, but for me, this year, it's about appreciating the silence, the stillness and the beauty of this amazing place. Just to be able to stand back from all of the madness in the world at the moment is a privilege and one that I probably don't cherish enough.
As for resolutions, well they've gone out of the window too. This yearI'm taking a leaf out of Mary Poppin's 'Book of Positivity' and when you're 'practically perfect in every way' what more is there you can do? (Can you hear my husband groaning in the background? Me too, can't think why)😉
Instead, I have a new mantra. I'm sticking this little picture above the fridge and repeating it pten times every morning, just as I'm reaching for the crunchy nut cornflakes in my XXL snoopy# yjamas.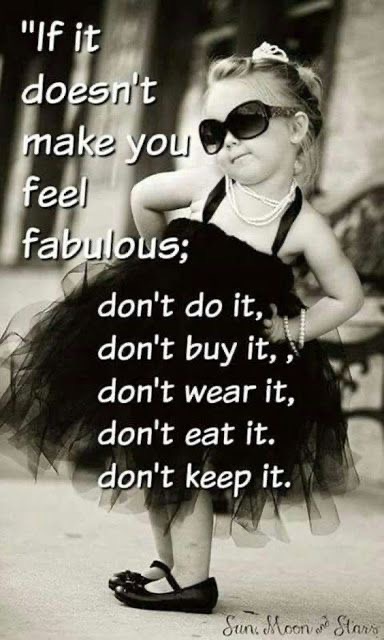 Oops…forgot to mention… I'll also be raising a glass of champagne on the balcony, to everyone who shares my love of Thollon and this little corner of France. Here's to many more starlit skies! Happy New Year to all.

December 20th 2022
Oh my, is it that time already? The workshop has gone into panic mode! There's wrapping paper everywhere, a scattering of half-eaten mince pies, and boxes and boxes of Xmas lights still to be strung along the balcony. And where's the chief elf when you need him? Yes, you've guessed it, he's gone AWOL.
With all the family arriving for a two week holiday in about 10 minutes time, things are a bit chaotic …. to put it mildly. I suspect that the chief elf has taken refuge in the Tibetan, the latest bar/restaurant to open in the village. With its bright blue outdoor umbrellas and new tables, it certainly looks like the type of bar you'd expect to find in a ski resort. T he staff are welcoming, there's good music and a menu featuring a lot of the old favourites such as 'potence' and the ubiquitous fondue and tartiflette.
What else is happening in Thollon? I can give you a quick rundown of some of the activities being organised for the festive season. All this information is available on the leaflets dotted around the village by the tourist office, but just in case your French is a bit rusty….
Let's start with tomorrow:
Wednesday 21 December: 10am -11 am is Dance Fit (a free outdoor Zumba class) taking place in front of the tourist office (well… this is Thollon 😉 or in the Salle Polyvalent if it's raining.
At around 1pm there is a special ski event – a 'back country off-piste ski experience' for intermediate skiers who are comfortable skiing all types of snow. Minimum age 12 years accompanied by an adult. Cost is 50 euros and you can find more details on the Thollon tourist office website.
13h45-16h30 – A snowshoe outing for the whole family'In search of the traces of Elves'. Starting in Bernex, this is a chance to discover animal tracks and winter loving plants and enjoy marshmallows cooked on an open fire with hot drinks. Minimum age 6 years old. Price 20 euros per person with snowshoes provided.
17h45-22h00 – one for the night owls, starting in Bernex. A night hike on snowshoes with a delicious selection of charcuterie and Savoyard specialities, including aperatifs, all served in a tepee or in an igloo under the stars. How romantic! Minimum age is 8 years old, and price is 50 euros per person, including snowshoes and the meal.
Thursday 22 December: At around 9am in Thollon, there's an opportunity to try ski touring. Skins are provided to enable you to hike into the hillsand enjoy peace and quiet away from the skilifts and the bustle of the slopes. Accompanied by a mountain guide, the 3 hour trip culminates in a descent on ski's adapted to your level of ability. Minimum age 14 years, and 3ieme Etoile level required. Cost is 50 euros per person. For other requirements see the tourist office website
17h30 at the village Garderie is a 'story time' with traditional storytelling accompanied by guitar. In French and free.
20h00 – 22h00 - a chance to batter the opposition at ping-pong. All equipment provided and a friendly atmosphere. In the Salle Polyvalent, free and all welcome
Friday 23 December: 14h00 – 16h00 Snowball fight (why this needs to be organised is a mystery to me, but hey-ho). To be held on the sledging slope depending on the snow conditions.
18h00 – 19h00 Another chance to try Dance-Fit. I like the idea of having room to 'fit' another mince pie in my mouth, so this could be for me. In the Salle Polyvalent and free but you need to sign up in the tourist office.
20h00 – Christmas Concert to be held in the church in Thollon. Free to attend and perennially popular.
Saturday 24 December:
Christmas Eve is a big day here in Thollon, starting with Xmas Face Painting and festive games from 13h30-16h00. Free at the tourist office 16h30 the big man himself arrives! Santa Claus arrives in Thollon with a sack full of surprises. There's hot wine and hot chocolates to keep you warm while you watch the Christmas firework display.
17h30 -see the 'Torchlight' descent of the front slope into the village by the ESF ski school teachers.
Aaagh……that's the door bell! Here we go..wish me luck and hopefully, if I survive the week, I'll see you on the ski slopes before New Year.
Happy Christmas to you all and thanks for reading my rather patchy blogs this year. I hope they've helped to keep you in touch with Thollon during the year, and if you've never been here before…why? It's fab!!
.........................................................................................................................
It's beginning to look a lot like …. Winter
November 2022
Aaagh…would someone, anyone, please turn off that pesky alarm! I roll over and stab manically at the phone. Nope, that's not working, let's try the head under the pillow tactic. No, that's not doing it either. My dream of out-skiing Martin Bell on the Hahnenkamm slowly dissolves and a thin ray of sunlight hits my bleary eyes with laser like accuracy.
There's no escaping the church bells in Thollon at 7am on a Sunday morning, even high up in the village where we live. In the crisp, clear, late Autumn air their sound is magnified, echoing across the surrounding countryside. They prod the conscience of the faithful and pierce the dreams of the Sunday morning layabouts like me. It reminds you how lucky you are to live in one of the most beautiful mountain villages in the Haute Savoie.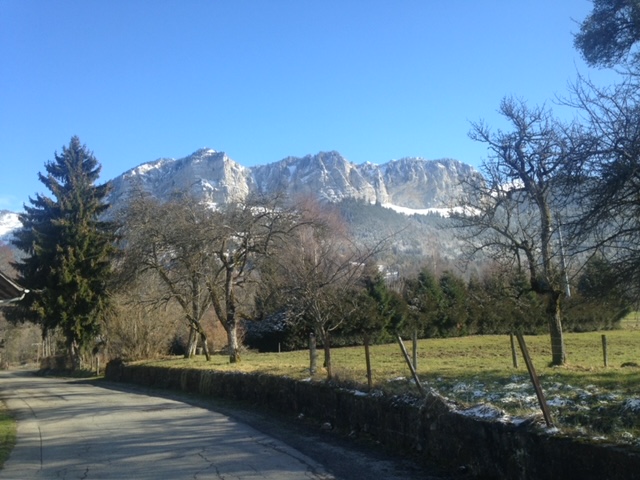 It's the middle of November and winter is knocking at the door. The Mémises are dusted with snow, a welcome sight after the mildest of Autumns. The village webcams show a good covering on the upper slopes, while the slopes that run towards the village look as if they have a bad case of dandruff…and the temperatures are dropping.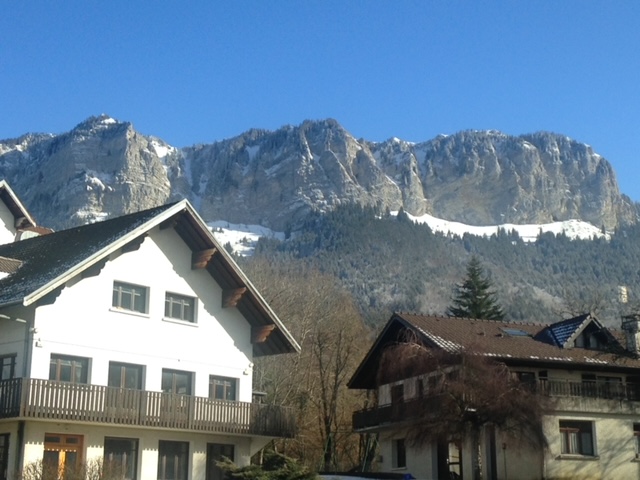 From the chalets in the distance thin plumes of white smoke drift lazily into the cold still air, as if announcing the election of a new pope. The chalets are insulated from the cold, and to a certain extent from the energy crisis, by piles of carefully stacked logs that have been squirreled away over the past few weeks.
But it's not all Narnia. Underneath the surface there's a rumble in the ….no wait…that doesn't work. Underneath the surface there's an avalanche of activity (better? 😉). Preparations are underway for the fast approaching ski season. The ski shops are filling with outlandish outfits and equipment that will turn you into a World Cup downhiller for just a few hundred euros. The bars and restaurants are restocking their cellars and freezers and bracing themselves for the tsunami of visitors that will sweep into the village in just a few weeks' time.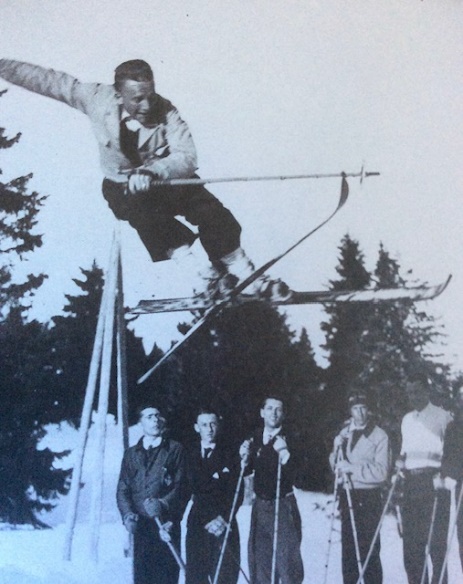 Many of the ski resorts are debating how to cut their energy costs in the light of the fuel and cost of living crises this year. Yes, it is happening in France too.
Of course, in a small resort like Thollon rumour runs high. Will they close the slopes during the quiet periods? No. Will they stop using the snow cannon this year? No. Sadly, because of problems related to last years landslip, the front ski run down to the village won't be open this year.
I say 'sadly' but secretly I'm very, very happy about that. I won't feel I'm whimping out as I sail serenely overhead in the gondola, while my better half attacks the narrow path and steep descent on a wing and a prayer (that's a euphemism for 'on his bum'). Oops, that's me off the Xmas list now. Only joking!
What else can I tell you about Thollon this week?
The XV restaurant and bar is already open. Arnaud has a new menu which, for research purposes of course, I may have to try this weekend. His other establishment, the Carnotzet is due to reopen in mid-December for the start of the ski season.
The Bar Ourson will be opening on 10th December and promises that this season will be its best yet. Corrine is planning several themed nights including the famous Christmas jumper night, and an intriguing 'kygourami' night….wait while I google that for you…..fish?? Surely not, perhaps she meant to say 'Karaoke'? What do you think? Oh, and she has a new beer, a 5% IPA.
Work is underway in the St Nicholas, recently taken over by the owners of the uber popular lakeside restaurant, the Tibetan.
I'll tell you more about that next time.
And…the gondola has been running this week, no doubt transporting kilos of tartiflette and chocolate up to the panoramic restaurant, the Balcons du Lac.
Down in Evian preparations are under way to welcome back the' Flottins,' those mythical elves and their extraordinary wooden sculptures of all manner of fantastic beasties. Arriving on Friday 9th December they can be found dotted all over the town until 2nd January.
Read more about the Christmas Markets and other things you should try not to miss see my post on talesfromthebalcony.com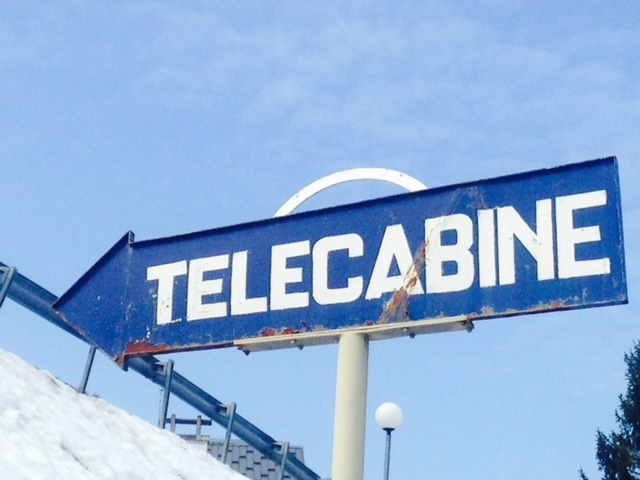 So, roll on the start of the season. This year, 2022, the ski lifts open on the 17th of December and the last day of the season is 23rd March 2023. You can find details of the cost of ski passes here.
I'm off for a quick sniff of ski wax by way of final preparation for what I hope will be a great season and I'm looking forward to bumping into some of you on the slopes, although preferably not literally!
I'll leave you with this stunning sunset just to remind you of what you've been missing or what you still have to look forward to if you've yet to discover Thollon for yourselves.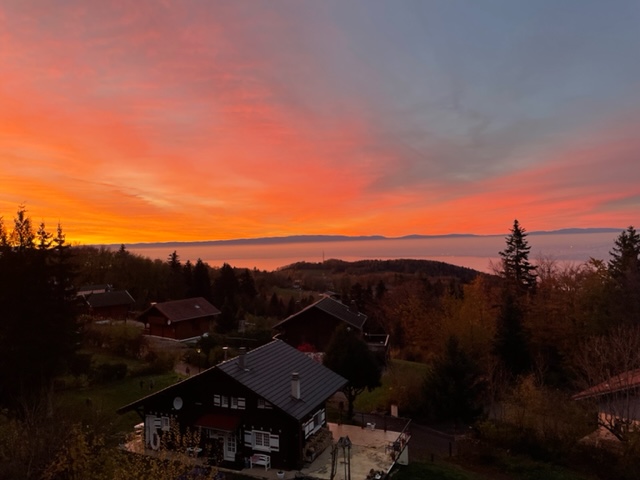 .................................................................................................................................................................
Trains, Planes and Automobiles
+++ Warning – Contains seriously useful information +++
October 2022
It's not often that I write something useful, in fact it's already taking me out of my comfort zone. I've been spurred into action by a Facebook post on travelling from Geneva airport to Thollon. The OP (Original Post for the non-Facebook peeps) asked about taxi fares. There were several genuine responses about how wonderful our local taxis are, which I'm sure they are, the cost was glossed over a little but….no one, mentioned the alternatives.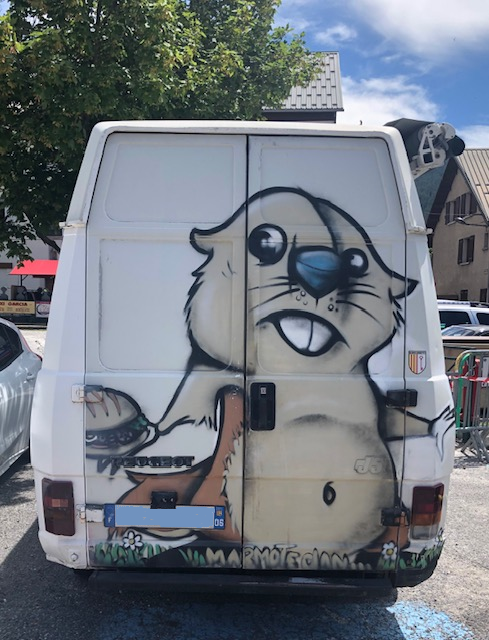 Yes, I know, support local businesses and I'm all for that, so to be fair I'm listing local taxis that offer airport transfers in first place. But, read on to find out how else you can get to Thollon quickly and cheaply. Also discover out how you can rent a car for a fraction of the cost of airport rentals.
TAXIS
Depending on your personal circumstances, perhaps the amount of luggage you have, how knackered you are after your flight, how irritating your spouse/children/pets are being, then the comfort and convenience of a taxi might be for you.
Taking a taxi from Geneva Airport to Thollon will cost you around200 – 250 euros One Way (October 2022 prices) This may vary during school holidays and in peak season,e.g.over Xmas and New Year.
If you use a local Thollon taxi the same journey will cost you between 120 – 150 euros (average price 130 euros) each way. Taxi Thollon: Tel: 06 80 66 60 19
https://www.taxievianthollon.fr/taxievian
LET THE TRAIN TAKE THE STRAIN
If you're a newbie to Evian and Thollon you might not have come across the fantastic and relatively new Leman Express train service yet.
https://www.lemanexpress.ch/en/
It's super easy to take the train from Geneva Airport, switch platforms at the main Cornavin station in Geneva and get on the Leman Express L1 train coming from Coppet heading to Evian les Bains.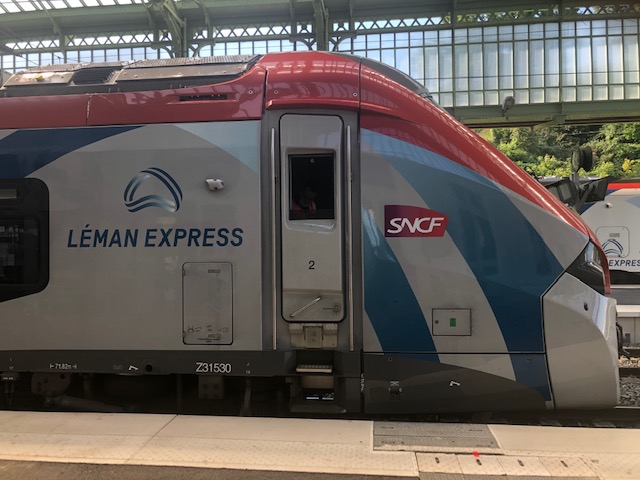 A single ticket called the 'Leman Pass' will take you from the airport right through to Evian for the princely sum of 16 euros.
You can even buy your tickets in advance on the easy-to-use Swiss railways (SBB) app. The journey takes around 90 minutes and there are trains every hour and more frequently during the rush hours.
Occasionally you may have to change trains at Annemasse, depending on what time you're travelling. This is clearly stated on the train timetable.
Arrive in Style
One of the most spectacular ways to arrive in Evian is by ferry. 50 euros will buy you a train ticket from Geneva Airport to Lausanne. Included in the price is the metro which will take you down from Lausanne station to the quayside in Ouchy, it also includes the cost of the CGN ferry that crosses over to Evian.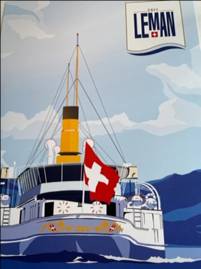 On a clear day you should see the distant snow-capped peaks of Mont Blanc across the lake from the train. If the weathers dry you can sit out on the deck of the ferry andadmire the majestic Memises and Dent d'Oche mountains that form the backdrop to Evian. …. now we get to the really interesting bit ...
HOW TO GET FROM EVIAN TO THOLLON
Assuming you don't have a friend or anyone you can bribe with a glass of wine or a beer, there are several ways to get from Thollon to the station in Evian or vice-versa.Of course, there is the aforesaid Thollon Taxi which will cost you around 40 euros one way.
OUICAR – Car rental direct from car owners
There's also a new kid on the block ……think Air B&B for cars. Yes, it's possible to rent a car from a private individual for the duration of your stay in Thollon, or anywhere in France in fact, for a fraction of the price of normal car rental.
You can even arrange to have the car waiting for you at Evian train station. The owner will meet you with the keys and you can then drop it off there at the end of your stay.
How convenient is that!
A quick glance at the OuiCar website today (26th October 2022) shows 33 cars available in the Thollon/Evian area with prices ranging from around € 250 – 750 for a 2 week rental, depending on make and model.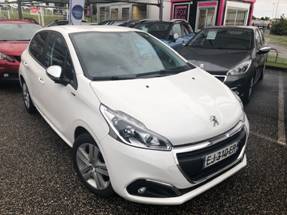 The price quoted on the site also includes insurance for any driver and 24 hour breakdown or accident assistance.
The average cost in the Evian area seems to be approx. € 500 for 2 weeks. That's around € 35 per day for a mid-range car and includes insurance.However, a Fiat 500 for example is available for € 366 for and a Renault Mégane II for only € 244 for 2 weeks, including insurance.
You must be over 18 years of age and have held a driving licence for at least 2 years. Your licence must also be valid for driving in France.You'll be asked to pay a refundable guarantee 72 hours before the rental period of € 400-600.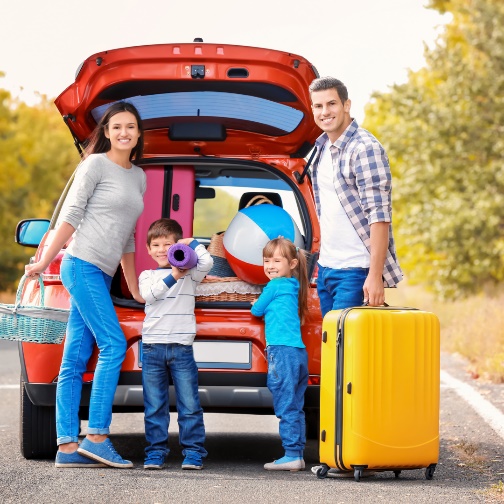 Fuel is not included in the rental price although you will need to fix in your contract how many kilometres you intend to do. A supplement will be charged if you exceed the limit and if you return the car late.
You can find out all the details on the English or French pages of OUICAR.COM
No Licence, no problem
And now for the fun bit….
I thought you might like to see the latest little electric car to take to the roads in France.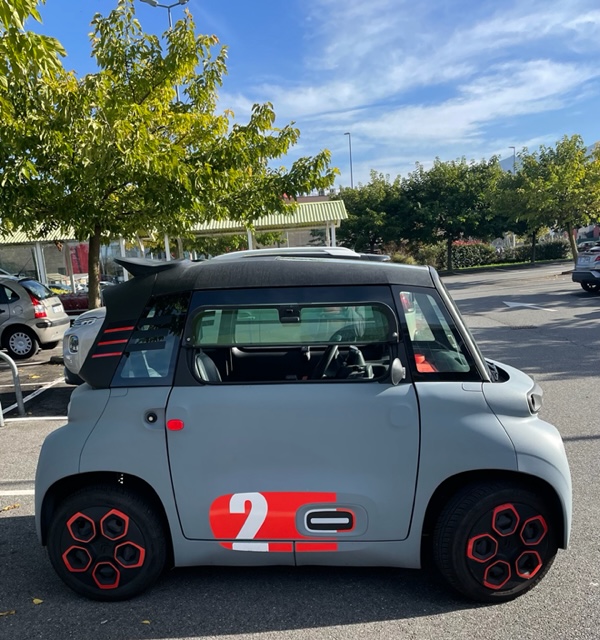 Straight from the pages of a Mr Men book comes the cute little Citroen Ami. Looking a bit like a margarine tub on wheels this little electric car is ideal for short journeys, travelling up to 75 km on one charge. The downside is a top speed of 28 kph, not so good if you like to be first away at the lights….who? me??
On the plus side, you don't need a driving licence to take the Citroen Ami out on the road, and you're allowed to drive it from 14 years of age.
As a little urban runaround, they're ideal, easy to park and they have a certain quirky style, not seen since the demise of the old 2CV.
You can lease one of these little beauties for 35 euros per month, yes you read that correctly, from Citroen.
Check out their website with all the details HERE
Would it make it up the hill to Thollon? You might need an overnight stop on the way but who knows?
If you enjoyed reading this post then check out my latest blog on Autumn in the Haute Savoie – A Feast of Nature on talesfromthebalcony.com

........................................................................................................................................
La Rentrée September 2022
Hey, welcome back. It's been a while, well, around 6 weeks actually. Enough time to skip across to Ireland for the wedding of the year, and to walk the beautiful Dingle peninsula. More than enough time to trawl the streets of Edinburgh during festival week and taste the delights of Betty's tearooms in Harrogate. There was even time to visit 'little Switzerland'…or to use its local name, Matlock Bath.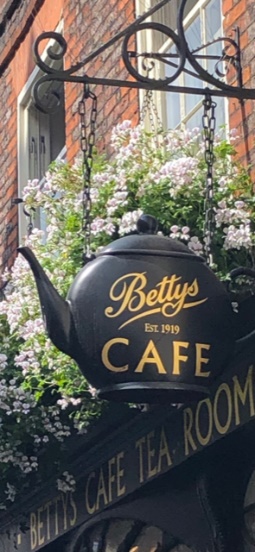 pic tales from the balcony
But, as they say, home is where the heart is. Looking out of my window as I write this, the sun is glinting on the windows of a train snaking its way through the vineyards of the Vaud, in the real Switzerland. The CGN paddle steamer is gliding, seemingly effortlessly, along the lake.. and it's good to be home, really good to be home.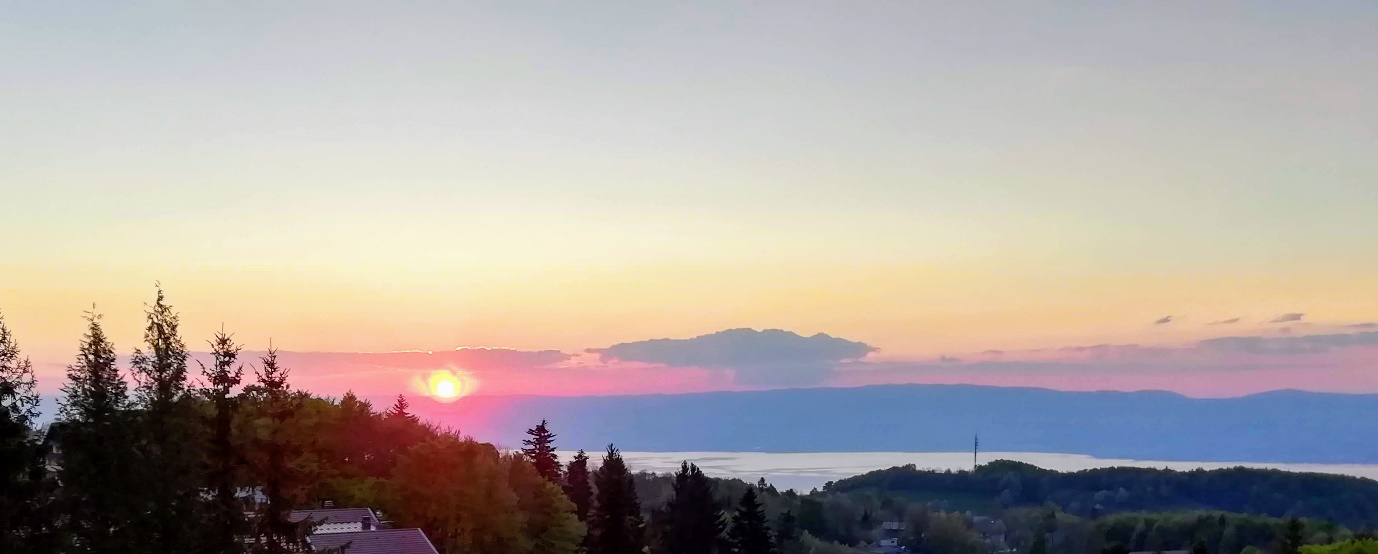 pic tales from the balcony
What did I miss? A sizzling summer apparently. The Haute Savoie has suffered from a lack of rainfall for most of this year. Hosepipe bans were in place until at least the end of the August. That didn't stop the tourists descending in droves, armed with paddle boards, inflatable pineapples and this year's novelty water sport…foils (think hurtling across the lake standing on a tin tray).
Despite the tinder dry countryside there were fireworks on National Day and parties galore. There were pétanque competitions, football games and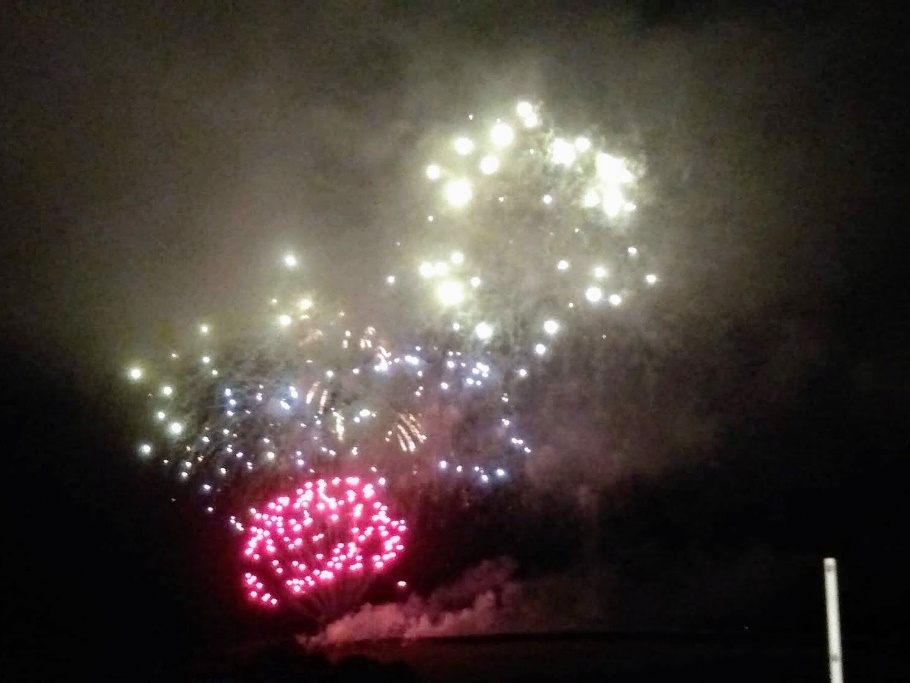 a thousand barbeques. Even Thollon pulled out the stops with its 'Estivales' concerts and children's entertainers.
Last week, the start of September, saw the 'Rentrée', the day when French children go back to school after the holidays. The collective sigh of relief from parents around the country was audible even here in the mountains. In fact, the whole village has switched gear in the space of just a couple of days.
The ski lift in Thollon is no longer grinding its way up and down the mountain on a daily basis and is now only running on Wednesdays and at weekends before closing at the end of September. The lifts reopen for the ski season from 17th December till 26th March 2023.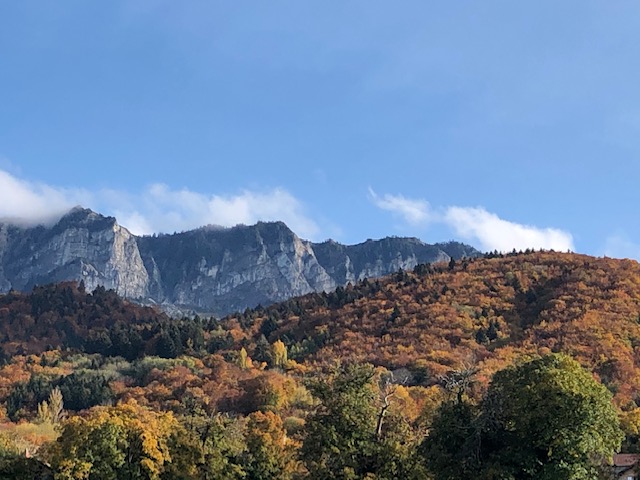 pic tales from the balcony
The restaurant and bar owners are starting to plan their own well-earned holidays and most will close end September or mid-October. The car parks are emptying, boats being taken out of the water, and the smell of suntan oil has been replaced by the faint smell of wood smoke.
So, what's there to look forward to in the Autumn?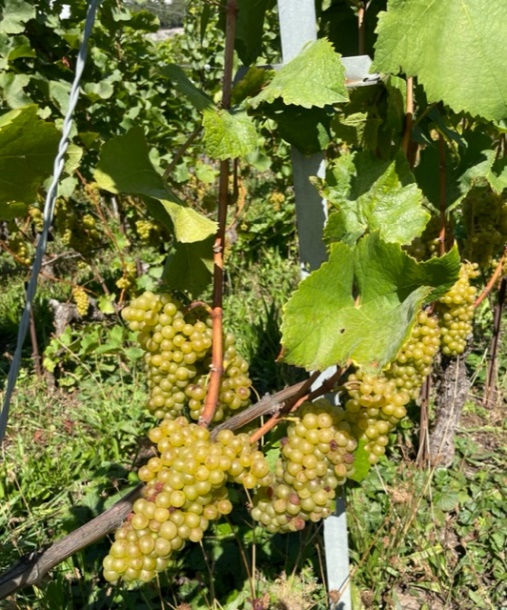 pic tales from the balcony
A dazzling display of autumn colour for one thing. The lower slopes of the mountains will soon be canopied in a blaze of red, gold and orange, stretching for mile after mile. The vineyards will be a hive of activity as the grape harvests begin in earnest.
Cider presses are being hauled out of barns and garages, trees shaken and apples collected. Cheese, from the milk of cows that have fed on alpine grass all summer, is being pressed and is highly sought after. Mushroom hunters are moving like ninjas through the forests, jealously guarding their secret locations. Wood is being chopped and stacked, ready for whatever this winter throws at us.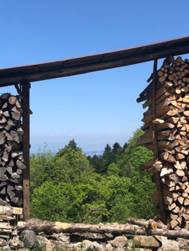 pic tales from the balcony
In short, Autumn is a feast for the senses, and no more so than here in the Haute Savoie, where the rhythm of life still closely follows that of nature and the seasons. So, if you feel like a long weekend getaway and don't mind a gamble on the weather, hop on a plane and come and see us, it's still just as beautiful.
...........................................................................................................................................................
Pye in the Sky June 2022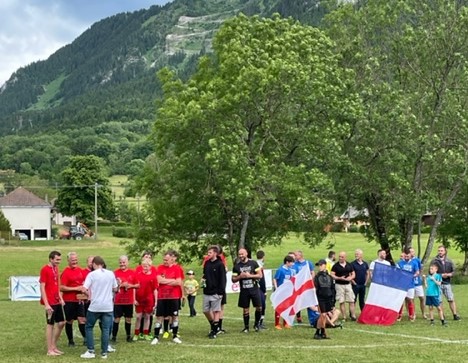 photo by talesfromthebalcony
Believe it or not, it wasn't a Frenchman who invented the deckchair. Deckchairs have been around since the Bronze Age. Many an ancient Egyptian, Greek and Roman enjoyed the comfort of this ingenious seating solution, while no doubt watching sporting events as exciting as our own Thollon International Football extravaganza on June 5th.
Deckchairs are the epitome of summer, those colourful stripes, the oddly uncomfortable half sitting half lying angle, the soggy cucumber sandwich, and there you have it, the perfect way to watch this year's top Thollon sporting event.
A football game that ebbed and flowed like the tide on Bournemouth beach. An eclectic mix of players 'ran' out onto the pitch this year. They may not have had the kerb appeal of a beach volleyball team but they had all the moves.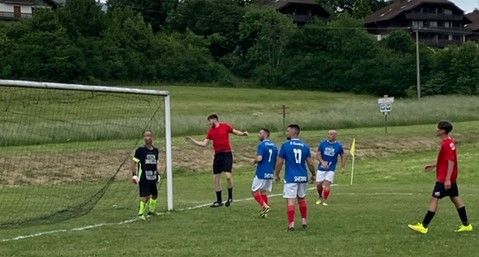 photo by talesfromthebalcony
With some of the team's star players being unavailable for selection, this was the year for new blood and team manager Frank Brady fielded a team of warriors. With Martin, the Rock, Baller in goal and Andy Boomerang Woollin in midfield, the 'English' team were cruising to an easy win. Until the whistle went for kick-off.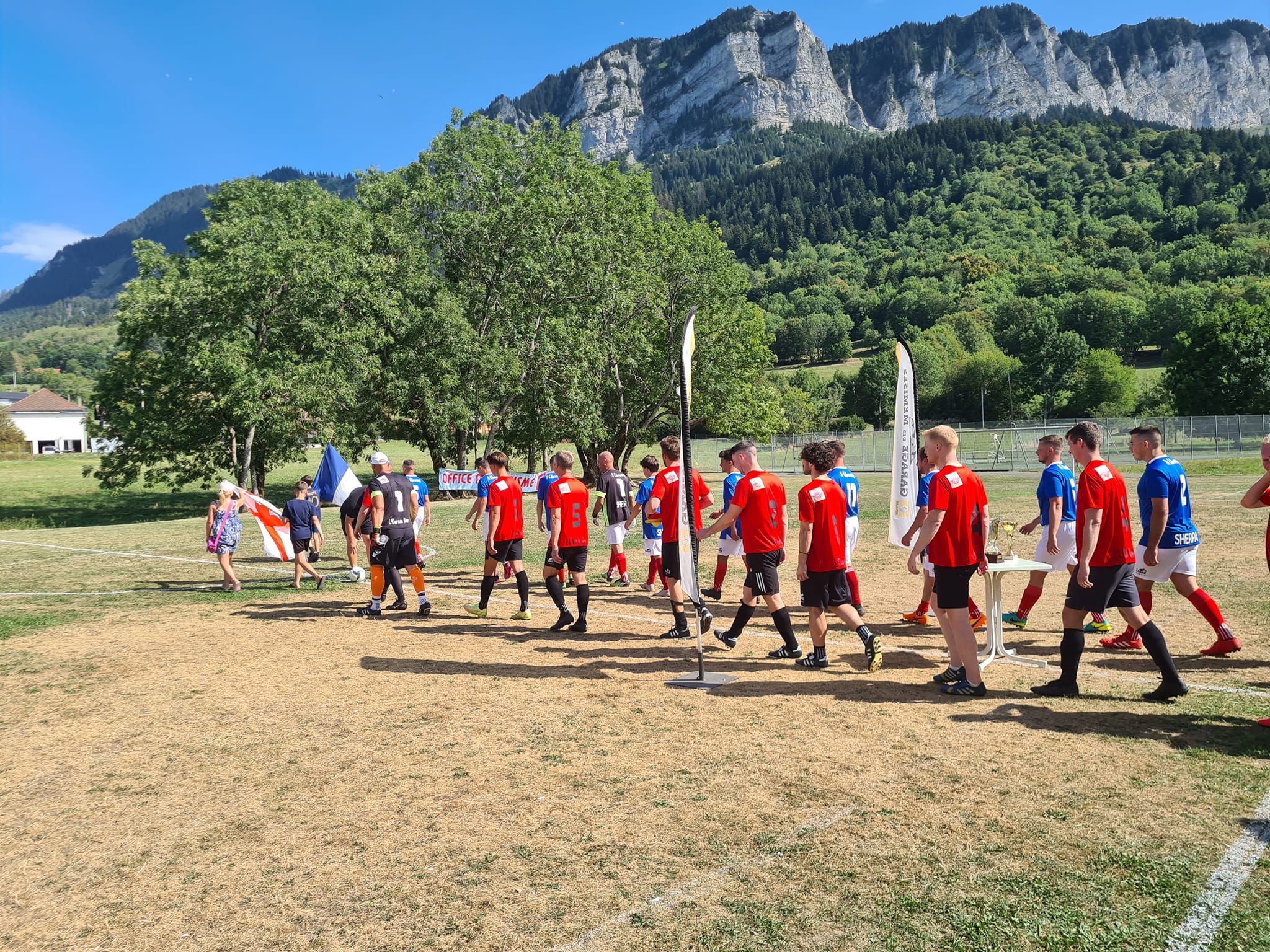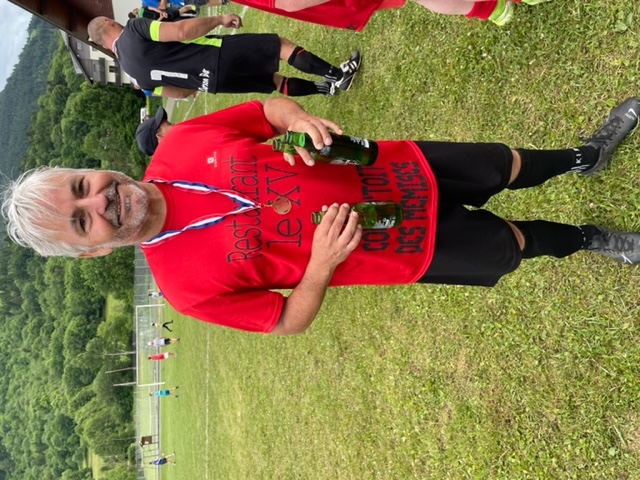 photo talesfrom the balcony
The French team, who had suspiciously avoided Saturday night's preparatory session in the Carnotzet, were first out of the blocks, racing to a 2-0 lead while our lads were still adjusting their hair gel or surgical supports (depending on their age). Stung by this early setback a plucky performance saw the 'dynamic duo', talented father and son combo, Darren and Henry Pye, harrying the French inside their own half. Striker Schofield wowed the crowd (well, the lady behind me) as he shot like an arrow along the left wing displaying impressive ball control.
After a sustained period of pressure, the English team clawed back a goal before conceding once again to go 3-1 down at half-time.
Cheered on by a rapturous crowd and after a team hug from 'Il Capo' Brady, the lads tripped out onto the pitch for the final stuffing.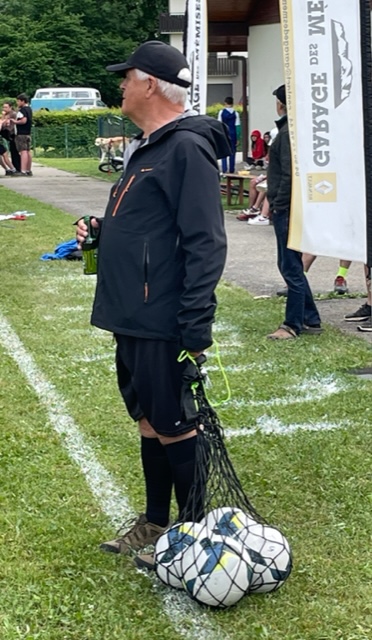 photo by talesfromthebalcony
Maybe it was the water consumed in the interval that rekindled memories of the previous night,as the French team helped themselves to another couple of quick goals almost immediately…leaving our boys 5-1 down before they had finished lacing their boots.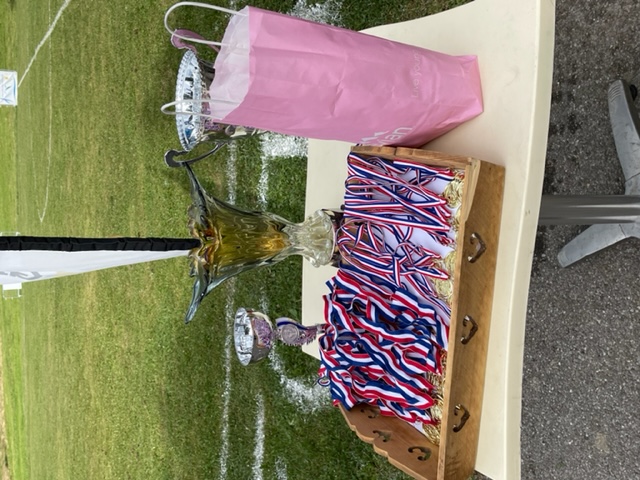 photo by talesfromthebalcony
The remainder of the second half was a different story entirely though as the French side found themselves repeatedly under the cosh and the visitors netted a further 3 goals. Offset somewhat by 2 more goals scored in French breakaways, tired limbs began to tell in the visitors' defence.
A final score of 7-4 to the French home team then, and a well deserved win. Johan Vesin, a truly talented player, won Golden Boot for scoring the most goals. Our own rising star, Henry Pye, outshone all and was rewarded with Man of the Match. Playing for his first international cap, Mark Edwards, put in a solid all round performance and will no doubt be a permanent feature of this international side. Steve Nunneyfrom Morzine, with his tight five-a-side turns and terrier like tackles helped keep the score line in positive figures.
Special mention goes to the outstanding performance of the referee, Danny 'Hawkeye' Bunch, who was congratulated by the French team on his impartial and 'sportsmanlike' umpiring (is that the right sport??) And of course, Matt Bianco, organiser extraordinaire, who pulled the whole thing together in a matter of days with the help of Michelle Vivien.
A fantastic day for all who came along. I'm sorry I don't have space to mention everyone who gave their all to this game. This isn't just a football match, it's also a brilliant way to foster good relationships between the visitors and the ever welcoming Thollogands.
Long may it continue. But…… next year, that cup is ours!
It's raining cats and dogs
April 2022
…but not in the way that you think. In fact, Thollon's been basking in spring sunshine for the last week or so.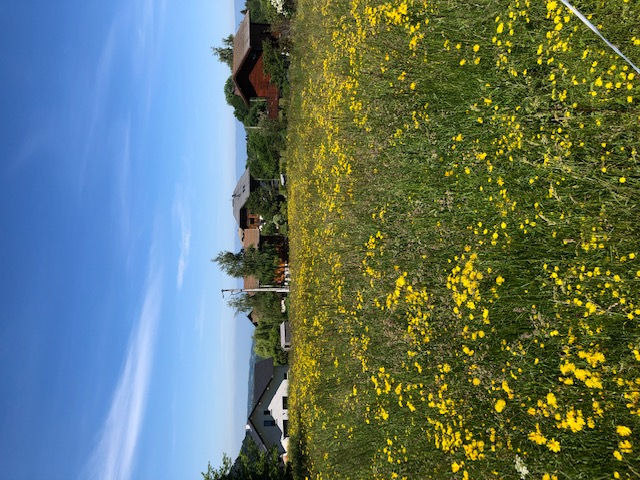 Thollon's carpets of wildflowers
No, it's genuinely raining cats.
Picture the scene…a quiet Sunday evening curled up on the sofa watching John Craven tackling a peat bog. All of a sudden there's a high pitched noise (think Ducati rounding a bend in the Isle of Man TT).
From the corner of my eye, I catch sight of a high velocity object passing the window. In the hallway outside the apartment there's the sound of urgent whispers and rapid footsteps down the stairs.
High drama…. the cat's dropped off the balcony! Now this is a balcony at least 16 metres or 50 feet from the ground.
Whether it was a desperate bid for freedom, a prank, or simply something that seemed like a good idea at the time, we just don't know. What we do know, is that cats do in fact bounce, and this one definitely has nine lives. Now eight.
After they'd dismantled the car engine, where the said cat had sought refuge,the slightly shaken skypilot was given a clean bill of health by the local vet. He's now back (with slightly shorter legs) installed on the balcony rail, daring the cat next door to 'give it a go'.
Thank goodness they don't have a dog.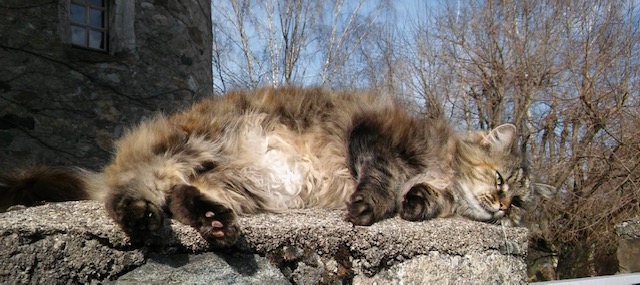 The recovery position
Obviously, fitness played a key role here. If you're contemplating a triple pike from your own balcony, or even just an energetic stroll across the Memises, you might be thinking about upping your fitness levels.
There are so many wonderful hikes, or gentle walks around Thollon that it's easy to increase your exercise while you're here. Add to that swimming in the lake from May to October, all year for some, and enough cycling to keep even Eddy Merckx happy.
For something more structured that will build strength, balance, coordination and general all-round fitness then there are some great opportunities right on the doorstep.
Let's start with Thollon's own fitness instructor and personal trainer, Joe Brady and Basecamp Fit. Joe's been running fitness classes for all ages, from spring to autumn,here in Thollon for several years now. In addition to his tailored workouts, this year he's offering new 'Fitness with a View' outdoor classes.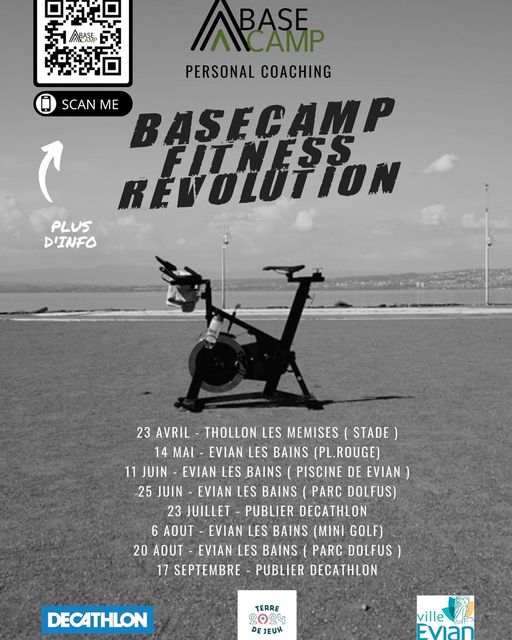 In partnership with Decathlon and the Ville d'Evian, Basecamp Fit are organising spinning and fitness classes on Saturday mornings in some extraordinary outdoor spaces. Venues includeThollon, the Esplanade in Evian, the Parc Dolfuss, and the Lido. Check the website www.basecamp.training/bfr for full details.
Another option is Evian Thermes.You will have passed this building if you've ever visited Evian or Thollon. Close to the ferry terminal, the Thermes has an austere look from the outside. Inside it's a different story. There's a small but well thought out gym with the usual cardio machines, fitness equipment, free weights and a view of the lake. Downstairs are the spa facilities, saunas, hammam and swimming pool.
The Thermes offer a wide variety of classes, such as aqua-fitness, yoga, Pilates and more, plus a long list of beauty treatments and massages. The receptionists speak English if necessary and are super friendly and helpful. Parking is available and the changing rooms are spotlessly clean, albeit with a slightly complicated locker system.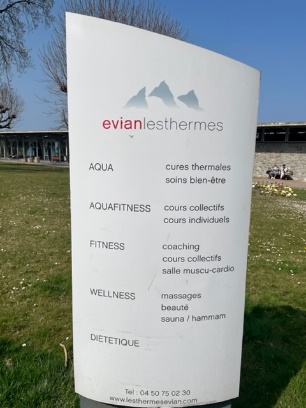 The Hilton Hotel next door also has a small Ayurvedic spa offering beauty treatments, relaxation and massage for non-residents. Decorated in rich browns and gold with an oriental feel it's a nice place to spend an afternoon. It's small gym and indoor pool are currently only open to residents.
If you really want to push the boat out, then there's always the Royal Hotel in Evian les Bains. Access to their spa facilities for non-residents is possible on the 'Journee de Détente' or 'relaxation day' package which includes lunch and a choice of beauty treatments. More to my liking is the traditional Afternoon Tea with a glass of champagne, plus use of the spa, maybe in reverse order though.
Enough!
Just the thought of all this exercise is sending me to the fridge in search of a Scooby snack. Whatever form of exercise you decide to take just remember, that as long as you land on your feet you'll be fine.



......................................................................................................................................................
We're Nearly There March 2022
Here we are, hurtling towards the end of the ski season faster than I can say downhill slalom. One minute we're sniffing the ski wax, snapping on the lycra and gingerly stepping off the first ski-lifts, the next minute…… it's all over. Or almost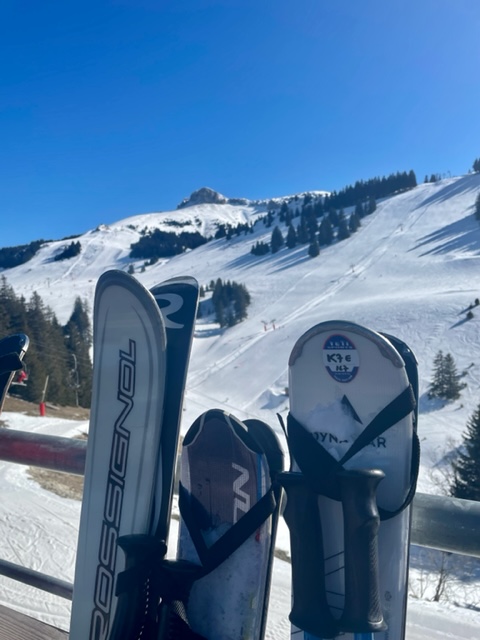 Now the school holidays have finished, Thollon is a little quieter. The snow's still great for skiing and we've got two weeks to go before the big final weekend party. This year the last day of the season is Sunday, 27th March and it's guaranteed to be a fun day out… it goes without saying that there'll be music on the terrace of the restaurant and they'll be wheeling out the giant tartiflette cooking pan.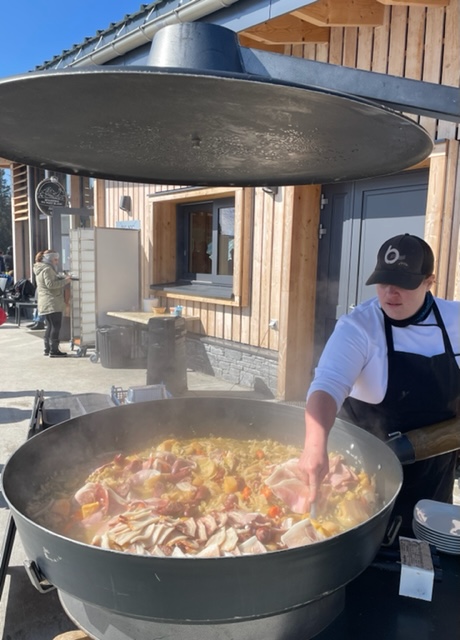 There'll also be music in the village with Arnaud, of the Canotzet, organising an outdoor apres-ski extravaganza with Dj's, an outdoor bar and barbeque and the Ourson offering live music with 'Les Gwapps' from 7pm also on Sunday 27th March…….it could be a long day.
The panoramic restaurant, the Balcons du Lac, is closing for a well earned rest and the lifts will stop running for a few weeks at the end of the day
If you feel like really getting into the spirit of things, moves are a foot to cover the slopes with wallies. Yes, you read that correctly. 'Where's Wally' is the theme of the last day on the slopes this year. Order yourself an outfit on-line and join the fun!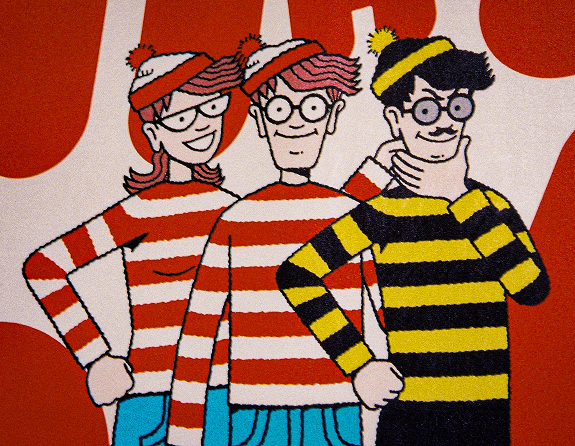 Did you know that Thollon has hit the headlines this month! The local newspaper 'Le Messager' has a double page spread about Thollon's meteoric rise in popularity. The well-known property company 'SeLoger' reported 650,000 searches for property in Thollon on its website in February. It's now the most sought after ski station in France, (Chamonix had around 300,000 searches).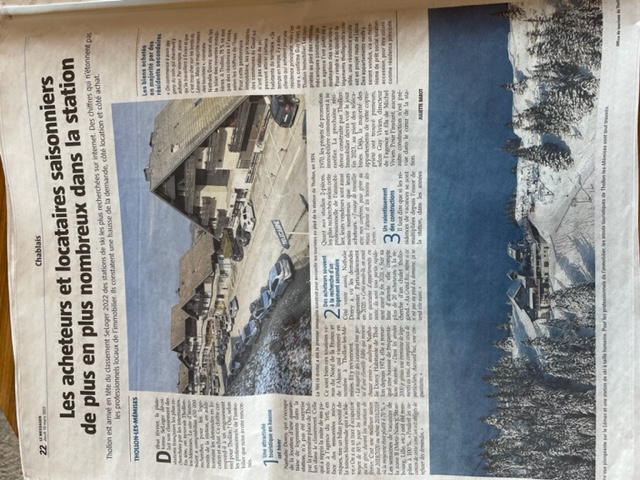 It's true that demand for property here has shot up since the start of the pandemic, accompanied by a steep rise in property prices. Most property here is holiday accommodation, particularly AirBnB, with only 25% being occupied year round. Good news for all the small businesses here but could it be time for a little more investment in the ski-lifts?
With the lifts closing soon, what's next?
I'm off travelling for a while. Right on the doorstep here in Thollon is the amazing Route des Grandes Alpes. Running from Evian to the South of France this road takes you over the highest mountains and through the most beautiful valleys in France. You can find details of the Route and tips on how to do it yourself on my site Talesfromthebalcony.com Hopefully it might inspire you to head off over the hills this summer.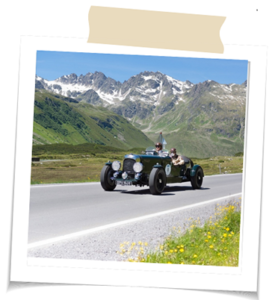 After a winter of Savoyarde comfort food that's included heaps of cheese, enough baguettes to build an Eiffel Tower, and gallons of hot chocolate, I'm in serious need of more exercise before I hit the hiking trails this Spring. Over the next month or so I'm going to be checking out all of the gyms, spas and fitness classes in and around Evian and Thollon. If I can still move afterwards I'll report back and tell you which are worth trying, which have free soap, and everything you need to know about getting fit for swimming, sailing, paddle boarding, and of course, the next round of parties in the summer season.
...........................................................................................................................................
A Dose of Vitamin T
February 2022
In case we're in need of a little light relief this morning.
Vitamin 'T', have you had yours recently? No, it's not a new supplement promising eternal youth, it's that dose of the feelgood factor that youget as soon as you arrive in Thollon. It's been a heck of a month here. The overlapping half-term school holidays has brought hordes of visitors on most days. A combination of good snow higher up the mountain and the gradual relaxing of Covid restrictions (no mask wearing and no digital pass needed for the gondola now) has tempted people to dig out the rusty old skis and head for the slopes.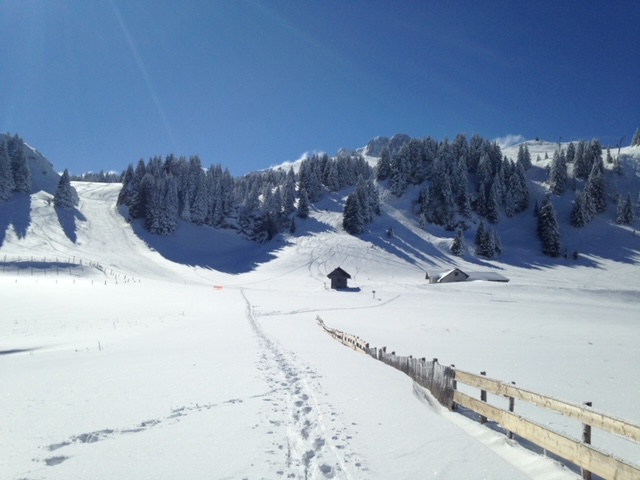 Good for the soul
Even when it's busy you can still find a tranquil spot
But let's not use the C word! I'm refusing to mention that word again for the whole of 2022. That's it, I'm done with it. All jabbed up so let's just get on with it. As we now know, things could be worse. I promised you a little update on Evian this month….
As soon as I mention Evian, Mr B's eyes light up, out come the keyhole gloves and off we go down the mountain as if it's the Cresta Run. A long time graduate of the St ChristopherSchool of Motoring he has all the cornering skills of a buffalo on roller skates but, heyho, it helps me keep my weight down.
At the moment Evian looks as if someone's tipped over the toy box, large portacabins full of construction stuff litter the car park by the casino. Work on the embarcadere is taking shape and the Evian Lausanne ferry will soon have its shiny new berth to glide in and out of. A few escapees from the Flottins holiday camp are still lurking at strategic points, much to the joy of the instagramers.
Arrivingin Evian we then have the joy of taking part in the Evian car park challenge 2022. Yes… no, yes..no. yes….aaaagh too small…..let's just go home. Its enough to make you buy a bike, if it wasn't for the 12 hour cycle back up the hill followed by an emergency heart transplant then yes why not.
But, Evian is full of little gems. It may not be the greatest shopping destination or have the liveliest night life but it does have some great restaurants and cafes and once you scratch the surface there's an abundance of things to do.
The weekend of 26th 27th February welcomes back the Carnival in Evian. Suspended for a year during the pandemic this vibrant friendly pageant is well worth the trawl down to Evian to join in the fun. On Friday evening at 5:00 children can collect a glow stick from in front of the large Palais des Festivites (salle polyvalent) and join the evening illuminated parade. The main parade is on Saturday at 3pm and is usually a riot of colour, flamboyant outfits and ingenious carnival floats. Don't forget to take your feathers with you, you don't want to look out of place.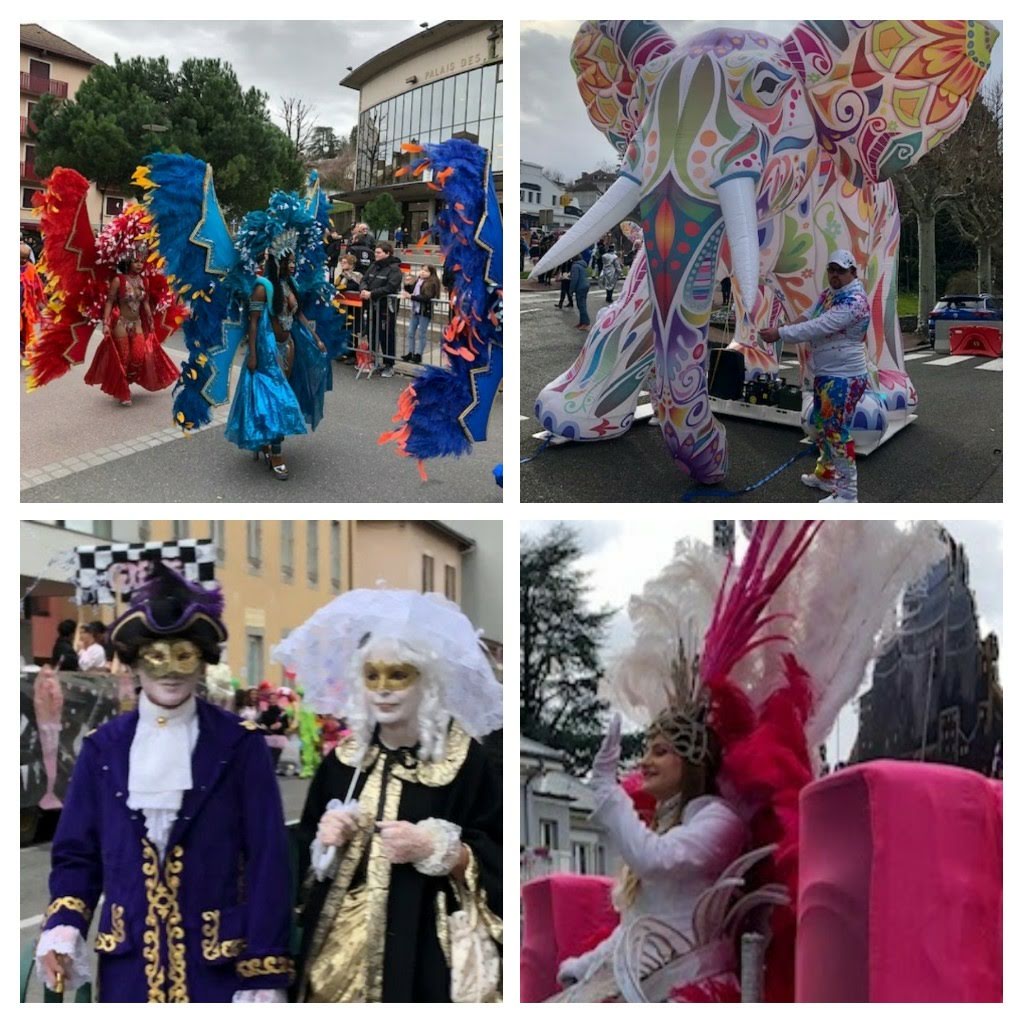 @talesfromthebalcony
Also in Evian at the Palais Lumiereis an exhibition on the life and work of the renowned creative artist, set and costume designer Christian Berard (1902-1949). This French artist, who died tragically young, worked as an illustrator for Vogue magazine, Schiaparelli and Chanel, amongst others.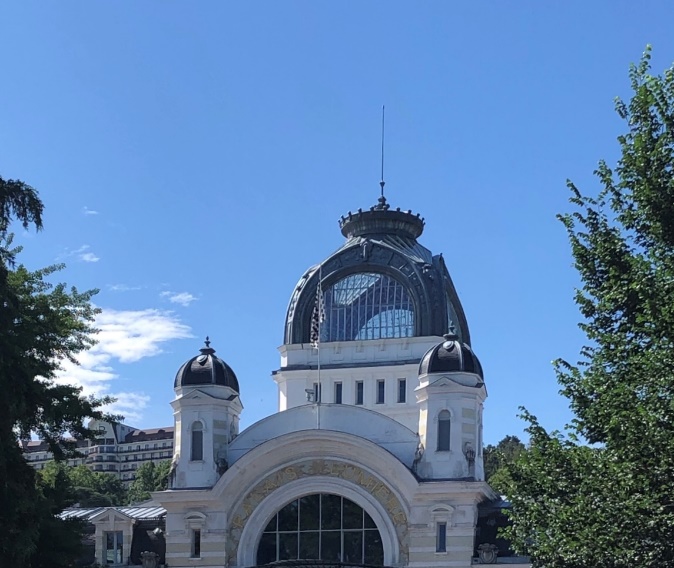 Looking for music? Apart form the excellent bands and singers booked by the Ourson in Thollon this season, there's also the 'Starting Block' in Bernex, a venue for local bands and theatre groups. For something a little more esoteric there's the extraordinary 'La Grange au Lac'. This huge wooden auditorium, close to the Hotel de la Verniaz, is tucked in the heights of Evian and can be easily reached by car, or by the funicular railway in Evian during the summer months. Well known for its jazz concerts it also plays host to some of the regions best classical orchestras. This Saturday, February 26th, for example it's the 'OrchestreSymphoniqueOse! with a programme of Mahler and Sybellius.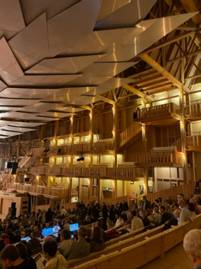 Oh, and I've discovered a new quirky little restaurant that's worth a try, called the 'Amphore'. Tucked away behind the church in Evian this tiny restaurant, seating around 20 people,has a real down to earth French vibe. The owner is a classic car enthusiast and proudly showed us a glossy coffee table book featuring his fabulous Chevrolet Camaro, one of five he had owned. At lunchtimes there's a set menu which, on the day we were there, was a variation on a shepherd's pie washed down with an excellent glass of red wine. A perfect stop on a busy market day.
I can hear Mr B revving the car, going to have to go. Wish me luck and hopefully we can get together again next month.
Congratulations….and celebrations🎵
January 2022
It might be a little late this year, but the ski season for snowbirds from the UK is finally underway. Hurray! There can be nothing more frustrating than sitting at home watching Ski Sunday on the telly when you had plans to be hammering down the Hahnenkamm in a shiny lycra suit yourself. The lifting of restrictions means you can finally pack the suitcase, (no…not the one secretly filled with wine…) and as long as you're up to date with your vaccines, you can be here in the Chablais from today.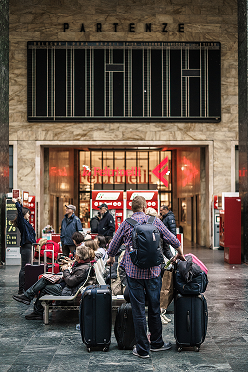 Photo by Tommaso Pecchioli on Unsplash
What will you find when you get here?
First, let's talk about the important things. Snow, snow and more snow. It's been a great season so far, the recent snowfalls and the cold temperatures have kept the slopes in ideal condition. All the ski shops, bars, restaurants and supermarkets in the village are open and welcoming visitors every day.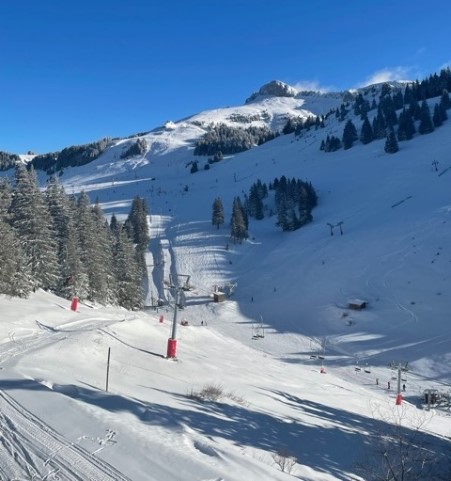 Thollon's 48kms of slopes are perfectly groomed with corduroy skiing at its best. The new super gentle beginner's area is perfect for children and will entice even the most reluctant of skiers onto the snow.
If you can make it out now you'll find the slopes quiet, especially midweek, the sun shining and an ice cold après-ski beer waiting for you on the slope-side terraces. What could be better?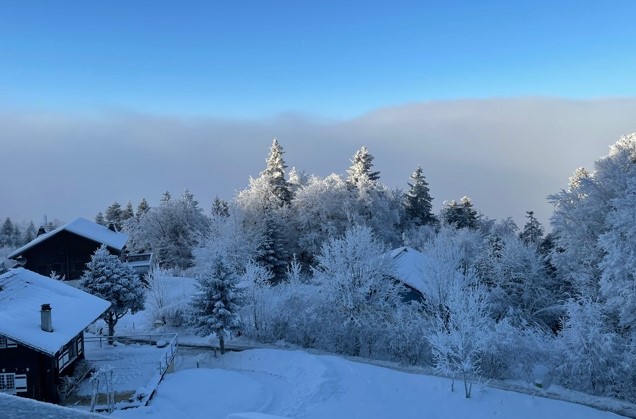 Thollon is busier at weekends but, as French school holidays don't start until early February,there are no massive queues. You will be asked to produce your digital health pass or proof of vaccination before using the lifts and be expected to wear a mask on all lifts.
Other things to do in Thollon at the moment:
Snow shoeing– the tourist office has detailed maps of paths ideal for snow shoeing. Bernex and Thollon are offering wildlife spotting snowshoe treks, and in Bernex there are night-time treks culminating in a traditional Savoyard meal in a mountain igloo. Sounds fun.
Cross country skiing – tracks run along the length of the Memises with stunning views of the lake and the rolling countryside of Switzerland. Great if you're looking for a good workout, although I'm more a 'let gravity do the work for you' sort of person.
Toboganning – on a perfect slope for children, close to the village. Complete with buffers.
Cinema- showing French and English movies(English movies on Thursday evenings), social distancing guaranteed. The cinema shows all the latest movies at a fraction of the cost of flashier venues.
Donkey trekking – the Ferme des Genti'anes offers children the opportunity to head out along quiet country lanes and, in better weather, along the mountain trails with these gentle animals. They can also learn to groom and feed them at the Genti'ane farm in the lower part of the village. I would so love to do this! Several years too old and definitely several kilos too heavy.... dommage.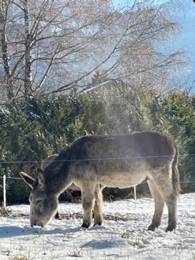 I know I've mentioned this before but if you can, make sure you try the new table-service restaurant at the top of the gondola in Thollon. Perched on the edge of the Memises, the Balcon du Lac is sensationally good. With a limited menu that changes every few weeks, it focuses on imaginative use of really fresh ingredients. It also features excellent vegetarian dishes.
In other news in Thollon, the old Choumas is now the Carnotzet (pronounce it a bit like 'Cannot Say' and you'll be close) and has a revamped menu, also worth sampling while you're here.
But what if you want to escape the ski slopes?
One of the attractions of Thollon is its closeness to Evian and the vast expanse of Lake Geneva, just a 10 minute drive down the mountain.
Worth a try is the excellent little restaurant in the main street in Evian called 'Pedalo' which serves a variety of gluten free savoury and sweet pancakes, accompanied by large mugs of delicious, fresh tasting cider. Popular, so booking recommended.
We've also recently discovered an Italian wine bar, Momento, with a huge choice of Italian wines, which you can accompany with a large plate of fresh anti-pasta, and other Italian delicacies. Located next to the Chateau Fonbonne, it's open Tuesday – Saturday evenings.
I'll tell you more about what's going on in Evian, what's worth a visit and what's a little more 'meh' next month.
At the moment Thollon is floating above the cloud like a cherry on a trifle. The sky is a Mediterranean blue. Below us is a sea of drifting white cloud, thick enough to lick the surface of the lake.
Down by the shore, on days like these, there's an eerie silence, mist muffling any peripheral sound. The mirror-like surface is disturbed only by the occasional swell from the ferry making its way back and forth to Lausanne. Now and again small boats loom silently out of the cloud. There's even a solitary gull perched forlornly on a floating log, swept down from the mountains in a recent storm.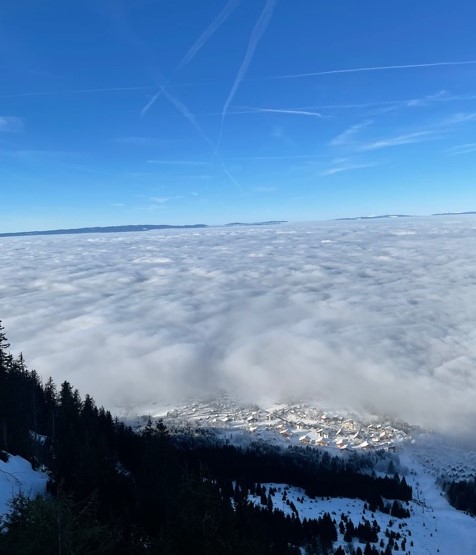 The lakeside itself doesn't hibernate in winter though. There are inline skaters, joggers, and dog walkers. There are frozen picnickers and ruddy faced toddlers throwing stones into the water. From time to time voluptuous ladies appear and strip down to bikinis and bobble hats before plunging into the icy waters. Majestic formations of flying swans skim the surface, the beating of their wings, apart from the gasps of the winter mermaids, are the only sound to be heard. The water is always crystal clear in winter and a few days ago teased out two paddle boarders to drift lazily by.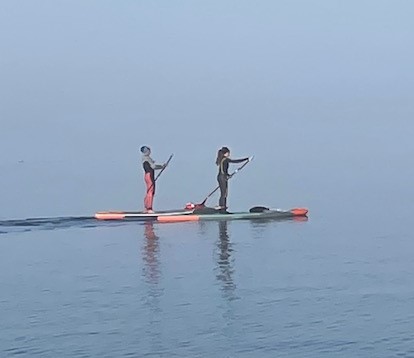 Whatever might be happening in the world beyond the cloud, these are the moments to cherish. So, if you feel the need to recharge your batteries, Thollon is, as ever, ready and waiting to give you the time of your life.
.............................................................................................................................................
Yes, But No........... December 2021..... Yes, he's done it again. The Grinch has stolen Xmas.
The skis are waxed, lift passes bought, stockings hung up and enough food to feed an army…and the party's over before it even began. As we stutter into the winter ski season the lifts are running and Thollon is braced for the annual influx of winter thrill seekers keen to enjoy record levels of pre-Xmas snow.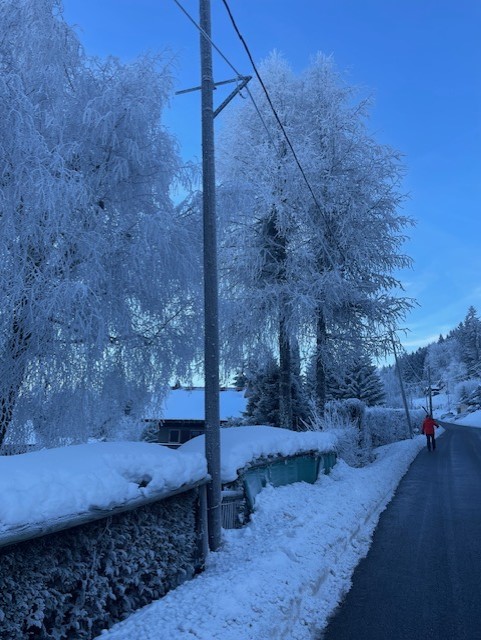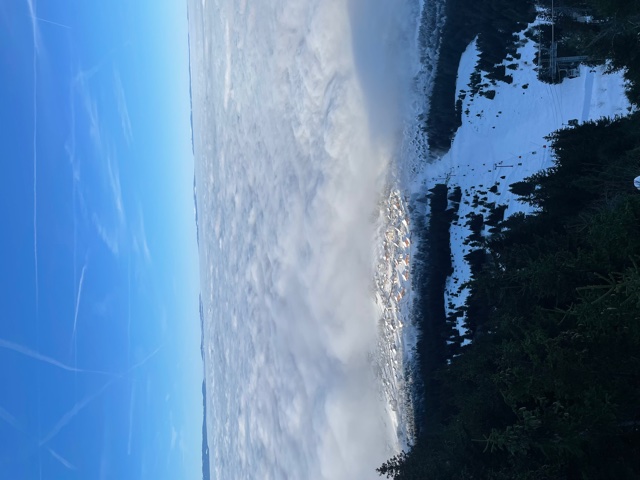 This year's a little different though. Despite all the French resorts being open, restrictions on cross-border travel for non-EU countries mean that many British holidaymakers won't be able to travel to Thollon this Xmas and New Year. A lucky few arrived before the UK/French border was closed to non-essential travel and … (you're not going to want to hear this so look away now) ...are enjoying perfect skiing conditions.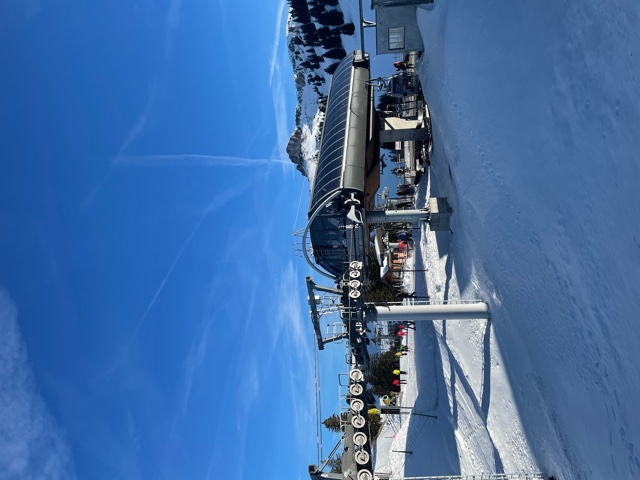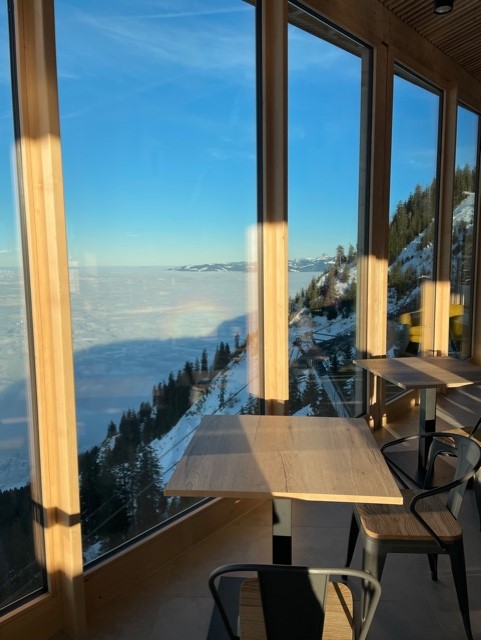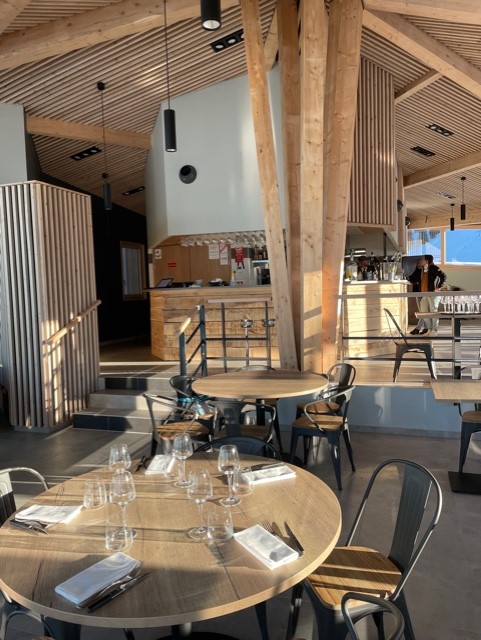 While the village itself has been cocooned in cloud for most of the week the ski slopes in Thollon have been basking in sunshine. So, what exactly are you missing? Well, the star of this year's season has to be the new, much discussed, panoramic restaurant clinging to the edge of the ski slopes by its fingernails. What a view! With itsreasonably priced fine dining restaurant, its self-service cafeteria and its huge outdoor balcony space complete with deckchairs it's a destination in itself. In fact, it's so good that we're having lunch there on Xmas day. Just think, no washing up ...result!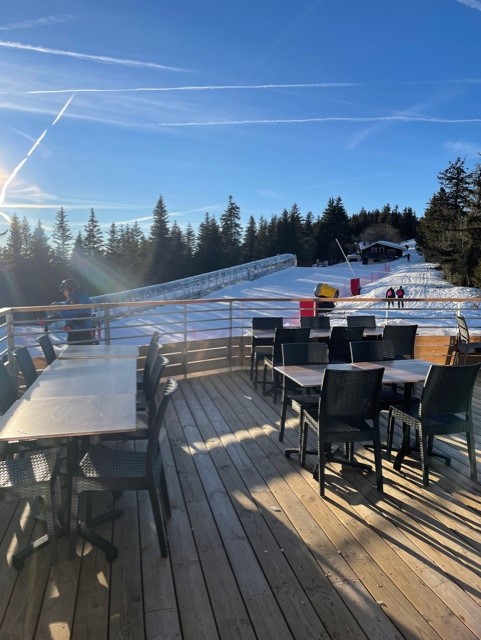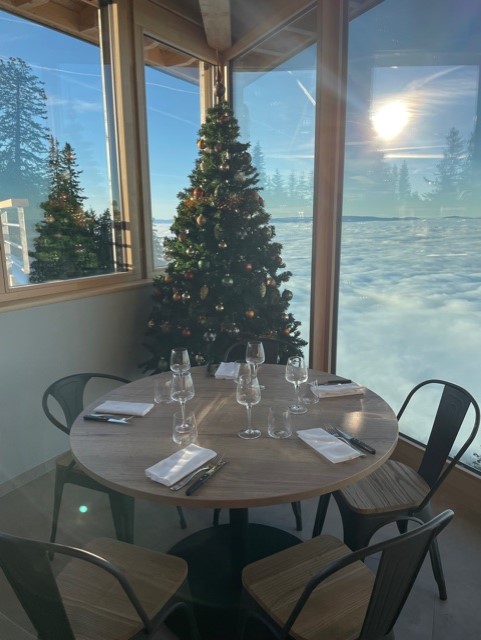 Outside the restaurant is a small, new, complete beginner'spiste where a covered 'magic carpet' transports the apple of your eye to the top of the slope. It's a good place to learn that both skis need to face in the same direction and that generally heading downhill and not straight into the side of the tunnel is a good idea. From here your little munchkin can launch themselves into a lifetime of kamikaze ski trips, apres-ski bars and questionable clothing while you enjoy a coffee or a glass of wine on the terrace.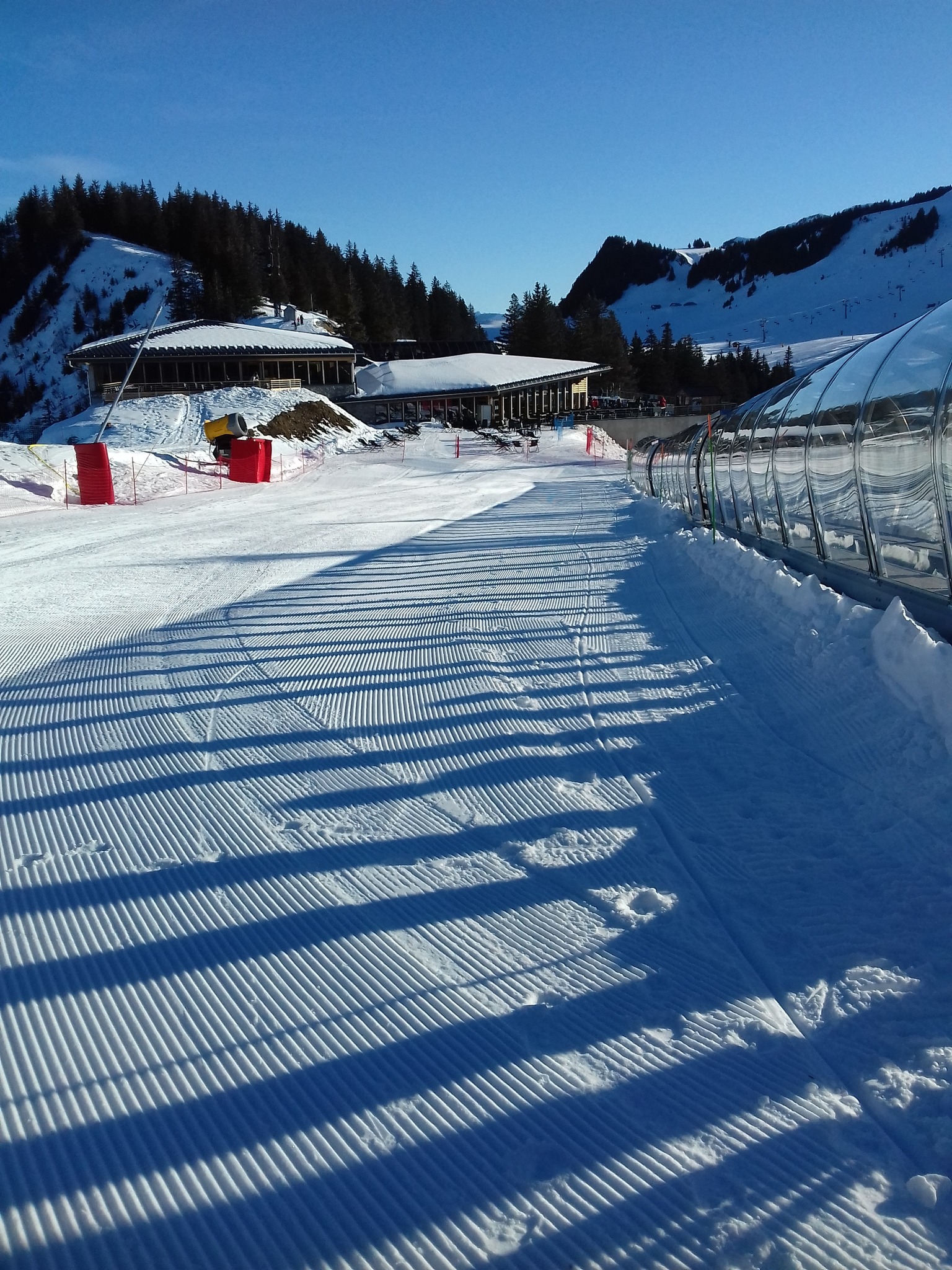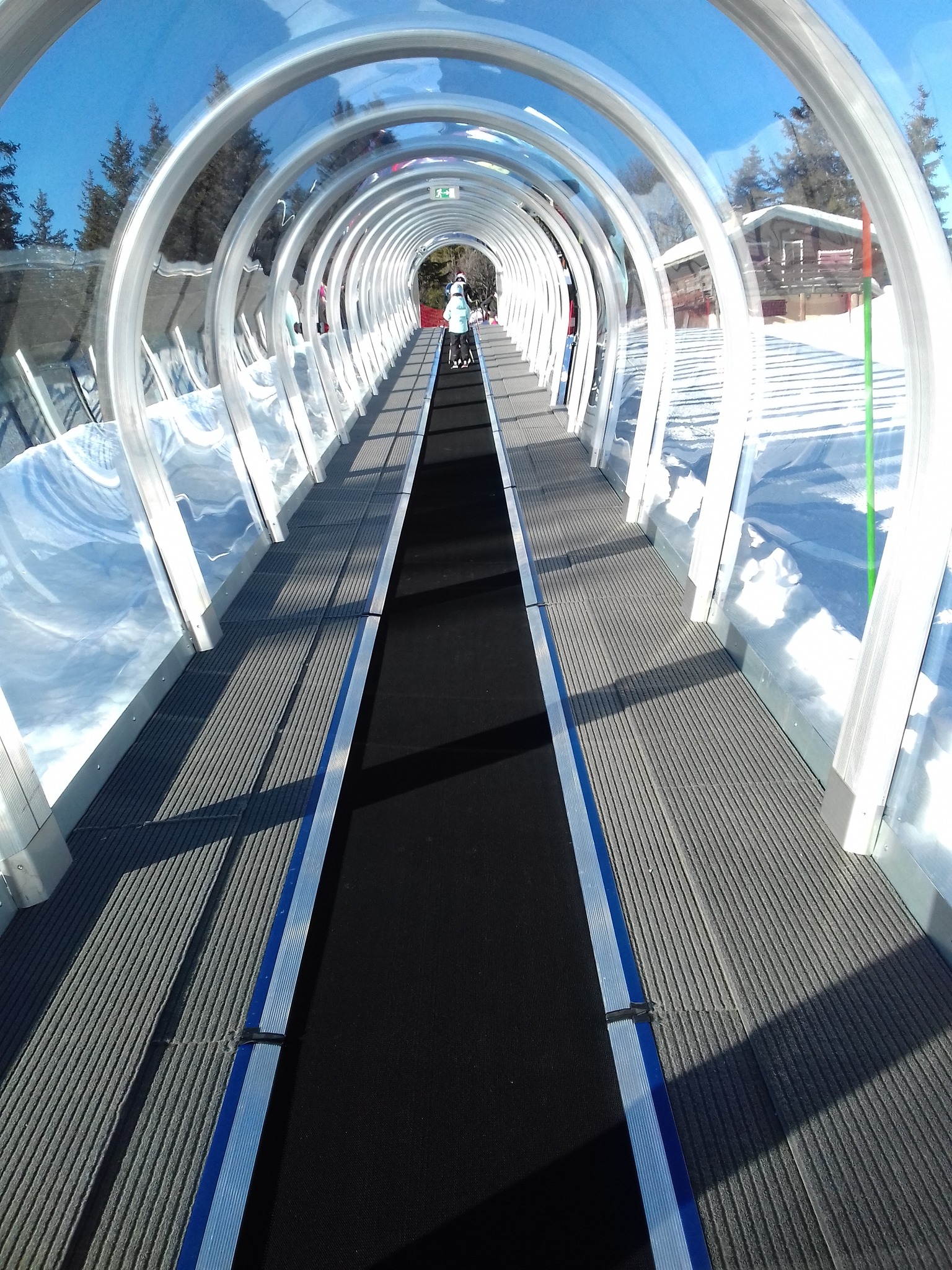 Down in the village the old Choumas bar and restaurant has become the Carnotzet. My best friend Google tells me that 'a Carnotzet is a room beside the wine cellar, where people (usually belonging to the male gender) gather to scientifically sample the cellar wine'. In reality, apart from the owner, and some tweaks to the menu, little has changed here. The décor is still the same, the staff are still the same and the welcomeis still just as warm.


I don't often mention Scoubidou's, the little bar next to the Salle Polyvalent .Next time you're here in Thollon check out the new windows that have transformed it into a lighter, brighter and friendlier place.Antoine's selection of bottled beers is second to none in the village and his pizzas are legendary. It's a great place to take children if you want to impress them with your pool playing ability too.

And so, here we are.The week before Xmas. The schools have broken up, which is great news as our car will no longer be pelted with snowballs from the playground as we head down to Evian. I'll miss that cheer that goes up from the children everytime one lands on target though.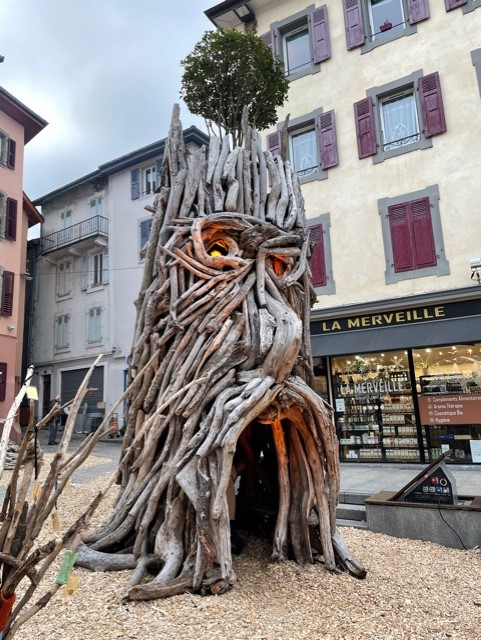 The Flottins have made their annual pilgrimage to the main square in Evian. Not just the main square this year, they seem to be spreading viral-like across the town. If I was a conspiracy theorist I'd say they're planning a takeover. Where's Dr Who when you need him/her/they?
As for us, we're both really disappointed that our children aren't now coming for Christmas. I've spent weeks buying things for the holidays so at some point in the spring or summer next year we'll be celebrating a late Christmas with turkey, pigs in blankets, etc. and Christmas stockings. I just hope the Xmas jumpers will still fit by then as we've got 4 boxes of After Eights, 3 tins of biscuits, 2 Xmas puddings and a partridge in a pear tree to get through on our own.
Wherever you are this Xmas I hope you manage to celebrate with friends and family.
Let's hope that 2022 is the year that we can all meet up again here in beautiful Thollon. First round's on me! Merry Xmas and a very Happy New Year x
................................................................................................................................................................................................................................................................
With Thollon first in lockdown in 2020 and that summer came and went ..... winter passed........ but Thollon was back in the summer of 2021
Thollon and travel in the Autumn
October 2021
You know it's been a really great party when its hard to remember everything you did, all the people you met, and what time you got home at. Summer 2021 in Thollon was one of those 'take your shoes off and dance all night' type of parties. People came and went, met old friends and made new ones, and generally had a great time.

Now that October's here, the music has faded, the chairs are piled up and the empty wine bottles disposed of. The curtains are drawn, and the visitors have wended their weary way home. Thollon has slipped back into semi-hibernation…but life is anything but boring.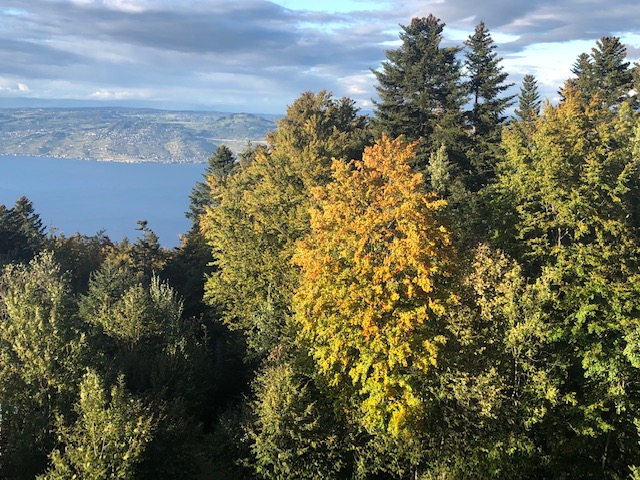 There's a palpable excitement in the air about the coming winter season. The shops down by the lake are filling with ski gear and warm winter clothing. The local resorts are offering enticing deals on early bird ski passes and there's snow on the mountain tops. The French authorities, perhaps fearing for their jobs, have pledged that there will be a ski season this year. If the snow is anything like last year's, it's going to be a great one!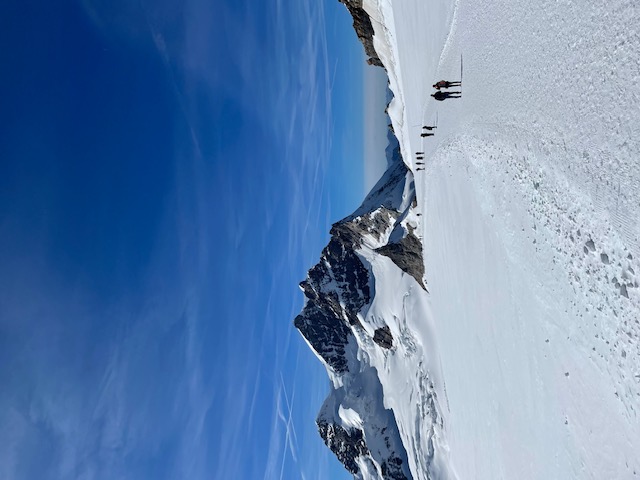 Yes, it's snow!
In the meantime, summer may be over in Thollon but it's easy to chase the sun from here. Whichever direction you choose to go in you'll find sensational places to visit just a short distance away. In fact, autumn is the perfect time to travel. Not only are places quieter as the children are back at school, but accommodation is easier to find and often much cheaper than in the high season.
Using Thollon as a stepping stone you can cross the Alps via the Great St Bernard Pass or tunnel and be in Italy in 2 hours. You could travel down the Route des Grandes Alpes before the snow closes the mountain passes and spend time in sunny Menton or Nice.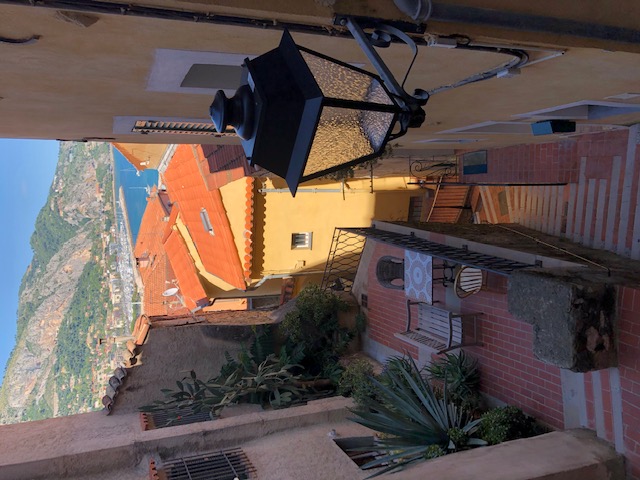 Explore the old town of Menton
Crossing the lake will take you into the sunshine filled valleys and mountain pastures of Switzerland where you can hike on the Jungfrau or the Eiger.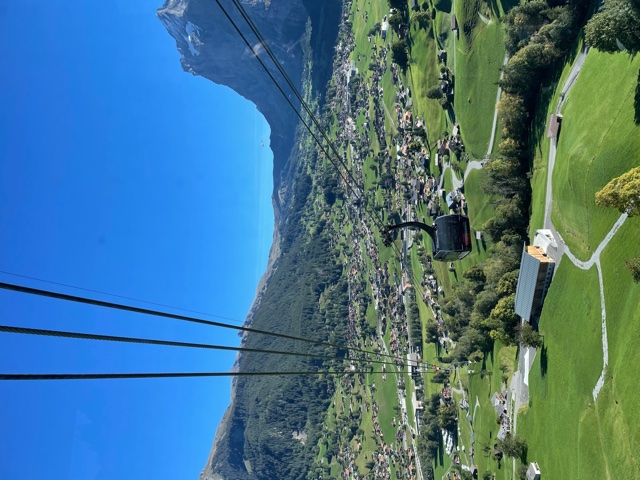 The new Eiger Express gondola that runs from Grindelwald (only 2 hours from Thollon) will take you within touching distance of the North Face and deposit you on the Eiger Glacier, from where you can travel on tolunch in the restaurant on the 'Top of Europe'.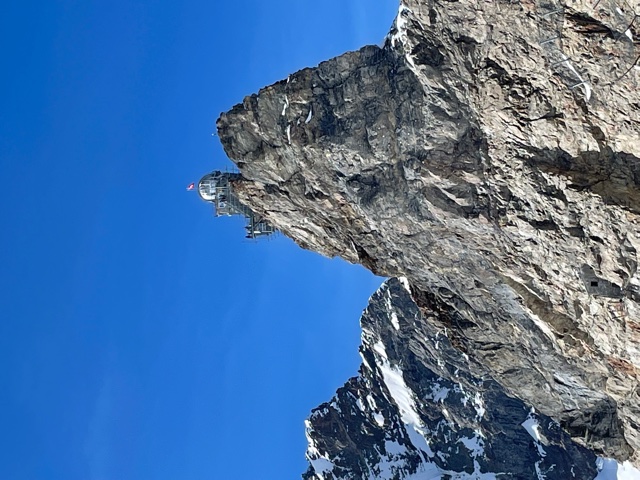 The Jungfrau and the restaurant on 'The Top of Europe'
If city trips are more your thing then Lyon, Turin, and Chambéry are only a short drive from here, and don't forget the excellent rail networks in France, Italy and Switzerland. Take the train from Evian, change in Geneva and travel directly to Milan for the perfect city trip. Milan is a travel hub itself and it's easy to change trains and head down to Rome or southern Italy if you're feeling more adventurous.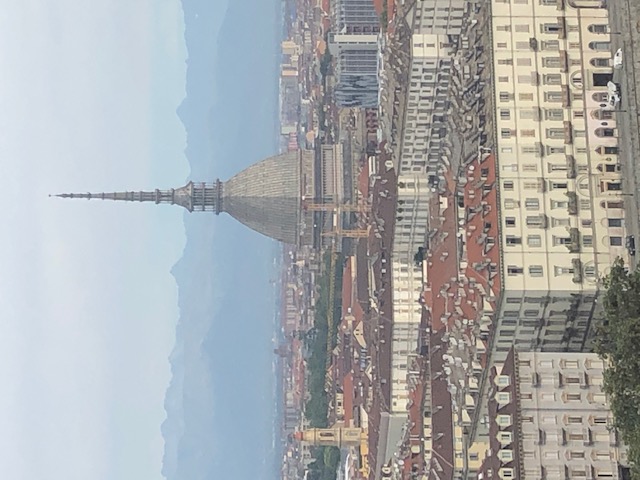 A hazy autumn day in Turin
If you prefer to stay closer to home then why not extend your holiday in Thollon next time? Stay for the wonderful autumn colours, stay for the delicious locally picked mushrooms and the jewel like myrtle tarts, stay for the game that appears on most restaurant menus, if that's your thing. You can also cross the lake by ferry and enjoy the wine festivalsand harvestsin the Vaud where you can sample the local vintage in almost every doorway.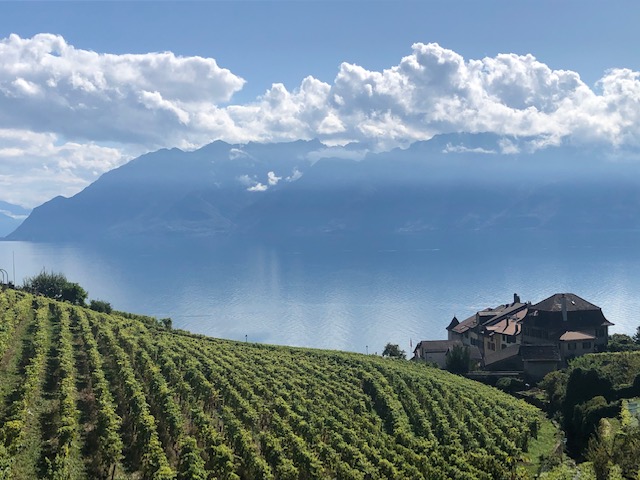 The vineyards of the Vaud, only a heartbeat away
On this side of the lake, this is the season of vide greniers and brocantes, the season of exhibitions and conferences, of concerts and food festivals such as the Fete des Pommes in St Paul next week. In fact,autumn is a celebration of local produce and the perfect opportunity to discover the cuisine of the Haute Savoie. Just remember though, it might be a squeeze to get into last year's ski pants!
So, although the summer parties might be over, not all the lights have gone out. Every season in Thollon has something special to offer, and, althoughone of my friends often says 'Thollon is so beautiful, why would you ever go anywhere else?', why would you not also take advantage of some of the other incredible places right on your doorstep?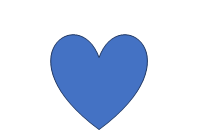 ....................................................................................................................................................................
3…2…1…back in the room! July 2021


Hello from a very soggy Thollon, where we're still waiting patiently for the summer.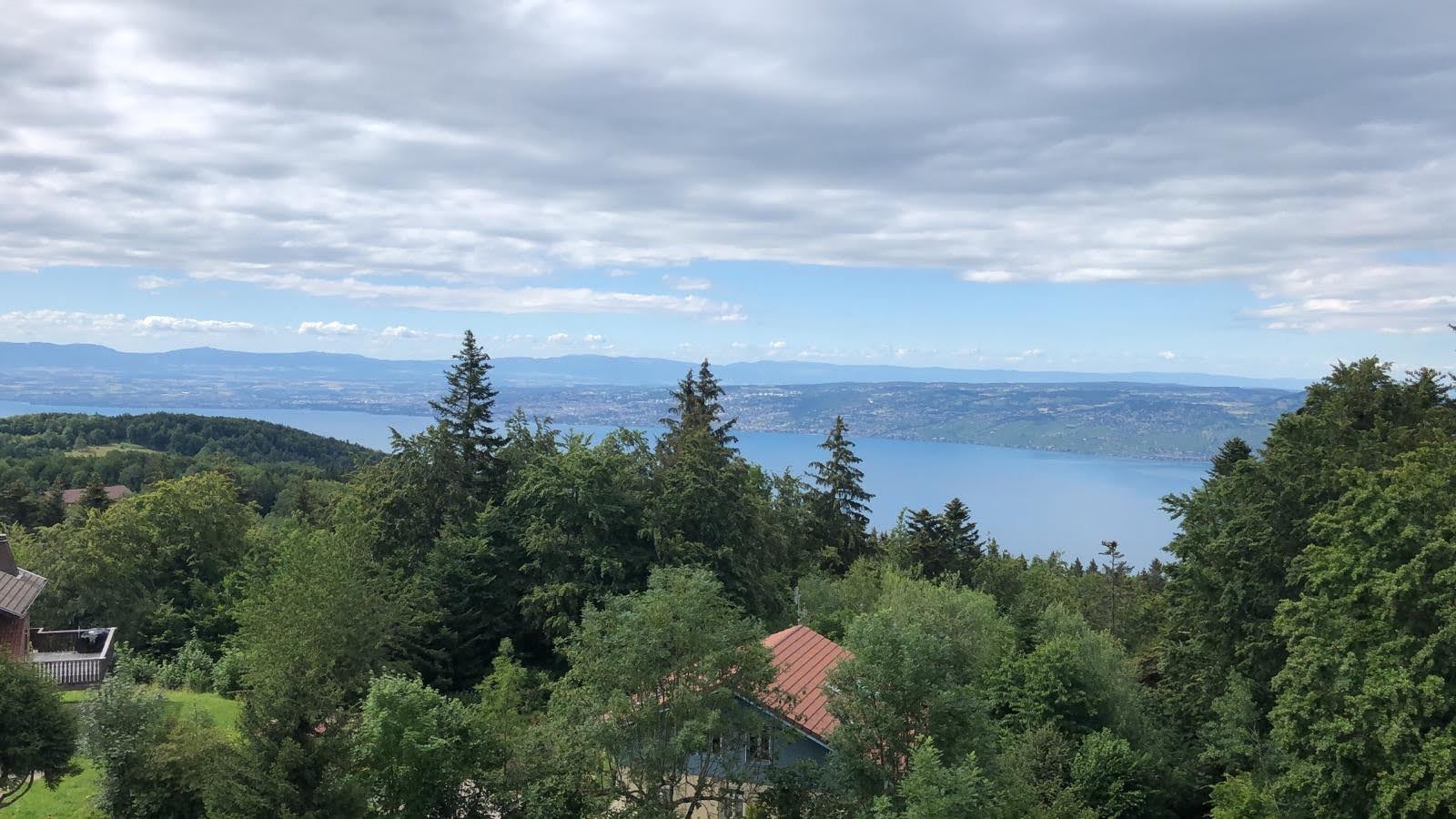 Some say there's no such thing as bad weather, just the wrong clothes, but you can definitely have too much of a good thing. The iconic Ms Lumley had it right when Patsy said water should only ever be used as a mixer. A lot of people here at the moment would agree with her. Even the marmots are wearing arm-bands. The level of the lake has risen by over one and a half metres due to all the rain. They've opened all the sluice gates around the lake but the level is not dropping. There are serious concerns about flooding, particularly in Geneva.
Arnaud, talented chef and owner of the XV restaurant in the village, has continued supporting the local community through this challenging year. He's now generously built a raft outside the restaurant. Masquerading as a new extension to the restaurant terrace, it's ready to be launched when the water levels reach the diner's ankles.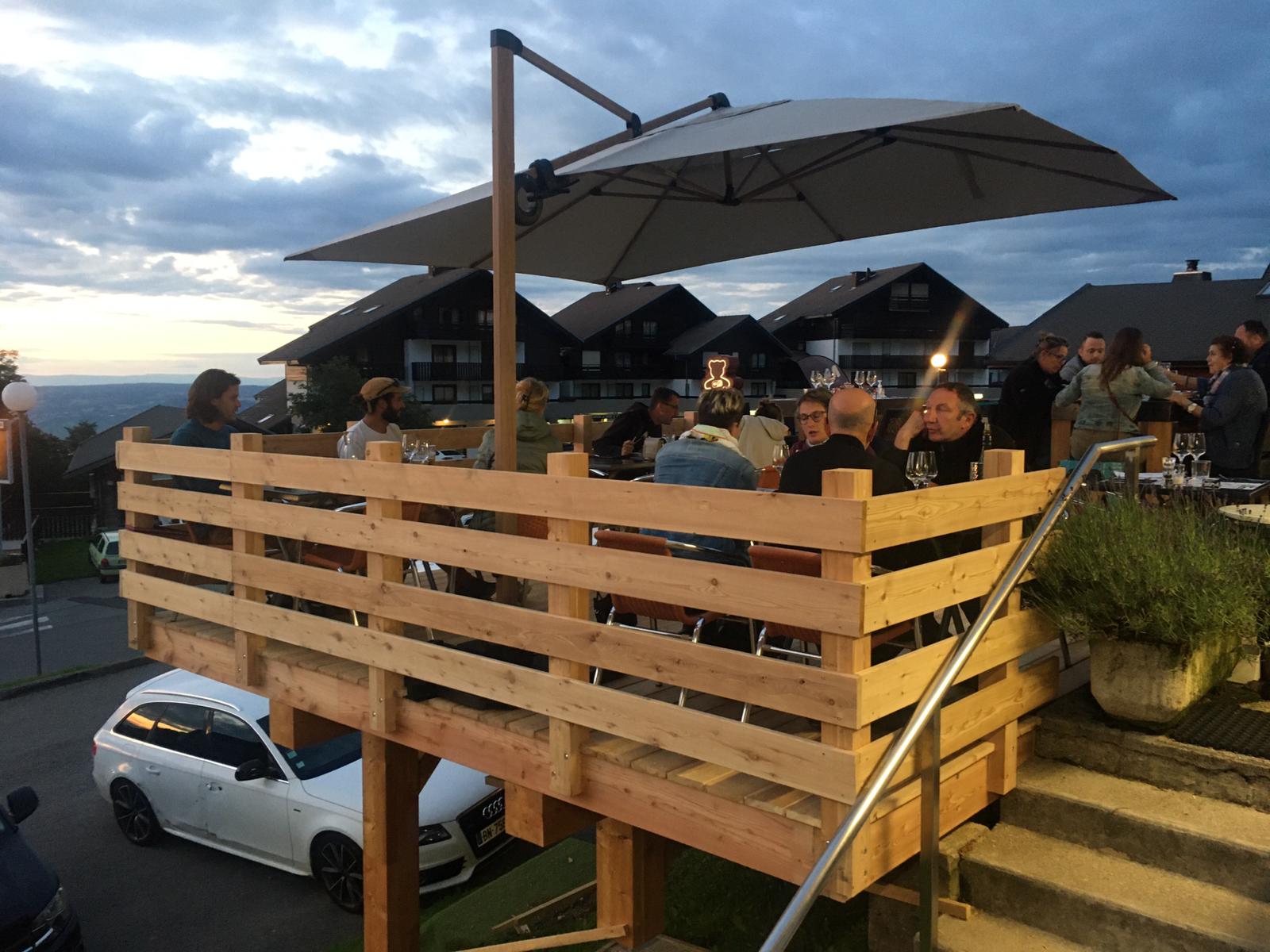 It's not all welly boots and puddle jumping though, there have been some glorious days. Enough to remind you why this is still the best place on earth. As soon as the sun appears, so do the visitors. The new restaurant at the top of the télécabine is proving a great success, acting as a magnet for the congenitally curious, the hungry and those who just want to sit and admire the spectacular views. At present only the large terrace is open but offers a great lunch menu.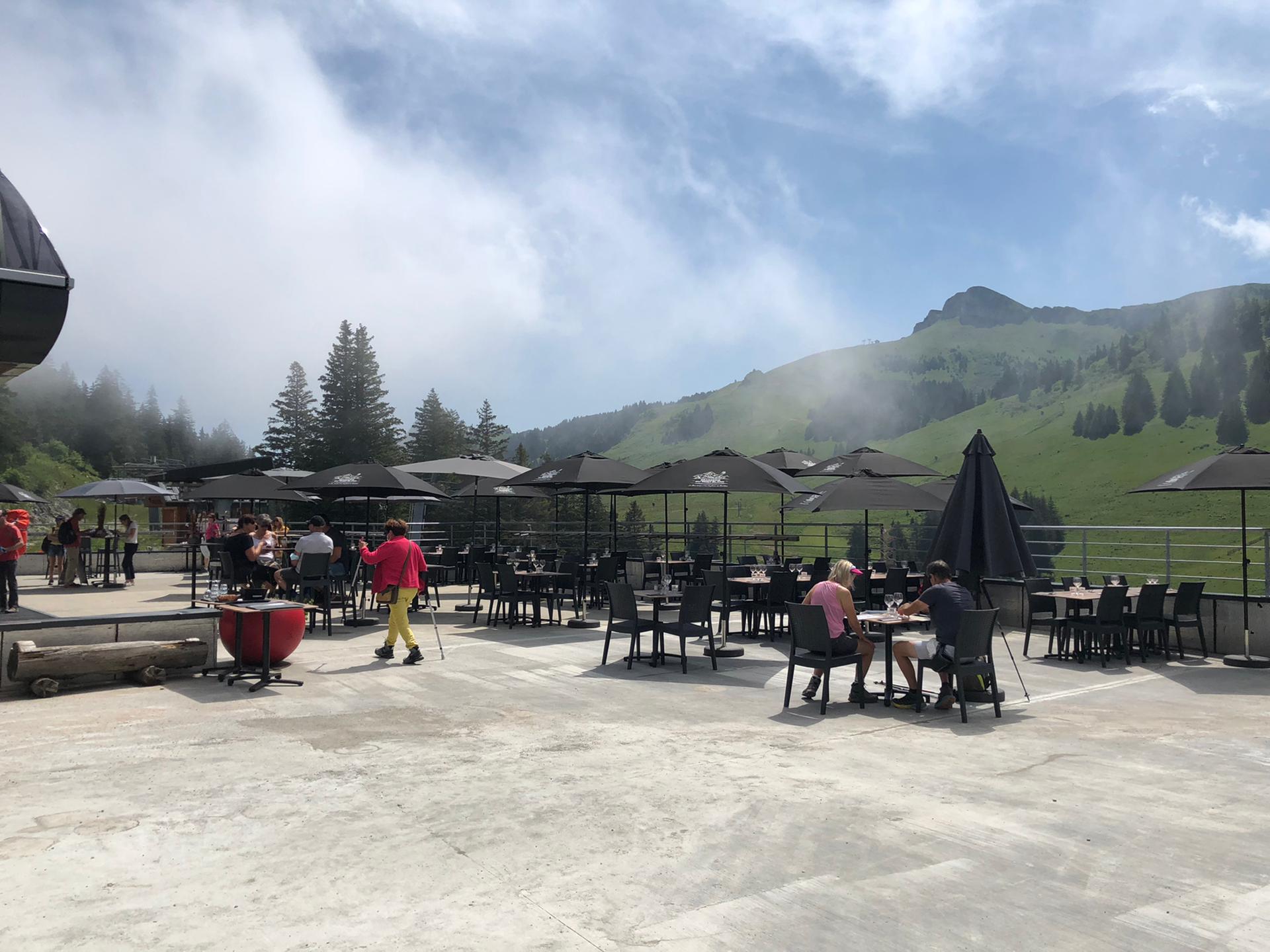 The interiors will be completed during the autumn and will definitely be ready for the start of the ski season.



So, for those of you swithering (my favourite Scottish word) about coming to Thollon in the summer, what will you find if and when you get here? Well, the weather should be improving for a start; from around the middle of next week we should see it warming up with more sunshine as we roll towards August.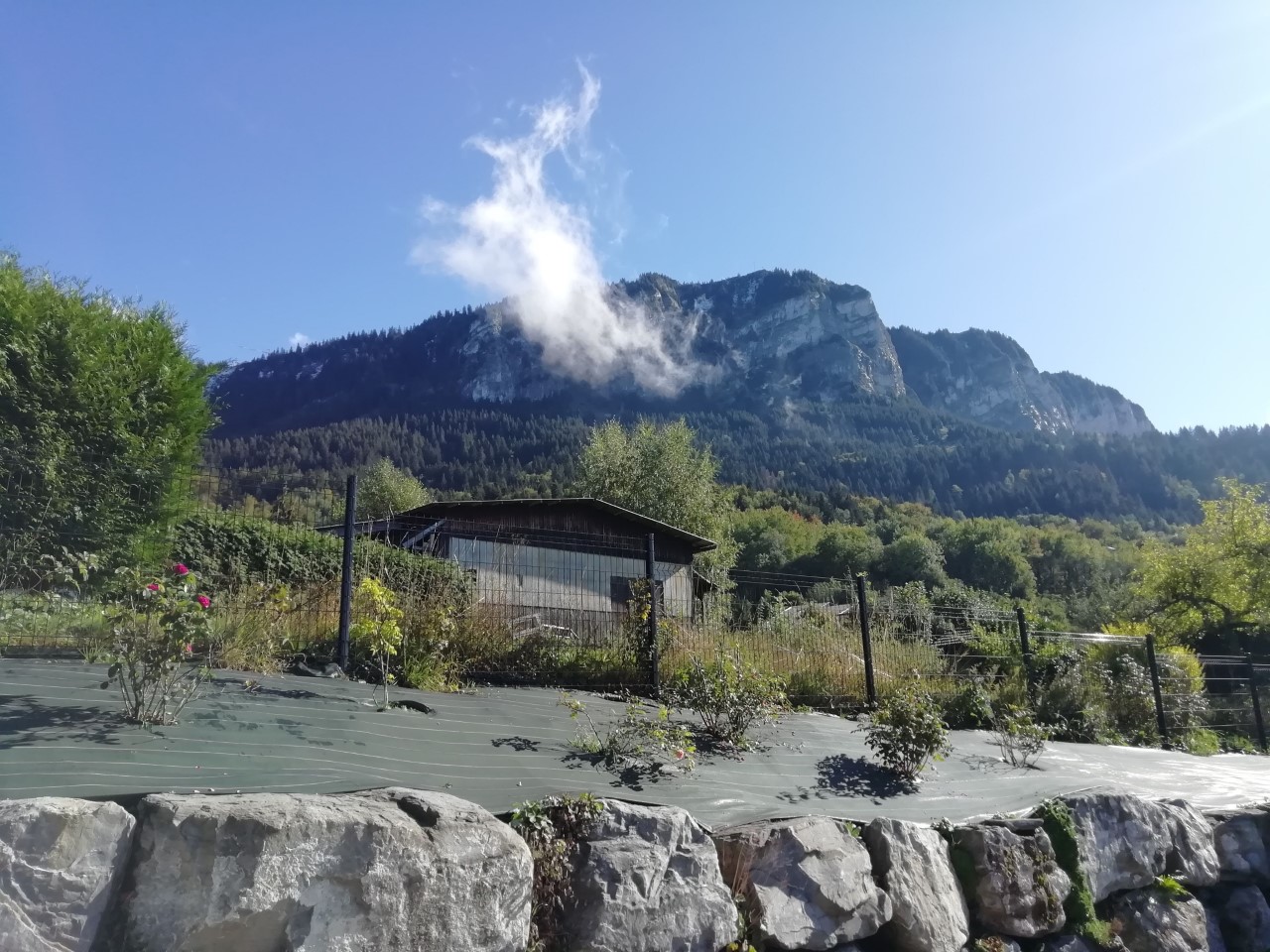 If you own a property here and haven't been able to visit for a while you might find that your grass is waist high and that your chalet has been enveloped in a swathe of luxuriant vegetation. There are new chalets down by the church and a new apartment block in the station nearing completion.
Sadly, the boulangerie has closed down, and if anyone has a secret desire to own a supermarket it's rumoured the Sherpa in the station is for sale. All of the restaurants and bars in Thollon are open. The Ourson is the venue on Sunday 25th July, for Thollon's resident rock band, The Four Busketeers. There are actually five of them but who's counting.
I would love to be able to tell you what the new restrictions in France to be introduced from the beginning of August entail but quite honestly, it's not that clear.
Apparently the EU Covid Digital Passport that displays your 2 vaccination certificates will be required in order to use any form of public transport (boats included) and to enter any public venue such as bars, restaurants, cinemas. I'm afraid I can't find any information on how that will work for non-EU visitors. Hopefully, there will be a reciprocal agreement concerning the NHS App in the near future.
So, there you have it, a very brief round-up of Thollon news. It will be great to see you when you finally make it here, whether it's your first visit or you've been coming here for years. Fingers crossed that August will make up for the sunshine we've missed so far and that COVID will take a back seat, at least for a few days or weeks, while you're here.
….and by the way….Happy Bastille Day xx
14th May 2021 May Be or May Be Not
Hey, there you are! It's been a while, but I've been waiting for hot news to tell you. We might not have tackled the virus here in France as well as other countries, but things are definitely improving. The vaccine rollout is continuing, despite 2 out of every 3 vaccine centres downing syringes for the long weekend of Ascension. Numbers of new infections are down to around 19,000 a day and continuing to fall. As you probably know, our café and restaurant terraces will be reopening on 19th May, albeit at only 50% capacity, but it's a start.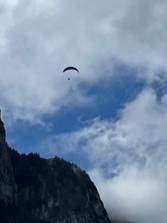 In Thollon the télécabine will be running from 19th May every Wednesday, Saturday and Sunday plus public holidays, which means we'll finally be able to check out the new restaurant, the Balcons du Lac. We did attempt to scale the north face of the Memises on foot earlier in the season, but lack of oxygen meant that we had to retire to basecamp for tea and a biscuit instead.
Other places in Thollon on the starting blocks are the XV where the stoical Arnaud will be offering a restricted menu, the St Nicholas who are opening their terrace and the Ourson who will be welcoming friends and customers back in mid-June. As if that's not enough good news, work appears to be underway to bring fibre optic to the station, bringing us into the 20th century if not yet the 21st.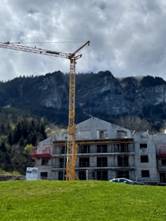 All sounds good doesn't it, but as we all know, there's always trouble in paradise. This year it's that old culprit the weather putting a real damper on things. Thollon is cold and wet. The rain/hail is pounding on the windows as I write this.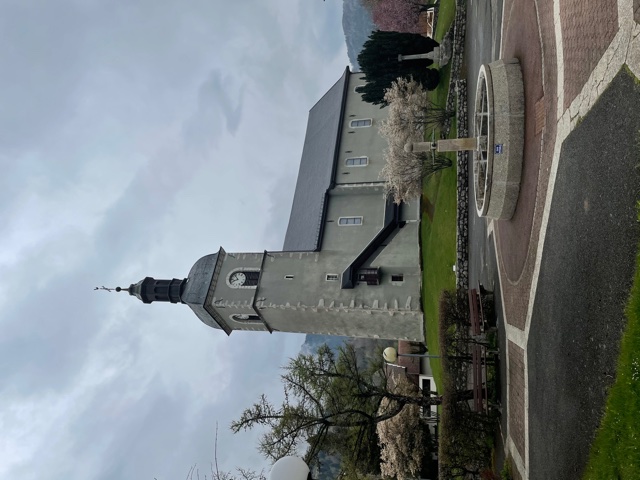 We've had a few days of intermittent sunshine but on the whole it's 'dreech' as my resident Scotsman would say. It's even too miserable to be down by the lake for any length of time. There are next to no boats out on the lake, it's just too cold, and the small white gondolas of the big wheel at the port circle empty and forlorn for most of the time.
When the sun does fleetingly appear however, it's glorious. The fields are carpeted with golden dandelions, the lake shimmers in the distance and the trees respond by growing another foot in front of our apartment overnight.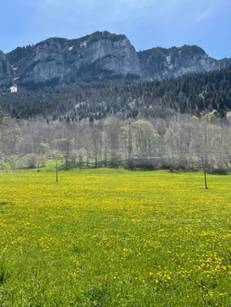 The weather in the whole of France has been pretty bad for the past few weeks, we're stuck in a cycle of rain, wind and above 1500 metres, snow. Yesterday it looked as if Noel Fielding had sprinkled the Memises and the zig-zag path with Bake Off icing sugar, pretty yes, but honestly we've had enough snow this year.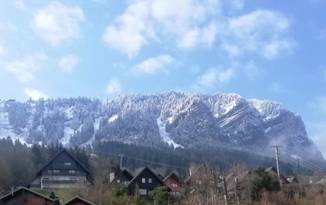 One solution is to travel. Yeh right I hear you say. But there are no restrictions on travel within France which, as I'm sure you know, is pretty big. However, if you cross the border, even for an afternoon you need to take a PCR test to come back into the country. Unless,you happen to be a permanent resident in France and live within 30 km of the border, which is brilliant news for us here in Thollon as we can cross from St Gingolph into Switzerland with proof of address. As all of the shops, museums, art galleries and café terraces are open in Switzerland it's a welcome break from the restrictions here.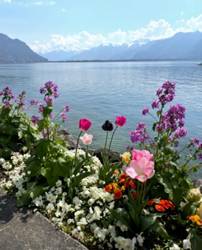 Will you make it here this summer? With the current requirements for PCR testing and quarantine on return for visitors from the UK, plus the spread of the Indian variant, it's still looking tricky at the moment. Thollon will no doubt welcome the increasing numbers of French visitors with open arms but there's no doubt about it, they miss that 'je ne sais quoi' that the English speakers contribute.
I've got everything crossed.
12 th April 2021
Déjà Vu
Sssshhhh…. can you hear it? That's the sound of tumbleweed blowing through a deserted Thollon. Apart from a smattering of permanent residents, there is no-one here. France has entered its latest month-long lockdown and we're now restricted to a 10km radius from home, or 30km for essential purposes with a permission slip.
Hohum
Mother Nature's such a tease! This time last year, she spoiled us with long hot sunny days, yes, even in April. The numbers dropped and café terraces and non-essential shops reopened. People even arrived on holiday. For a tantalising moment we thought it might all soon be over. Out came the BBQ and the inflatable pineapple, trips to the South of France were planned and a flood of activities appeared on the horizon.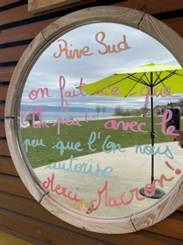 Then, as if waking from a long slumber, she seemed to suddenly remember where she was. 'Too much activity', too many cars, too many fumes, too much pollution! I like when you all stay home!' The skies cleared, the hedgerows blossomed, wildlife reclaimed the pathways and gardens, and silence descended.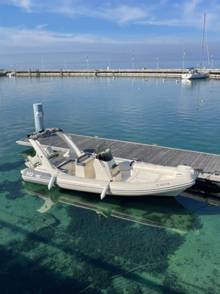 It really is that clear.
Now I'm all for being environmentally friendly, but quite frankly Mother Nature, enough is enough. I think we've shown you how resilient we are, how adaptable we can be, and how creative too. Think of all those people who thought zoom was a short focus lens before this.
We've mastered the art of stockpiling, learnt how to cram 360 toilet rolls into the bathroom cabinet and we now know how many bottles of wine we can carry home from the supermarket without using public transport. Some have also had to learn the really hard lessons of how to live with long term health issues and how to come to terms with devastating loss.
So, yes, we've got the badge and it's time to move on, Mother Nature! Time to think of some new game to play with us, just to keep us on our toes.
With the accelerated vaccine rollout in France perhaps this really is the moment that it turns a corner. For once, I want to see the sky criss-crossed with con trails, smell the fumes of the gas guzzling cars as they charge up the hill, full of white knuckled passengers. I'd even be happy with the revellers pouring out of the village bars at 4am and singing all the way home.
So, fingers crossed, let's hope that this time the end really is in sight, and I promise, I will never complain about the karaoke in Corinne's again😉
On a happy note, I have to give you the results of last month's quick Thollon quiz. Thanks to everyone who took the time to send me their answers.
Only one person had all the answers correct, and that's Jane Wilkinson. Well done! I'll be in touch this week to check where to send your breath-takingly fabulous prize.
1. Leman Express
2. Reblochon
3. Lausanne
4. Mistletoe
5. Between 760 and 880 (depending on your source)
6. PieretteColtice
7. The Savoie
8. Les Gets
9. Balcons du Lac
10. Coligny
11. Maxilly
12. 2221 metres
13. Meillerie
14. Geneva, Valais and Vaud
15. Amphion
16. Menton
17. 1816
18. Lavaux
19. Regis Bened
20. 310 metres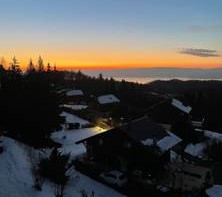 My favourite balcony view.
8th March 2021
WIN a little piece of Thollon in our great THOLLON QUIZ!
Happy Anniversary! It's one year since we came to Thollon for a week's holiday and one year since we decided not to go home again. That wasn't the plan of course. The 'Great Escape' had been toyed with for a while, but could we get away with it? Mr B is a meticulous planner, Mrs B is totally irresponsible, spontaneous, and immature…. apparently. Hear that noise? That's Mr B banging his head off the kitchen table in exasperation😊
A year of change
Anyway, here we are, still. We've watched the seasons folding into one another and the ebb and flow of visitors to Thollon. We've seen the continued growth of the village, a rise in property prices and innovations such as the panoramic restaurant and the popular toboggan slope. We haven't seen friends or relatives, and that's tough, as it is for everyone.
If you're waiting for news of the opening of the new restaurant, the snack bar should be fully open at end of June and the main restaurant possibly by the end of August.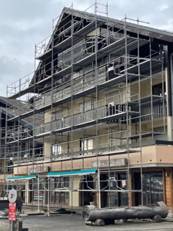 Repainting work in the village
There's no doubt that the village has struggled over the past year. Tourist numbers have more than halved, bars such as the Ourson, the Choumas and the St Nicolas have remained closed almost all year.
Covid has appeared and tapped some on the shoulder, but it prefers the urban landscape.
For those of you who, like me, always wondered 'what on earth would you do all day?' I can reassure you that even in this COVID year, there's plenty to occupy you. Life is definitely simpler, and dare I say it, cheaper. Being able to step outside your door and into this wonderland is well worth sacrificing a wardrobe of clothes and an M&S Dine in for Two for.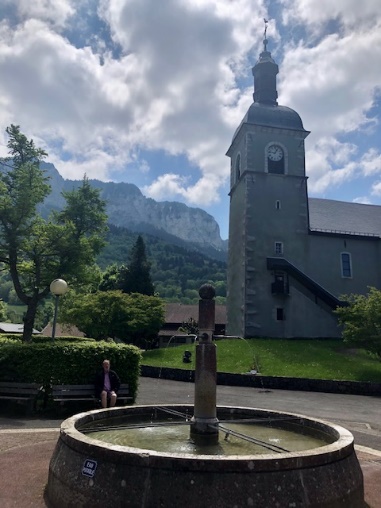 Chasing clouds
THANK YOU
To say a big THANK YOU for checking into John's terrific Thollon website over the past year, I'm sending a stylish Thollon T-shirt to 2 lucky people, from the little Thollon post office.
All you have to do is answer the following questions about Thollon, e-mail me the answers at This email address is being protected from spambots. You need JavaScript enabled to view it. and a little bit of Thollon can be yours.You don't need to have been to Thollon in order to win, most of the answers can be found on the Thollon.org website. In the event of a tie, the names of the 2 winners will be drawn from a hand knitted bobble hat. Closing date will be 10th April 2021.
The Great Thollon Quiz
1. What is the name of the train service linking Evian with Geneva?

2. Which cheese is usually used in the making of Tartiflette?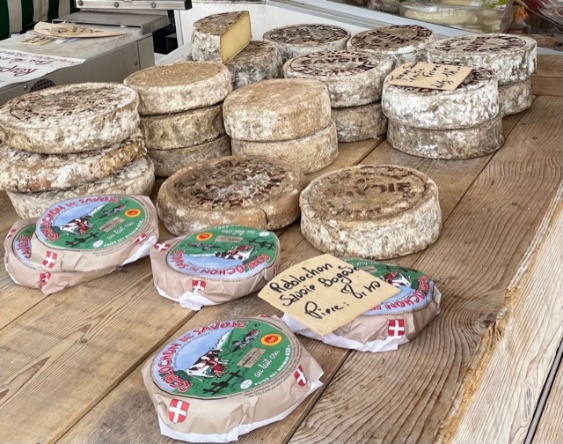 3. What is the name of the city due north of Evian on the opposite shore of the lake?
4. The berries of which plant commonly found in France, were called 'oak sperm' by the ancient Greeks?

5. Approximately how many permanent residents are there in Thollon?

6. Who was the schoolteacher who wrote a published journal about her life in Thollon in the 1930's?

7. What is the name of the historic, butterfly-sailed vessel which offers trips from Evian ferry port?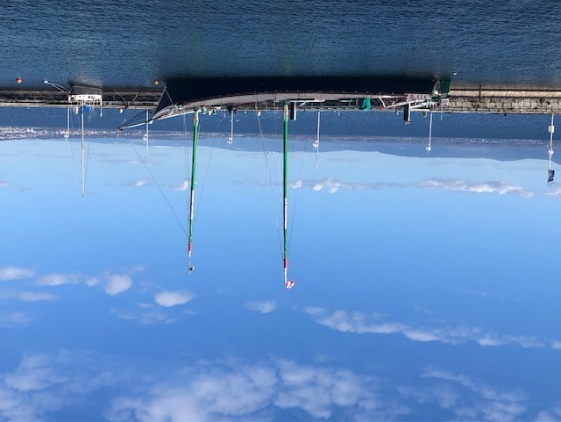 8. Where in the Haute Savoie is the Museum of Mechanical Music?
9. What is the name of the new restaurant at the gondola top station in Thollon?
10. In which suburb of Geneva would you find the world-famous book collection of the Martin Bodmer Foundation?
11. Where is the 'Bois du Bal' where William Beckford organised his extravagant parties?
12. What height is the Dent d'Oche?
13. Where is the Pierre de Rousseau?
14. Alongside the French department of Haute Savoie, which 3 Swiss cantons border Lake Geneva?


15. Where was the F. Celle boatyard in which the France-Excelsior speedboat was built to challenge for the Harmsworth Cup in the 1920's?
16. Which town is at the southern end of the Route des Grandes Alpes?
17. In which year did Lord Byron visit Meillerie?
18. What is the name of the UNESCO World Heritage wine-producing region on the north side of Lake Geneva?
19. Who is the current Mayor of Thollon?
20. Approximately how deep is Lake Geneva at its deepest point?
Answers will be published soon after the 12th April 2021....depending on how busy the Edit is!
Good luck and thanks for participating.
..........................................................................................................................................................................
Thollon's New Normal (mid-February 2021)
You can tell that Springs just around the corner. Not by the receding snowline or the swathes of green grass, but by the cacophony of bird song in the early mornings. One minute you're debating whether to hit the snooze button on the alarm, the next you're in the middle of the chorus line from South Pacific.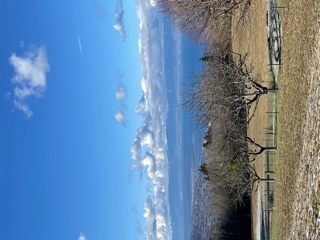 @talesfromthebalcony
Could it be time to cast off the thermals? I can't believe I'm even thinking about digging out the shorts again…in February.
The great weather in Thollon this week has brought flocks of Parisian families with it. Not as many as you'd normally see at this time of year but enough to brighten up the village.
On the Slopes
The small toboggan slope next to the gondola has been the centre of this week's activity. Snow canon have ensured there's plenty of snow for battalions of knee-high tobogganists hurtling erratically down the slope. Groups of anxious parents sit in clusters at the bottom waiting to buffer their offspring before they hit the carpark.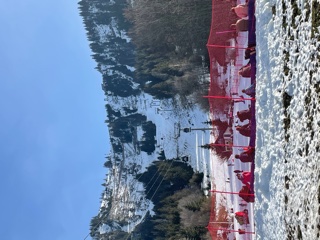 @talesfromthebalcony
The new outdoor refreshment hut has provided a sizeable target for the sledgers and the odd skier as well. Frazzled fathers trying to enjoy a refreshing beer in the sunshine scatter like ninepins, clutching crepes and plastic glasses, as gangs of children career past.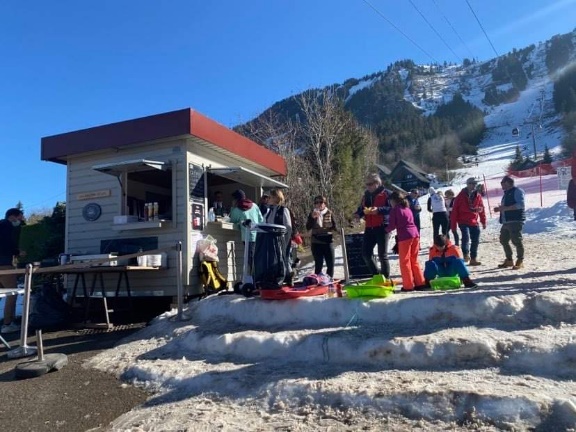 @talesfromthebalcony
Thollon Time
Although it's far from perfect, Thollon has worked hard to provide winter activities and entertainment for holidaymakers this season.
Apart from offering reductions of up to 50% on accommodation this month, there have been popular snow shoeing excursions, mountain biking, pony riding, outdoor yoga, and renditions of 'I zzhould be zzo lucky' in front of the tourist office.
It's been great to have a touch of the old holiday atmosphere back, even if it's only for a week or two.
There's no doubt that Thollon is becoming more and more popular.
The New Restaurant
When the spectacular new restaurant, les Balcons du Lac, is finished, with its panoramic views of the lake, the resort will be firmly on the travel industry's radar.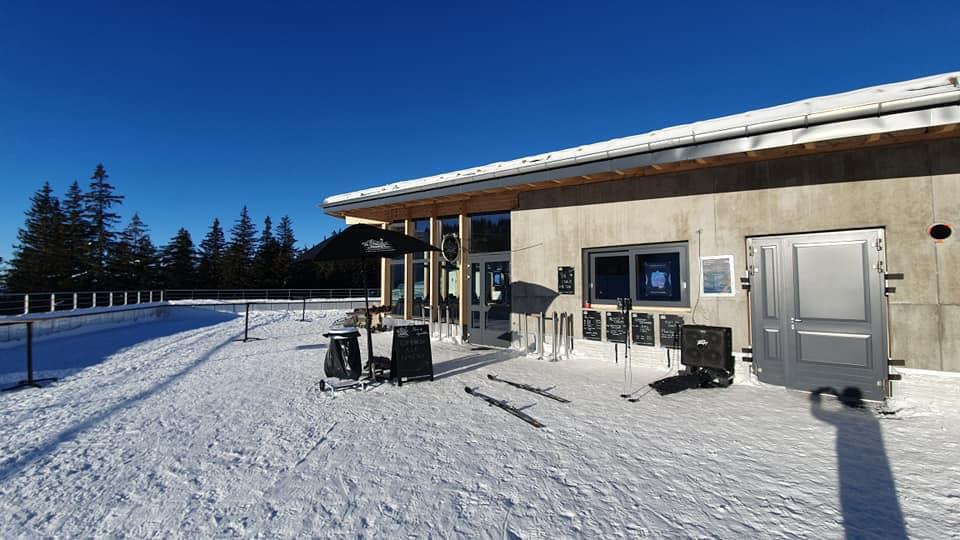 Photo by Joe Brady @Basecamp
The foreign travel restrictions of the past year have led many French to holiday here for the first time, and what's more, they're buying. They're snapping up every apartment and chalet that comes on the market.
Thollon is being discovered by a wider audience.
Thanks to TV stations like TF1 highlighting it as one of the cheapest places in France to ski,and its new and better train links to Switzerland.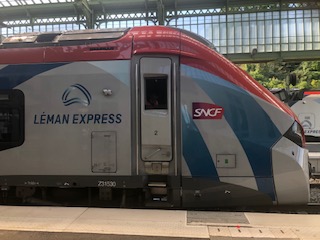 @talesfromthebalcony
With the arrival of the Leman Express, a direct train from Geneva to Evian and talks of reviving the rail link between Evian, St Gingolph, and the Swiss towns east of the lake, Thollon is fast becoming within range of Swiss commuters. The deep pockets of the Swiss have, however, contributed to a rise in property prices, not always popular with the locals despite the extra money it brings in
Hey ho here we go! Mr B has just turned up in bonnet and muffler ready to hit the slopes. He says it's for tobogganing……. but I have my doubts. More likely target practice at the outdoor bar.
Anyone got a plaster?
.............................................................................................................................................................
Lindsay now has her own website where she will be writing a more personal account of tales from the balcony
Love à la française For the 14th February 2021
Love…..the French really have it taped. From the very opening line of 'enchanté' to the heady scents of the world's most famous perfumes, romantic love has shaped a culture and become synonymous with France
.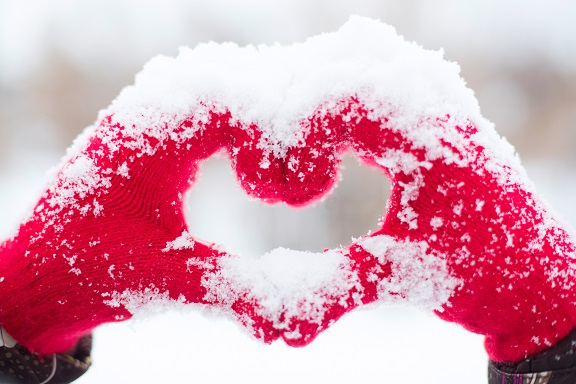 Can you remember when your love affair with France began? What about your love affair with Thollon? Can you remember when you first thought, 'there's nowhere else I want to be', even if only for a few weeks, or just a long weekend?
Chansons d'Amour (Manhattan Transfer)
As it's Valentine's day, and French is the language of love, I thought it would be fun to explore some of the most famous romantic French songs I could think of. Mais oui, chéri.
If you click on the links you can hear them for yourself.Who knows, you might even be transported from your kitchen table to your favourite Frenchbistro, with a good bottle of wine and your closest friends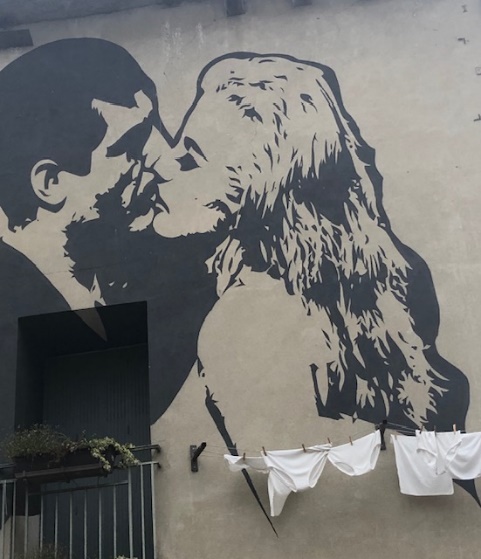 Love is blind – Instagram @talesfromthebalcony
'Tous les garçons et les filles'(Françoise Hardy)
My own love affair with France started onthe day the French mam'selle wafted into our classroom for the first time, borne on a raft ofeau de cologne and menthol cigarettes. She had dark glossy hair, wore a little black dress with a crisp white collar and, shock horror, had painted fingernails.(I went to a strict girl's school in those days😉). To us 12-year-old nyaffs she was the epitome of sophistication. She would sashay down the school corridors each day, brushing off the posse of male teachers who hung on her every move.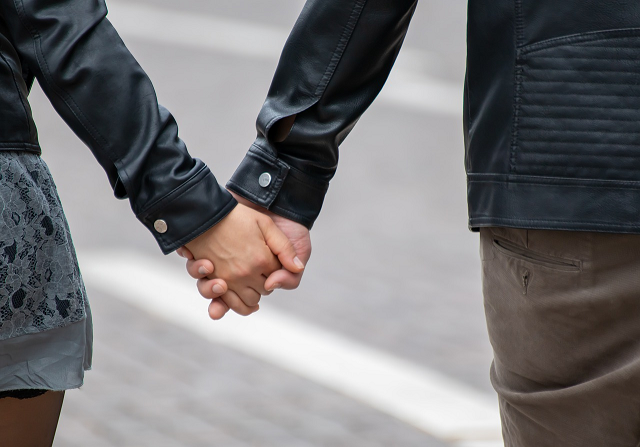 Photo by Birgl in Pixabay
None of us ever had a clue what she was saying.One day she gave up and brought in a record, yes a vinyl disc, and played usFrançoiseHardy's 'Tous les garçons et les filles'. We were transfixed. So romantic! So bohemian! So very, very French.
Celia, who sat next to me, even turned up in a beret the following week.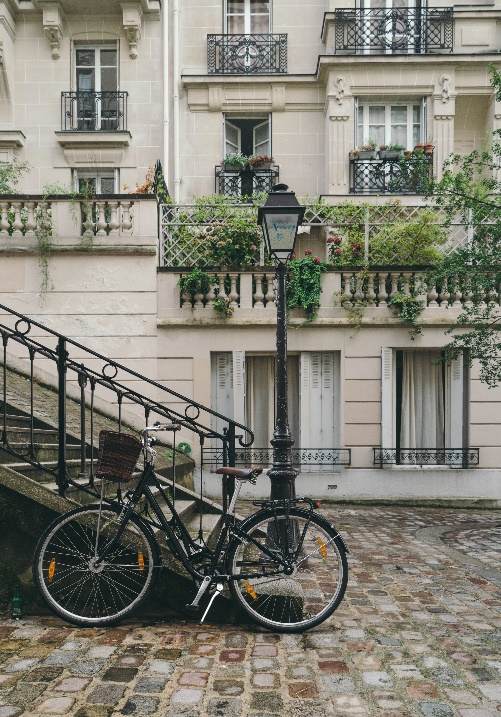 Photo by John Towner on Unsplash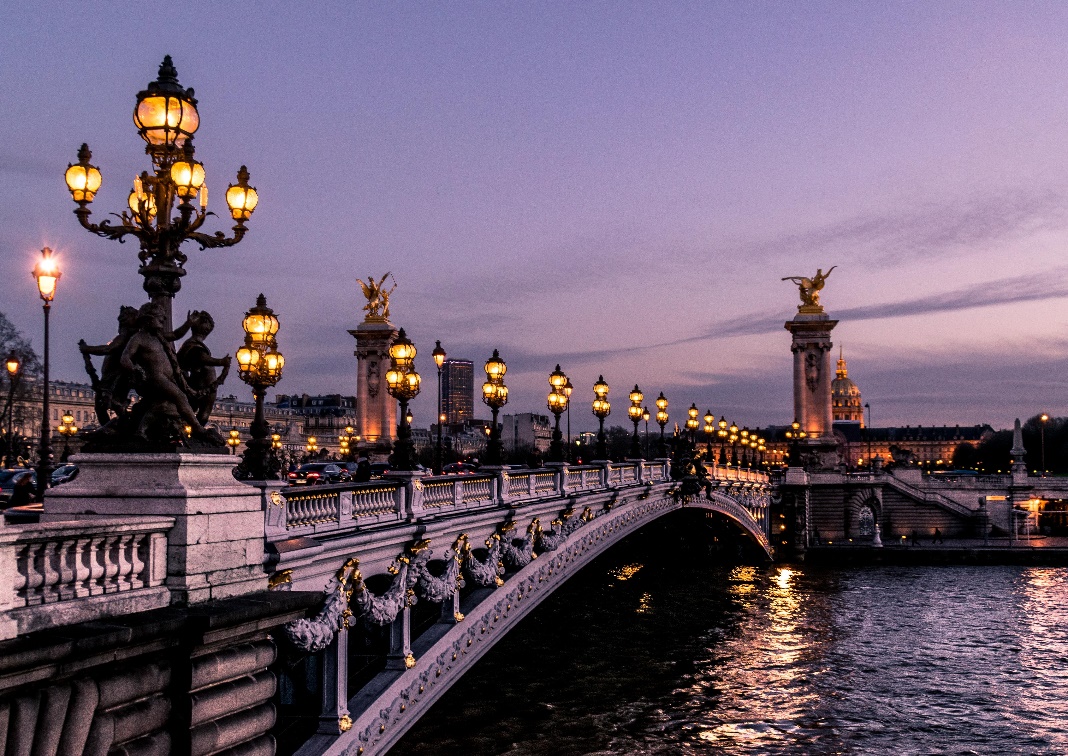 Photo by LeanardCotte on Unsplash
My next brush with the sheer romance of France was on a school exchange in Paris a couple of years later. We arrived on a wet and windy eveningand,as we dragged our suitcases along the soaking pavements, an accordionist, sitting in a doorway, was playing the iconic song 'Sous Le Ciel de Paris'. It was like being in a Jack Vettriano painting.
There are many versions of this around, but my current favourite is the one in the link aboveby Zaz. Watch the YouTube video, which comes with subtitles, to get a flavour of Paris for yourself.
How about an amazing version of 'La Vie en Rose'?
Of course, no one sums up that French romantic ambience better than the sparrow 'Edith Piaf'.While I love Edith Piaf, I thought we'd have a different version today, even if it's only for the divine pink dress.
Here's the wild and eccentric Grace Jones, who could slice avocados with those cheek bones.
Our very own Thollon sparrow?
You can't beat a good ballad and many a good ballad has been beaten to death in Thollon. I'm thinking in particular of those infamous karaoke nights in the Ourson back in the day when socialising was permitted.
The titanic Dominic Grunwell's (Ed. Don't you mean 'Titan'?) rendition of 'Mon Amour' by BZN is unforgettable.It has to be up there with the most romantic songs ever attempted in Thollon. Loved by his legion of fans, both French and English, this is without a doubt my favourite and always has the crowd on their feet roaring for more.
Now it's your turn
So, if you're looking to recreate that romantic French ambience at home this year, why not learn a few lines of a French love song, splash on the eau de cologne and plan how you're going to celebrate next Valentine's Day when all this is over.
Remember……
"Quand on n'a pas ce que l'on aime, il faut aimer ce que l'on a"
..................................................................................................................................................................................................
Water Water everywhere....Jan/Feb 2021
everywhere in Thollon, even more so than usual. Here in the village, we've gone from over a metre of snow at the start of the week to swathes of green grass and muddy fields.
Mr B is far too careful with his money to invest in anything as practical as a snow blower, so on Monday I was handed an industrial sized shovel and a snow scoop and sent out into the blizzard to dig the car out.
'Why me'? I hear you say, well that was my question too. 'I've got a leaky shoe, and my back's not been the same since I took the fairy lights down'. Shame, yes I know,I argued to keep them up too, but apparently it's a cost issue. I think it's a genetic thing.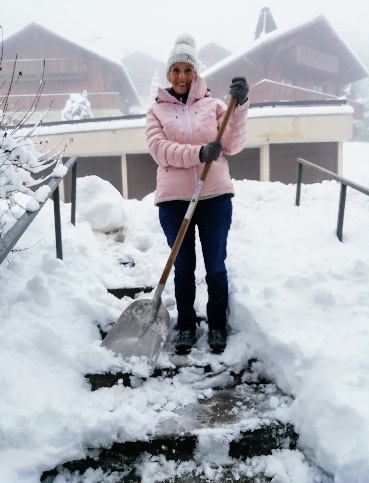 The Big Thaw
Anyway, it's true, we're submerged in water this week. Not only have we had torrential rain, but we have all that melting snow too. Water's cascading from the chalet roofs and coursing down the roads.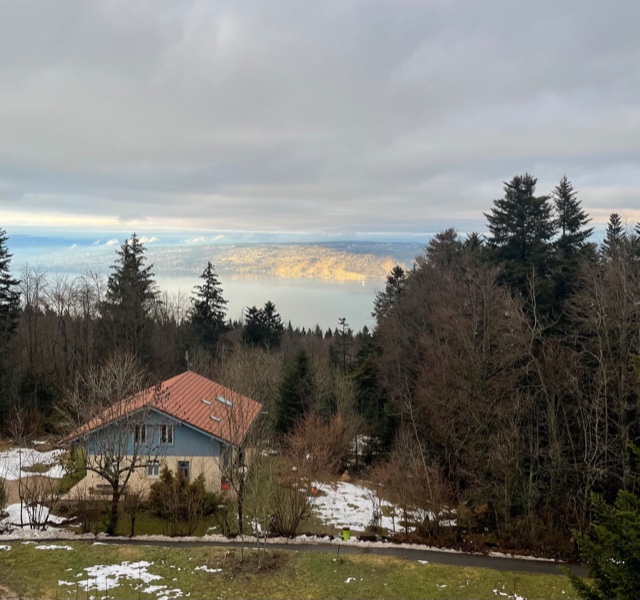 The sun always shines in Lausanne
The rise in temperature (it's now a near Scottish tropical here at 4 degrees) has brought the cloud with it, and the lake has disappeared into a soft oyster coloured mist that soaks through your clothes if you venture out.
Now I don't mind the rain, as long as you're wearing the right clothes, and it's well worth going out even if it's wet. Walking towards Lajoux, we take the right-hand fork in the woodside track and head up towards the waterfall that races down from close to the chairlift at La Frasse. Do you know it?
A Forest Walk
It's a beautiful walk at any time of year (in the hunting season you need to keep your wits about you, avoid the area if hunting signs are up or if you see randomly parked cars).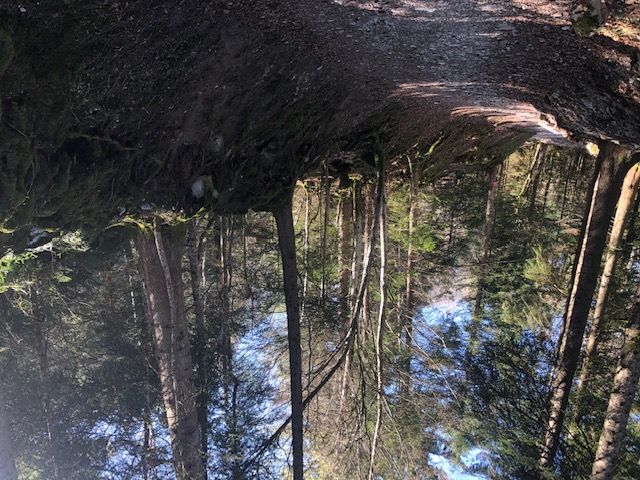 Heading up through the pine scented forests you come to a flat clearing from where, on a clear day, you can see the tiny village of Locum hundreds of metres below you.
I'm an avid collector of random stuff and am always filling my pockets with interesting stones. I love running my fingers through the soft velvety moss that cling to the rocks lining the route and balancing on fallen tree trunks. It's worth it just to see that long suffering look on Mr B's face.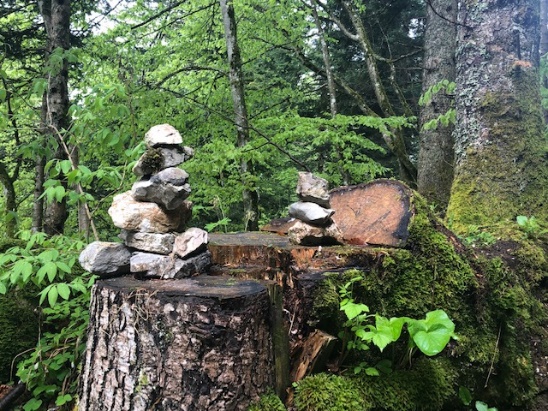 The Power of Nature
You hear the waterfall long before you see it. The sound of the water pounding down the mountainside reminding you of the force and the power of nature. In the summer it forms inviting pools by the side of the track, encouraging you to use the rocks as stepping stones to further adventures. In the winter, it's a raging torrent, its turbulent waters sweeping branches, rocks, and trees over the edge of the path before plunging into a dark abyss as it journeys towards Lake Geneva.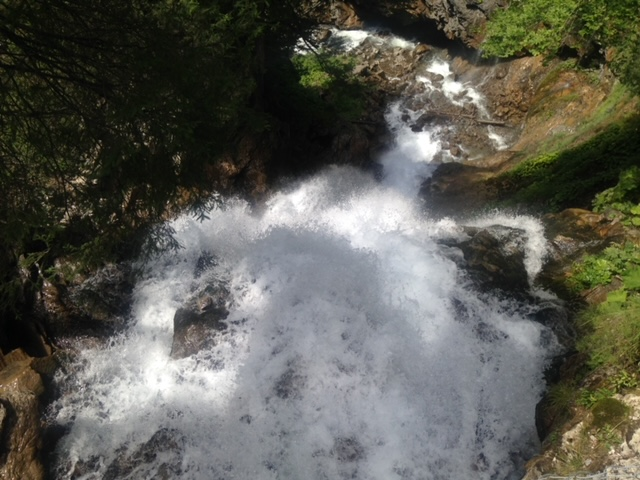 The Haute Savoie is full of spectacular waterfalls, what makes this one special is it's our 'Thollon' waterfall, right on our doorstep, well thankfully not right on the doorstep, but you know what I mean.
Just Breathe
Whoever sprayed this plea on the bridge in Lyons, when we visited last summer, could certainly have done with a day in the mountains. In these long cold days of limited freedom, it's good to stop doom scrolling for a while, step out into the bracing air and just breathe.
Nature is, after all, the best therapy.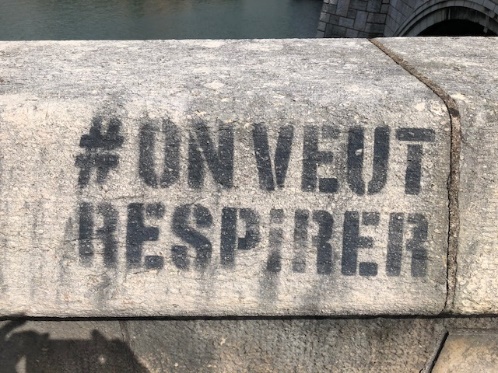 ...............................................................................................................................................................................................
Who Knows? January 2021
Day 346 in semi-confinement. Actually 346 days, 7 hours, 43 minutes…..you get the picture. What's there to complain about? In comparison to most people, absolutely nothing. Thollon is as beautiful as ever.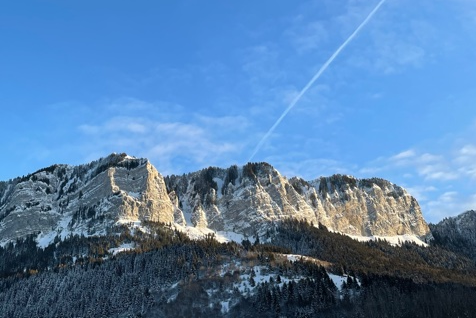 Is it a bird, is it a plane?
The overnight storm, complete with thunder and lightning, washed away a lot of the already thawing snow, but it'll be back. There's a scattering of visitors each day, mainly heading off walking or snow shoeing. A few have skis with them, but with the ski lifts remaining closed in February the slopes are no longer being pisted, so skiing must be difficult.
What we all want to know is ……when can we travel again?
Covid numbers in France are already rising, but of course we're waiting to see if the new UK variant takes off here too. 14 British students in Chamonix have just tested positive so it's a bit close to home.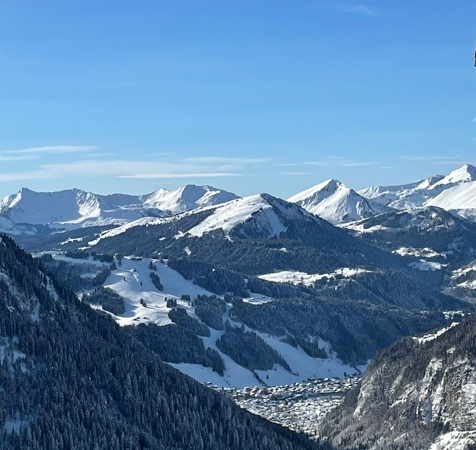 On top of the world
The vaccine rollout in France got off to a slow start but is picking up speed now. The biggest hurdle at present is people's unwillingness to be vaccinated here, but that may well change. (Currently the Pfizer and Moderna vaccines are being used as the Astra Zeneca one has not yet been approved by the European Medicines Agency).
Where can we travel in France? At the moment, we're not back in full lockdown. We have a curfew of 6pm but all shops are open, including hairdressers. Bars and restaurants are still closed but there's a grassroots campaign to reopen on February 1st (not going to happen as the fines are horrendous).
There are restrictions at the borders and you're likely to be asked if your journey is essential, but within France and certainly within your own department there are no restrictions. Which at first you think is great! Until you realise that there's nowhere to stay as there are few hotels open, unless you can prove your stay is for business travel or family illness etc.
So, what about a day trip……well yes, but there are no bars or restaurants open which limits your opportunities for a pee somewhat.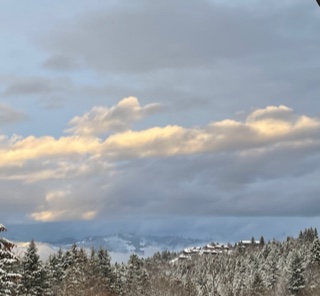 Instagram @talesfromthebalcony
Of course, you know the drill by now, this could all change again overnight!
There's talk of a 3rd lockdown in France with even stricter travel restrictions. The government have extended their emergency powers until June, with an option to roll them on to October. This doesn't mean that bars will stay closed or that the 6pm curfew will remain in place but who knows.
And that's the answer to the question…. when can we travel again? Who knows!
In the meantime, you can dig out that 1000-piece jigsaw puzzle Aunty Joan bought you last Xmas or watch some great French TV .If you want to swot up on your language skills before you come back. I highly recommend 'Lupin' that everyone's talking about at the moment. Also, worth watching are 'Call My Agent' (Dix Pour Cent) which has just about every famous French actor in it, and if you haven't seen it…. the delightful, take your brain out,'Emily in Paris'.
Or…you could join me in breaking open the escape game my Aunty Joan bought me for Xmas 2019. She obviously knew something the rest of us didn't…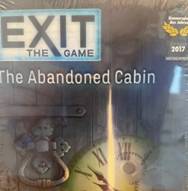 .........................................................................................................................................................................................................
The Kindness of Strangers January 2021
'My sincere condolences to everyone living in Britain, you are going through so much at the moment, things are really bad in your country', said the middle-aged Frenchman who approached me out of the blue in the supermarket car park last week.
I'd seen him looking with interest at the car number plate, (lately replaced by a French one), and was bracing myself for a comment on the British running away from Verbier. I was touched by his concern over the rapid spread of this virus and thought I'd pass on his kind wishes to you here.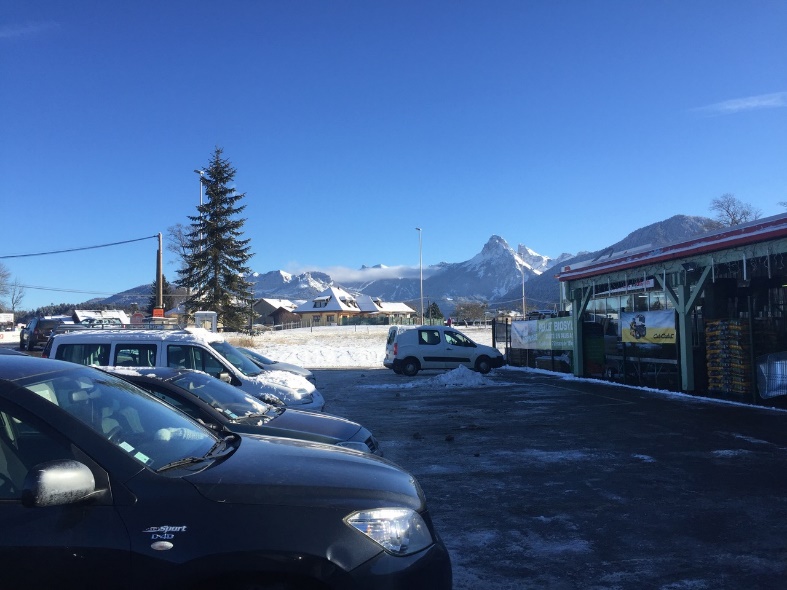 Drive-In Beauty
As supermarket car parks go, there can't be many better than the SuperU at Vinzier.
A 5-minute drive from Thollon, the trip to the supermarket takes you down narrow twisty country lanes, through a ramshackle hamlet or two, and offers tantalising glimpses of the lake.
If Michelin gave stars for car parks, (which being a tyre company you would think they would), this would be a 3-star! 'Meh, it's always chaos… in that charming French way' I hear you say. Yes, but, while you're waiting to squeeze into that tiny space left by the local farmer on a 1930's Massey Ferguson, you can sit back and admire the view.
And what a view!
Rising to 2,221 m behind the car park sits the Dent d'Oche. Towering over the village of Bernex, this is what a real mountain should look like. Its craggy peak, often draped in snow, calls to intrepid hikers who scramble up its sides in the summer, desperate to 'beat the clock'. Its lower slopes play host to battalions of skiers in the winter and more recently, to dare-devil mountain bikers.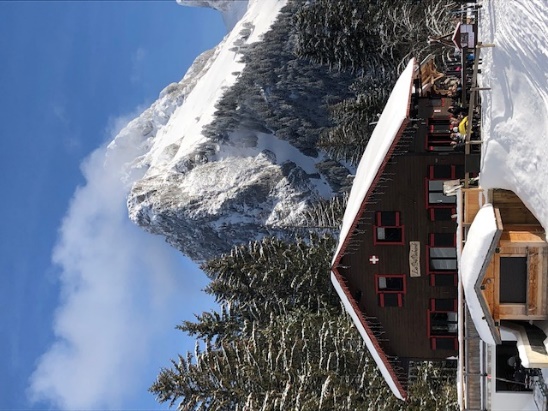 The Dent d'Oche
Back in Thollon we're still enjoying the most snow we've seen here for years. It's frustrating for everyone that the lifts are still closed but perhaps understandable when you look at the high infection numbers in France too. We're getting plenty of exercise though…. digging the car out of the car park each time the snow plough goes past, blocking it in withheaps of snow.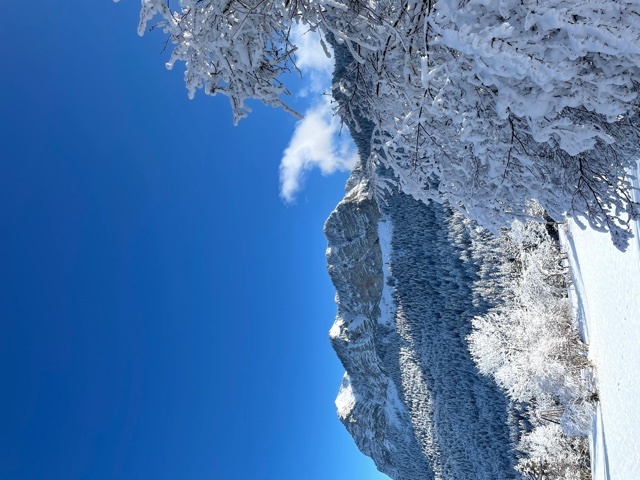 The Memises
The Upside
We're also counting our blessings. At the moment, apart from the 8pm curfew, we can at least leave the house and head out on foot into this idyllic winter landscape.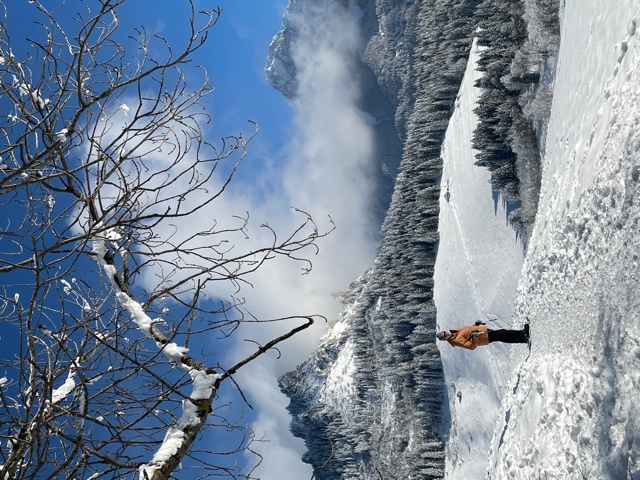 The snow sparkles like a field of diamonds and forms banks of crystals that would give geologists palpitations.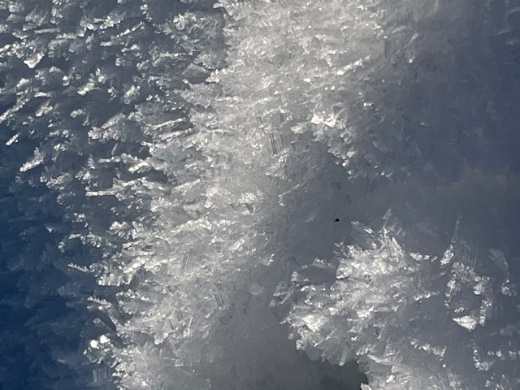 In the distance the church bell is ringing and at weekends the village slopes are covered with a patchwork of children tobogganing, and adults on snowshoes desperate to be 'on the piste'. At times we feel like we're living in a Christmas card.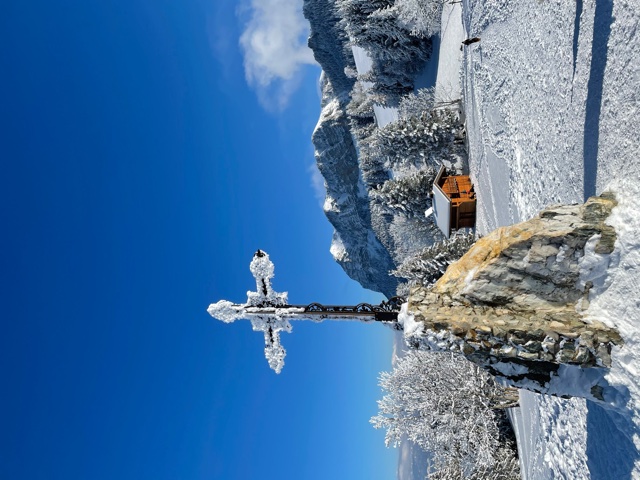 The Memises from Mont Benand
The Downside
On the other hand, we miss our families. It is really, really cold here, and although they are slowly rolling out the vaccine in France, we wait with trepidation to see if the new variant of COVID will reach us in Thollon.
Looking for a nice quote to finish with, I found this one from Theodore Roosevelt, one of the better American Presidents:
"Do what you can, with what you have, where you are" … which I think just about sums it up.
.............................................................................................................................................................................
A Beginner's guide to Snow Shoeing - this year's big winter trend! January 2021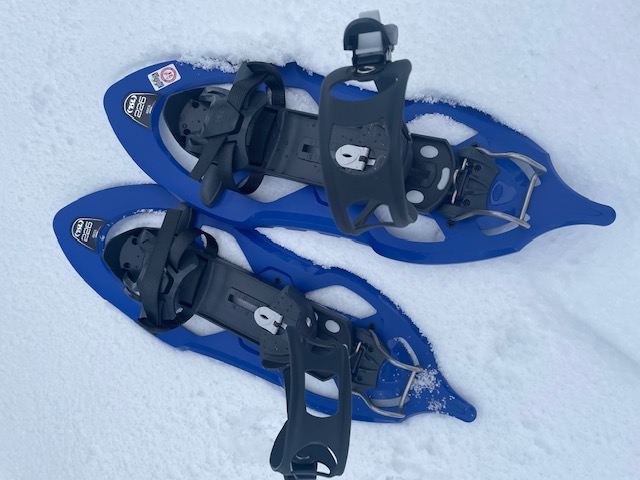 Why snowshoe?
Before this pandemic locked us all in our homes, I'd always thought snow shoeing was just for wimps. Definitely not for us daredevil downhill skiers who like to feel the wind in their hair and the whoosh of snow under their skis (no, that's not me either but I can dream…)
The prohibition on the use of ski lifts in France has meant that we're all adapting this winter. The super fit are heading up the slopes carrying their skis on their backs. Children are tobogganing on the lower slopes, and people like me have their noses pressed against the very cold glass in their apartments, dreaming of being in the first two categories.
Until now! The snowshoe, once considered by myself to be deeply uncool and mind bogglingly boring, has taken on a new allure. This could, in fact, be the start of a whole new love affair. A means of getting out into nature, of experiencing the beauty of sparklingwhite branches in the forests, fresh virgin snow and the compulsory thawing with a hot wine afterwards.
Yes, this could be a whole new world opening up here….so why not come with me?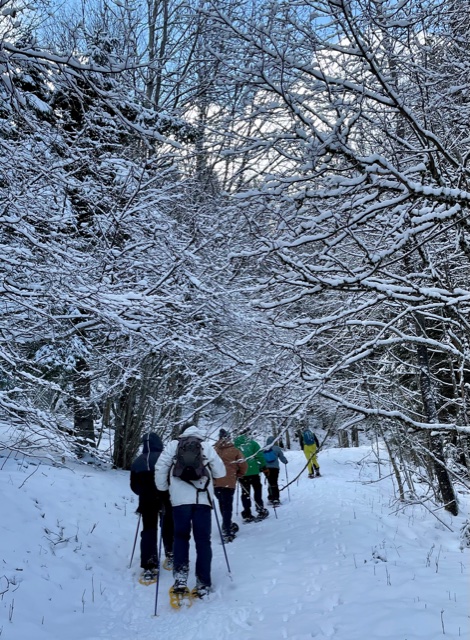 The essential equipment
First things first.You'll need to either hire the snowshoes and poles or buy yourself a set. Hiring will cost you roughly 8-10 euros per day. If you decide to go mad and buy your own set then prices start at around 80 euros. If you already have ski poles with a basket, then these should do the job at helping you balance on sloping sections, although I think the longer cross-country ski poles might be even better.
• Strong high necked walking bootsthat fit well and don't let your heel ride up and down.
• Multiple layers of clothing as you warm up quickly when striding out
• A bottle of water for when you get thirsty
• Good warm waterproof gloves or ski gloves
• Sunglasses on a bright day, as you're constantly looking at the snow, especially as a beginner, checking your footing.
• A snack – high energy bar or choc bar
• And, probably a phone, just in case... (keep your phone warm in your pocket so that the battery doesn't drain with the cold)
The next thing is to pick your route.
Your local tourist office should have a map or plan of areas specifically suited to snow shoeing (see link at end of this blog for the Evian/Abondance region). Keeping in mind that going up on snowshoes is considerably easier than coming down, it's best to stick to the routes marked 'for all' rather than heading off across country and finding yourself stuck at the top of the mountain.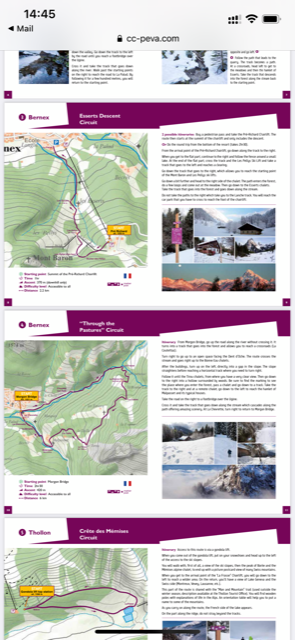 Pages from the Pays d'Evian Abondance (PEVA) Snowshoe Trail Guide
Or do what we did and sign up with the local tourist office for an introductory session. We paid 22 euros each for roughly 3 hours, snowshoe hire included, and headed off with a small group of 6 fellow shufflers and a mountain guide. We had a run through of what to do and what not to do. Basically, keep the straps tight and unclip your boot at the back so your heel lifts when you walk…unless you're jumping a stream (no!) when you need to reclip and, don't try walking backwards unless you really want to get up close and personal with the snow!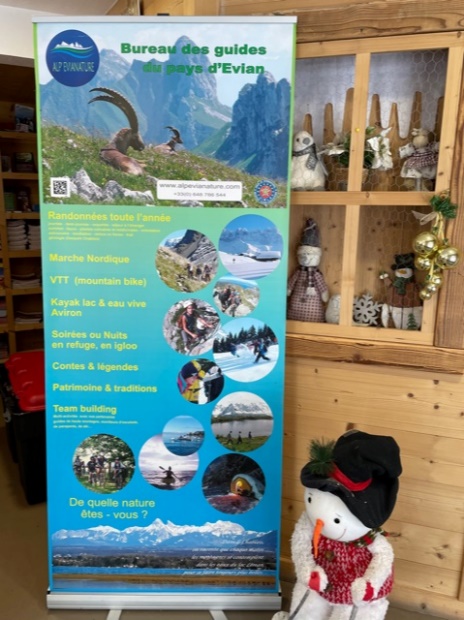 Far from circling the car park our guide pointed us towards the snow-covered slopes of the Memises and off we went.
Two things about going with a guide. Firstly, they know so much, from the' ooh look, squirrel footprints!' to the 'now these berries are edible, but in French we call them 'grattecul', which I'll leave you to Google Translate for yourselves.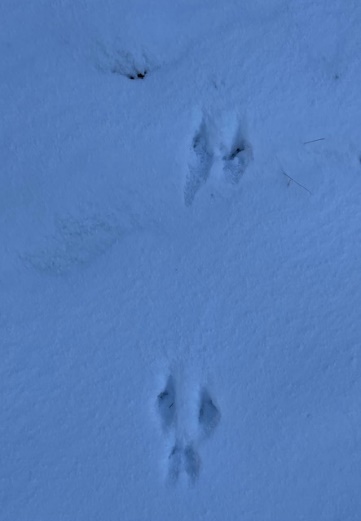 Squirrel tracks
Looking like a string of washing hung on a line we ambled through snow covered forests and out onto the windblown expanse of the alpine meadows.
The stunning views made up for the horizontal snow that gusted around us intermittently.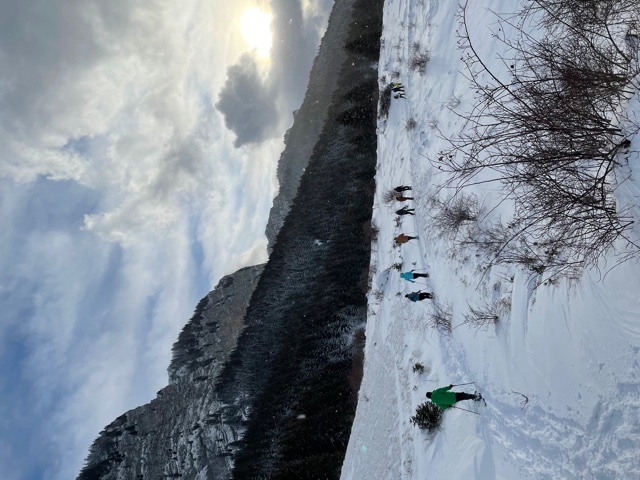 And here's the second good thing about going with a guide…. in his rucksack were the emergency rations.
Gathering us all, including the stragglers, under a clump of fir trees he produced his homemade mountain 'juice', a hot sweet, non-alcoholic beverage made with honey from his own beehives and a mixture of mountain herbs and flowers. Sounds wonderful. Think 'boiled sweaty sock' and you'd be close. Fortunately, to wash that down, he also produced a palate cleansing little eau-de-vie, which certainly revived the stragglers who led the pack on the way back down.
So, it's true what they say…. every cloud has a silver lining. There's no way I would have tried snow shoeing if the lifts had been open, but this has forced me to try something new. From now on I'll be keeping those snowshoes in the boot of the car and heading off into the wild white yonder whenever I feel like it. What a discovery 😉
Resources
• Snowshoe with a Guide (bookable direct or through the Tourist Office)
• Snowshoe trail map on PEVA site
• Snow shoe hire – in all sports shops in ski resorts
• Decathlon Snow Shoes (to buy)
...........................................................................................................................................
Last Minute End December 2020
It's all a bit last minute, so much was supposed to be happening in Thollon during the holiday period. The ski lift was scheduled to open, plans all in place for the start of a somewhat limited ski season. Then, at the last minute, permission to open the lift was refused. A blow to all the businesses dependent on winter visitors but a decision taken in light of the rising COVID numbers across France. As the current situation means it's impossible for people to travel, this is written with the intention of keeping in touch and tempting you back when you can travel. In fact, the situation is changing so quickly that this is the third or fourth time I've tweaked this blog, so bear with me.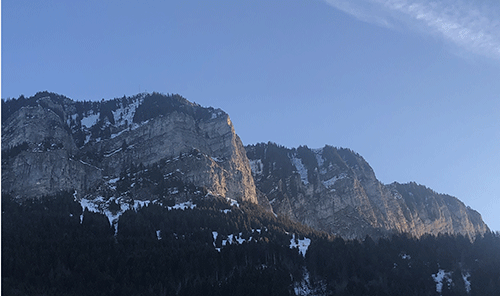 With the lift to the Memises closed, access to the high area of the ski slopes is now limited to those super-fit diehards who will just walk up. There are several days of fresh snow forecast over Xmas however, so it will still be possible to find areas for tobogganing, snow shoeing and cross-countryskiing. Sometimes all you need is a healthy dose of fresh mountain air,a flask of coffee, a sandwich,and a rock to perch on, relax and drink in the breath-taking scenery!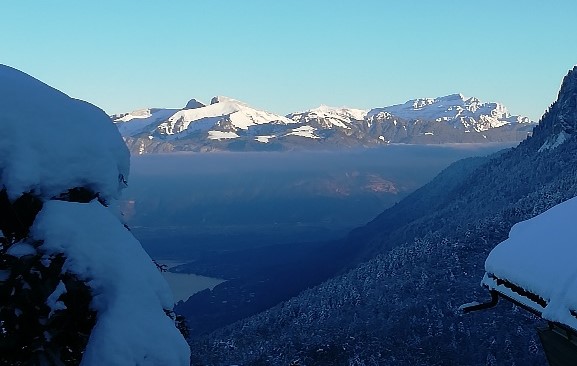 The Rochers de Naye from Le Grand Roc
The Tourist Office have just published their list of 'animations' for the week of 19-26 December, most of which will still go ahead. These include a fun programme of activities for children such as pony rides, outdoor games, choreography, and fairy-tales. There's also an outdoor Christmas choir, a Christmas market, and the arrival of Santa on Christmas Eve. All with the necessary COVID precautions.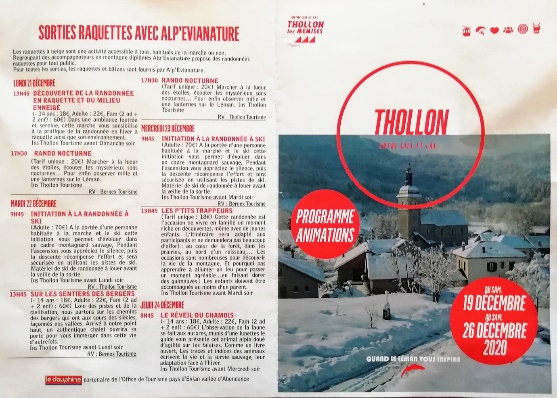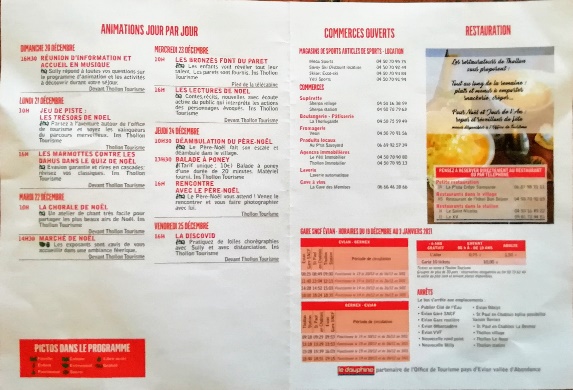 Talking of last minute… this week is my last chance to get my Christmas shopping done. I'd planned to have it finished by end October and here we are, only a couple of days to go. Luckily, I've realised that everything I need is right here on my doorstep!
Our village shops are full of gift ideas.
Here's a few I've discovered this week:
The Ecco ski hire shopsits in the centre of Thollon 'station' and not only rents out skis and toboggans but also has a good selection of gifts that would make ideal presents.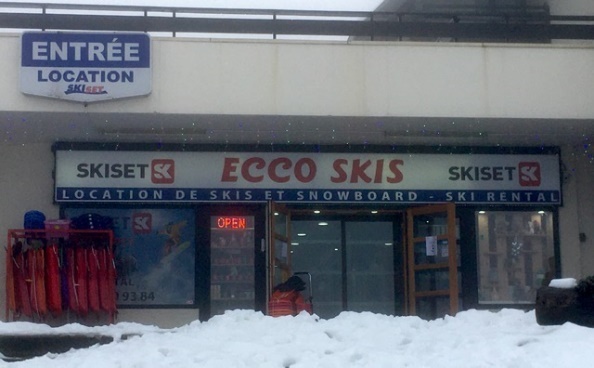 I really like the sweatshirts with the cool 'Thollon' designs, they're a bit more unusual than the designs you often see here. For a cheaper present, the red, white and blue keyrings would do the trick, we've always got random keys floating around.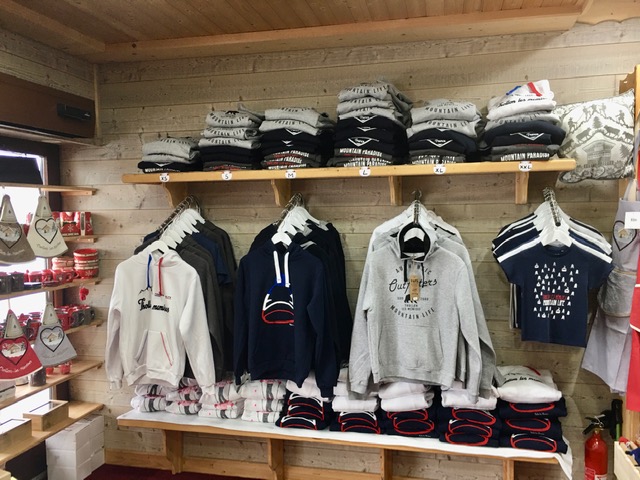 They also had some beautiful chalet style cushions that would look great in the flat, so Dan will be getting one of those too (just don't tell him yet!).


I made a new friend there too, Caroline, who was super helpful and easy to chat to. Méda Sports, just over the road, a ski hire shop run for many years by Gérard and Sylvie, also have fab polo shirts and sunglasses for those wanting to rock the ski god look. Down in the Sherpa supermarket I found some brilliant winter-themed homeware. I love this red and white pottery, it instantly brightens up the grey kitchen of our apartment and adds to that cosy, winter holiday feel. They also have exotic things like 'Marmot Tea' and other Haute Savoie goodies, that I'll tell you more about another time.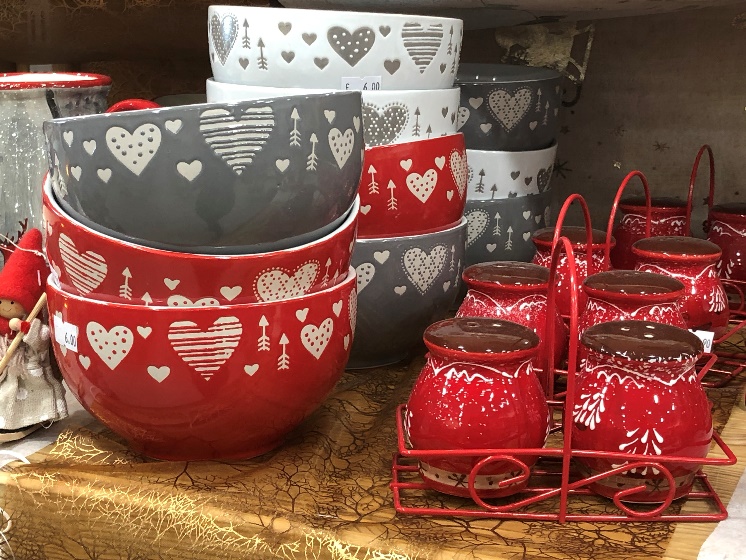 My final stop has to be the cave à vins called 'UnRdeMémises' which roughly translates as 'An Air of the Memises'😊 Their new website has stunning photos of Thollon and gives details of their new traditional style 'gîte' if you're looking for accommodation. It even has the uber desirable 'Finnieston' walls that are compulsory in trendy restaurants and wine bars in the West End of Glasgow. Maybe… if we just scrape the artex off the walls in our flat…


So, that's it, Christmas shopping done, social life sorted and bags of brownie points from Mr B. Don't forget, if you're still looking for those last-minute gifts, they might be right under your nose.
Shop Local!
The only thing left to say is a huge thank you for taking the time to read these scribblings during the past year, and for your lovely comments.
Here's hoping we'll all be able to meet up and enjoy the beauty of Thollon in 2021.
Merry Xmas and a very Happy and Healthy New Year!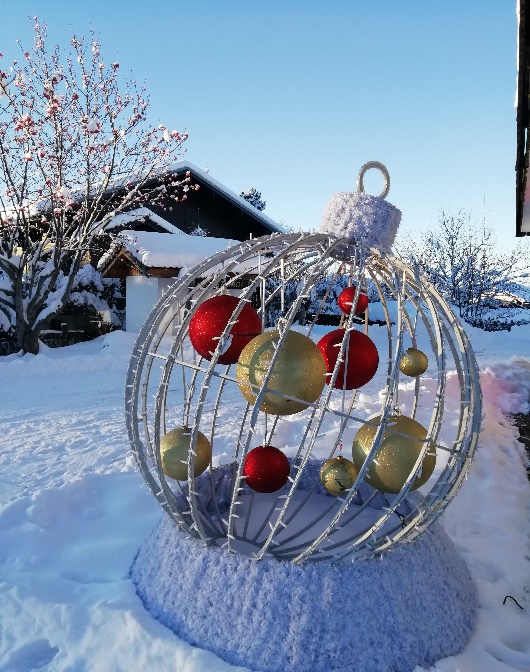 ..............................................................................................................................................................................................
Mistletoe and Wine December 2020
I have a confession to make…..I'm a mistletoe addict.
If I had my way the Xmas tree would be out, and a small bare oak tree covered in mistletoe balls would be in. Are you with me? Just think, no more pine needles to get stuck in your feet and freak out the cat. No dodgy Xmas lights you need a 30-foot stepladder to put up. No dangling baubles or tattered tinsel. Instead, we could have one of the world's most mythical plants bringing minimalistic harmony to our tiny flat.
Mistletoe has been revered for centuries. In the pre-Christian era the white berries were symbols of male fertility. In Ancient Greece, the berries were called 'oak sperm' and were used by heroes such as Aeneas to reach the underworld. For the Druids it was central to the 'Ritual of Oak and Mistletoe'; while the Norse gods were even more inventive and fashioned the woody twigs into arrows. A famous Norse legend has the god of winter, Hodur, killing his twin brother Balder with a mistletoe arrow.The Norse equivalent of Kryptonite apparently.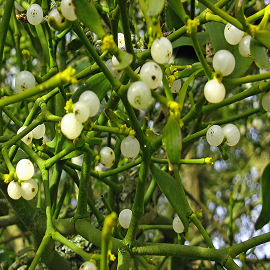 I like the Roman view of Mistletoe the best. It was seen by the Romans as a bringer of peace, love and understanding and hung above doorways and throughout their houses. Perhaps this is where the Christian association with a kiss begins. Throughout the Middle Ages it was linked not only with fertility and vitality but also with protection from witches and ghosts.
Writing this close to Xmas 2020 makes me think that I'd be quite happy to be visited this year by the 'Ghost of Xmas Past', and that maybe all those Xmases spent with my parents on the Isle of Wight weren't that bad after all. I wouldn't even mind a visit from the 'Ghost of Xmas Yet to Come' because I know it'll be a heck of a lot better than this one.
Mistletoe has had a bit of a reprieve in recent years. From being classed purely as a parasite it is now seen as important to the biodiversity of the planet. It not only provides nesting sites for birds but is a source of high-quality food for a wide range of forest and woodland animals.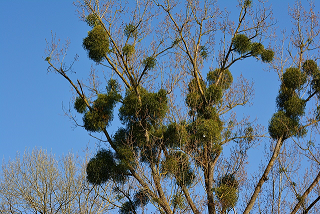 Mistletoe, while relatively rare in the UK, can be found growing in abundance in France, including in and around Thollon, of course. Worldwide there are over 1500 different variants of the plant, and it's even found in Australia and South America,
Finally,mistletoe has also been used for medicinal purposes, treating arthritis, high blood pressure and epilepsy. In Nepal it was even used to mend broken bones. It is, however, toxic and will cause vomiting, blurred vision and seizures if eaten and can be fatal to cats and dogs. So, for goodness sake don't eat it or there'll likely be no more Xmas's yet to come.
There you are, so much more interesting than a rapidly dehydrating Xmas tree that would have been much happier left in the forest, and by the way……it's considered bad luck to refuse to be kissed underneath the Mistletoe 😉
So where does the wine come in?
It would be rude not to have a small glass of mulled wine while putting up the mistletoe tree so here's my favourite recipe in case you'd like to join me.
Vin Chaud de Thollon
1 bottle good French red wine
½ bottle Maple Syrup
6 cloves
2 sticks cinnamon
2 star anise
1 tsp ginger
1 tsp ground cinnamon
A little ground nutmeg to taste
2 or 3 slices of orange
Place all ingredients in a saucepan and stir well.
• Put on a medium heat and bring to a simmer. (Be careful not to let it boil or this will burn off the alcohol, and quite frankly spoil the taste)
• Turn the heat to low and leave to barely simmer for 15 minutes.
• If preparing ahead, turn off heat and leave spices to infuse for a couple of hours before reheating gently when ready to drink.
• Remove from heat and sieve out the cloves, star anise,cinnamon sticks and orange.
• Taste and add more maple syrup if necessary
• Serve warm in a heat proof mug or glass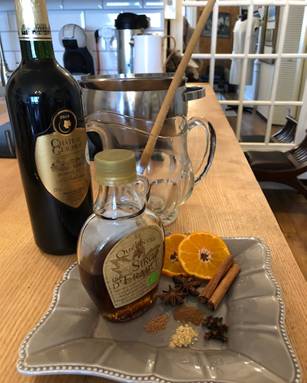 S'no Time to Ski December 2020

Oh the irony! Here we are in Thollon enjoying the best pre-Xmas snowfall that I can remember, and it's stunning.
As you probably all know however, there are no lifts open and no possibility of skiing until mid-January.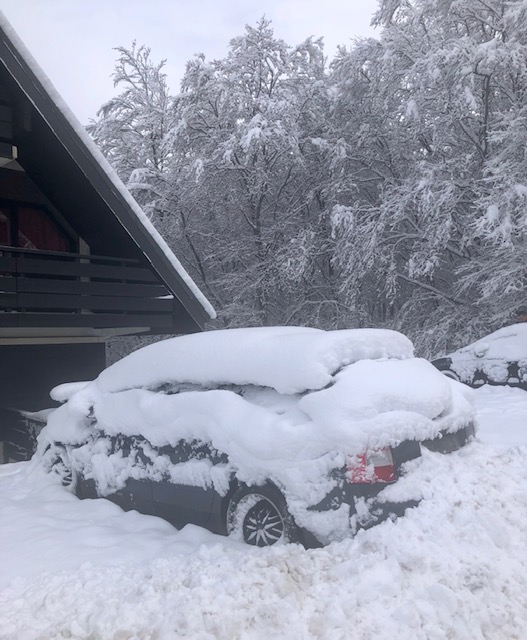 There are not many things that disturb the peace and tranquillity of life in Thollon but the decision by the French government to delay opening the ski lifts until at least January has set feathers flying. With the livelihoods of so many people here resting on the success of the winter ski season there are genuine worries. Not only are the ski instructors and lift operators impacted by the closure but all of the peripheral businesses and seasonal workers too. The government are offering financial support to some but as in the UK the situation is tricky for the self-employed.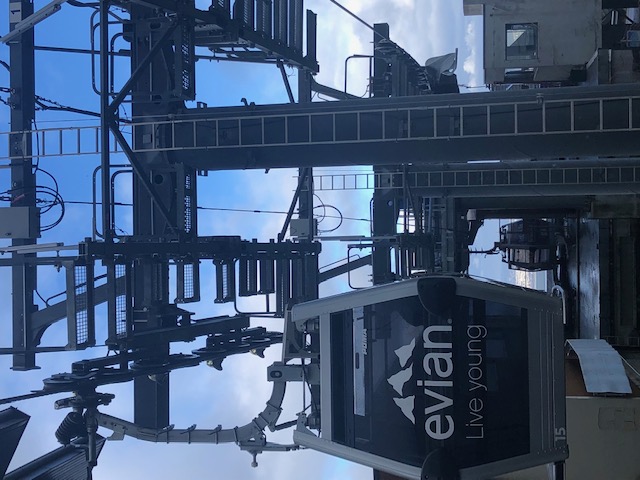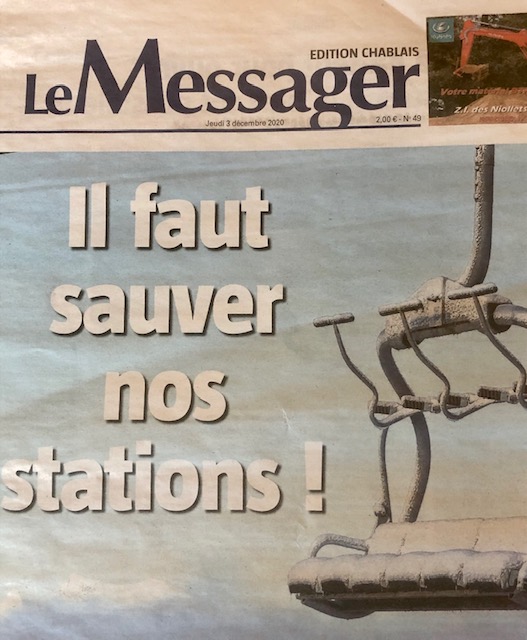 Think you can just go and ski in Switzerland or Italy, both tantalisingly close to Thollon? Well no, those doors are closed too
So just what can you do if you decide to venture back to Thollon for a well-deserved winter break? The short answer is…plenty. You could make this the most relaxing holiday you've ever had.
You could go back home glowing with health after enjoying fresh mountain walks and spectacular views. You could immerse yourself in the real chalet lifestyle, warm blankets, mugs of hot chocolate or aromatic vin chaud,while the snow drifts past your windows and the lights of Lausanne twinkle in the distance. You could wake up to the sun rising over the snow-covered Swiss Alps and breakfast on warm croissants from the boulangerie….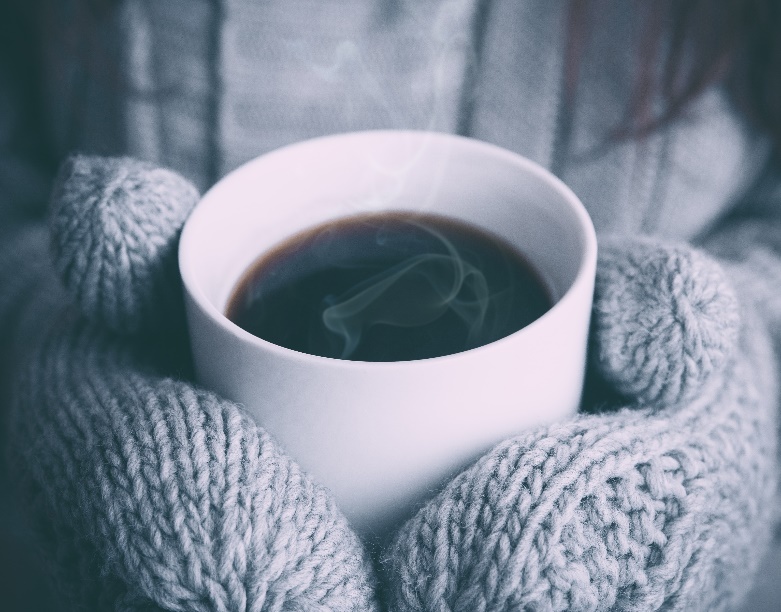 …..but enough, let's get down to the practicalities
Skiing and winter sports available in Thollon December 2020
• At the moment the ski lifts are closed, ostensibly to prevent skiing accidents that would swamp the limited hospital resources.
The Mayor is lobbying hard for the main télécabine in Thollon to reopen in mid December for walkers
• If this does happen then the ESF will open the children's play area at the top and the new restaurant will be open for takeaways.
• The ESF may organise snow shoeing and/or cross country skiing
• The sports shops Meda Sport and Eccoski will be open in the village.
Hotel Accomodation
• The Bon Sejour Hotel will remain open and will be offering festive menus to takeaway
• The Bellevue Hotel will be closed
Bars and Restaurants open for takeway meals
• The St Nicolas, The XV, Scoubidoo's
The Ourson and the Choumas remain closed.
(All bars are closed at the present time)
Childrens Activities
• The cinema will be open during the holidays
• Sadly the creche will not be able to open
• The tourist office will be welcoming an 'animateur' to the village from the 15th December and are hoping to offer a variety of activities over the Xmas/New Year period.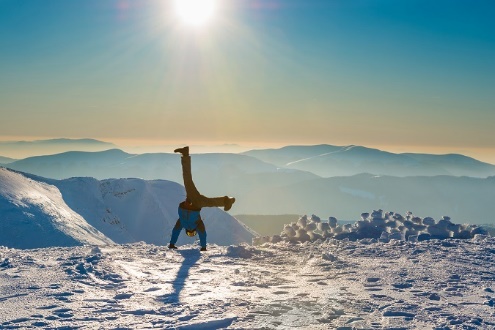 There's also talk of an outdoor Xmas market if there are enough visitors to the village, an ideal opportunity for those last-minute Xmas presents (massive hint to Mr B. here :-)
Yes, it will be amazing, because Thollon always is.
Current Travel Restrictions
 French borders are open, but at the moment (6th December) travel should be limited to essential purposes. According to the French Government website you may be asked by border control to justify your visit to France
 There are no quarantine restrictions in France although you should not travel if you've been in contact with anyone with the virus recently and you may be asked to complete a 'declaration of honour' to underline this.
 There's a limit of 3 hours outdoor exercise within a 20 km radius of your home at the moment
 You are allowed to go essential shopping and all shops are now open
 We must complete an on-line government form (paper copies are acceptable too) before leaving the house. The fine for not doing so is 135 euros for a first offence, increasing thereafter.
 There are similar social distancing rules as the UK and mask wearing in public places, including supermarket car parks and near to schools is compulsory.
 It had been hoped that most restrictions would be lifted on 15th December, if the rate of transmission had dropped to below 5000 cases per day, but in the past 24 hours 12,900 cases have been reported, which means our restrictions could still be in place at the end of the month.
 With all countries having their own rules on travel and self-isolation it's best to check out the relevant government advice before you decide to come to Thollon.
 Finally, it's essential to check that your travel insurance will be valid if you decide to travel. Most insurance companies will not cover you if you travel against government advice.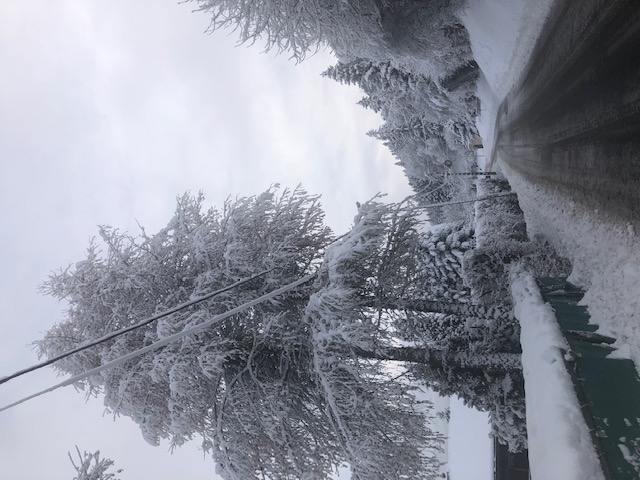 ------------------------------------------------------------------------------------------------------------------------------------------
20 November 2020
Amphion – When Speed was King
So, I promised you a tale of passion, ambition, adventure and speed…….and here it is.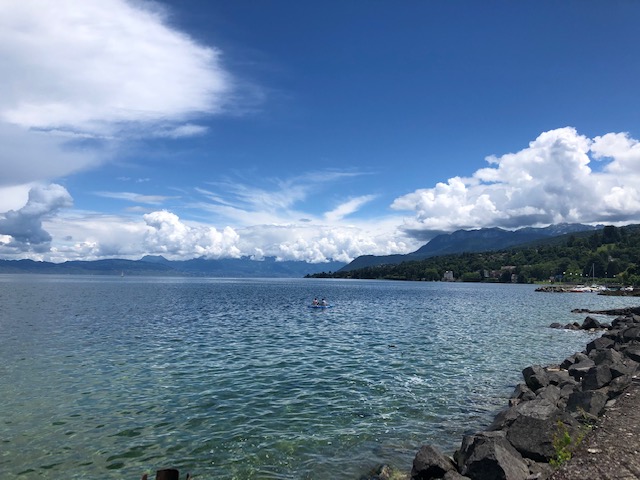 Welcome to the Roaring Twenties, those years spanning the decade after the end of the First World War. The war that brought Europe to its knees.
The 1920's were years of excess, summed up in the It Girl catchphrase 'Anything Goes', and a counter-reaction to the privations and despondency of war. The Americans were partying hard, the Germans would 'wilkommen' you to their Cabarets and the French were living their 'années folles'. This was the era of jazz, the Speakeasy, flappers, glamour, decadence and Al Capone. The growth of the film industry, radio and print media catapulted film stars and sports stars to the forefront. Scott Fitzgerald wrote 'The Great Gatsby' and fortunes were made and lost. In every walk of life people were pushing the boundaries. Yes, these were indeed the Crazy Years.
Here in Amphion, a small village on the shores of Lake Geneva close to the elegant spa town of Evian les Bains, a little bit of history was also being written.
A soon-to-be-demolished shed on the quayside in Amphion is all that is left of the prestigious, internationally known, boat building company that specialised in some of the fastest watercraft ever seen at the time. If you look carefully at the derelict building, above the graffiti line, you can just make out the faded sign of the original company 'F.Celle – Canots Automobiles'. What we're more interested in is the word 'Excelsior' above the door.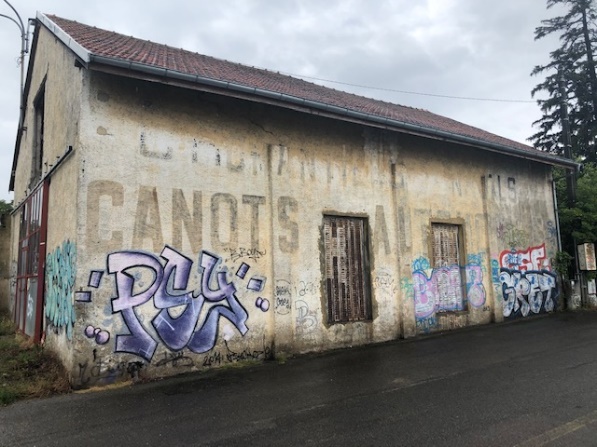 In 1925 the Excelsior was the fastest speedboat in Europe. It's twin 16-cylinderengines, designed by Ettore Bugatti and the aviation pioneer Louis Breguet, reached speeds of 105 km/h on Lake Geneva and 120km/h at Cannes. The World Speed Record on water at the time was 123 km/h and, in what seemed like a good idea at the time, Henri Esders 'the King of Prêt-a-Porter' decided to mount a challenge for the record.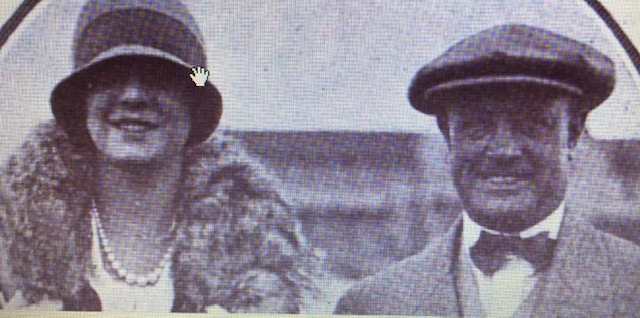 Enter Theodore Alexander Clarke, 'pilot', boat builder and Scotsman, with a very dapper bowtie.
In conjunction with Esders, T.A. Clarke bought the boatyard at Amphion from Francois Celle's widow and set about building the France-Excelsior. Built to European specifications this boat was destined to challenge the American record holders in the 1925 Harmsworth Cup Trophy in Detroit….or would have been, if it hadn't caught fire in the bay in Amphion on a trial run. Much to the American's disgust the challenge was called off, only for the gauntlet to be thrown down again the following year.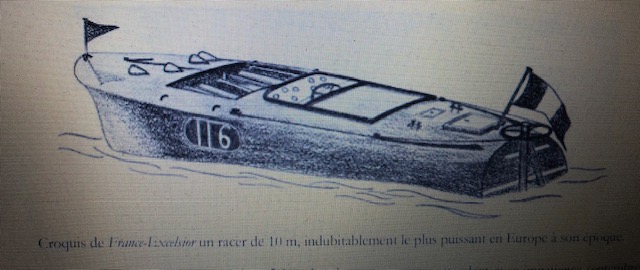 Now, boating doesn't come cheap. Having already invested some $500,000 building two speedboats in America, ingeniously called Miss America III and IV, the American challenger Gar Wood was a little reluctant to invest more money in the caper until he knew that the French had a viable competitor.
In the little boat yard in Amphion however, work was continuing and after much head scratching, pencil sucking and small adjustments with the "micro hammer", France-Excelsior II was ready. She was shipped to New York on the deck of the Trans-Atlantic Liner, 'La France' and transported to Detroit, to great excitement, ready for the 1926 Harmsworth Cup races. T.A. Clarke, who was to 'pilot' the boat was even given the freedom of the city of Detroit.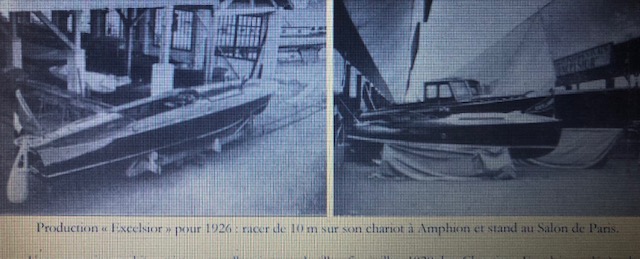 And then it all went disastrously wrong.
When Gar Wood, heard that the Excelsior was on its way he leapt into action and he and his team built a new boat from scratch in 15 days. Benefiting from the technological advances of the war the new boat sported two Liberty V12 aeronautical engines, was built from ultralight materials and had a revolutionary hydroplaning hull. But these weren't the only issues the French would have to deal with.
On the day of the race, over 150,000 people lined the banks of the Detroit River. 'Yachting' magazine, October 1926, called it the 'finest fleet of highspeed fliers ever gathered on one course'. Or at least it would have been if the France-Excelsior had made it to the starting line. Not only were there problems with her listing in the water because the hull had warped but the drive shaft was also damaged. It was agreed to postpone the race until the following day, leaving all the rain sodden spectators to trundle home again.
During the night, the sportsman-like Americans offered whatever help they could, but to compound the problems it was discovered that someone had forgotten to bring the spare bottles of compressed air from France needed to start the Breguet-Bugatti engines.
In a valiant attempt to save face the France-Excelsior lined up the following day, T.A.Clarke at the helm, and after much spluttering, from the boat not Clarke, the engines failed again to start. Swallowing his pride Mr Clarke accepted to be towed across the starting line in the hope that the shafts would begin to turn. Suddenly, there was a roar from the engines, the crowd went wild, and she was off! The local newspaper used the technical term of 'hobby horsing' around the course 'in a way that must have loosened the teeth of her crew of three'. After only half a mile T.A. Clarke pulled into the pits.
When asked about why he had thrown in the towel Clarke was reported as saying 'What's the use?' Being married to a Scotsman myself I think he probably had a few other choice words to add to that.
The dream was over and so was the heyday of the Amphion boat building yard. T.A. Clarke died in 1928 and the boat yard finally went into bankruptcy in 1934. Apparently a request was made in 1937 to use the building to house 500 beds for refugees of the Spanish Civil War. At the time of writing the building is home to the Amphion/PublierSauvetage team, but for how much longer?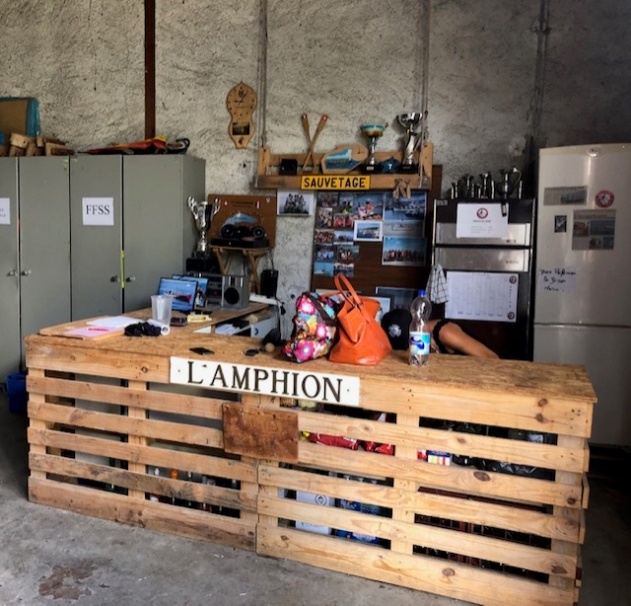 Thanks to LB
...................................................................................................................................................................................................
On Remembrance Day November 11th 2020.
Ok! Who's stolen the lake? There was definitely one there last week, but its been replaced by a giant mattress of fluffy white cloud stretching unbroken as far as the eye can see. Luckily for us here in Thollon, we're basking in the sunshine above the cloud. Less lucky for the lakeside peeps, they're permanently in the gloom.
Driving to the supermarket we pass the lake, the smooth unruffled surface a cold steely grey, and look across to Switzerland cloaked in the same slightly sinister steely grey mist. The roads are empty, and today, November 11th, the French flags flying alongside the War Memorial in Evian bring the only touch of colour to an otherwise deserted town.
Here we're remembering Michel Vivien who sadly died this morning. As ex-mayor of the village, he was a colourful character who was well known to most people in Thollon. Michel published his autobiography in November 2019 and for anyone interested in the development of the ski resortit's a fascinating read. His is a story of rags to riches, an inspirational read that spansfrom his adoptive childhood during the war to his success as a local politician, property developer and pirate radio station owner.He'll be missed.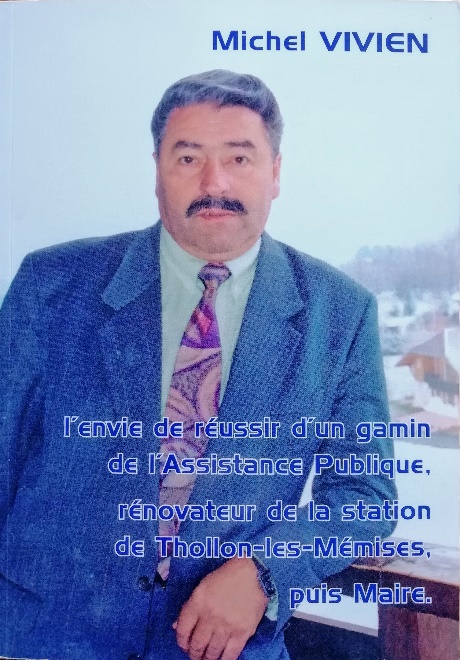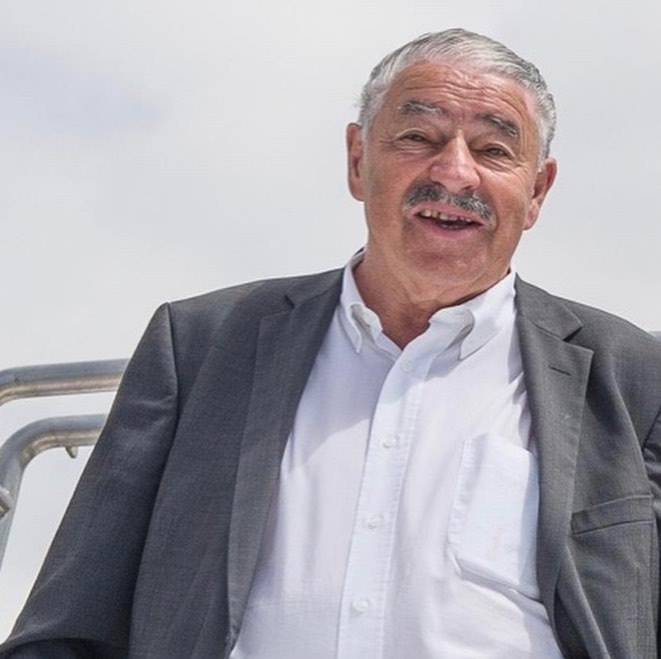 Those of us who thought that COVID could be outrun by fresh mountain air, excellent French wine and smelly cheeses have been reminded of the fragility of our daily lives on this day. I'm conscious of how being part of a community, being connected via Zoom or Facebook, even getting an e-mail or a letter in the postmeans a lot.
So, go on, PHONE A FRIEND!
As we're peering through the mists of time today, I thought I'd lighten the mood with a tale from Amphion. It's a cracking tale of passion, ambition, adventure and speed. Somehow, today doesn't feel the right day, so I'll hold off until next week……but you wouldn't want to miss it. Thanks to LB.
.......................................................................................................................................................................................
On a dark, dark night……
October 2020
When was the last time there was a curfew in Thollon? Perhaps never. What strange times we're living through.
The Haute Savoie has seen relatively low COVID figures until now, but the numbers have grown considerably over the past couple of weeks. Both the Savoie and the Haute Savoieare now on maximum alert. So far we have no daytime lockdown but we do have a curfew from 9pm – 6am (rumoured to be changing to 7pm – 6am) for 6 weeks, the requirement to wear masks inside and a limit of 6 people indoors. Gyms are closed and bars and restaurants obliged also to close at 9pm.
With the ski seasonjust around the corner there is a real sense of urgency around the control or reduction of COVID cases. The ESF have just launched a publicity campaign to encourage winter tourists and to reassure them that extra precautions will be taken on the slopes this year. Convinced? Mmmm...the jury's out at the moment. ….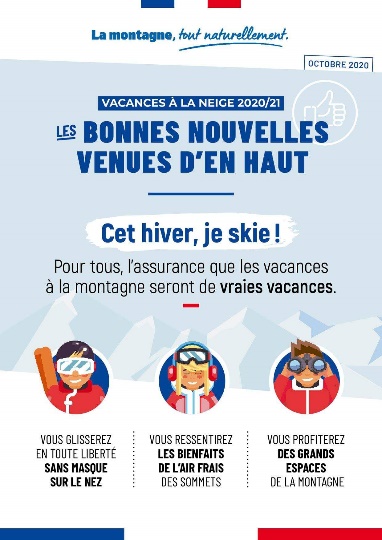 ......on a dark, dark hill
Just to make it even more atmospheric in Thollon on these damp, misty evenings, the clocks are going back tonight. Things could be worse; I could still be living in Scotland where is gets dark at 3.30 in the middle of winter.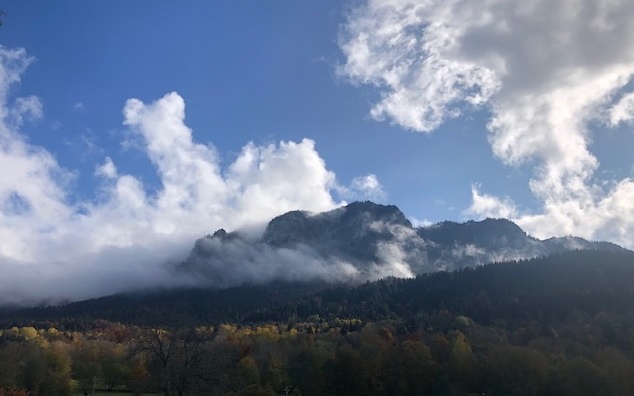 .…. there was a dark, dark house
To counteract the gloom Mr B has been instructed to balance on the balcony rail and string rows of tasteful fairy lights across the apartment windows. Small children in Switzerland will probably grow up believing Santa has his workshop in the Mémises. What our resident owl will think of it I don't know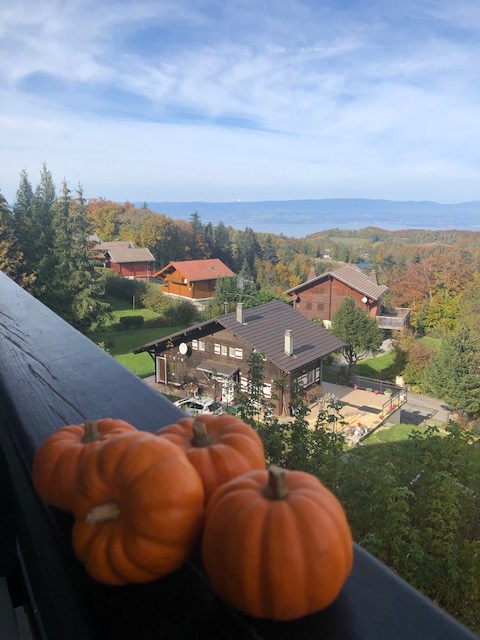 .........in the dark, dark wood
Well, surprisingly (for me) the woods aren't dark after all. You'd be forgiven for thinking that the vast expanse of forest covering the slopes of the hillsides from Evian to the Mémises was predominantly evergreen fir trees (me again). In the Autumn however, the slopes are a riot of colour that easily rivals New England in the Fall.The still warm daytime sun picks out the vibrant reds, yellows and oranges of thousands of deciduous trees and gives the impression that someone has thrown a cloth of gold over the entire mountain side. Woodland paths strewn with horse chestnuts and acorns crunch under your feet and drifting wood smokefrom the few occupied chalets make this a feast for the senses at this time of year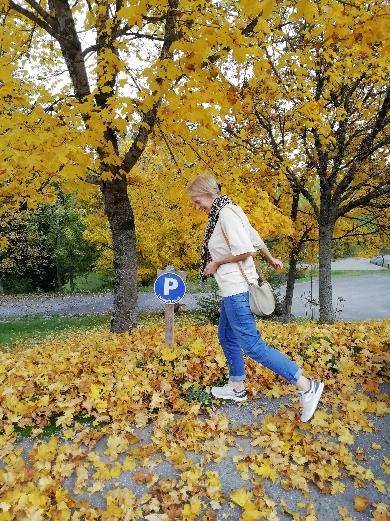 ........and in the dark, dark churchyard....
........is our Halloween story! And like all the best Halloween stories, it's a little bit scary.
Many years ago, the village church that sits next to the Mairie in Thollon was surrounded by a cemetery. Many of the tombstones dated back to before the present church was built in 1823.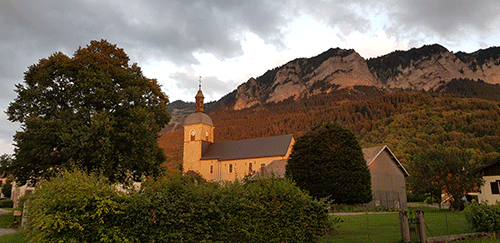 In 1936 a young primary school teacher, Pierrette Coltice, came to live above the village school opposite the church. One cold dark night she happened to look out of her window towards the church. To her amazement, over the tombstones, luminous blue wisps were dancing like elves in the cold light of the moon. The ethereal blue lights were drawn towards any hapless passer-by, attracted by the heat of their body, and probably causing many a sleepless night.
While we now know that such 'Will O' The Wisps'are a naturally occurring phenomenon (see below*), you can find this story in a little gem of a book, 'Journal d'uneInstitutriceen Montagne 1936-1945' in the local library, that ironically sits next to the old graveyard. It's published in French but is an accessible read for those with limited French too
Aside from this strange episode, the book contains many descriptions of the hardships and the joys of living and working in the isolated village of Thollon. For instance, in the days before public, or indeed much private transport, Pierrette regularly walked to Evian for supplies and even took her class of primary children, and some of the mothers who had never before left the village, to see the steam train in Evian, all walking there and back.
Pierrette left the village just at the outbreak of World War II…….but that's another story…for another time
According to Wikipedia, Will O' The Wisps have long been known in legend and folklore. Modern science explains them as natural phenomena such as bioluminescenceor chemiluminescence, caused by the oxidationof phosphine (PH3), diphosphane (P2H4) and methane (CH4) produced by organicdecay.
.............................................................................................................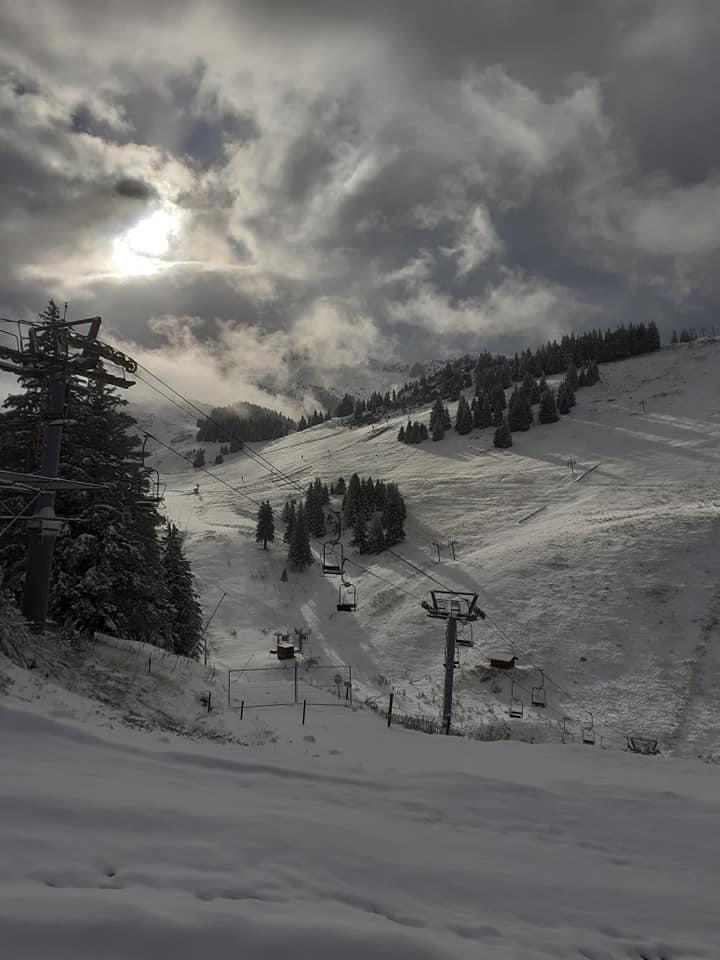 It's all downhill from here ....Late September 2020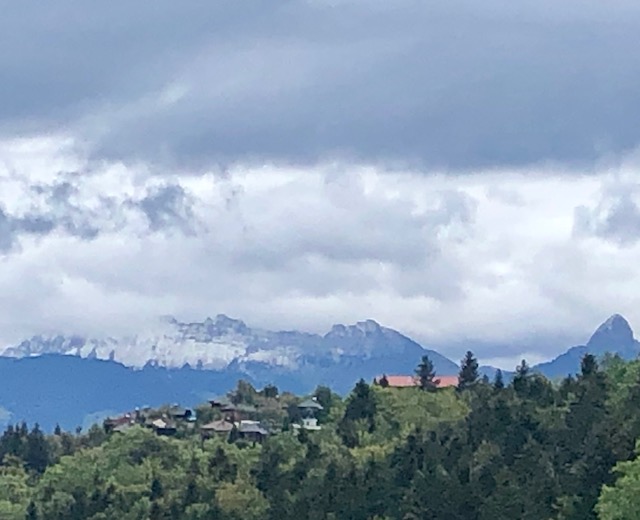 Snow! Yes, we have snow on the Mémises… already. I know it was forecast for this weekend but having basked in 30˚ sunshine in the Lavaux vineyards on Wednesday you somehow think 'nah, they've got that wrong'. It seems this is a fairly regular occurrence in Autumn in Thollon. It often snows in October and then there's a shift back to milder temperatures until November/December. By my reckoning that gives me at least 3 months to work off the ever-persistent lockdown weight and get fit for the ski season. Sniff of ski wax anyone?
So, what's Thollon been like in September? The short answer is beautiful but incredibly quiet. The French tourists who flooded the village in the summer have left. The smattering of British, Dutch and Belgian visitors have also gone, back to several days in quarantine in many cases. Usually, at this time of year, people would be reappearing as they try to squeeze the occasional weekend in before the big winter holidays. That doesn't seem to be happening this year and so the village is slipping back into hibernation.
For some of the bars and restaurants this marks the last weekend of a busy and thankfully, successful summer season. Both the XV restaurant and the Ourson bar are offering free barbecues and drinks to their regular customers this weekend before closing for a few weeks rest and relaxation. The St Nicholas closes at the end of October, dovetailing nicely with the XV that reopens start of November. Sorted!
Hunting Season The only other flurry of activity seems to be from the hunters who descend on Thollon whenever the fancy takes them. Officially hunting is restricted to certain days, including both Saturday and Sunday, but in practice you hear shots any day of the week.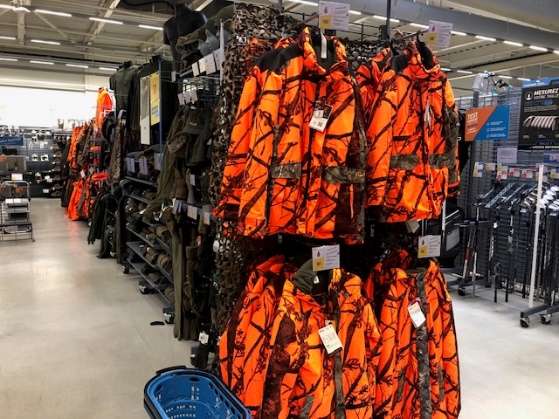 Racks of hunting gear
Hunting is an ingrained part of the rural psyche in France. There are those who would like to restrict it more, but it would take a brave politician to interfere with what's deemed to be a fundamental right. What it means for us is that hiking and walking the alpage or the woods, even close to the village is somewhat restricted. The advice to wear bright coloured clothing, preferably orange, is obviously sensible and to keep dogs on a lead at all times. That being said, apparently 3 people have already been shot in France since the middle of September. Maybe I'll just stick to strolls along the lakeside.
September is the month of harvests
Across the lake from Thollon lie the steeply terraced vineyards of Lavaux, a UNESCO World Heritage site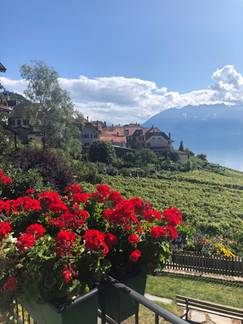 . The view from Epesses
Cultivated since the early 12th century there are said to be over 10,000 terraces producing a quarter of all Swiss wines. At this time of year, the harvest is in full swing. In the quaint picturesque villages, every second house is a hive of activity. Boxes of white Chasselas or dark ruby coloured Pinot grapes arrive on the back of small trucks straight from the vineyards and are poured by chute into the shadowy depths of deep cellars or converted garages to be pressed and stored.
Much of the wine, particularly from the larger vineyards, is sold by auction at the beginning of December but there are wine tastings everywhere. In all of the villages,the wooden doors of small wine merchants lie open welcoming in the merely curious or potential customers who load up their cars by the box full.
Even if wine's not your thing, Lavaux is well worth the visit
There are over 50 different hiking trailsthat meander across the vineyards from village to village. Parking is extremely limited, so at the height of the season it's probably best to take the ferry to Lausanne and bus it to Cully or Lutry. Another top tip is to start early in the day. It was around 30 degrees last Wednesday when we were there. The heat radiating off the stone walls and the sun reflected off the lake meant it was just too hot to walk far so we had to bus it back…and don't forget your sunscreen
In other news… The Haute Savoie seems to be relatively COVID-19 free at present although we're surrounded by departments that are either 'red' or on the watch list. Also, the French Government website page devoted to applications for the new mandatory post-Brexit 'Resident's Permit',scheduled to be on-line from 1st October, has been delayed. No new date's been given so far.
..........................................................................................................................................................................................................................................................................................
Letter from Thollon September 2020
The New Normal
What a summer it's been in Thollon. After all of the 'should we or shouldn't we?' many people threw caution to the wind and came to Thollon after all. We saw an influx of French tourists who had decided that yes, a staycation in the fresh mountain air was just what they needed. We also saw many of our friends from the UK and Belgium, some of whom had to make an early exit due to new quarantine restrictions.
Overall, however the season was deemed a success. The restaurants and bars adapted well to the new restrictions and eating out on the terraces was perfect for those hot summer nights. Social distancing, I hear you ask? Yes, well, …as the evenings progressed and the music got louder, you really couldn't resist a dance to Michel Sardou's'Connemara'or leaning in to hear the latest joke, but that's human nature for you. We are social animals.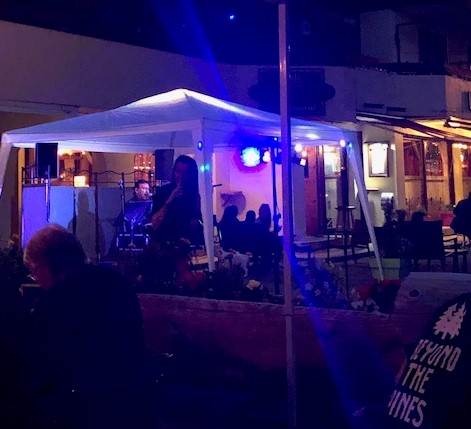 Back to School
Now, with 'La Rentree', the village is sliding gently back to a more peaceful rhythm. The trees are changing, donning their coats of many colours. The damp cool air is fresh, and the autumn breezes ruffle the surface of the lake. Each day this week the clouds have looked a little grumpier, scowling at the village as if to say, 'guess what we've got in store for you'. With the tourists heading back to their city lives, the bars and restaurants are taking stock. Many will be closing after the end of September, the owners heading off for a well-earned break. They'll be back of course in time for the winter season, or at least we all have our fingers crossed that things will be fine by then. So, what will Thollon be like in those intervening months?
Live in Thollon permanently?
I've often wondered what it would really be like to live here all year round. When my husband first floated the idea several years ago, I laughed my socks off. What on earth would we do if we lived in the station all year? Everyone knows that the place all but shuts down out of season. Anyway, I've finally caved in. Spending lockdown here has altered so many things. You begin to realise what is really important in life. And it's not my massive collection of shoes, nor all of the books I've collected for years…it's not even having a Marks and Sparks just down the road! With the final Brexit deadline looming on December 31st it seems like a now or never decision, and maybe its one that you've contemplated yourselves before now. How will it all work? What are the formalities? How will Brexit really affect living in France? I'm also intrigued to find out what the village is like out of season. Apart from surfing the internet, what else is there to do in Thollon and beyond on wet rainy days?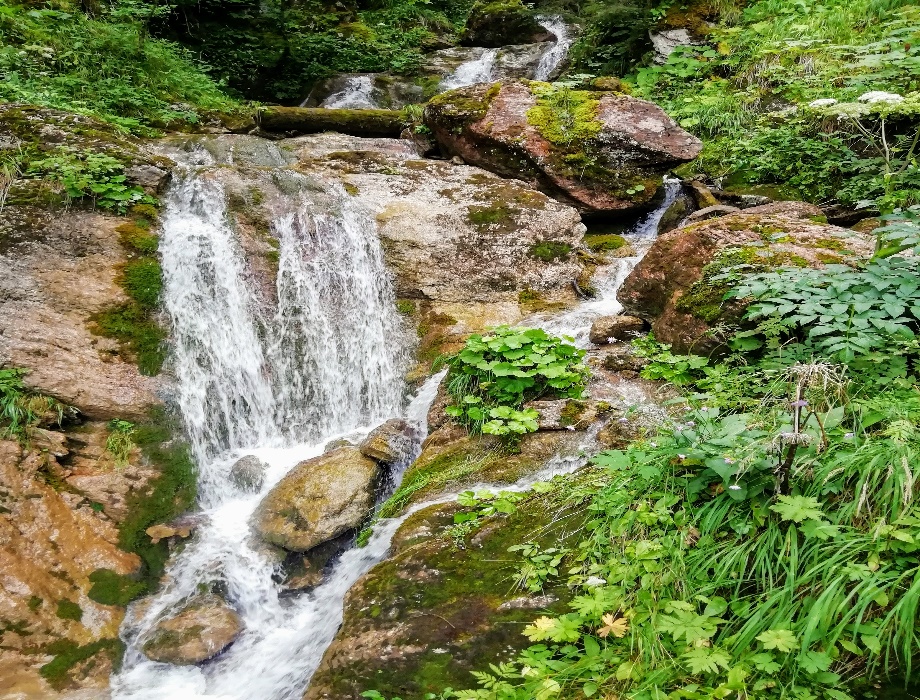 If, like me, you're curious about life in Thollon as a permanent resident then check in with me again here on Thollon.org, where I'll be looking at: …
.....the basics
• The paperwork needed to apply for a residence permit
• Paying the bills – what are your financial responsibilities
• Local health care – registering with a doctor
• How to find a dentist
• How to speak French like a local
• Buying a French car …..

and all the'Fun Bits' (COVID restrictions apply) and of course the...... 'less than fun bits'.

What are the positive and the negative aspects of such radical downsizing? Will Mr B be sleeping on the balcony after just a few weeks?
I'm so looking forward to this new phase in our lives. How long it'll last who knows. Sitting here looking out over the lake, watching the sun highlighting the villages that nestle in the vineyards of Lavaux, for the moment at least, it seems like the perfect place to be.
.....................................................................................................................................................................................................................................................................................................
Like migrating birds you just knew that the visitors to Thollon would be back… and here they are, in their droves.
This is really the first weekend of the traditional French holidays and the car parks in Thollon are filling fast. There are plenty of day trippers, hiking boots and haversacks at the ready, forming orderly queues at the gondola. All curious to see how work is progressing on the new restaurant; well is the answer to that. The shutters and blinds of the chalets and apartments are being flung open and the sunshine is flooding in.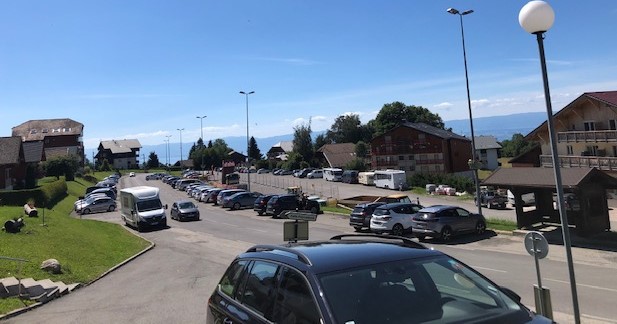 Trade is slowly picking up in the restaurants and bars in Thollon, most people preferring to sit outside on the terraces and there is an audible sigh of relief from the small businesses here as life continues to return almost to its pre lockdown rhythm. The cinema has also reopened with a stirring biopic on Charles de Gaulle attracting an audience of 4, myself included, on the first night.
Down in Evian the story is much the same. The market is doing a lively trade every Tuesday and Friday. Pavement cafes and restaurants are busy, particularly at lunchtimes and the usual tourist attractions such as the boat trips, the swimming pool and the little train are continuing as normal.
There are varying degrees of COVID precautions being taken. Some shops insist on masks being worn and have hand sanitiser at the door which you must use. Others have a more 'laissez-faire' attitude not wanting to put off potential customers although they may limit the number of people inside. It's OK not to wear a mask if you're seated at a table in a restaurant or café but you need to put one on if going to the toilet or when walking in or out of the premises.
Apparently Switzerland is introducing compulsory mask wearing in all public places from next week, having experienced a spike in cases over the past few days. My advice would be to always have a mask in your pocket or bag as you're likely to be refused entry to some places without it.
There are some intrepid Brits around but I think most have been waiting to see what the latest quarantine restrictions are, now that they appear to have been lifted for France, we're expecting to see a lot more.
If you're planning a trip down you won't be disappointed. The weather is stunning, regularly in the high 20's down by the lake. In Thollon there is still a refreshing gentle breeze but the skies are azure blue with hardly a cloud.
It's hard for us to gauge what it's actually been like in other countries over the past few months, but here, despite all the restrictions, there seems to have been little panic and there is now a clear determination to get back to near normal as quickly as possible. As they say in Italian 'chi va piano, va sano, va lontano'. Fingers crossed.
..................................................................................................................................................................................................................................................................................................
Riders on the Storm
I love a good storm, (as long as I'm safely tucked up at home!). When thunder rattles the windows and echoes along the mountain tops and lightening illuminates the distant peaks like a strobe in a nightclub. Our storms in Thollon are never half hearted, and this week's have bordered on the sheer spectacular. Hailstones have pounded the village and flattened the gardens, creating small icecaps that sat like roundabouts for days in the fields in front of our apartment.



Did you know that It was a similarly stormy night on Lake Geneva that heralded the birth of one of the greatest legends in history, Frankenstein's monster? A creation that has spawned a thousand movies and was the catalyst of the multi-million pound horror industry. In fact, as you travel by car from the airport in Geneva to Thollon, you pass within yards of the elegant 18th century villa where Frankenstein's monster took his first figurative steps.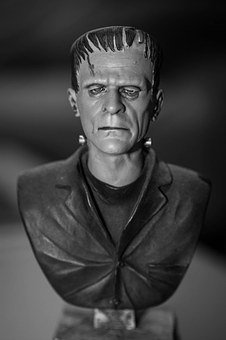 Let's go back to the extraordinary 'Year without a Summer' of 1816. All across the northern hemisphere the effects of the eruption of Mount Tambora, an active Indonesian volcano, were being felt. Tambora spewed over 25 cubic miles of molten rock and ash into the atmosphere in 1815 with devastating effects on climate and agriculture throughout China, Europe and North America. There was widespread flooding, crops failed, dark clouds covered the skies forcing people to light candles during the day and it rained incessantly. The temperature remained unseasonably low all summer and snow covered the Jura in June and July. It was into this eery half-lit world that Mary Shelley first introduced her tortured creation.
The atrocious weather in Geneva that summer dampened the spirits of a small group who had travelled to Geneva from England in search of new adventures. Mary Shelley and her 'husband' Percy had rented a small cottage by the lake, (just about where the road from Geneva to Thollon sinks into the new tunnel) but preferred to spend most of their time at the Villa Diodati in the company of Byron and his doctor John Polidori.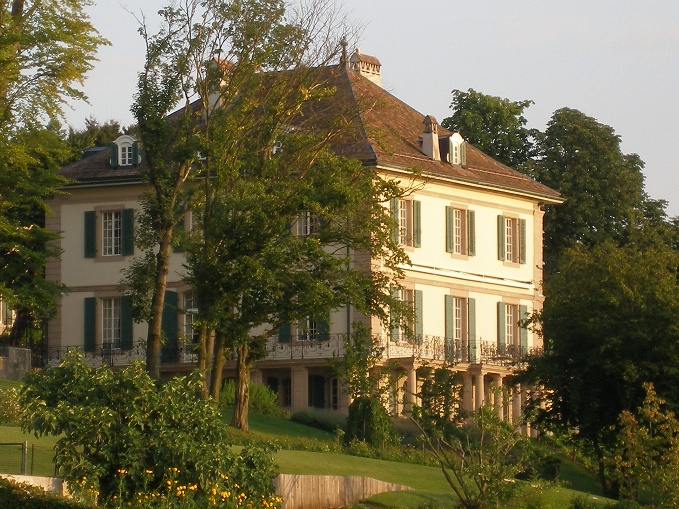 The Villa Diodati, Cologny One stormy night, back in the days before Gogglebox and Match of the Day, Byron suggested they each write a ghost story to pass the time. Byron wrote a few pages and quickly got bored, but Mary Shelley began her epic tale of the tragic life and death of the creature created by Dr Frankenstein.(Although Byron abandoned his story, it was taken up by Polidori who developed it into a story called 'The Vampyre' which in turn, many years later, was picked up by Bram Stoker and became Dracula.
Around the same time, the general public, Percy Shelley included, became fascinated by the creation of electricity, attending public demonstrations of 'galvinism'. Nick Groom of Exeter University cites one particular experiment in London in 1803 'when galvanism was used on the body of an executed criminal. The very first thing that happened was that the corpse opened its eyes. A very Frankenstein moment'. He describes Shelly's own experiments with electricity when he 'used to make all the family sit around the dining room table holding hands, and he'd turn up with some brown paper, a bottle and a wire and they'd all get electrocuted'.
Whatever the inspiration behind the story of 'Frankenstein, or Prometheus Unbound' it has remained an iconic novel. Looking out over our balcony in Thollon on a dark and windswept night, it's not hard to imagine the lonely existence of the Creature, in the wilderness of the mountains that border the lake.
The Villa Diodati still stands above the lake in Cologny, it's now a private house. It has one of the most spectacular views of Geneva and of the lake of any property in the area. In the evenings people sit in the Byron meadow, Le Pré Byron, next to the villa, waiting for the sun to set over the romantic backdrop of the Jura. A short 5 minute walk from the Villa Diodati you can find the incredible
Martin Bodmer Foundation which houses some of the worlds most precious manuscripts, including a Gutenberg Bible worth over £20 million. Mary Shelley's original notebooks formed part of an exhibition here in 2017, which sadly I missed, but still well worth the visit.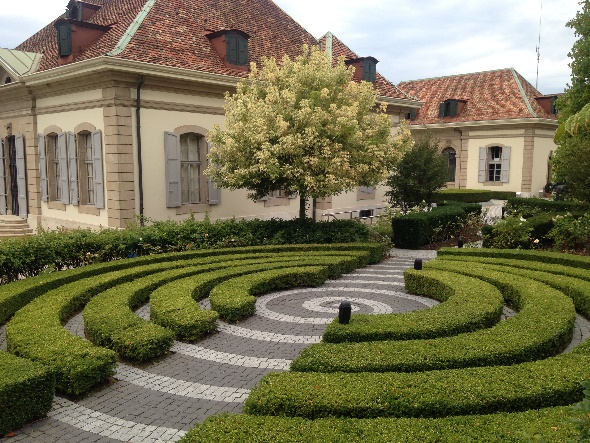 The Martin Bodmer Foundation at Coligny
A statue of Frankenstein's 'creature' can also be found in central Geneva, in the PleinPalais, where he's affectionately known these days as 'Frankie'. I think he'd like that.
++++++
I hope you've enjoyed some of my stories over the past few weeks. Thank you for reading! I'm taking a short break now to head off adventuring down the Grande Route des Alpes to the South of France, hopefully I'll pick up a few new stories along the way.
You can follow my travels on Instagram at 'talesfromthebalcony' and, fingers crossed, I might be allowed back soon 😉
...........................................................................................................................................................................................................................
Life is a Roller Coaster
You know that moment, when you get to the end of a roller coaster ride and breath a huge sigh of relief, well we're almost there! But instead of hitting the buffers we're coasting into a bright new future. One where we can start seeing our friends and families, begin to travel and plan holidays, walk in the mountains and boat on the lake. All those things that we sometimes took for granted before the COVID epidemic.
Not all of the restrictions here have been lifted, there is still a limit on the number of people allowed in shops at one time, a distance of 1 metre apart is 'de rigueur' and shop assistants peer out at you from behind hazy Perspex screens. On the other hand, all shops are now open, almost all of the cafes and restaurants are open, and people are using masks less and less. Have we become more blasé about taking precautions? I think on the whole we have. The official infection rate for the Haute Savoie today (Sunday 13th June) is 0 new infections and 0 new hospitalisations. Whether that is down to the natural lifecycle of the virus or the extreme precautions taken I don't know. The general feeling however is that the lockdown measures have helped to lessen the impact of the epidemic and speed up a return to a semi-normal existence.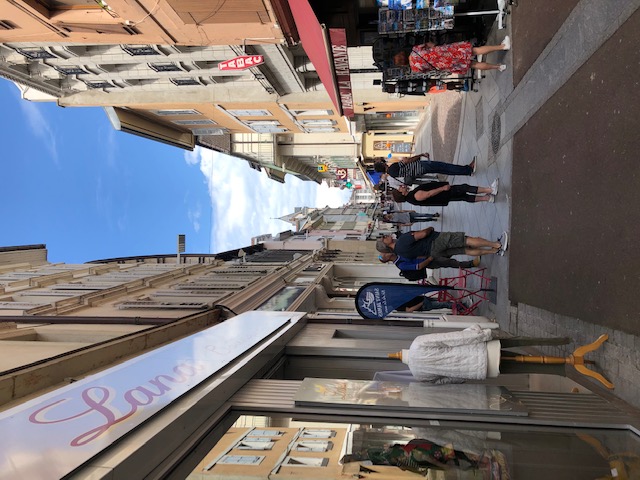 Tourists are still thin on the ground though. We were in Lyon last week and were the only Anglophones there. In fact, we were the first visitors in the hotel after reopening…. and also the only ones!
In Thollon the weather has dampened the spirits of any potential weekenders and the village is still really quiet. We've had another week of rain, low cloud and low temperatures and much to Mr B's disgust, the heating has been switched back on again (and won't be going off for a while).
With the EU's internal borders due to open tomorrow, I expect we'll start to see a slow trickle of visitors, keen to check out their somewhat overgrown and dusty second homes. Hopefully, they'll also inject a little life and a little cash back into the small businesses who are all geared up to welcome them back.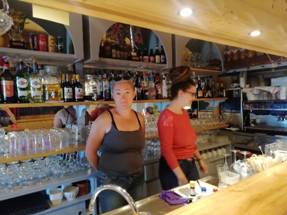 The holiday season is potentially looking good for Thollon and the surrounding areas. Local businesses are banking on fresh mountain air, the amazingly crystal-clear lake, blue skies and sunshine to lure the French in particular to holiday here this year. Good news if you have property to rent out, maybe less good if you're hoping to find something yourself. With the current quarantine restrictions in the UK whereby you'll need to self-isolate for 14 days on your return from France, I doubt whether we'll see you here for a while. You can rest assured though that Thollon will still be just the same as the last time you were here…. a place of timeless tranquillity, of fun and friendship and a home from home.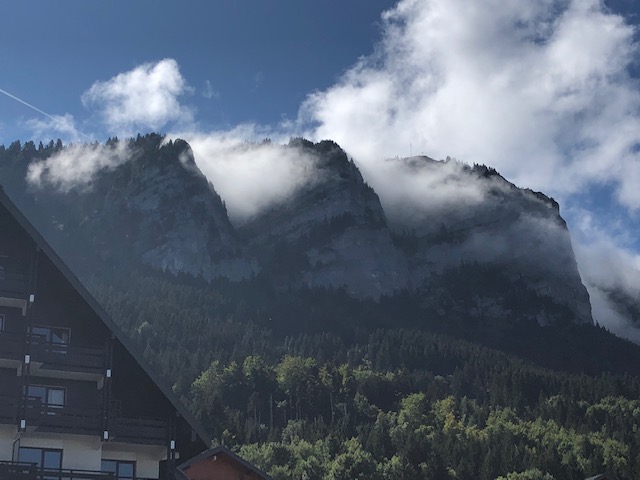 If you'd like to see more of my photos of Thollon search for me on Instagram at
......................................................................................................................................................................................................................................
Back to the Future
It's all been a bit stop/start this week to tell the truth. We were all set to sail into summer at the start of this week, looking forward to long lazy lunches in restaurants down by the lake and more laid-back evenings on the terraces of the cafes and bars in Thollon. It's not quite gone according to plan!It did start off well though, I have to say. On the first day of the re-opening of all shops, the restaurants and bars we headed down to one of those stunning lakeside restaurants with its 'Pieds dans l'Eau', (feet in the water) the Radeau, at Amphion. It was a perfect day….. 25 degrees, full sun and azure blue, cloudless skies. For the first time for 3 months I actually scraped off the jeans and put a dress on, what a shocking sight, and not only for me(after 2 months of lockdown I have legs like uncooked baguettes!).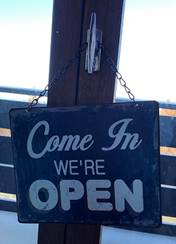 The restaurant was busy, most people were seated outside at the small tables that line the quayside, less than a metre from the water's edge. From here you can watch the fish in the crystal-clear water eagerly anticipating a crust of bread, and the cormorants as they skim along the flat mirrored surface of the lake. The staff were super welcoming, and all wore masks which was a bit surreal.There was no need however for customers to wear masks when seated at the table, luckily for us otherwise it could have been a very light lunch. Menus and wine lists were printed on paper table mats – what a great idea, to avoid being passed from person to person. This still allows them toring the changes with the 'Plats du Jour', always the best value on the menu at 20 euros a head. The whole lunch was topped off with a glass of chilled rose or two. Bliss.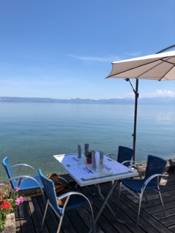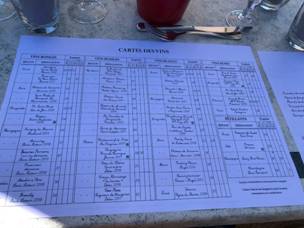 Purely for research purposes we then headed down to the XV restaurant in Thollon, the only bar to open on the first day. Chef Arnaud has offered take-away meals to those of us who couldn't face home fried beans anymore during lockdown, for which we'll be eternally grateful. The XV, like all restaurants, has spaced out its tables so that customers are the recommended 1 metre apart. It was a beautiful warm sunny evening so as you can imagine the terrace filled up quickly, mostly with young French locals, happy that life is returning to quasi-normal. Possibly having seen how successful Arnaud's opening night was, the remaining bars and restaurants in Thollon are now also opening. The St Nicholas opened on Thursday, the Ourson will open on the 8th June and Jerome's towards the end of June. Are there enough people in the village yet to sustain all these bars and restaurants?I'm not sure, I think they might be in for a few quiet nights to begin with, at least until the borders open on 15th June.
Since those heady days of what we thought was summer, the weather has taken a turn for the worseand we've been plunged back into a permanent layer of cold cloud sprinkled with thunderstorms and lashing rain. The storm warning lights sited around the lake are flashing on and off now as I write, warning people not to venture out on the water, so I presume there's yet another storm on its way.
From our balcony we watch the storm clouds billowing along the lake, it's like someone drawing a blackout curtain across the sky.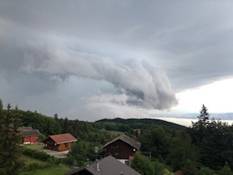 On a more personal note. My balcony is being overrun with lettuces (letti?), it looks like we've carpeted the whole thing with AstroTurf. I've no idea who's going to eat them all. I don't even think you can make soup out of them. It was one of those staple foods that I thought I couldn't live without when they introduced the lockdown, 'must have something green', 'what can you grow in half a plastic bottle on the balcony'. It'll look like a tropical rainforest out there if they start to bolt! Once I've scythed through the lettuce I think I might experiment with a few geraniums, just for a change. Also, here's a quick chance to say thank you to the Thollogands who kept the community together during lockdown…. from the postman to the take-away restaurants, the cheery supermarket staff to the boulangerie. Not forgetting our local doctor, who fortunately I've never met, and all of the people who worked, cared for and kept a discreet eye on their neighbours without looking for praise.
Thollon has always been a warm and welcoming place, this crisis has just highlighted what a truly amazing place it is.
...................................................................................................................................................................................................................................................
1st June 2020
Here Comes Summer
Thollon is rolling gently into the long lazy days of summer. It's as if the village is slowly waking up from a long sleep, shaking off the quiet dusty days of lockdown and emerging tentatively into the sun. The carpark is gradually filling with vehicles full of rucksacks, walking boots and mountain bikes and pasty-faced visitors tumble out of cars eager to find the freedom of the Memises once again. The gondola has been kick-started back into action and is enticing hikers back up the mountain with the promise of take-away panini and picnics overlooking the rubble of the old restaurant.
Meanwhile the owners of bars and restaurants in the village are debating whether to reopen this week or whether the limitations imposed on social distancing and the wearing of masks make it uneconomical or just too much hassle to relaunch their businesses yet. Luckily for us, the XV restaurant and bar is definitely reopening. Mr B. who has stoically endured home cook-ing for the past 2 months, has already booked our table for this Friday. He's also booked a restaurant in Amphion for lunch on Tuesday and another for dinner on Wednesday. Appar-ently it's purely for research purposes, so that I can write about our experiences next week…. but he's definitely trying to tell me something! It's going to be so interesting to see how this is going to work. Down by the lake the summer holidays are in full swing.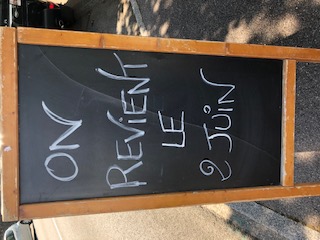 Evian is packed with people strolling along the promenade, the kiosks are doing a roaring trade in ice-cream and take-away drinks, beer and wine included. The magic roundabout and playgrounds are full of slightly manic chil-dren burning off their pent-up energy. The lake is crystal clear, and each day sees more boats venturing out of the marina, the invigorating breeze blowing away the cobwebs of 2 months' confinement. The graceful historic ship 'the Savoie' is plying her way tranquilly along the shoreline.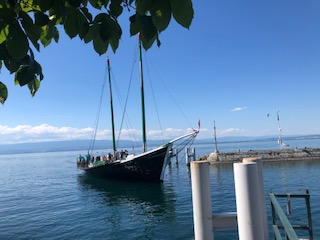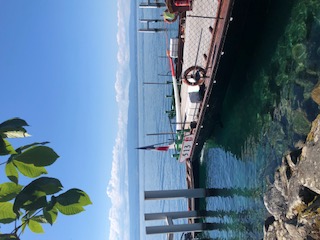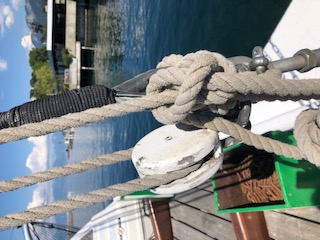 Mr B. Is also super excited at the prospect of the grand opening of local legend, Jean-Jacques' new kiosk/bar on the promenade later this week. So, as you can see, things really are getting back to normal here. "Les Anglais" have been sorely missed in the village, not just for the money they bring in but for their conviviality and open heartedness. Make no mistake, you'll be welcomed back with open arms.
................................................................................................................................................................................................................................................................................................
24th May 2020
Thollon Tripper
Nestled in the foothills of the Alps, Thollon is ideally placed for exploring the romantic shores of Lake Geneva and the rugged mountains ranges that surround it. Now that lockdown in France has eased we can travel anywhere within the Haute Savoie and up to 100 km outside. The lakeside roads are busy and the little wooden kiosks that sell refreshments have profited from the great weather and the holiday atmosphere of this post lockdown week.
Once you venture away from the lakeside however, it's a different story. The mountain roads are empty, villages are deserted, cafes, bars and restaurants still closed. Loaded with a selection of disposable masks and a bucket of hand sanitizer we decided to go exploring and took our little rentalcar into the mountains for the day.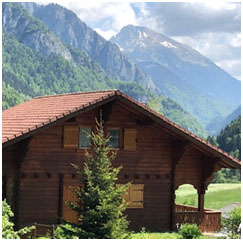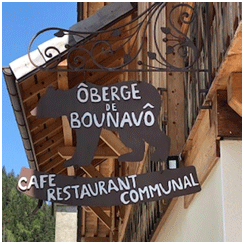 Taking the 'Grande Routedes Alpes' we headed through spectacular mountain scenery to Les Gets for a visit to the intriguing Museum of Mechanical Music. Small museums and landscape gardens were amongst the first businesses allowed to reopen in France, most are run by volunteers and have struggled to survive without visitor income. Apart from a few inquisitive farm animals, we were the only ones out and about and so it was surprising to find this little gem of a museum open. Masks on, hands firmly in pockets, we headed in to be warmly greeted by 3 people in full PPE. We were the only people there. Requested not to touch anything we navigated our way to the upper floors.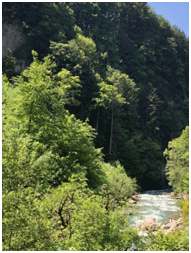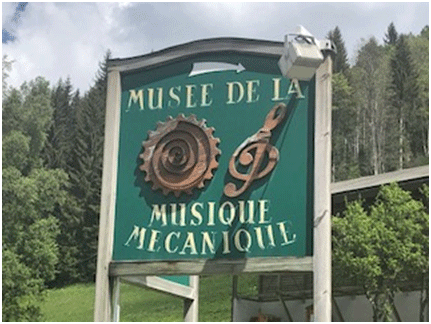 I have to say, I really wasn't expecting much, but was I in for a surprise! This ultra-modern museum housed in one of the oldest buildings in Les Gets is home to a collection of over 800 musical marvels and is the largest collection in Europe. Every form of honky-tonk piano, ghost accordion and phantom violin is represented in this collection and all in full working order.
Ever wondered who the mother of the Wurlitzer was? Probably not, but in any event she's here, in the form of giant circular metal discs pierced at strategic points, playing lively polkas and whirling waltzes to turn of the century pleasure seekers. From jazz to alpine melodies, from tiny delicate musical boxes to giant, colourful fairground organs they're all here and the best thing is….. you get to hear them all.
Why did the organ grinder always have a monkey? No, it's not the start of a really bad joke, or a smart alec way of referring to your boss at work, it's because people were not allowed to hand coins directly to pedlars or street musicians in France, but you could hand the coins to the monkey, who, if he valued his nuts, would obviously pass the coins on to his owner!
My favourite? It has to be the huge Belgian dancehall extravaganza. Built in the 1950s in Antwerp, painted in ice-cream colours with neon lighting, it's fronted by two Belgian saxophones, alongside mechanical accordions, trumpets, drums and percussion. It's a Saturday night at the 'balpopulaire' kind of beast that could certainly tell a story or two.
Sadly only half of the museum is open to visitors at the moment. We weren't able to see the collection of the earliest gramophones or visit the 'Salle des Machines Parlantes' with the first reproduction of the human voice. I would also have loved to see the automatons from the shop windows of the Faubourg St Honoré in Paris with their fairy story and Jules Verne themes. Still, that's a good reason for a second visit sometime in the future!
Current opening times: Daily from 14:30 – 18:30 (closed on Tuesdays) Entrance fee: Adult 9 Euros, Child 5 Euros (only building A open at present)
Full details can be found at www.http://www.musicmecalesgets.org
.............................................................................................................................................................................................................................................................................
14th May 2020
Arabian Nights
The week of the long-awaited deconfinement here in France has turned into a bit of an anti-climax. The weather has turned, and the village has been swathed in thick, swirling cloud and battered by heavy rain for the past few days. While we wait for the return of clear skies and sunshine, let's take another little peek at the hidden history of Thollon and its sublime surroundings.
Today's question is "what links Maxilly to 1001 Arabian Nights, one of the world's most famous stories?" Perhaps it's not what you first think.
Driving back to Thollon from the lakeside at the Petite Rive, you pass a long winding wall and manicured hedge that runs almost the length of the little village of Maxilly. Long-time visitors to Thollon probably know that the wall encloses the extensive domains of the President of the United Arab Emirates. Maxilly however, has other connections to incredible wealth, sumptuous banquets and a glittering ballroom.
A small wooden signpost at the side of the road points the way along the base of the lower wall to the Bois duBal, once also known as the Bois de Blonay or the Bois de Beckford. Now an open field overlooking the lake on one side and surrounded by majestic trees, this was once a place famous for its magnificent all-nightparties and lavish banquets. Classical statues stood like silent chaperones between the chestnut trees that were strung with lanterns and garlands of fresh summer flowers. Thousands of candles lit the scene, their quivering light reflected in grand mirrors that created the impression of a never-ending ballroom. Tables heaved under the weight of sumptuous banquets and a 30-piece orchestra played until the sun rose in the morning. Gilded carriages and private yachts brought the aristocracy from around lake along with eager local worthies.Silk ballgowns shone in the candlelight andtrailed through the grass.The host was William Beckford who regularly held these dazzling al fresco balls during the summer season, which the locals were allowed to watch from a distance.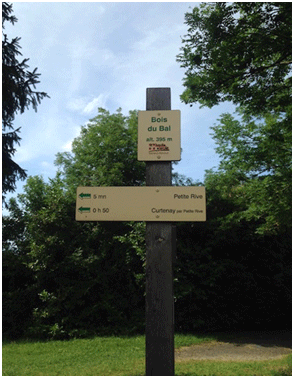 William Beckford arrived in Evian in 1786. The story has it that Beckford had been caught 'in flagrante' with the under-age William 'Kitty' Courtenay, which although never proven, was enough to ruin his reputation and send him scuttling across the channel to a more liberal Europe. He first went to Lausanne and when his wife died in childbirth, settled on Evian as the place to nurse his grief. In Evian, Beckford lived at Chateau Fonbonne (the plaque on the building says Duke of Bedford, but this is a common misspelling of Beckford). If you venture into the small garden at Chateau Fonbonne there's a little wooden door that takes you into the dining room with its monumental fireplace surmounted by a coat of arms where Beckford gave his renowned banquets (often only open for art exhibitions). While Beckford was in Evian he was visited by the notorious Buck Whalley, a member of the Dublin Hellfire Club and 'Ireland's Greatest Adventurer'. Whalley once road a white Arabian stallion through the 2nd floor drawing room and out of the 30-foot window of his father's house on St Stephen's Green in Dublin, leaping a carriage in the road, before breaking his leg and killing the horse. Whalley left a series of letters describing his visits to Beckford's chateau, 'scented with pine from the great fireplace' and the open-air ballroom at the Bois de Blonay.
So, what's the connection with 1001 Arabian Nights and William Beckford, 'the richest man in England'?
When he was 10, Beckford inherited the equivalent of £100 million from a fortune founded on Jamaican sugar plantations and slavery. He was privately educated, even being taught music by Mozart, and to cut an incredibly long story short. developed a love of Lac Leman when he spent 18 months in Geneva with his tutor. When he was 21 Beckford wrote one of the most famous Gothic novels, 'Vathek, an Arabian Tale'. Inspired by 1001 Arabian Nights and reflecting the late 18th century obsession with the mysterious East, Vathek blended the supernatural, ghosts and all things Gothic with rich imaginative descriptions of the court of the Caliph.
After several years in Evian Beckford eventually went back to England where he built the monumental Fonthill Abbey with its 300-foot central tower and, according to contemporary sources, 60-foot-tall front doors.He took with him a memento of his time in Evian, a dwarf named Pierre Cola de Grailly, known as Piero, who lived with Beckford for 40 years. It was Piero's job to great visitors to Fonthill, his restricted height emphasising the enormousness of the doors and entrance hall.
The Bois de Beckford, or Bois de Blonay continued to be used for fetes and village dances by locals for many years after Beckford's departure. Eventually time was called on the wild carousing and the Bois was handed back to mother nature. Standing on this green expanse today it's easy to imagine you can still hear the sound of the orchestra tuning their instruments, the rustle of silk as the dancers reel and the ripple of laughter from the guests…….but then again, maybe that's just the neighbours over the wall.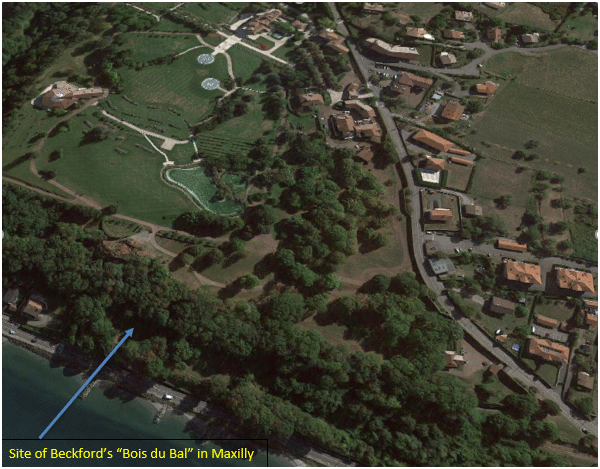 ...........................................................................................................................................................................................................................................................................
8th May 2020
Green has never been my favourite colour. Until now! France in her tentative move towards easing lockdown, has designated the Haute Savoie 'Green'. Those more severely affected areas in the North-East of France and the Paris area are designated 'Red' zones and will remain more tightly controlled for now. Along with the gradual reopening of schools and workplaces there are new rules for the use of public transport and changes to financial support from the Government. International travel, including travel across borders within Europe, remains restricted to essential travel or repatriation only and is to be reviewed in June.
So, what does this mean for us here in Thollon? It means we'll be able to travel freely throughout the Haute Savoie and up to 100 kms as the crow flies from here, all without needing a permission slip. We'll be able to travel together in the car and even take the dog, the cat and the goat with us if we like. Of course, the 100 km thing sounds great until you realise that we're mostly surrounded by Switzerland, so in reality we only have a slim slice of the pie to explore, but by the time you arrive we'll know every nook and cranny of our slice of the pie. The lake and the lakeside beaches are out of bounds till 1st June at least, however the forests are open, so we'll be able to enjoy long sunny walks on the Memises from Monday. We'll be able to shop! Hurray! (I've had to resort to buying shoes on the internet just to feed my addiction).
One of our local newspapers, 'Le DauphinéLibéré' is offering a free face-mask with each copy sold in the Sherpa on Tuesday, so I bet that will be popular. In other news...work has started on the new restaurant in earnest. All that's left of the 'Eagle's Nest' is a heap of rubble and a forlorn ski boot lying at the side of the road.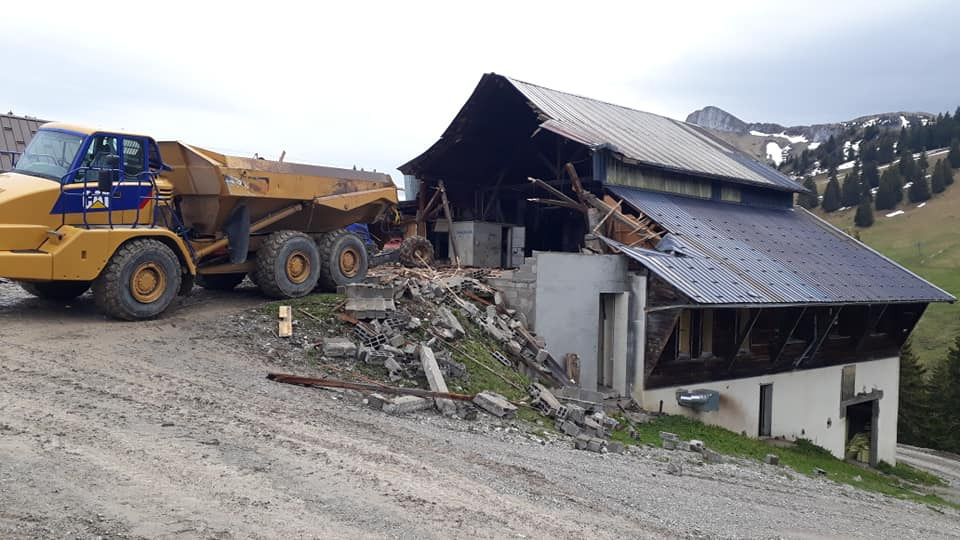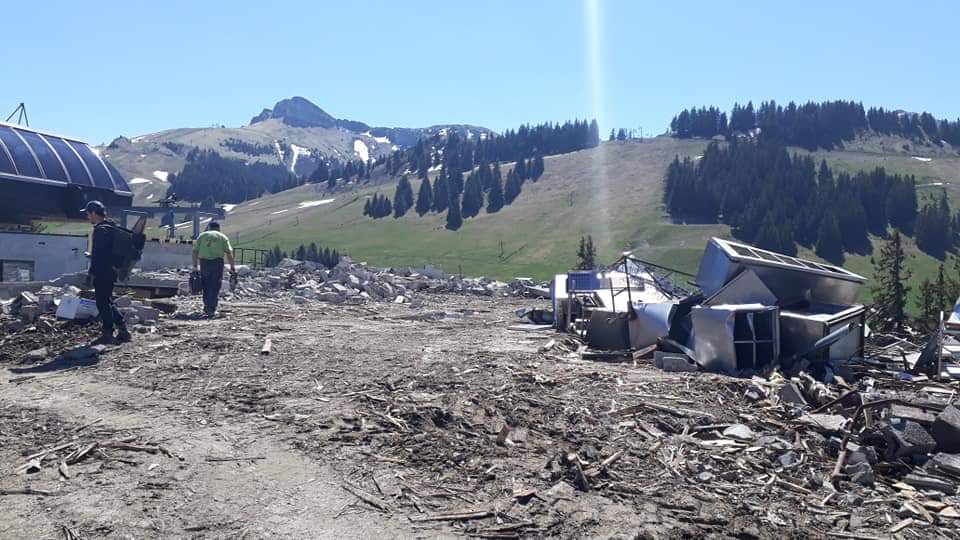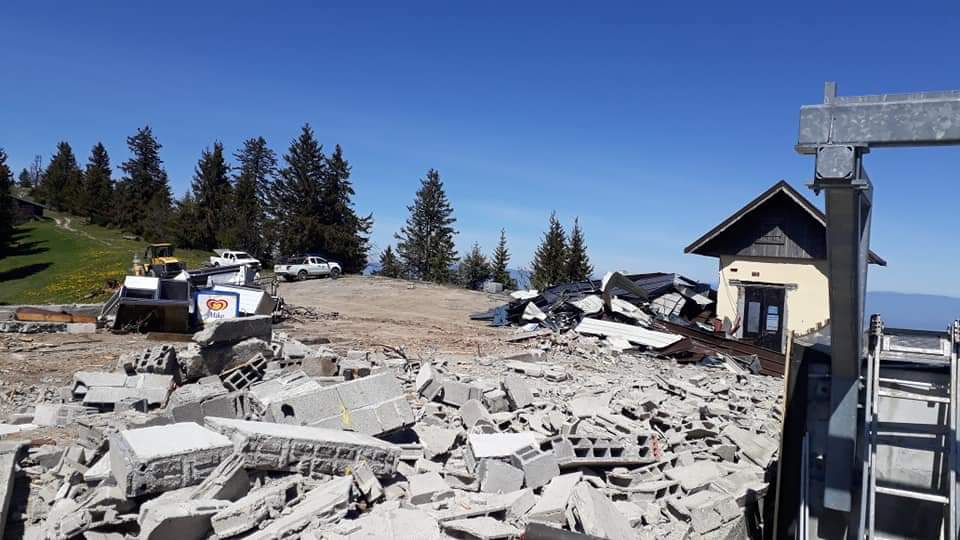 Every now and then we catch glimpses of yellow lorries, diggers and dumper trucks edging their way precariously up and down the zig-zag path like little worker bees heading back to the hive.We're hoping for the 'big reveal' of the new restaurant in late Autumn. In the meantime, the picnic room that lurked beneath the terrace of the old restaurant may reopen in summer to offer drinks and snacks to knackered walkers and grumpy children. Of course, all of this could only be temporary and if the virus spikes again we could go back into a hard lockdown. Just in case, I'm setting my alarm for 6am on Monday morning as I don't want to miss a minute's freedom.
Thanks to LB & Pictures MS
May 2020
The new restauarant (picture below) will include a panoramic view of the lake.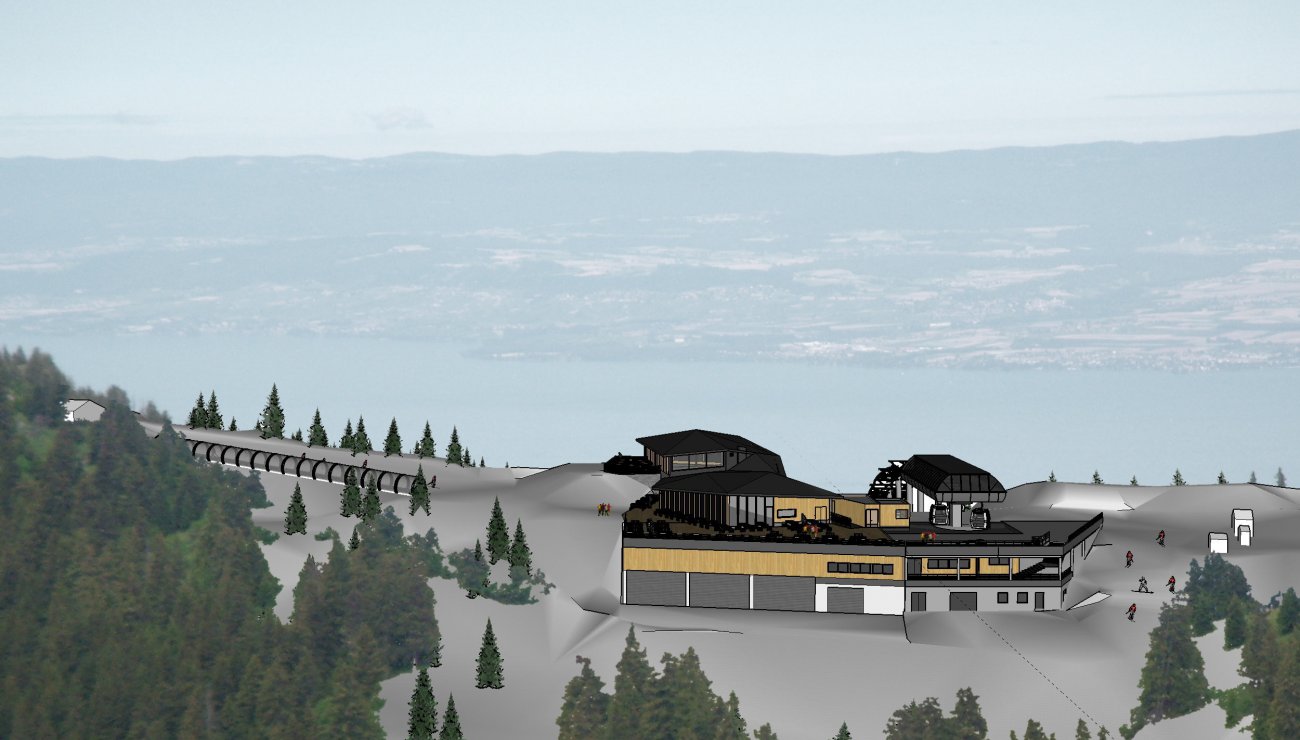 29th April 2020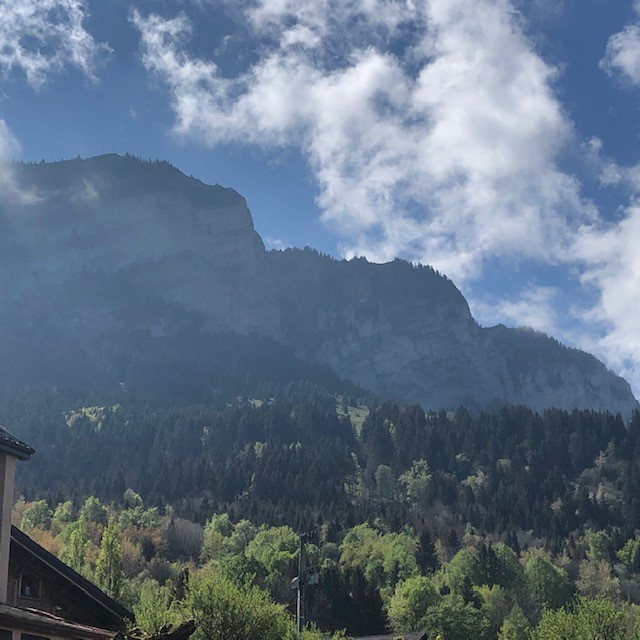 Freedom!
Well not really, but it's a move in the right direction. The French Prime Minister, Edouard Philippe, has announced the lifting of some of the more restrictive lockdown measures here from the 11 May, albeit subject to a review on 7 May.
In theory we should be able to leave our homes without the need to complete the tedious permission slip, hurray. More importantly, we can stay out for as long as we like. All shops, hairdressers, libraries and small museums will be able to open. Social distancing in shops must be respected and wearing masks strongly advised, but not compulsory. Masks will be compulsory however, on public transport. Meeting in small groups of up to 10 people will be allowed, handy for the barbecue season! Travel will be limited to within 100 kms of your home, however the incentive to travel is somewhat curtailed by the fact that all restos and bars to are to remain closed for another few weeks.
Apparently hairdressers are increasing their prices as they're having to buy in PPE and because of the vast quantities of extra hair dye they're having to order to deal with all those greying roots. Talking of colour, on 7 May each department is to be colour coded, red for those where the virus is still virulent where tighter restrictions will stay in place and green for those where less or no virus is present.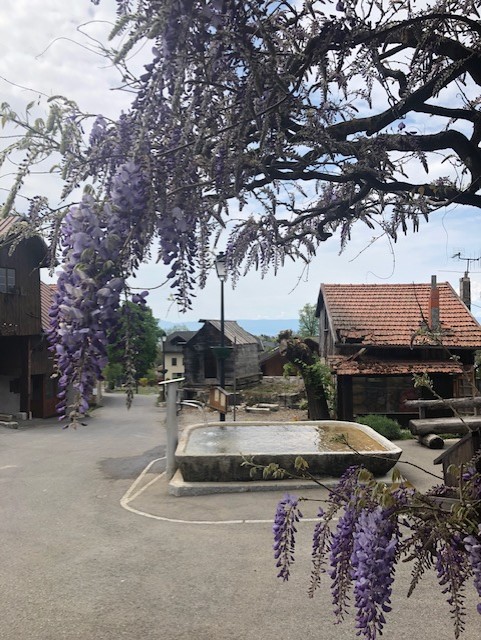 Here in Thollon, it is the 'Préfecture' at Annecy who will have the final say on what we can and cannot do. I can't wait for the day when I don't have to move Ninja like down the supermarket aisle, although I have to say the black outfit is pretty slimming. It gives the illusion that I'm still at my pre-lockdown weight, something the bathroom scales are telling me is a downright lie…..they're heading for the tip as soon as it reopens!
As for international travel, while we're looking forward to the tsunami of tourists arriving back in the village, there is currently no mention of lifting the restrictions on international travel. With the 100km limit for travel within France, the possibility of holidaying in Thollon in the next month or so seems remote, so don't pack that suitcase just yet!
25th April 2020
The sounds of silence The sound of lawnmowers and strimmers. Construction work in the distance. The tantalizing beep of the gondola as it inches up the hillside. The sound of buds popping on the pine trees, releasing delicate misty sprays of seedlings into the air. The ribbon of cloud surging over the Jura like surf on a Cornish beach.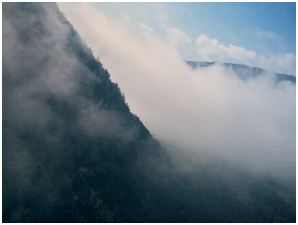 (Photo by: Lionel Gustave, Unsplash)
Migrating birds swirling overhead, catching the thermals that will sweep them across the lake towards the cooler climes of Northern Europe. The sudden jarring noise of a police siren in the village, flagging down a couple travelling together in a car. The flourish of the pen and the ping of the clipboard as they're issued with a fine for contravening the rules. The plaintive call of the village cats who swagger down the middle of the road with a misplaced sense of confidence.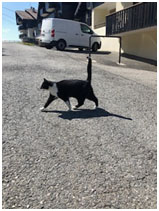 The peace and tranquillity sharpens the senses, the colours are brighter, the air clean and crisp in the mornings, warm and soft in the afternoons. Sound travels more clearly, or does it? Maybe we just have more time to stop and notice. The sound of a phone ringing in the distance……..how exciting, have to dash, might be for me!
Thanks to LB
16th April 2020 Thollon and the Tourist
Thollon is bursting into life! Everywhere you look there are flowers. The spectacularly good weather has encouraged the sudden appearance of lush green leaves and fields and gardens are dotted with blossom laden trees. Life is creeping back into the village too. Arnaud, chef extraordinaire at the XV restaurant, has started to offer a take-away service which is proving extremely popular with those of us fed up with beans on toast.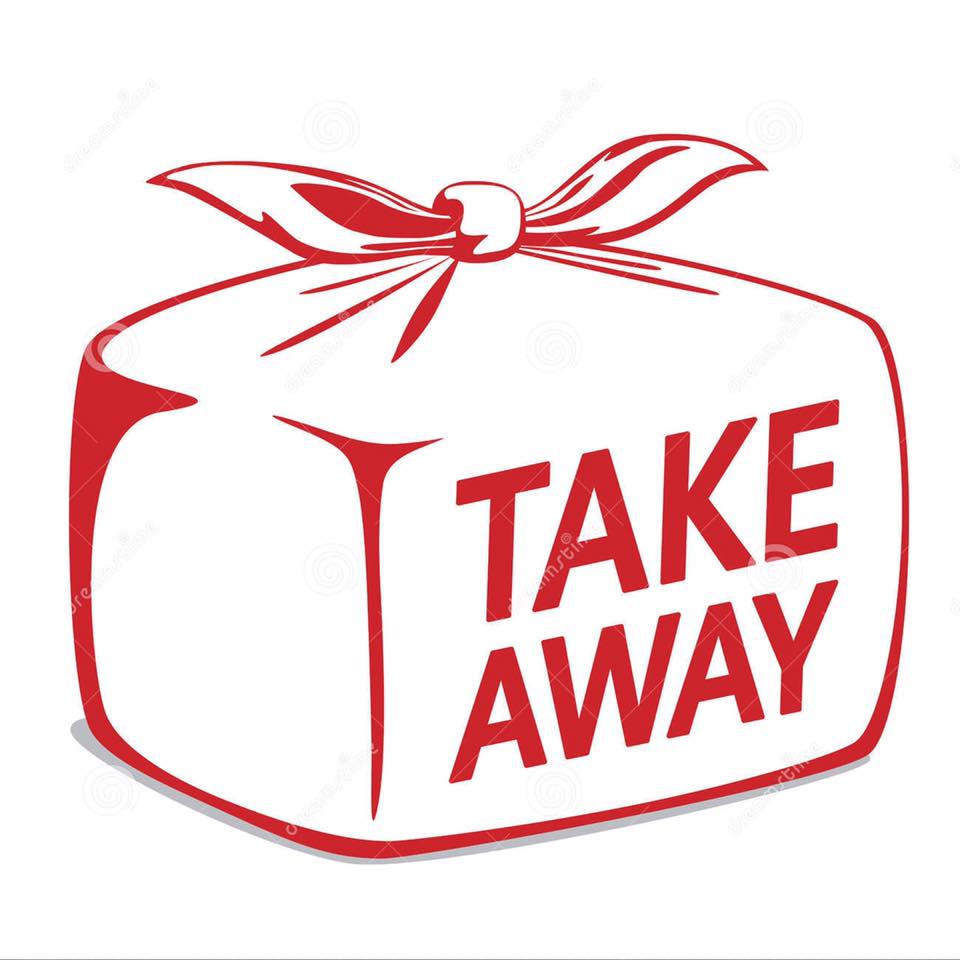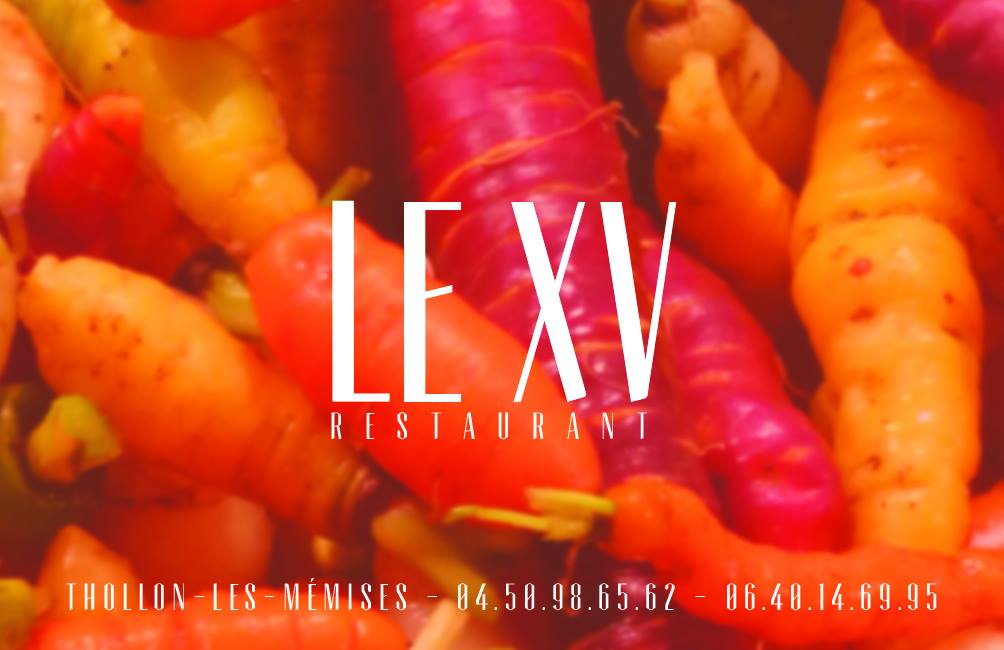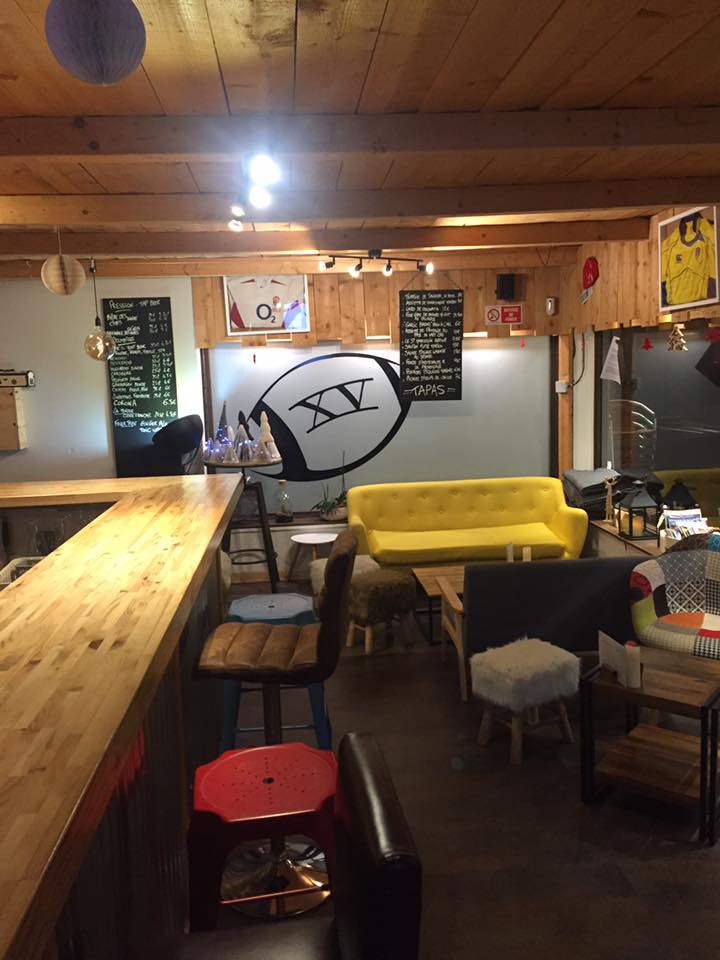 To accompany yourtake-away meal you can also buy a bottle of carefully selected wine from the Cave à Vin further down in the village.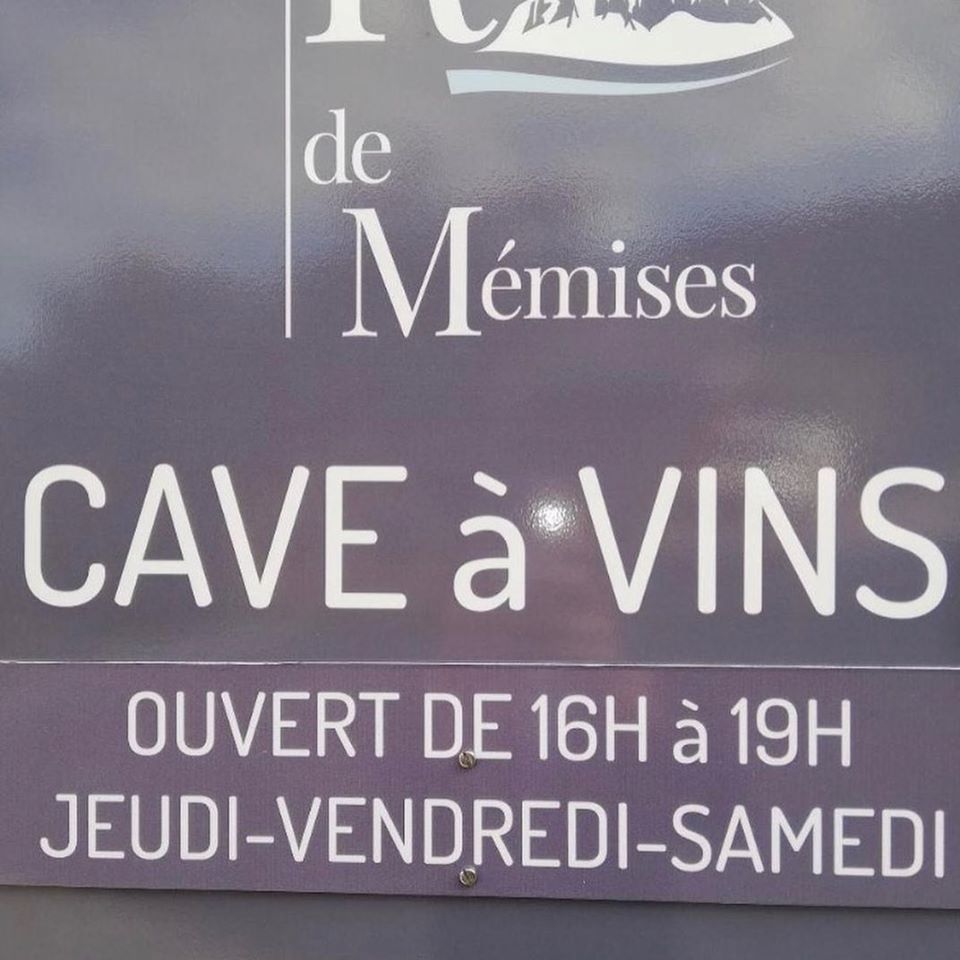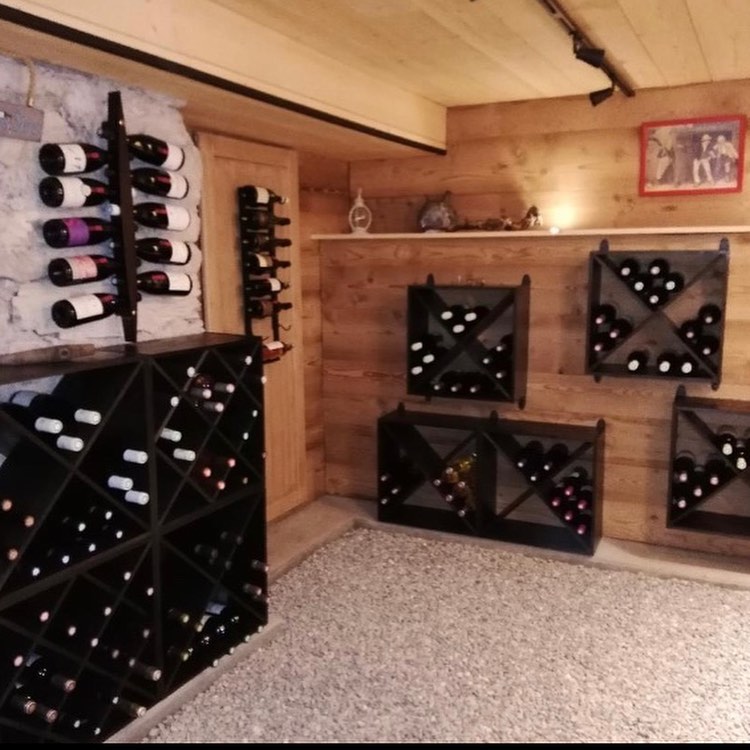 Construction work is underway here, there and everywhere, well everywhere except the restaurant at the top of the slopes that was due for refurbishment this year. There are, however, no tourists! Tourism has been the lifeblood of Thollon for years.
Tourists are welcomed here all year round but particularly in the winter for the ski season and for the idyllic summers when you can walk for miles in the mountains or swim in the crystal-clear waters of the lake. Of course, it won't be long till the tourists are back but, in the meantime, let's use this opportunity to learn more about this little corner of Paradise.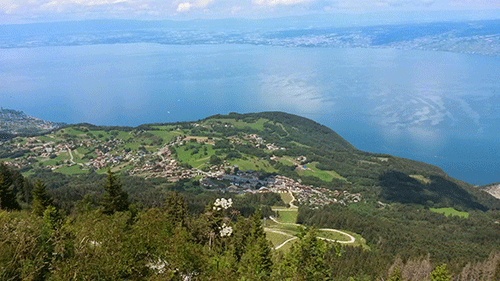 The Birth of Tourism So, let me tell you a bit more about Meillerie, the tiny dusty village on the lakeside, directly below Thollon. This little village isarguably the birthplace of modern-day tourism. Driving through Meillerie you might have noticed the mural painted on the side of a house, of a girl reading a book. Do you know who she is? If you're really sharp-eyed, you might also have spotted a sign pointing to 'La Pierre de Rousseau'….any closer now? The girl shown reading in the mural is Julie, the heroine of the phenomenal best-selling book of the late 1700's, 'Julie, ou La Nouvelle HéloÏse'.Written by author, philosopher and social commentator Jean Jacques Rousseau, the book caused a storm across Europe. Published as a series of letters between star-crossed lovers, it chronicles the doomed love affair of Julie and St Preux. In the story St Preux writes his letters to Julie while seated on a rock on the slopes above Meillerie from where he can see Clarens on the opposite side of the lake – home to Julie, the husband of her arranged marriage and her children. Needless to say, the story ends in tragedy because, as we all know, true love doesn't always win out. Rousseau's ability to describe such intense emotion, heavily laced with sentimentality, and his vivid descriptions of the settings of the plot led many to believe the story to be true. People wrote to Rousseau in their hundreds asking for portraits of Julie or at the very least one of her tear stained handkerchiefs...and the tourists, mostly from Britain, arrived in their droves. Everyone wanted to visit the site where St Preux had carved Julie's name a thousand times in the surrounding rock. Meillerie became an overnight sensation. A symbol of true love reflected in the awe-inspiring majesty of its rocks running down into the depths of Lac Leman, and in its rushing torrents and its pine covered, flower strewn slopes. To the hordes of tourists, clutching their battered copies of La Nouvelle HéloÏse, Meillerie offered not just a quaint and pretty place to visit but a uniquely intense emotional experience…and they couldn't get enough of it. (Attribution : Charles Édouard Le Prince / Public domain)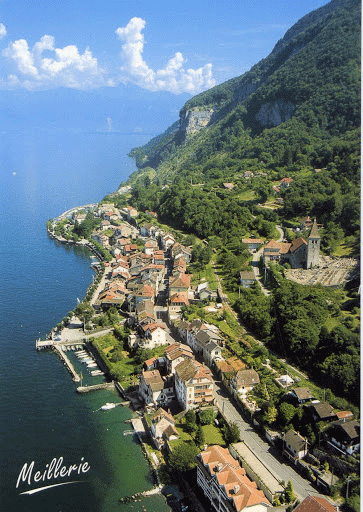 Rocking with Napoleon The advent of the French Revolution, and the lengthy Napoleonic Wars that followed this period of turmoil, severely curtailed the burgeoning tourist industry at the turn of the century. It was only after the Battle of Waterloo in 1815 that British tourists once again began to venture across the channel in any great number. They found a very different Meillerie. In the intervening years, the Emperor Napoleonconstructedthe road we use now to allow him to move his troops and canon rapidly along the lakeside and into Italy. Napoleon's answer to the forbidding rocks of Meillerie was simply to blast them apart using canon mounted on boats out on the water, thus no doubt ruining many a Sunday afternoon picnic. A nice little story about the Imperial route or Napoleon's road is that it was originally meant to run at the back of the town of Evian and not along the water's edge as it does now. Napoleon's chief engineer, Nicolas Céard, was said to have a particularly alluring mistress back in Paris who he was desperate to get back to. So, he took the quickest route possible and built the road straight through the town.
Mad, Bad and…. Certainly… Dangerous to know Meillerie's fortunes as a tourist destination were revived in 1816 by the visit of the notorious Lord Byron. It's hard to overstate how famous Byron was throughout Europe at that time, not only for his exotic and chaotic private life but also for his poetry. Whilst in Geneva, Byron met and became friends with another famous poet, Percy Byssche Shelley. In June of that year the two set out, 'La Nouvelle HéloÏse' in hand, to sail around the eastern end of Lac Leman, visiting Nernier, Evian and Meillerie on the way. Having spent one or two days in Meillerie they headed towards St Gingolph. As they left Meillerie a huge storm blew up and threatened to sink the boat or dash them onto the rocks. Despite having an experienced helmsman aboard, the tiny boat was heavily overloaded as Byron could never travel without cases of clothes, books, etc. Shelley couldn't swim and sat stoically clinging to the sides of the vessel. Byron on the other hand was a strong swimmer and stripped off his coat ready to swim to shore with Shelley in his arms. Presumably the helmsman was to be left to his own fate. The boat was eventually washed ashore at St Gingolph and no lives were lost, much to the astonishment of the locals. The storm had however ripped out many of the walnut and chestnut trees that lined the lake side at St Gingolph. Byron added his own fuel to the fire of the tourist industry at Lac Leman, writing about Meillerie and Clarens in the third part of his epic poem, Childe Harold. The publication of the poems he wrote while here in that summer of 1816 reignited interest and led to a surge of visitors once more.
And so.. There is so much more to write about Meillerie. It may have lost its allure, and its literary associations have been dimmed by the mists of time, but like everywhere else around this incredible lake, you only have to lift the covers and peek beneath what you see today to discover a vibrant, intriguing and awe-inspiring past.
10th April 2020
Joyeuses Pâques from here in Thollon! The sun's shining, leaves are appearing on the trees and the tracks are bordered with delicate wild flowers. Looking out over the lake I can see the ferry shuttling back and forth to Lausanne and an occasional power boat skimming along the Swiss shoreline, filling everyone watching it with envy. Thollon is quiet! Although, as I write, my neighbour has got out his new Saxophone! He's practising some rather catchy tunes which I'm sure you'll all love when you get back here in the summer. I hadn't realised how much I could enjoy 'The Pink Panther' but having heard it 26 times this morning I have a new appreciation of its subtleties. He is, in fact, very good, another one of those sickeningly naturally talented people. He's now moved on to the accordion with an uplifting rendition of 'La Vie en Rose'……. Sympa!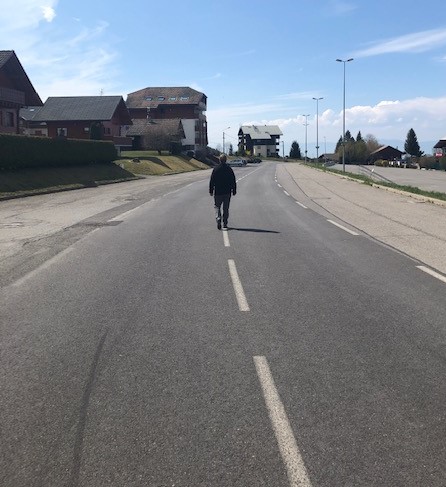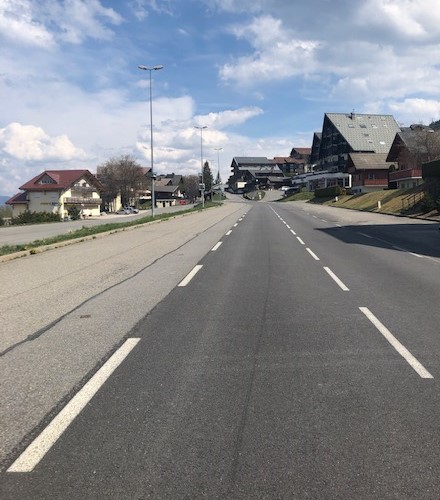 The village would normally be packed at this time of year but this weekend there's no-one about. One or two new cars have appeared over the past few days but there's been no mass invasion of holiday makers. Tight restrictions are still in place here, although garden centres are now classed as essential services and people are being encouraged to start growing their own vegetables. I'm experimenting with a carrot top on the balcony, I think carrots could be off the menu for a while!
Still no sign of when this is going to end here, President Macron is due to make a speech on Monday evening, but we expect to remain in lockdown for a while yet. Here in the village the bottom line is that we really don't have much of a clue about what's going on. We watch the local news but Thollon is too small to warrant a mention and with so few people here there are no reliable lines of communication, so we rely on 'Radio Couloir'. When I worked in a French speaking office any news worth knowing was filtered down the corridors via 'Radio Couloir'. That's how we all knew that Doris from accounts was caught 'in flagrante' behind the photocopier and that Simon in stores kept a bottle of vodka in the broom cupboard. If you haven't heard this expression you can translate it as 'Chinese Whispers' i.e. I was told by a friend of a friend who swears it true. So, Radio Couloir tells us one day that 'yes there is Coronavirus in the area', and the next day that 'no there isn't'. All we can do here is listen to the Government advice, stay home, open another bottle of wine, perfect our nonchalant Gallic shrug…..et on verra!
31st March 2020
Fred, the regular Thollon postman, is a colourful character. Everyday he tours the village in his little yellow van like Postman Pat meandering across the Yorkshire Dales, until…… he gets to that stretch of open road to LaJoux. Suddenly he's transformed into Alain Prost, no longer a post office van but a MaClaren F1. Foot to the floor, he roars past our apartment building leaving clouds of dust in his trail. Birds cling to the branches, dogs cower behind ashen faced owners. But not today! With a squeal of brakes Fred comes to a juddering halt outside our building. Springing from the van like a cat on a trampoline he bounds up the stairs and rings our doorbell. As we're all on lockdown here our doorbell hasn't rung for about 2 weeks, so you can imagine the excitement. Thinking it was a friendly neighbour, clandestinely delivering cakes and goodies, I open the door… just as something flies past my head and lands on the floor in the middle of the living room. In the gloomy hallway I catch a glimpse of a figure bounding back down the stairs and then all is quiet once more. Stunned, I turn and look at the unidentified flying object that's just landed under the sofa. Hilary Mantel's 900 page sequel to Wolf Hall. Thank goodness I was standing behind the door as the prospect of a trip to hospital at the moment fills me with dread. In the distance I can hear Fred revving the engine of the long suffering little yellow van…… can't wait for the next delivery. Thanks to LB
22nd March 2020
Curious about what's happening in Thollon during the lockdown? The simple answer is …..absolutely nothing! But that's not quite true…… Here's an update on life in lockdown in this most beautiful of verdant cages.
You've probably all seen the news from France, at the time of writing there are over 560 deaths and more than 15,000 people with the virus. In contrast to the approach taken by the UK Government, the French have imposed strong restrictions on the movement of people and on businesses. At the present time people are allowed to leave their house, albeit alone, to shop for essential items. We have to stay withing 1 km of home, although the prefecture of Annecy have said you should not go further than your patio. No cycling, no hiking (that's a tough one!) and no jogging, and woe betide you if you're outdoors without your governmental permission slip in your hand. In Evian the mayor has closed the promenades and all the parks. All children's playgrounds are under lock and key and only the food shops remain open. The comments section of yesterday's newspaper Le Messager reflected the concern amongst some local residents with call for fines of 25,000 euros or stiff prison sentences for people walking their dogs. Are people being fined? Yes they are, only 38 euros at the moment but it's a sliding scale.
In Thollon silence reigns. Everywhere is closed. The gondolas swing forlornly in the breeze and the snow is disappearing fast. The little Sherpa supermarket in the Station itself is our lifeline at the moment. Lionel's smile gets broader by the day. His shop is well stocked and he has an abundance of fresh fruit and vegetables. Each morning we open our fridge and try to identify which essential ingredient for dinner is missing. Great!! We have a valid reason to leave the flat and head off down to the Sherpa, walking the regulation 1 metre apart, and nod warily at the small huddles of locals standing outside. Clutching our red pepper or tin of beans like we've won the Ashes we had straight back home. Nowhere else to go, no one else to see. Are there Gendarmes patrolling the village? Personally I haven't seen any but the word on the vine is that 2 policemen where seen on motorbikes a week ago. Are people obeying the rules and staying indoors? The vast majority of the very few people still here are, yes. There will always be those who think they're immortal and that now is the time to party on. For once it's not the Brits. For those Brits that are still here, we're grateful for this haven of peace and tranquillity, away from the perils of city life. We're grateful that France is still a welcoming, friendly if fearful country, and we're grateful for a sense of strong leadership and direction…..that at least there is someone at the helm. Thollon remains a rural paradise, the views are still stunning, the buzzards whirling and the sun is still shining in Lausanne.
So hurry back as soon as you can. What a party that will be!!! Thanks to LB