Visits Overview
Visitors come to Thollon for a variety of reasons. There is of course the skiing. In winter there is also a wealth of other visits that are worthwhile to break up the ski week for those that don't want to spend all of their time on the slopes or want to experience the Alps in the snow.
There are journey times from Thollon given as a rough guide for travel by car to each visit.
In Thollon the alpine scenery can be enjoyed by walking (see separate tab) or the wider area by car or lake tours on the boats and paddle steamers.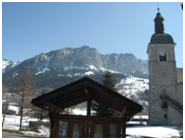 There is of course lake Geneva (Lac Leman) with picturesque villages and larger towns. Swimming in mid summer is widely enjoyed all along the lake, as well as the swimming complexes that are heated both indoor and out. As well as several thermal springs, such as Lavey les Bains also open in the winter.
Visitors should also enjoy the Haute Savoie cusine, which includes cheese and cream dishes such as Fondue. Raclette is another regional specialty. A wedge of Raclette cheese is set up so that one side is facing a hot plate. As the cheese melts, it is scraped off (hence the name "Raclette" which literally means scrapping) and poured over boiled potatoes. To complete the meal a variety of cold meats is often served with a salad. Tartiflette is typically savoyard, a casserole dish of potatoes and a local cheese called Reblochon with bacon. All dishes are available in the Thollon restaurants.
The main attractions that are easily accesable from Thollon are listed in the top menu: Things to do.