Montreux and Vevey
Montreux (60 mins) and Vevey: Montreux is theInternational Swiss town with Freddie Mercury statue, lake views, and gardens along the lake. Montreux Jazz festival in July.
Montreux boasts one of the most beautiful walks along the lake, stretching from Villeneuve all the way towards Vevey. The main square of the town Place du Marche, features a statue of Freddie Mercury facing Lake Geneva. Some of the numerous small villages around Montreux include La Tour-de-Peilz, Clarens, Territe and Villeneuve.
The Chateau of Chillon provides a marvelous view of the entire Lake of Geneva and can be easily accessed via bus, walk or boat. See separate tab
Deep Purple's famous song Smoke on the Water tells of the events of 1971, when a Frank Zappa fan with a flare gun set the Montreux Casino on fire. The destroyed Casino was reopened in 1975.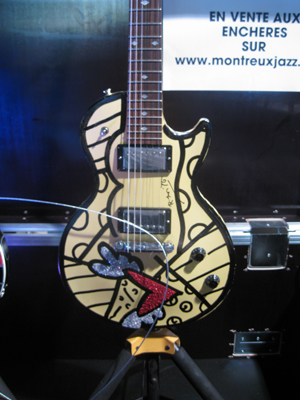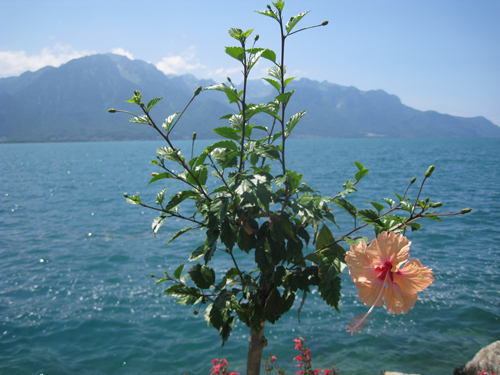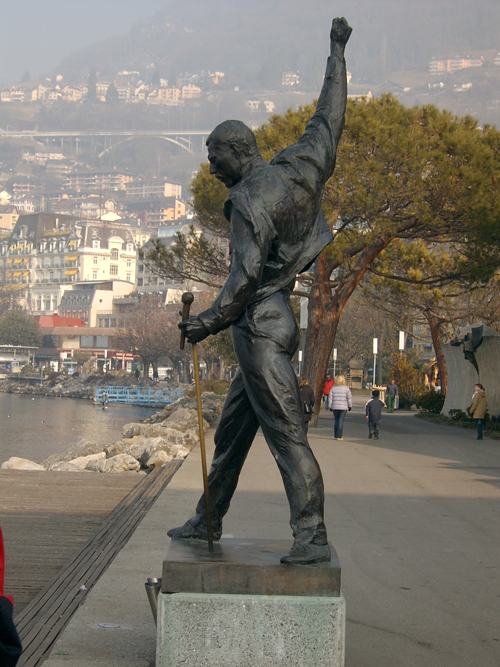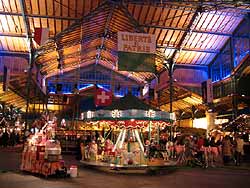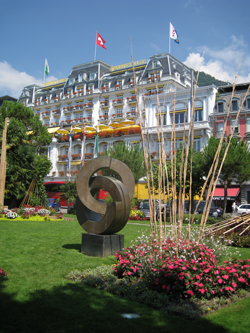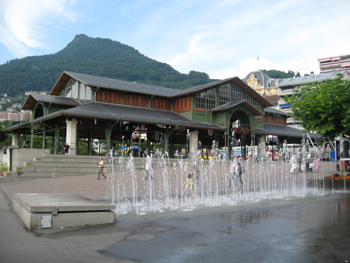 Vevey is the next town past Montreux. Again a beautiful promenade and main town square with a super food market on Tuesdays and Saturday mornings. Vevey has an unusual museum of food : The Alimentation Museum.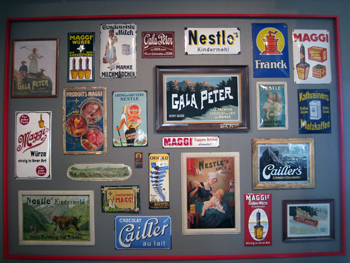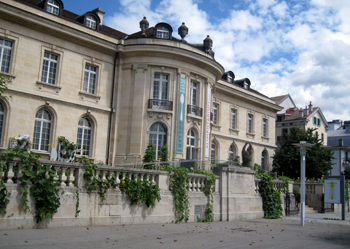 Above Alimentation museum
There is a striking piece of "Art" in the lake just opposite the museum: A large stainless steel fork. There is also a statue of Charlie Chaplin nearby. Chaplin ended his autobiography with these words: I sometimes sit out on our terrace at sunset and look out over a vast green lawn to the lake in the distance, and beyond the lake to the reassuring mountains, (Les Memises?) and in this mood think of nothing but enjoy their magnificent serenity. Charlie Chaplin passed away in Vevey.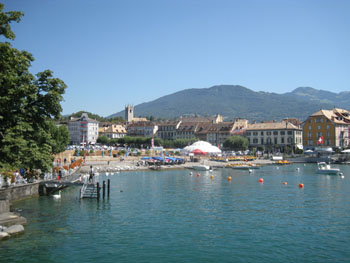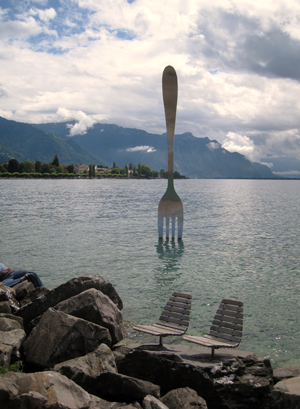 Vineyards of Lavaux
West of Montreux and Vevey, the coast of Lavaux, vinyards and winegrowers villages in a magnificent setting.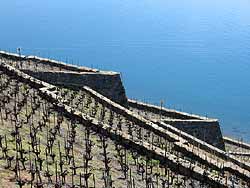 Chinnon Castle:is  just east of Montreux on the lake see Chinnon Castle tab.